Tutorial on How to Convert OGG to WAV on Windows/Mac
You might also share the same poor compatibility issues as with others when talking about OGG files. As a matter of fact, many users are having difficulty playing their OGG music collection on their favorite players. Consider the likes of iTunes and Windows Media Players where the majority of users play their audio files. It can be burdensome if you want to play your OGG audio files using these players.
Unlike WAV audio files, you have lots of options for media players due to the fact that they can be played across different digital players and devices. Hence, this post will guide you on how to get this job done using some of the best OGG to WAV converters suitable online and offline.

Part 1. How to Convert OGG to WAV Offline
1. Vidmore Video Converter
To effectively convert OGG to WAV, you need to have reliable converting software that you can use. Vidmore Video Converter is developed for this kind of need. It is a multi-platform program that allows you to convert OGG to WAV on Mac and Windows PC. With this program, you will be able to convert your OGG files to other audio formats including WAV. A batch operating function is also present in this application making it easier for you to convert multiple audio/video files. On the other hand, if you're in a hurry, you can expect to get your converted files instantly with its high and accelerated conversion speed. Listed below are the steps on how to convert OGG files to WAV using Vidmore.
Step 1. Get the OGG to WAV Converter downloaded
To begin, you need to get the app from its official website or click one of the Free Download buttons provided above.
Step 2. Import OGG file(s)
You can upload an OGG file by clicking the Plus icon. Then select your target OGG file. You also have the option to upload a collection of OGG files by clicking the Add Files button in the upper left corner. Then select Add Folder and click the folder where your OGG files are found.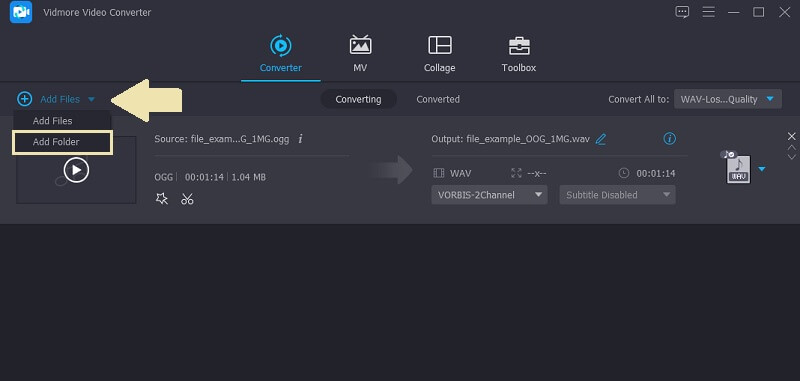 Step 3. Select output format
After uploading your OGG files, click the Profile menu and go to the Audio tab. From this tab, select WAV format from the options on the left section.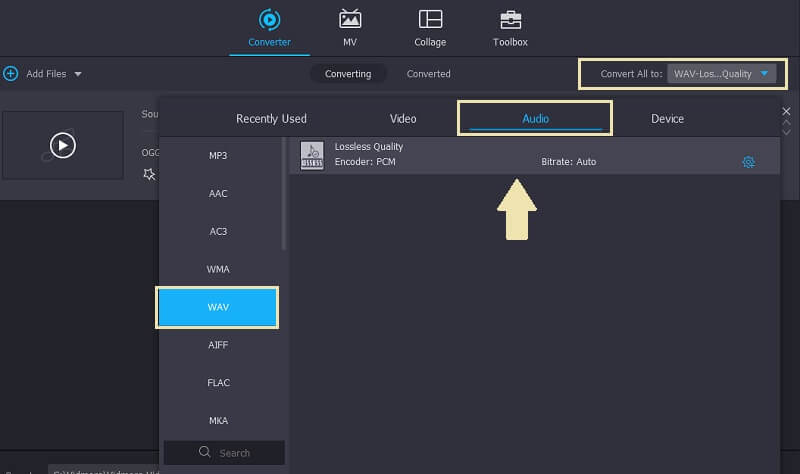 Step 4. Convert OGG to WAV
Finally, click the Convert All button at the bottom right-hand side of the interface. You'll be able to get a preview of the file once the conversion process finishes.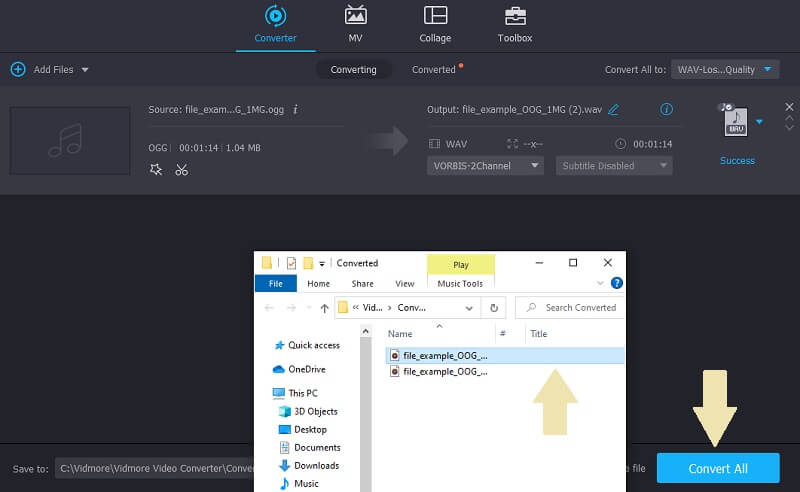 2. Audacity
Audacity is an OGG to WAV converter freeware that can help you with regard to your audio converting needs. It has a load of useful features adjusting the sound quality of the audio. You may also use the tool to record live audio or convert from analog to digital media. On top of that, it enables you to import, combine, and edit audio files as you like while having the benefits of exporting audio to different formats. To convert OGG to WAV on Audacity, follow the steps given below.
Step 1. Launch Audacity
In order to launch Audacity, you need to acquire the installer first from its official website. Install and launch the program on your computer.
Step 2. Load OGG file
Navigate to Project > Import > Audio. Then select the OGG file that needs to be converted. After that, the OGG file should be loaded into the program.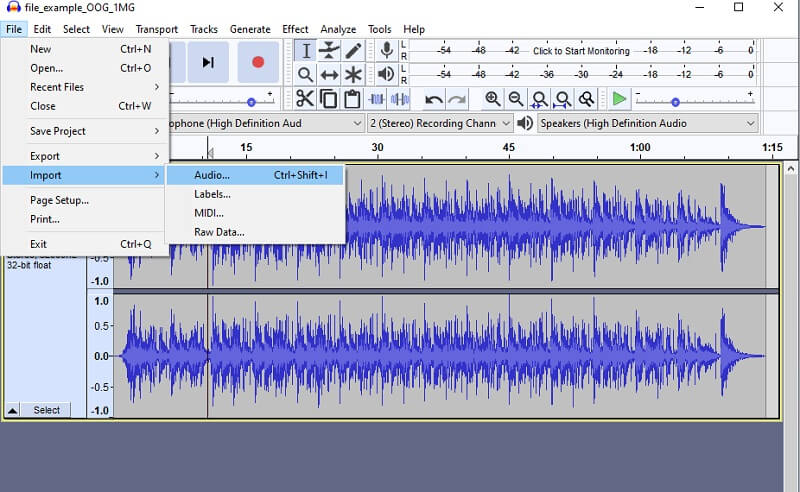 Step 3. Convert OGG to WAV with Audacity
To convert the OGG file to WAV, click again the File menu. Point the cursor to Export and choose the Export as WAV option. Rename the file and hit the Save button to confirm the changes.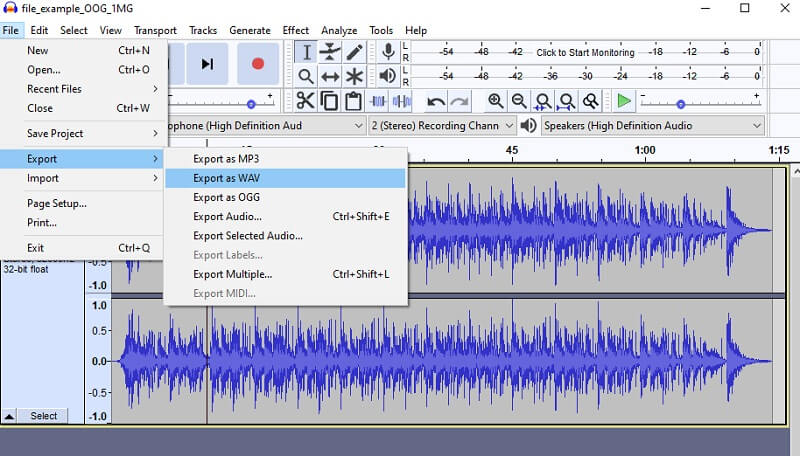 Part 2. Online Converter to Convert OGG to WAV for Free
1. Vidmore Free Online Audio Converter
Vidmore Free Online Audio Converter is a web-based program designed to help online users convert audio files to other formats giving you the ability to convert OGG to WAV. Using this program, you can batch convert OGG to WAV under a stable internet connection. Therefore, it would be a lot easier for you to convert multiple audio files at the same time. Besides, it is compatible with nearly all browsers. Whether you are comfortable with Google Chrome, Microsoft Edge, or Firefox, the tool can handle the work out the conversion efficiently and effectively. Following is a simplified guide on how this tool works.
Step 1. For first-time users, download and install the launcher of the program.
Step 2. Upload your OGG file by clicking the Add Files to Convert from the main interface. Then select your desired OGG files to convert.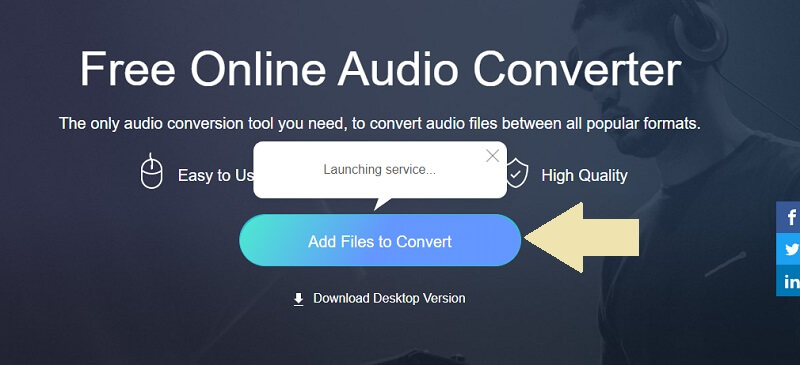 Step 3. Now click the WAV format from the menu and hit the Convert button. This time, set a folder path where you want to save the converted file and click on the Convert button once more to start the conversion process.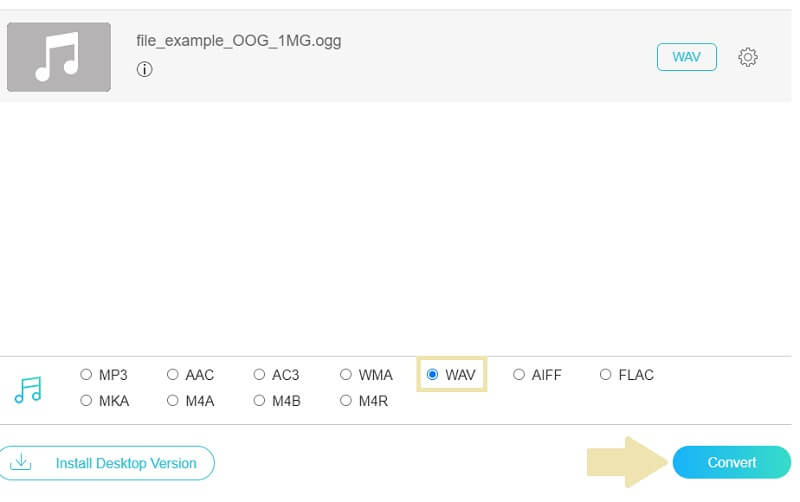 2. VSDC Free Audio Converter
Another free audio converter for OGG to WAV conversion is VSDC Free Audio Converter. The tool lets you convert your audio files to Windows and Mac media players compatible. Thus, if you are using Windows Media Player as your main media player, you may convert your OGG files to WMA. On the other hand, Mac users may convert OGG files to MP4, AAC, M4A allowing them to play audio files on QuickTime Player. If you are interested in using this audio converter, you can take the following steps.
Step 1. Download and install VSDC Free Audio Converter on your device. After that, run the program.
Step 2. Click the Add files button at the bottom of the interface and upload the OGG file that you wish to convert.
Step 3. Choose the To WAV option from the top menu and click the Convert files button and the conversion process will commence.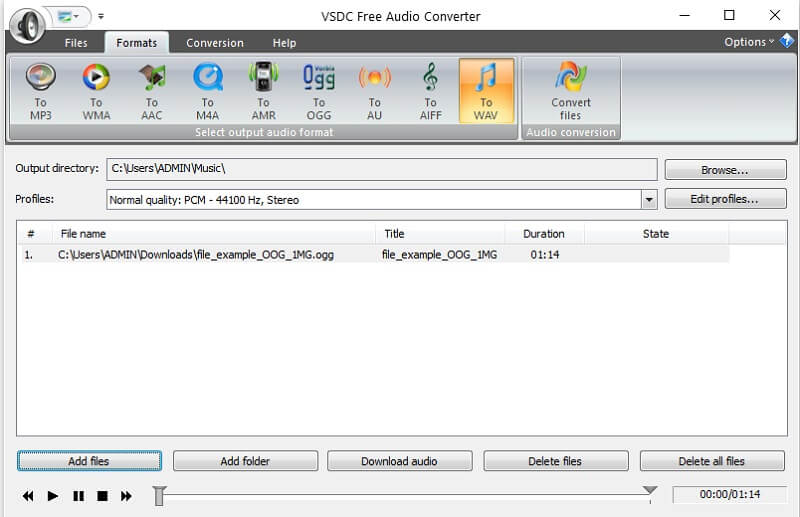 Part 3. OGG vs. WAV
As regards the difference between the two audio file formats, we made a table to help you compare them better. Find out which format can be beneficial for you by referring to the illustration below.
OGG
WAV
Description
OGG is a file container that can hold both audio and video.
WAV is a format used for audio streaming alone
Pros
1. Offer compression requiring less storage space
2. Suitable for audio and video streams.
1. Good quality sound
2. Does not compress audio for better quality sound
Cons
Not supported by many devices
Uncompressed and is relatively large in size
Part 4. FAQs of OGG to WAV
Is it possible to convert OGG to WAV in Python?
Yes. Through the help of FFmpeg which contains a large suite of libraries and programs for processing audios and videos.
Can I convert OGG to WAV on Linux?
You may use Linux-compatible audio converters like FFmpeg. That is if you are knowledgeable about CMD as FFmpeg works by interacting with programs through commands or syntax.
What are media players supporting OGG files?
There are a handful of players that you can use to play OGG audio files such as VLC Media Player and Windows Media Player.
Conclusion
To sum it up, the 4 mentioned tools can help you convert OGG to WAV with ease. More importantly, they are accessible and easy to use. This makes the work simple and easier allowing you to finish more tasks.