Transform WMA to M4R Easily with Offline and Online Methods
Do you desire to create iPhone ringtones out of your WMA files? The thing is, WMA files are proprietary format which is why not all operators and media players format. It is far from perfect when it comes to quality, but you can expect a clear and better quality. Ideally, you can create M4R versions of your WMA files by converting them. On that note, we collected the programs to convert WMA to M4R that you should consider using.

Part 1. What are WMA and M4R
To have a better understanding of these formats, we listed facts about each file format. You may take the below anecdotes as your reference.
Anecdotes of WMA
Windows Media Audio or WMA is a filename extension that Microsoft developed. One of the purposes that it is created is to avoid licensing issues affiliated with the MP3 format. Though this format is less popular with MP3, it sounds better at the same bitrate and performs well at a higher frequency. This format is also the preferred format for compressing audio listening files.
Anecdotes of M4R
M4A is also a proprietary extension that is exclusively created for Apple devices to represent ringtones. One of the highlights of this format is that it supports auditory masking, especially if you are particular with audio quality. But in fact, fees are attributed to M4R songs when you buy them from iTunes. Now that there are converters, you don't need to shell out money. Continue reading to learn about the best WMA to M4A converters.
Part 2. How to Convert WMA to M4R Quickly
If you are unsure about the tool to use for converting WMA to M4R, below are two of the most undoubtedly useful programs for this task.
1. Vidmore Video Converter
Vidmore Video Converter is a powerful program that is capable of transforming nearly all types of audio and video formats. This tool comes with plenty of helpful features and functions, such as the ability to customize the profile of an audio file. That is right. Vidmore Video Converter grants you access to the audio's channel, bit rate, and sample rate, which you can modify. Moreover, you can edit the metadata of an audio or video, including the title, album, cover photo, etc. Apart from that, you can choose to cut and edit audio and remove the unnecessary parts of the audio. To use this WMA to M4R converter, see the detailed walkthrough below.
Step 1. Download the Converter
First off, click one of the Free Download buttons provided below to grab the program's latest version. Open the file extension and make sure to follow the onscreen setup for the proper installation and launch it afterward.
Step 2. Add a WMA file
Now click on the Plus sign button from the main interface and browse through your folder to find the WMA you attempt to convert. Once located, select and upload it into the program by clicking the Open button. Alternatively, you may drag and drop the file to upload files.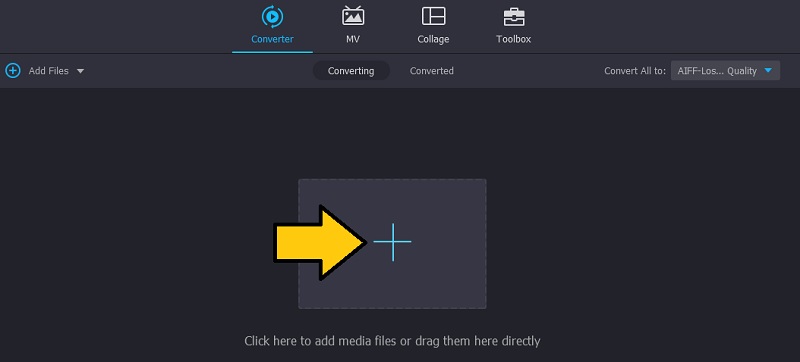 Step 3. Select M4R as the output format
Once done, forward to the Profile menu. Open the Audio tab, tick the M4R format from the left section, and select the audio settings according to your personal preference. You may also leave the default settings if you are good with the audio preset provided.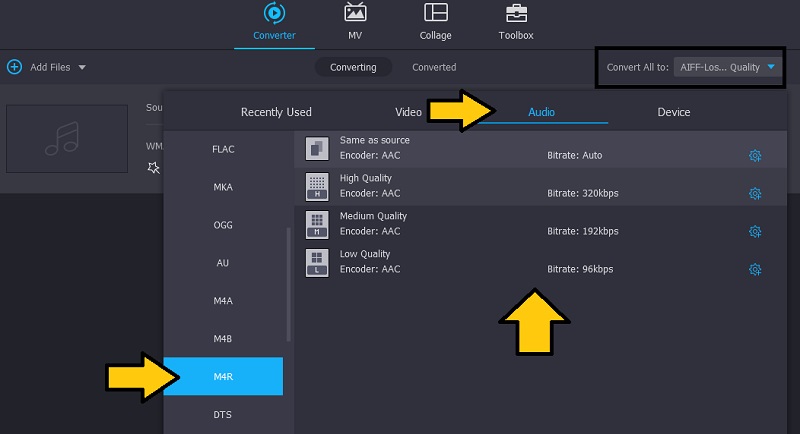 Step 4. Convert WMA to M4R
After that, click the Convert All button and wait for the conversion process to complete. You will get the audio playback in just a few seconds and save it automatically in the destination folder.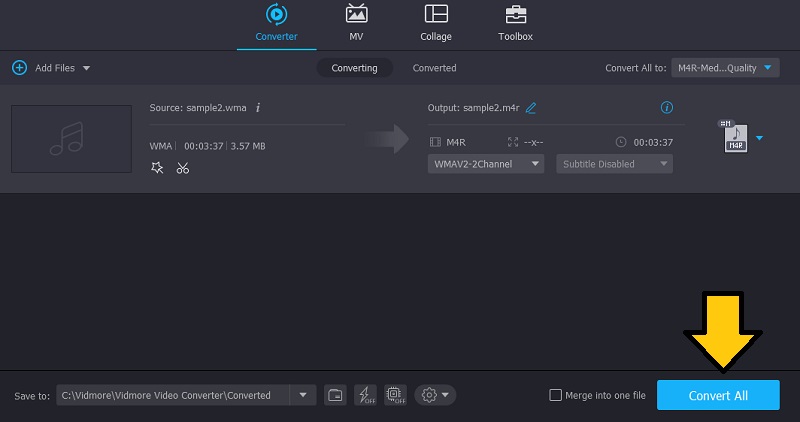 2. Vidmore Free Video Converter
As the name implies, Vidmore Free Video Converter is a free web-based application that allows you to convert files without any cost at all or registration needed. It bundles useful features enabling it to compete with desktop programs, albeit being an online tool. You can use it to convert multiple files simultaneously in a hassle-free way as long as you have a fast and stable internet connection. Likewise, it comes with a setting for audio parameters wherein you can change the sample rate, channels, and bitrate. Refer to the user guide as follows to learn how to use this WMA to M4R converter online.
Step 1. Install the Vidmore Launcher
First and foremost, download the Launcher of the web app by clicking the Add files to convert button. From the pop-up, click on the Download button. Install it on your computer once the download finishes.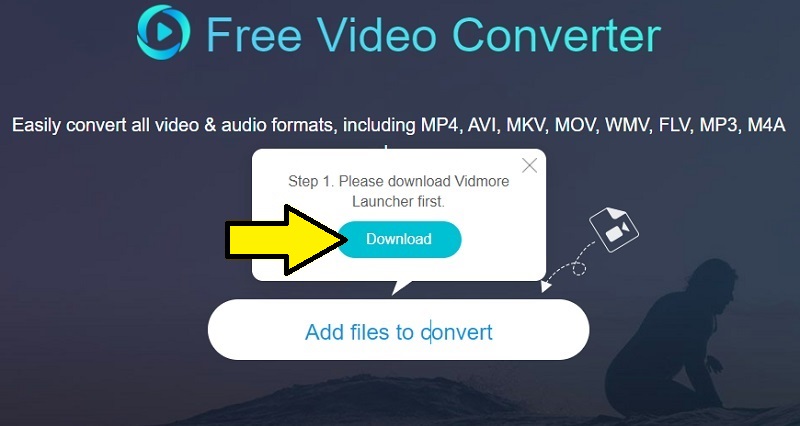 Step 2. Upload a WMA audio
After the former process, the launcher will automatically start and prompt you to locate the file that you wish to convert from your file folder. Once done choosing the target file, you should see it uploaded into the program.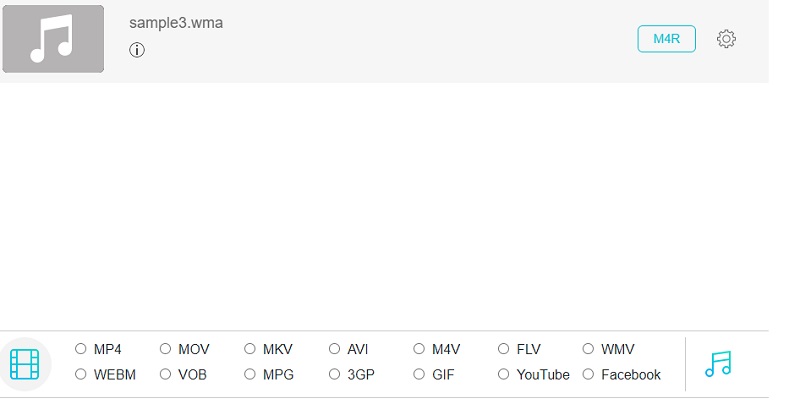 Step 3. Select output format and convert files
At this point, click on the Audio format option that looks like the notes icon. Then it will show various formats that you can employ. From here, tick M4R. To change the audio parameter, simply hit the Gear icon and modify the settings according to your personal preference. Finally, hit the Convert button. Set a file destination, then hit the button once more to start the conversion process.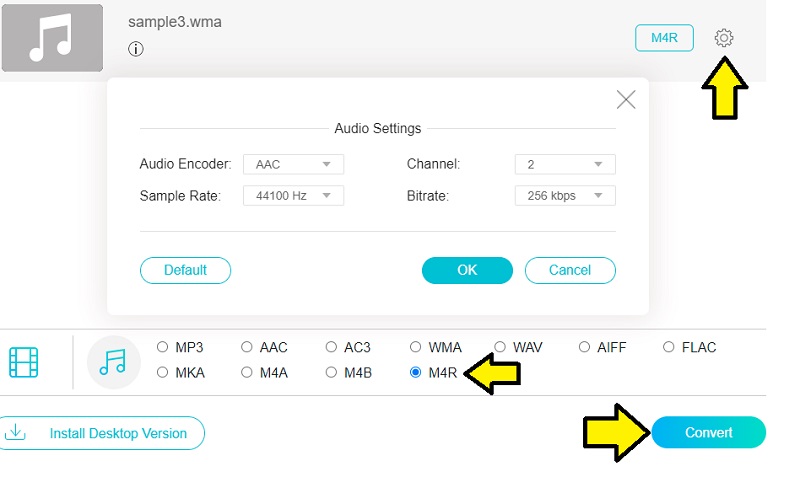 Part 3. FAQs of WMA to M4R
How can I convert M4R to MP3 in iTunes?
This is possible because iTunes is capable of converting media files. Simply go to the Import Settings of iTunes. Select MP3 Encoder from the Import Using option. After that, upload your target M4R file. Then go to File > Convert and select Create MP3 Version.
How do I open M4R files?
You may use Apple's iTunes to open M4R files on your Mac. For Windows users, you can download the VLC software. You may also use the programs above to help you open and convert WMA to M4R online or offline.
Are M4A and M4R the same?
Technically speaking, M4A and M4R are the same. Some claim that M4R is the renamed version of M4A. The difference is concerning copyright. Most M4R files are protected through DRM.
Conclusion
Without a doubt, online programs serve as free WMA to M4R converter since there is no registration and all access for features are free of cost. Hence, if you are looking for free and quick conversion needs, go with Vidmore Free Video Converter. Yet, for a more reliable tool that does not depend on its performance on the internet connection, Vidmore Video Converter is the dedicated program for this kind of need.