How to Split a WMA Audio File with the Best Audio Cutters and Editors
As cliché as it goes, there are always simple ways of doing things. This is also true for cutting, splitting, or trimming audio files like WMA. You don't need technical skills to get this job done. But choosing the right tool for this would make a huge difference on the other hand. In this case, you may want to consider the usability, functionality, and features that will meet your standards and requirements. With that being said, we've compiled some of the excellent WMA cutter and editor tools you will find helpful.

Part 1. Best Way to Cut WMA on PC and Mac
Vidmore Video Converter is an incredibly useful program that you can use to cut WMA on Mac and Windows PC. By using this program, it is just a click away to cut the beginning part of the audio. Say the song has a long introduction part, this can play a great role in cutting unnecessary music portions. You may also use it to adjust the audio volume and delay according to fit your requirements. Besides cropping portions of audio files, this also plays a vital role in converting one audio format to another. It supports an extensive array of formats ranging from MP3, AAC, FLAC, WMA, and a lot more. Now let's have a look at how to operate this program using this amazing WMA cutter and editor.
Step 1. Install the WMA Cutter
To start, choose the appropriate OS for your computer system and download the program using the Free Download buttons provided below. Follow the setup wizard to successfully install the program.
Step 2. Upload the WMA file
To upload a media file, simply click the Plus sign button from the main interface. Then it will open up a folder where you can browse through your files. Select the WMA file that you wish to edit.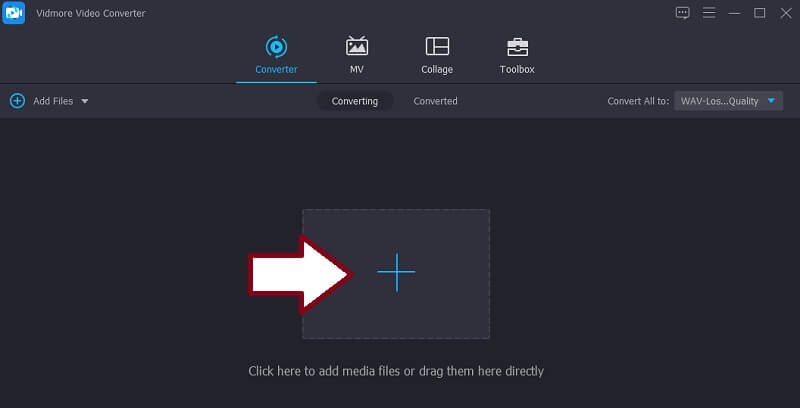 Step 3. Cut WMA file
Click the Cut button associated with the song track's thumbnail to open the editing interface of the tool. From here, place the Playhead on your desired position and click the Split button. It will then remove the part on the left side of Playhead. Then click the Save button to confirm the changes.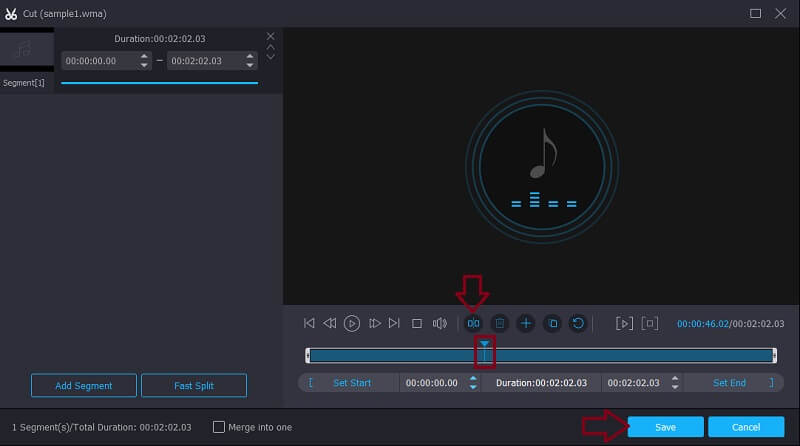 Step 4. Save the cut audio file
When you are done editing or cutting the WMA file, go back to the Converter tab. From there, you may open the Profile menu to convert the audio file to another format. Finally, click the Convert All button to save the cut audio file.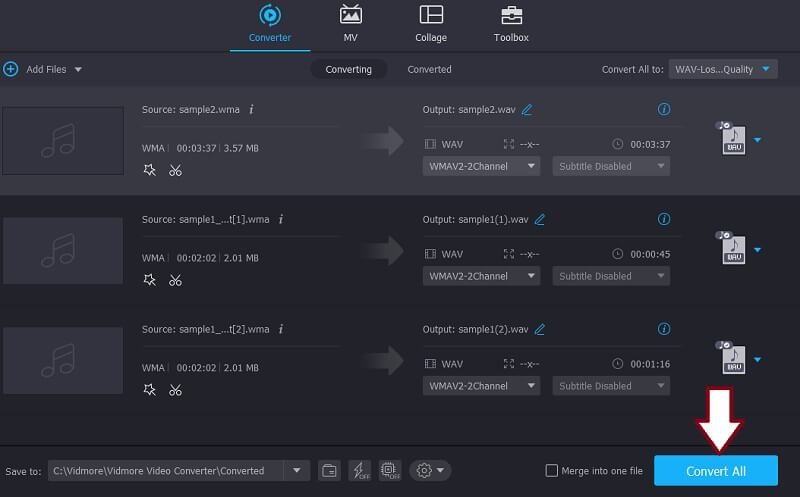 Part 2. Online Ways to Trim WMA and Mac
1. Aconvert
If you wish to convert without installing another program, online tools like Aconvert should come in handy. It has a user-friendly interface that even first-time users will not have a difficult time navigating. All the functions are arranged in a way that they are easy to locate upon visiting the website. Using this tool as means to trim WMA files online you can easily cut portions of audio in seconds for a precise trimming operation. To learn how to cut WMA files using Aconvert, follow the step-by-step procedure below.
Step 1. First off, visit Aconvert's website on any browser that you are comfortable using. This can work on almost all browsers either from your Mac and Windows PC.
Step 2. Once you reach the main page, click the Cut button at the top of the interface and you will be redirected to the page for cutting audio files.
Step 3. Upload a WMA file by clicking the Choose File button. Now set the start and end duration according to your requirements and click the Submit button.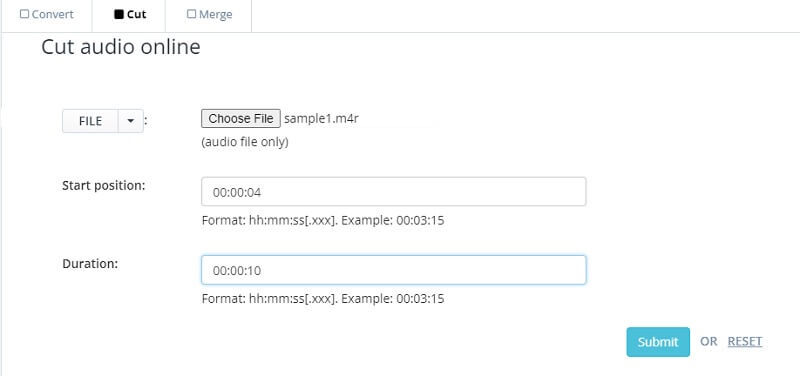 2. Audio Trimmer
Audio Trimmer is another program that you can utilize to cut or crop certain parts of the audio file from the web page directly. There is no need for you to download and install an app as it works using just a browser and an internet connection. Aside from that, you can also create ringtones with help of this program. With it, you will be able to apply fade-in and fade-out effects as you wish. Below is an instructional guide on how to handle this WMA cutter freeware.
Step 1. Open your web browser and go to the official webpage of Audio Trimmer.
Step 2. On the page, click on the Choose File button to import your target WMA file and click the Upload button to start editing the WMA file.
Step 3. Select the part of the audio stream that you wish to cut or retain by moving the slider and click the appropriate button from the menu. Optionally, you can set the start and end duration time to cut the audio in seconds.
Step 4. Prior to saving the cut audio, you may select an output format for the file. Once done, click the Crop button to confirm the settings.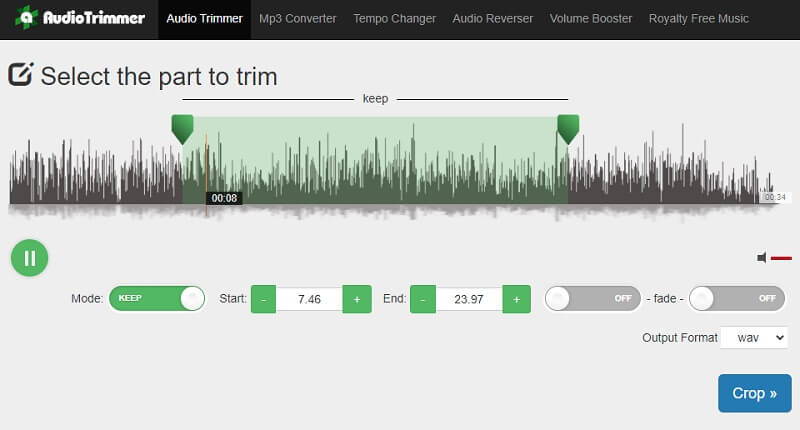 Part 3. How to Split WMA for Free
If you are looking for another freeware to learn how to split a WMA audio file, you can try Audacity. This is a totally free and open-source downloadable software packed with a bunch of audio editing features. It can cut and trim audio parts, in the beginning, middle, and end portions of the music file. Besides, this is also a cross-platform program that can be used on Windows, Mac, and Linux/GNU operating systems. Apart from that, you can perform unlimited undo and redo so you can always revert to any number of steps. To trim WMA files using Audacity, you may refer to the steps below.
Step 1. Download and install Audacity from its main site using any browser on your computer.
Step 2. After that, import audio by navigating to File > Import > Audio. Then from the folder that will open, select the WMA file that you want to edit.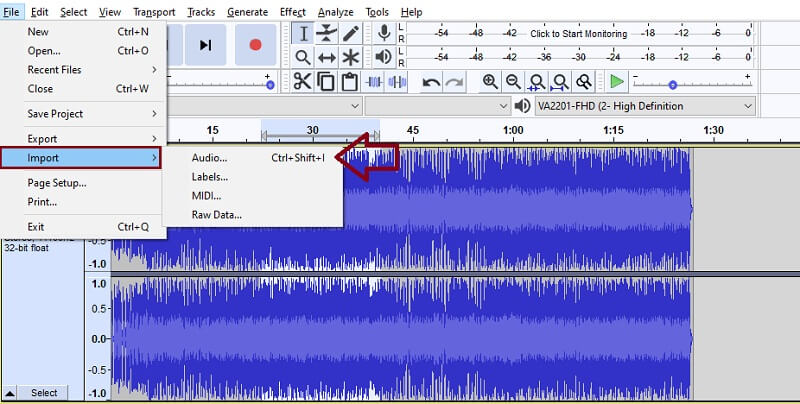 Step 3. Using your mouse cursor, highlight the part that you wish to cut. Then click the Cut button that looks like scissors from the menu bar at the top of the interface.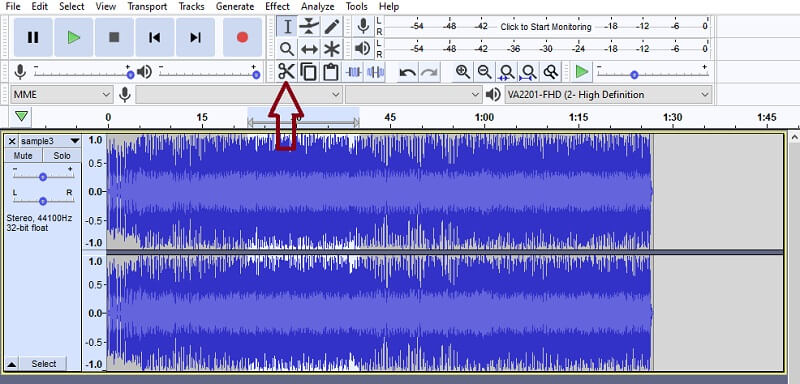 Step 4. To save your work, go to the Save Project menu and select the Save Project option. It will then save the changes you made on your target audio file.
Part 4. FAQs of Cutting WMA
Can I cut and convert a WMA file?
Definitely! The introduced programs above are good examples of this. You just have to choose which one is the right tool for you. Either using a desktop app or complete this task with an online tool.
How can I cut WMA on mobile?
One of the tools mentioned in this post can operate on mobile devices which is the Audio Trimmer. With the same set of features, you can cut, split, and trim from your mobile device's browser directly.
Will the WMA file lose quality after the cutting process?
Answer: It's inevitable that you won't lose any quality when opening a file with lossy compression. Like WMA files that use lossy compression, it will lose quality but not very much.
Conclusion
These are some of the great WMA cutter and editor programs that you can use on PC and Mac with little to no effort to exert. They are easy to navigate and functional compared to other similar programs.