Turn GIF into Video Using the GIF Video Converters
Graphics Interchange Format (GIF) is a file format that can be animated or static images. It is commonly used online for expressing emotions and feelings and for fun and entertainment. Since this format is an image format, some media players or applications might not support playing it. If it gets played, usually, it does not provide a better viewing experience, enabling users not to enjoy it. For these reasons, users might need help managing and sharing GIFs on different platforms.
Some users prefer to upload video formats to share their content on various social media platforms. To accomplish that, converting GIF to video is the best workable solution to solve the issues. The good thing is that numerous video converters are available on the market, which you can freely use to access them. This post will guide you to discover the leading video converters you can rely on. Read on to explore more regarding the information.

Part 1. Best GIF to Video Converter on Computer
These video converters presented are accessible offline and online. It allows you to choose whether to convert straight online or do your task using a program. The leading offline and online converters are listed below, capable of converting GIF to video formats.
1. Vidmore Video Converter
It is convenient when a converter can work without requiring an internet connection. The last thing you will do is install the program on your desktop, and you are ready to do your task. Therewithal, it should be rich in editing options that can be used in the editing process. On top of that, it must have a beginner-friendly interface, making it easier for a first-time or experienced user to use it. For that reason, Vidmore Video Converter checks all the boxes. Besides that, it has numerous built-in features like collage makers, ready-made themes, and a section full of tools.
Vidmore Video Converter is an excellent multi-format video converter capable of converting video files to 200+ formats. One of the formats it supports is GIF, which you can convert into other video file formats. Although the file undergoes a conversion process, you can be at ease, as it will not lose the quality of the output. It enables you to select a higher resolution and more, which will maintain or produce a high-quality output.
Pros:
It has a converter packed with editing options and numerous video file formats.
It enables users to change and select a higher resolution to produce a higher-quality output.
It enables users to convert batches of video files all at once.
It is compatible with Mac and Windows PC.
Cons:
Avail of the paid version to have complete access to the program.
Below are the steps to convert GIFs to video using this program:
Step 1. Download and Install
Download and Install the program to your desktop computer. After that, launch the program to get started.
Step 2. Upload GIF File
When you open the program, you are directed to the Converter tab. Hit the (+) icon to open your desktop folder. From your desktop folder, locate the GIF file and upload it; it will be added to the converter section.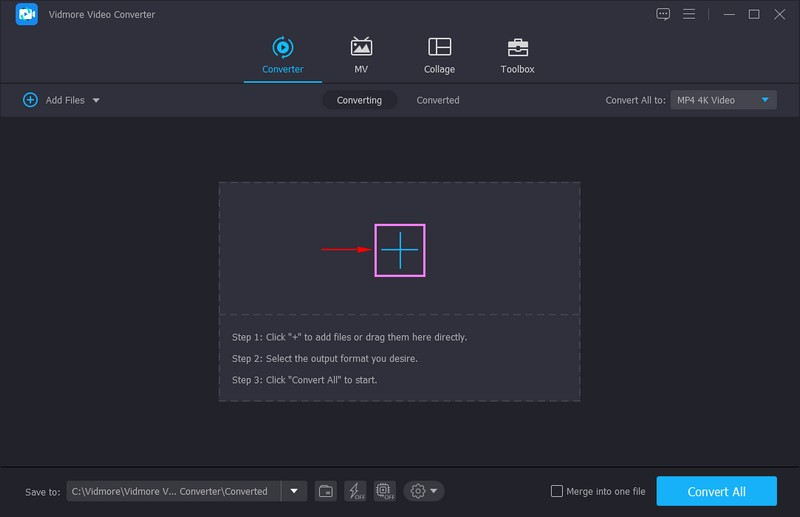 Step 3. Choose MOV File Format
Head to the Format icon on the right corner of your file and hit the drop-down menu. It consists of numerous file formats you can choose from. Suppose you want to convert GIF to MOV format. To do that, look for the MOV format from the presented format list, and click it. After that, you will see that MOV becomes the output file format.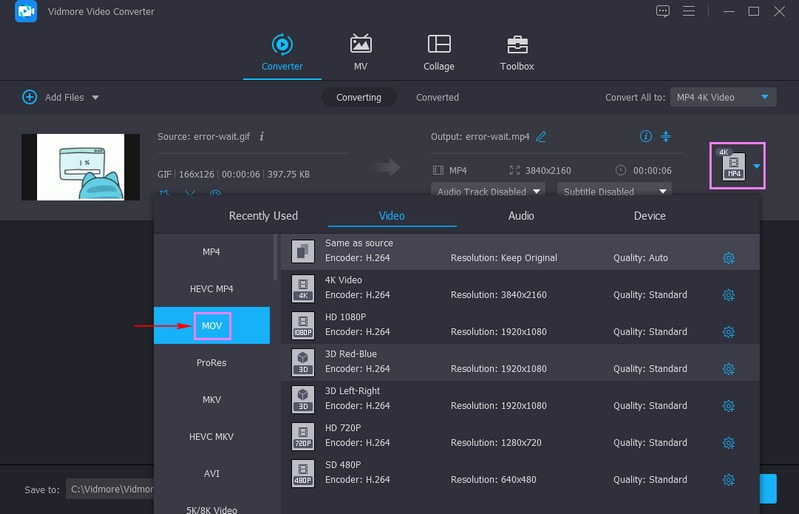 Step 4. Modify Video Settings
Click the Gear icon to change the video settings to produce a high-quality video output. Modify the Resolution, Frame Rate, Bitrate, and Encoder based on your preference. When settled, click the Create New button.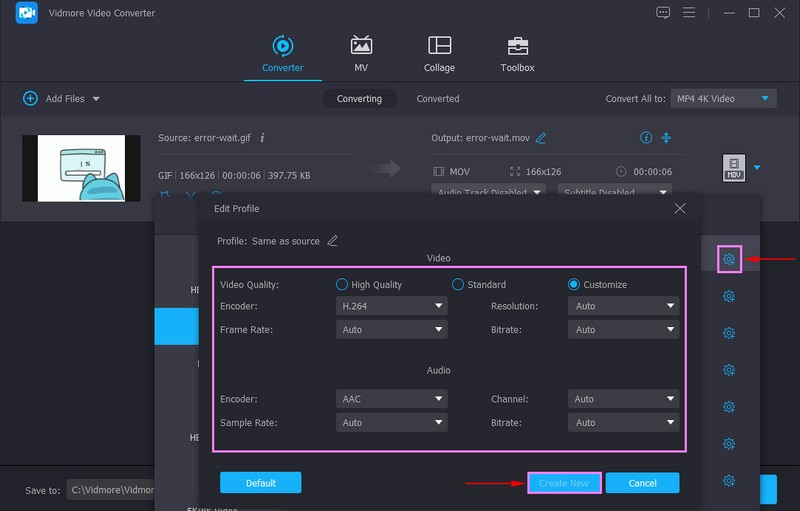 Step 5. Convert GIF to Video Format
When done, hit the Convert All button to start the conversion process. After that, your converted video will be saved in your computer folder.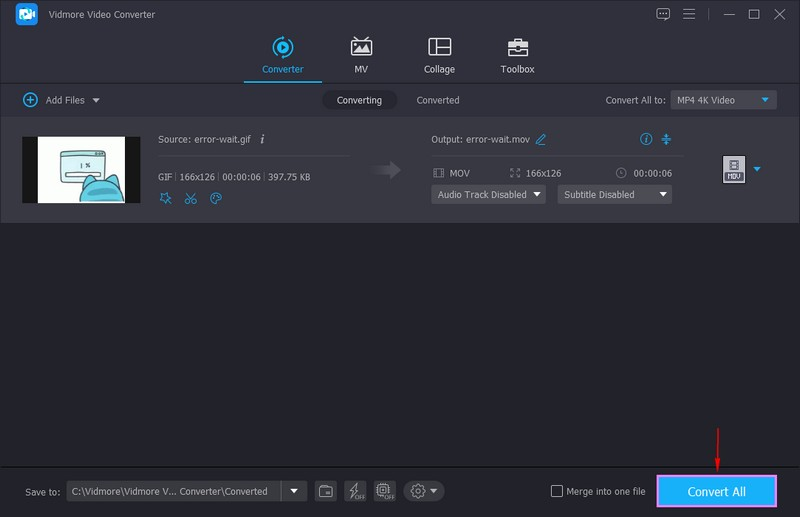 2. VLC
VideoLan Client (VLC) is a free-to-download media player that is open-source and can play most media files on various platforms. It provides a media player's necessary needs, such as streaming, downloading, and comprehensive format support. It offers creative options, such as editing and converting, which can be used as a video converter. This program supports almost video file formats, including WebM. Therewithal, it can convert GIF to WebM if you desire to convert GIF to WebM format.
Furthermore, it enables users to convert WebM to other popular formats and vice versa. It has no size limitation, making it easier for users to convert larger file sizes. It is also capable of converting batch files all at once.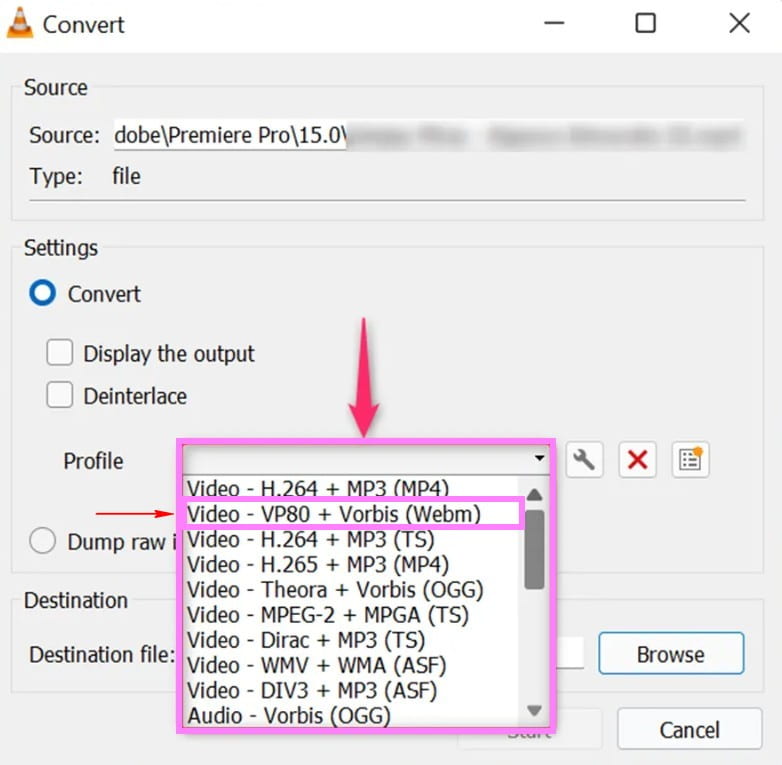 Pros
It can convert audio and video files to other file formats.
It supports batch file conversion all at once.
It enables users to preview the output during conversion.
It has options to optimize the codec, frame rate, and resolution for particular devices.
Cons
It only has a limited editing option and lacks video editing capabilities.
3. CloudConvert
CloudConvert is a web-based converter platform that can convert your GIF to various formats it supports. The following video formats are AVI, FLV, MKV, MOV, MP4, WEBM, and WMV. It is possible to convert GIF to AVI file format using this web-based video converter if you want to. Besides that, it has video settings, which you can select and change the resolution, aspect ratio, constant, quality, codec, and more.

Pros
It has a straightforward interface, making it easier for users to use it.
It can convert GIFs to other video file formats it supports.
It has options to adjust the resolution, constant quality, aspect ratio, video codec, and more.
It has a trimming option to help users remove unnecessary parts from the output.
Cons
A fast or stable internet connection is required to process the conversion.
4. Convertio
Convertio is an all-in-one file converter that supports several file formats, which can be converted to another format. This platform can make GIF into video through the process of conversion. In addition, it supports advanced options to modify the aspect ratio, codec, quality, and other settings. It works online and keeps everything in the cloud without taking up much space on your computer.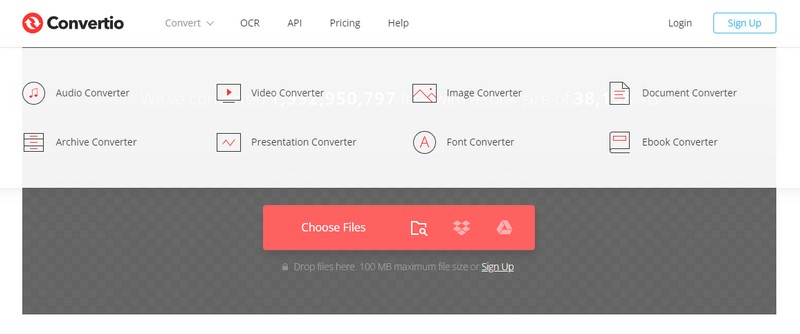 Pros
It provides a batch file conversion feature.
It supports 300+ different file formats.
It lets users choose aspect ratio, quality, video codec, and other settings.
Cons
The free version only limits 100 megabytes.
It only works with a fast and stable internet connection.
The free version only permits users to convert two files during batch conversion.
Further Reading:
Part 2. App to Turn GIF into Video on iPhone and Android
This part will present the following video converters accessible on your mobile devices. It will be an edge if you prefer to do your task using your phone. The leading video converter applications are presented below; go check them out.
1. GIF Cracker
GIF Cracker is an application that can convert GIF to video iPhone as it is one of the best video converters. It is a free-to-use application with options for in-application purchases. This application works entirely as a GIF converter that can convert GIF files to photos and videos. In addition, it can re-encode existing GIFs in a few clicks.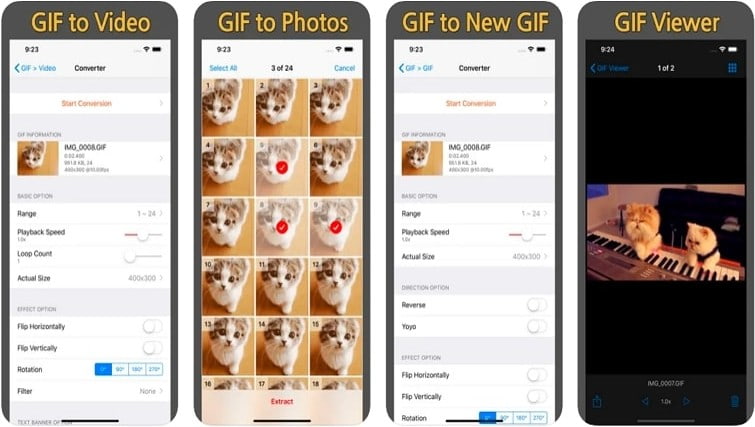 Pros
It has a straightforward conversion procedure.
It has options to flip and rotate projects.
Cons
A lot of ads pop on the screen in the free version.
It does not offer a quick conversion.
2. GIF2Video
GIF2Video offers a quick and efficient conversion to convert GIFs to other video formats. It enables users to share the video from the social networking sites it supports. Choose one GIF from your gallery or look for GIF on the web; it is ready to convert GIF to other video formats. In addition, users can set the output ratio to 1:1 or 4:3 if they want to. Undoubtedly, it is an app to turn GIF into video if you are an Android user.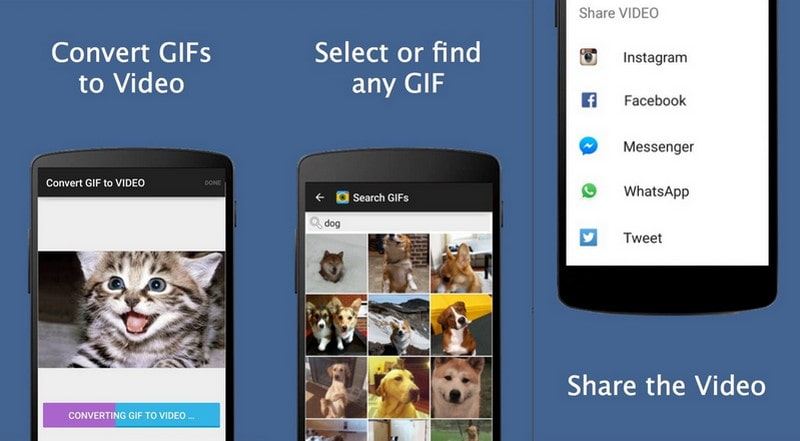 Pros
It enables users to adjust conversion settings.
It enables users to convert GIFs to video using their existing GIFs or from the internet.
Cons
It does not have a selection of where to save the video output.
Part 3. FAQs about Converting GIF
Is GIF the same as MP4?
GIFs are 5-10 times larger compared to an encoded MP4 video. Because of the size difference, GIFs waste a large amount of bandwidth. Also, it makes it load slower, leading to a terrible viewing experience.
Is a GIF the same as video?
GIF is an animated sequence of images and frames, making it different from several video file formats.
Does GIF have high quality?
GIF file format only supports a palette of 256 colors, which makes them appear to have a low resolution or looks blurry.
Can GIF be high quality?
GIF file format only has a limited hard-coded 256 colors, which lessens the photo quality when it undergoes conversion. And so, to achieve high-quality output, consider saving the file in a video format.
Conclusion
It is a fact that not all social media sites support GIF file formats. Despite that, various ways can help you upload them, and one way is through conversion. You can still share your GIF project once it is converted into a video format. Good thing if you use a video format that is widely used and supported across social media platforms, media players, and devices. This time, it is easy to look for video converters you can use reliably, as this post presented them. It also presented instructional steps on converting GIFs to your preferred video format using Vidmore Video Converter. No doubt that this program can convert GIF to video quickly and hassle-free.