Easy Guide to Convert MOV to WMV
How can I convert my QuickTime movies to WMV?
Is there a safe online converter to convert MOV to WMV? There are too many online converters, and I don't know which one I should trust?
When you find the Windows-based programs can't play QuickTime MOV files, what would you do? We know that WMV are more widely used on Windows-based products, so the best and easiest way is to convert your MOV files to WMV format. You can use the converter tool to help you do that. In this guide, you'll find how to deal with the conversion from MOV to WMV on Windows/Mac with the help of the converter. And we also introduce the safe and free online converter to you for meeting your temporary needs.

Part 1. MOV vs. WMV
As regards the comparison between MOV and WMV, the main difference is that MOV is mostly used in Apple's QuickTime program while WMV is more welcomed on Windows-based products. Here we list the differences between MOV and WMV, as shown below.
| | | |
| --- | --- | --- |
| File Extension | MOV | WMV |
| File Type | Apple QuickTime Movie | Windows Media Video File |
| Developed by | Apple, 1998 | Microsoft, 1999 |
| Description | MOV is a format developed by Apple as a file format for its QuickTime movie player. | WMV is a format developed by Microsoft for watching videos on a PC. |
| Codecs | H.264, MPEG-4, MJPEG, AIC, ProRes, Sorenson 1/3, PNG, CineForm | WMV V7, WMV V8, WMV 9, WMV 9 Screen, WMV 9 Advanced profile, MPEG-4, WMV 9.1 Image V2 |
| Pros | Well compatible with all Mac/iOS-based apps & devices; Capable of multiple tracks and overlay subtitles. | Supported by all Windows PC, Windows Mobile-powered devices like Xbox 360 as well as many uncertified devices including Blackberry. |
| Cons | Needs QuickTime plugins when playing MOV files on Windows PC. | Needs plugins like Flip4Mac when playing WMV files on. |
| Supported by | All MacOS/iOS devices | All Windows/Windows Mobile devices |
In general, for Mac/iOS user, if you intend to play videos with QuickTime, edit with iMovie/Final Cut Pro and so on, MOV is the best choice; for Windows PC, Windows tablets and Lumia users, WMV is a good video format that can save high quality video with smaller file size.
Part 2. Best and Easiest Way to Convert MOV to WMV on Windows/Mac
To convert MOV to WMV, all you need is Vidmore Video Converter. This video converter supports converting all popular video formats. You don't have to worry about the problems with incompatibility. It is your best way to quickly convert QuickTime MOV files to WMV files at 50x faster speed. With Vidmore Video Converter, the video quality will also be guaranteed. It can preserve the original quality of your videos, including those in 1080p HD and 4K Ultra HD. Meanwhile, your output video files will be saved as a smaller file size with high visual quality. In addition to the above functions, Vidmore Video Converter can also convert MOV to MP3 or other audio formats including M4A, AIFF, AAC, DTS, etc.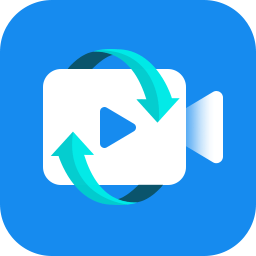 Vidmore Video Converter
Safely and easily convert video to over 200+ formats, including MOV, WMV, AVI, MP4, etc.
With 50x faster video conversion speed and high-speed video processing algorithms.
Convert video for any device, including the latest models of iPhone, iPad, Samsung Galaxy, etc.
Support for simple and powerful video editing.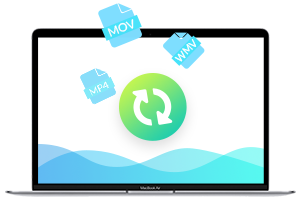 Step 1: Free download Vidmore Video Converter. Launch the program after installation. Then click Add Files or directly drag your MOV videos to the main interface. You can process multiple files simultaneously with Vidmore Video Converter.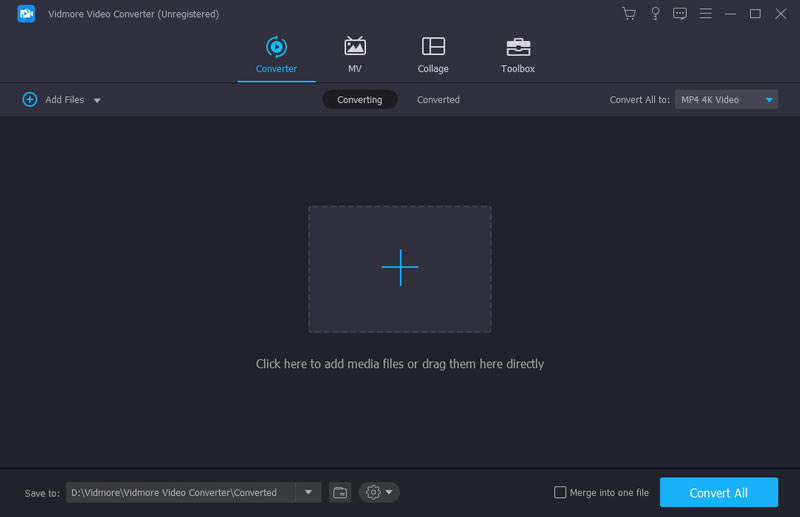 Step 2: Find Convert All to at the top right of the video list, then choose Video > WMV as the output format from the drop-down menu. Then select the video resolutions including Same as source, HD, 720P, SD based on your needs.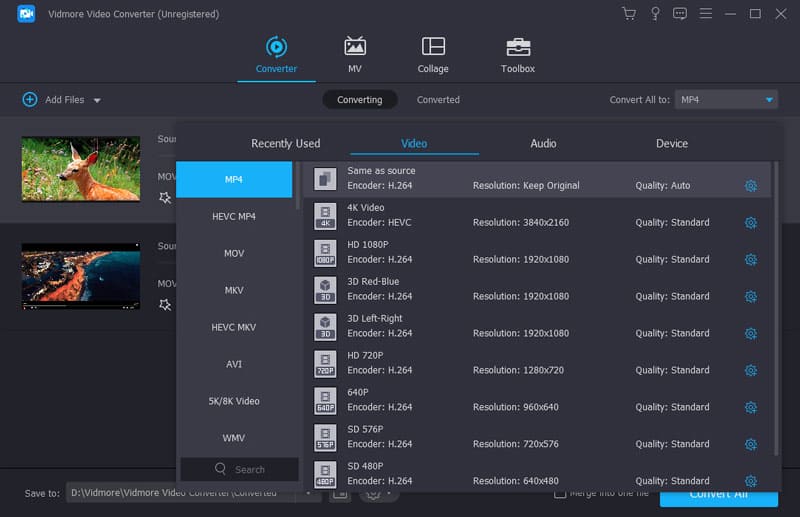 Note: When you want to set different output formats for each video file, you need to find the format selection drop-down menu at the back right of each video file. Then choose Video > WMV as the output format.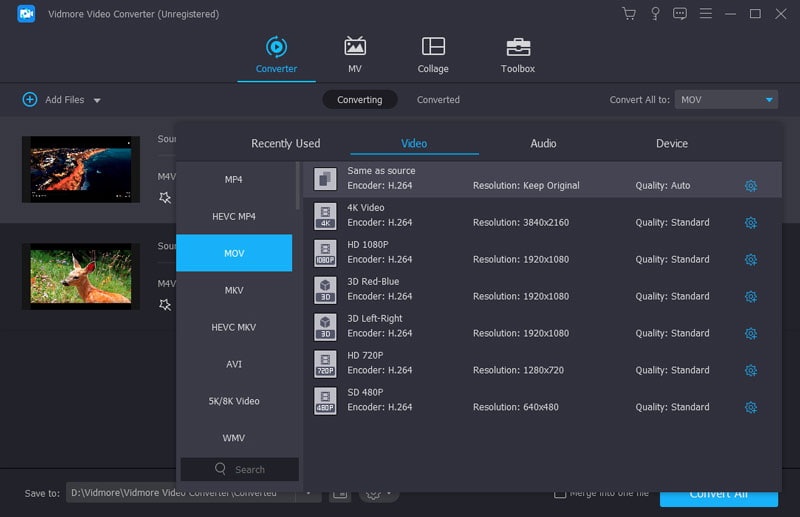 Step 3: After selecting the location of files, click Convert All to start converting your files from MOV to WMV. The process may take several minutes based on the length of your videos. That's all there is to it!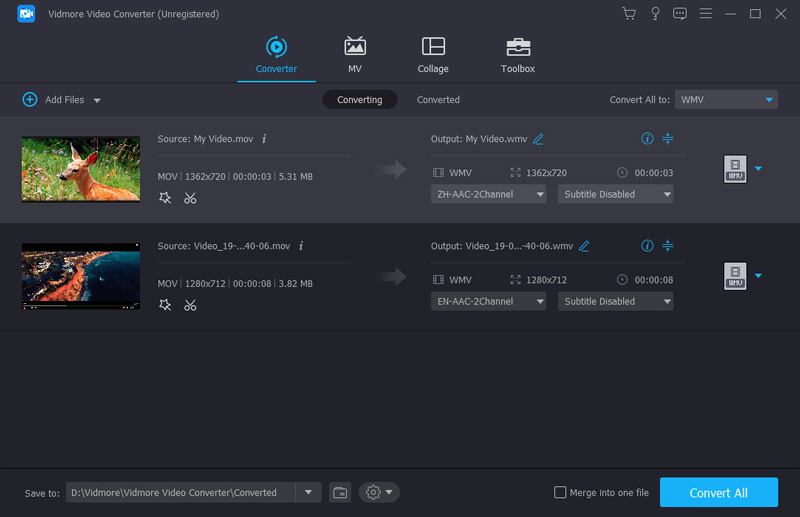 Part 3. Best Free Online MOV to WMV Converter
When you search the Internet to find a suitable video converter, you are presented with various free online converters. At that moment, you don't know which one you should choose. Even when you are going to try it, you maybe worry about whether it is truly safe and free or whether it can successfully convert your videos.
In order to save your time and protect your file and computer, here we recommend a definitely free and safe online converter - Vidmore Free Online Video Converter. It is easy to use and 100% free web application that works on Windows and Mac OS. This free video converter easily converts all video & audio including MOV, WMV, MP4, AVI, MKV, FLV, MP3, M4A and more. You can finish converting MOV to WMV within 3 simple steps. Follow the simple steps listed below:
Step 1. Click Add files to convert on the web. Follow the tips to install Vidmore Launcher. Then open the program online.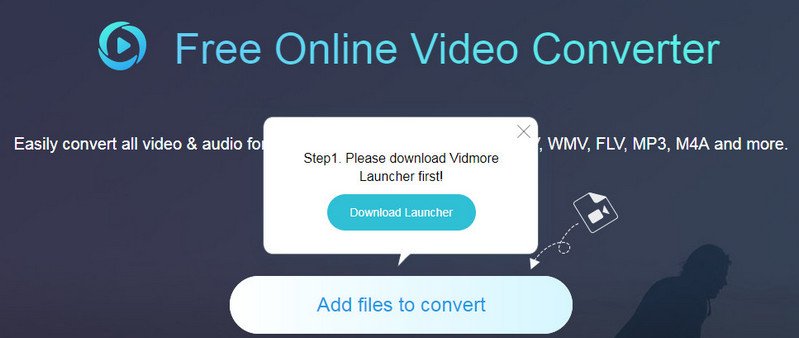 Step 2. Click Add file to input the source MOV files and select WMV format as the output format.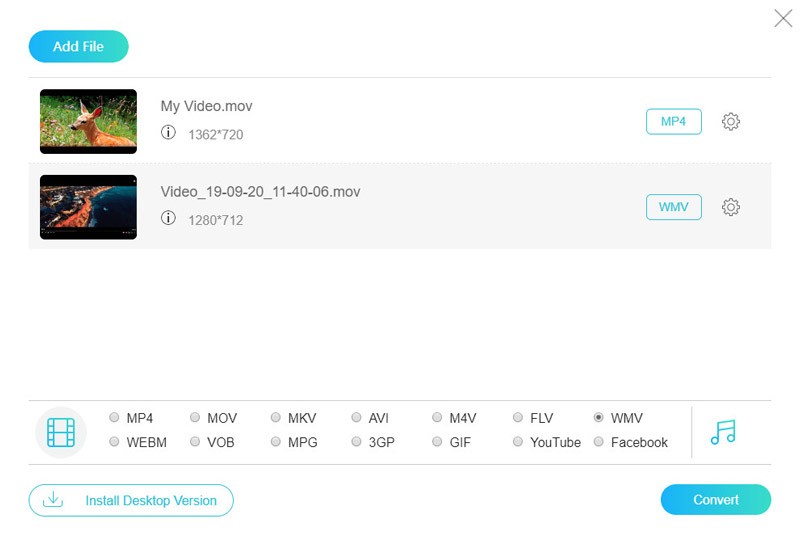 Step 3. Click the gear mark on the right. You can set video settings and audio settings, and then click OK. Then click Convert and Select Folder. It will start the process automatically.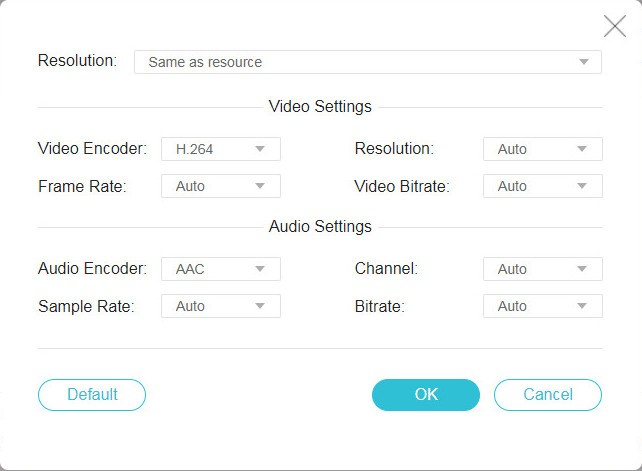 Final Words
Some people maybe consider the video conversion from MOV to WMV as tough and professional work. In essence, it is. Luckily, to meet the needs of video conversion, the market appears many converter tools for us to use. While you just at this moment should be very alert, you will surely avoid any unnecessary troubles. There is no doubt that Vidmore Video Converter is your best choice to convert MOV to WMV or convert MOV to AVI, MP4, etc. Or if you want to use free online converter temporarily, you'll never regret to use Vidmore Free Online Video Converter.
If you have problems on converting MOV to WMV, please drop me a note in the comments and I'd be happy to figure it out with you!