How to Convert Filmora Project to Premiere Pro [Attested Methods]
WFP and PRPROJ are both project file formats used in video editing programs. However, they are specific to different programs and serve distinct purposes. WFP files are specific to Filmora and can only be used within the Filmora environment. In contrast, PRPROJ files are exclusive to Adobe Premiere Pro and can only be opened and edited within Premiere Pro.
Is it possible to convert WFP to PRPROJ? You will find out in this post! It will present a guide you can use to accomplish your task. So what are you waiting for? Check the following details!

Part 1. WFP vs. PRPROJ
WFP is a video project created by Wondershare Filmora. It contains project details, including a timeline with one or more video tracks. In addition, it includes project settings, such as animated titles, edits, transitions, and special effects. These files also store video and audio settings for the project, such as bitrate, channel, encoder, frame rate, sample rate, and resolution. WFP projects save references to music and video files but not the file themselves. With that, users must copy the referenced files when transferring a project.
Wondershare released the WFP format with Filmora9 in December 2018, replacing WVE (Windows) and WSVE (Mac) project file types. Users can export the project to various multimedia formats, including MP4, AVI, MKV, MOV, GIF, and MP3.
PRPROJ is a file extension related to Adobe Premiere Pro, a professional video editing program. This project file was created to store information about a video editing project. It concludes with references to media files, timelines, transitions, effects, sequences, and other project-specific settings.
When you work on a video editing project in Adobe Premiere Pro, users save their progress as a PRPROJ file. This file is a roadmap for Premiere Pro to organize and load all the essential assets and project settings. PRPROJ files do not include the actual media files themselves. Instead, they store references or links to the media files used in the project. The media files, such as images and audio and video files, are typically stored separately on your external storage device or desktop.
Part 2. How to Convert WFP to PRPROJ
There are no direct methods to convert WFP to PRPRO. But wait, you can use another method to accomplish that. This section will present two methods to convert WFP to PRPROJ. Are you ready to learn how to do it? If yes, please keep reading the following details.
Convert WFP to Adobe Premiere Pro's Compatible Format
You must first convert the WFP file to Adobes Premiere Pro's compatible format using Filmora. With that, you can import the WFP file in Adobe Premiere Pro and export the file as PRPROJ.
Filmora is a popular video editing program developed by Wondershare. It is designed to offer an accessible and user-friendly editing experience for novice and professional users. This program provides numerous features, allowing users to quickly edit and improve their projects. Filmora can help you convert WFP to other video formats supported by Adobe Premiere Pro. To do that, rely on the steps provided.
Step 1. First and foremost, download and install the video editor on your desktop device. Once installed, proceed to launch the program to get started.
Step 2. From the top menu bar, go to File, Open Project, and then Open Recent or drag and drop the file into the program. After that, the program will load the WFP project into FilmForth. The WFP file will restore the previous editing settings, such as project settings, a timeline with video tracks, titles, transitions, effects, edits, etc.
Step 3. If needed, continue further editing. When you are finished editing, hit the Export button from the upper corner of the video editing window. Afterward, click Export with Watermark in the popup dialog.
Step 4. Pick a format supported by Adobe Premiere Pro from the Export window to the left corner under the Label tab. Here, you can customize the video parameters if needed. When done, press the Export button front the lower-right corner. Then, there will be a message that will pop in in the Export window saying Converted successfully.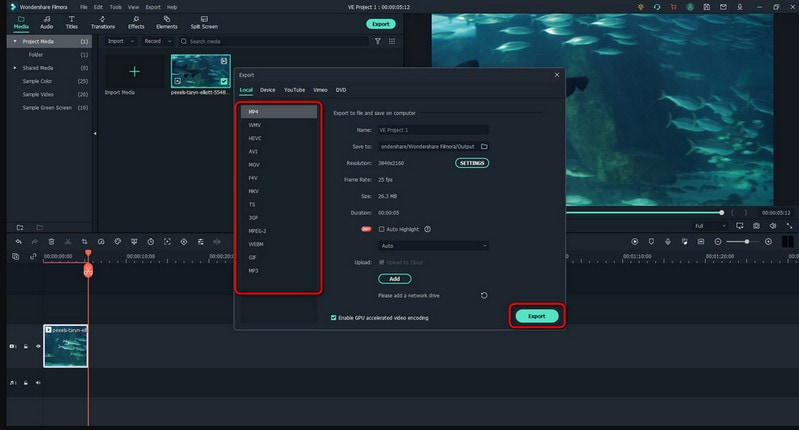 Import the Converted File to Adobe Premiere Pro
You can now upload the file to Adobe Premiere Pro after converting WFP to Adobe Premiere Pro's supported format. Therefore, you can export the converted file to a PRPROJ file as you wish.
Adobe Premiere Pro is a professional and excellent video editing program developed by Adobe Inc. This program is widely used by video editors, content creators, and filmmakers for its powerful features and comprehensive editing capabilities. It provides several tools and functions to help users make high-quality videos with creativity and precision. This program can help you convert files to PRPROJ, your primary task. To do that, count on the steps provided.
Step 1. Run Adobe Premiere Pro and create a new project or open an existing one.
Step 2. Go to File, Import, and select the converted file you want to import. Choose your desired settings for the import, such as sequence or interpretation settings. Once settled, click OK to save the changes.
Step 3. The converted file will be imported into your project, and you can drag it to the Timeline for editing. Adobe Premiere Pro will immediately generate a sequence based on the video file's properties by importing the file.
Note: The PRPROJ file is the project file that saves your timeline structure, project settings, and references to the media files.
Step 4. To save your project for future use or collaboration, head to File, Save As, and then save your project as a PRPROJ file. After that, it will retain all the project references and settings.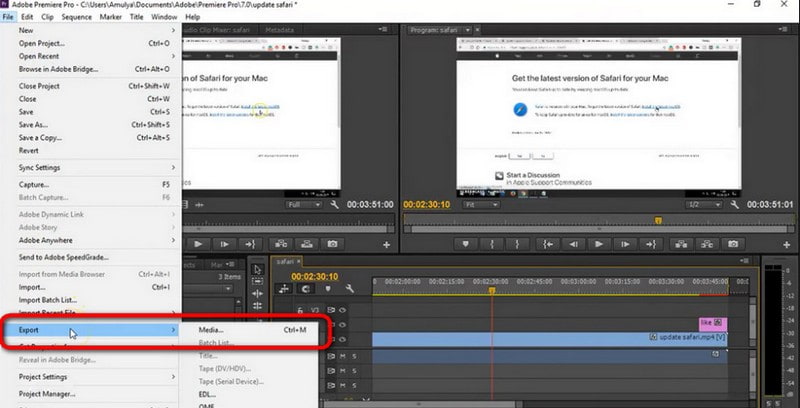 Bonus: The Most Powerful Converter with No Watermark
If you are searching for a versatile and powerful converter that leaves no watermark in your project, you can rely on Vidmore Video Converter. This program supports various video formats, like MP4, MOV, MKV, AVI, and more. It offers excellent features to cater to different audio and video conversion needs. Whether you want to convert videos for compatibility with various devices, edit and enhance your videos, or extract audio from video files.
Vidmore Video Converter supports both standard and high-definition video resolution. This program lets you convert numerous videos simultaneously, saving effort and time. It offers tools to enhance video quality by upscaling resolution, reducing video noise, stabilizing shaky video, and optimizing contrast and brightness. On top of that, you can customize audio and video codecs, frame rate, bitrate, resolution, and more to suit your specific needs. Amazing, right? So what are you waiting for? Feel free to download and install it on your computer and make your conversion easy!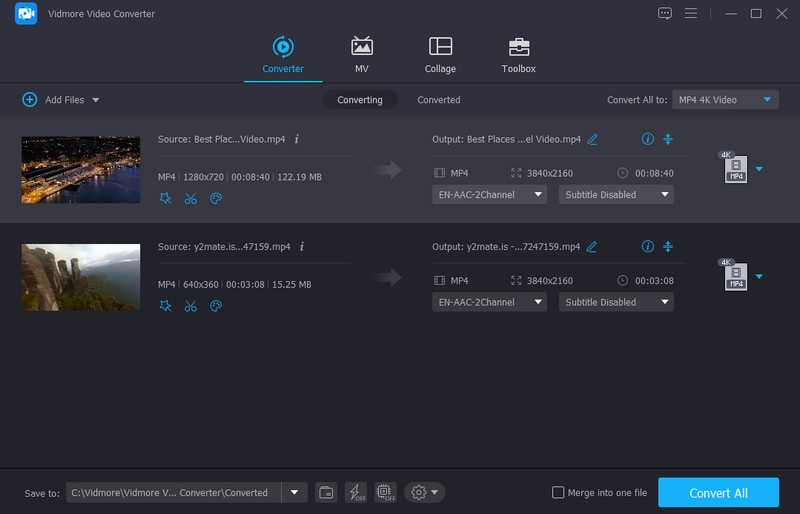 Part 3. FAQs about WFP vs. PRPROJ
How do I open PRPROJ file?
To open the PRPROJ file, run Adobe Premiere Pro, head to File, and then Open Project. Browser to the destination folder where the PRPROJ file is saved and select it. The program will open the project file, enabling users to continue working on it.
Can I share a PRPROJ file with others?
Yes, you can share a PRPROJ file with others to transfer a project or collaborate. However, ensuring that the media files referenced in the PRPROJ file are also shared is essential or available to the recipient.
Can I PRPROJ file to a different video format?
You cannot directly convert a PRPROJ file to a video format. Instead, you must export the project in Adobe Premiere Pro to make a video file in the preferred format.
Where are the Filmora project files saved?
If you go to File and then Save Project As your project file will be saved locally on your desktop in your selected location.
Can I convert a PRPROJ file to an earlier version of Adobe Premiere Pro?
PRPROJ files are generally forward-compatible but not backward-compatible. You can open the PRPROJ file in a newer version of Adobe Premiere Pro. However, you may encounter compatibility problems if you try to open it in an earlier version.
Conclusion
While there is no direct method to convert a Filmora project file to a Premiere Pro file, you can still achieve it by following the abovementioned steps. Besides that, if you want the most powerful converter with no watermark, we highly recommend Vidmore Video Converter. It offers numerous built-in features and functions for video conversion, upscaling, and editing.