Best Approach on How to Sync Audio and Video in Premiere
We all know that Adobe Premiere is a great tool that you can count on for editing images, audio, and videos. No wonder it is being used by most people for editing and enhancing the quality of their favorite files. However, due to its rich editing features, some users find it challenging to navigate. There are instances wherein they take much time before they can sync the audio with their video clips. That is why in this article, we will give you the best way to sync audio and video clips in Premiere.

Part 1. Ways on How to Sync Audio and Video in Premiere
Sometimes we cannot enjoy the video or movie because of the poorly synced audio and video. The good thing is that Adobe Premiere Pro has a lot of editing features to offer. It offers editing tools intended for images, audio, and videos. Therefore, if you are looking for a reliable solution on syncing audio and video clips using Premiere, you better refer to this post. Because here, we will give you the best approach to doing it correctly.
1. Perfect Synchronization
All you have to do in this process is drag and drop the audio and video files into the timeline before syncing. This method is also helpful if you are editing a project. You can rely on the step-by-step procedure outlined below.
Step 1: Before anything else, launch Premiere Pro and arrange the audio and video files in the Timeline on top of each other.
Step 2: Then, choose both tracks, right-click, and choose Synchronize. Choose Audio as the synchronization point and the track to sync.
Step 3: Finally, remove the scratch track and connect the clips.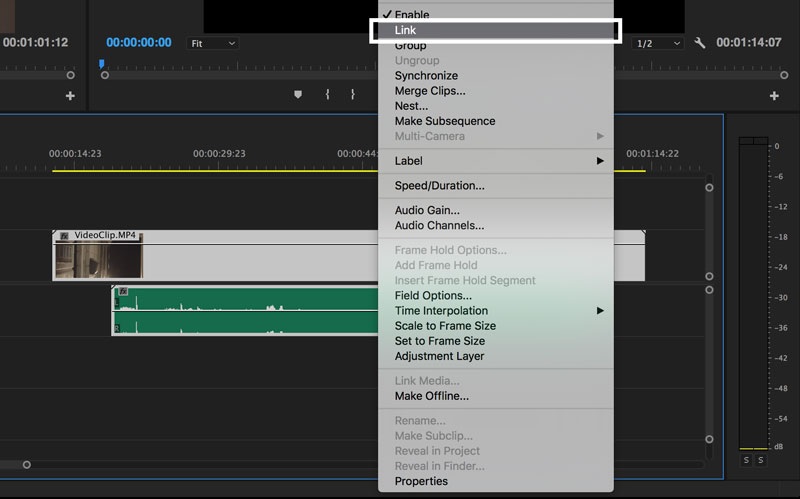 2. Synchronized Manually
The Premiere Pro will occasionally fail to sync audio and video perfectly. Sometimes the tool is unable to locate a suitable reference point. However, you are capable of completing the task on your own. It may not be the fastest or the most convenient method, but it is the most accurate and effective. Syncing audio and video is also the best way to get back on track if things go wrong during the editing process. And in this part, learn how to manually sync audio and video in Premiere by following the steps written below.
Step 1: First thing to do is position the audio and video files on top of each other in the main interface.
Step 2: Then, move the cursor to a good reference point for both audio tracks and spot the frame where your first sound hits.
Step 3: Finally, line up the tracks with the markers, delete the scratch track, and join the clips.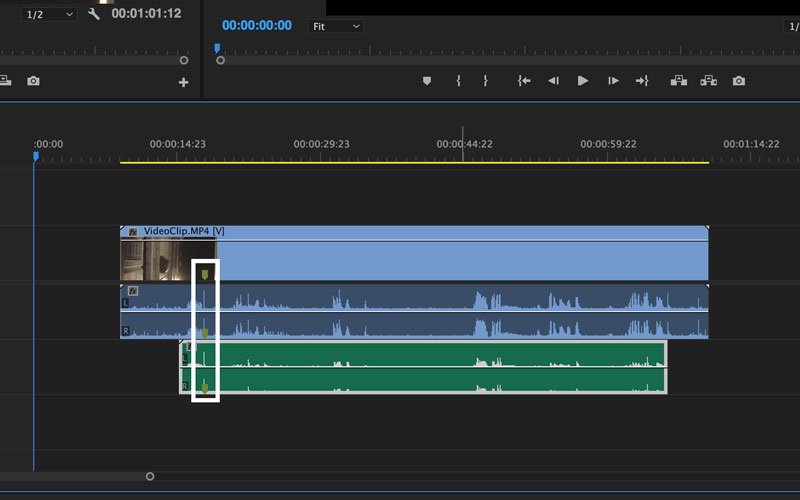 Part 2. Easy Method to Sync Audio for Beginners
If you are looking for an easy-to-navigate tool that will help you to sync the audio in your video clips, lean on the Vidmore Video Converter. It is an effective and comprehensive program because it edits images, audio, and videos. It is also a very user-friendly tool. Therefore, you won't have to watch tons of video tutorials or read many manuals on how to navigate the editing interface because you can navigate it without any hassle.
Another fantastic thing about this tool is that it still works at its best even without an internet connection. That is why there will be no problem if you ever use this tool and lose a signal. Vidmore Video Converter is also available on Mac and Windows devices. So whether you require to use any device in syncing the audio with the video clips, it will still be possible. Lastly, this tool converts very fast as this tool values your time.
Step 1: Download the Audio and Video Editor
Before continuing, you must first download and install the software by pressing one of the Download icons below. After that, launch and open the tool.
Step 2: Post the Video Clips on the Timeline
Begin adding the video clip to the Timeline by tapping Add Files in the upper left side of the screen or simply the Plus symbol once the tool starts running on your device.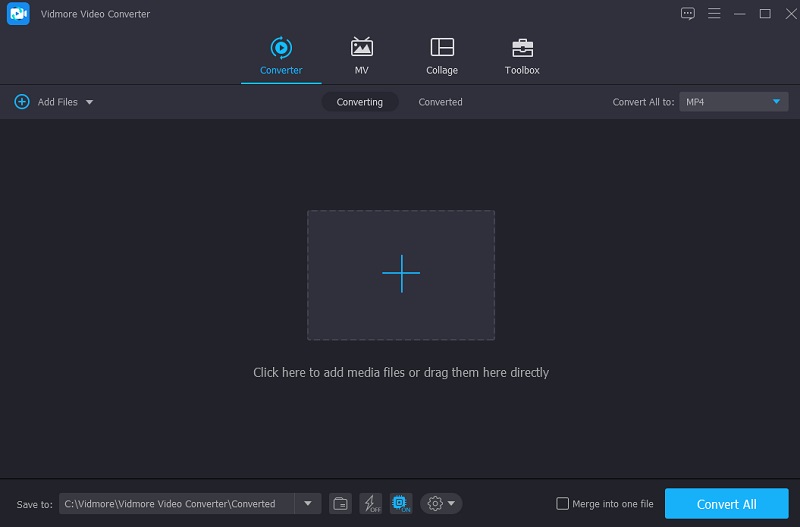 Step 3: Begin to Sync Audio and Video File
To address the audio and video out-of-sync issues, go to the Star icon, which is for you to be in the editing section. Then, to see the audio settings, you need to click the Audio tab.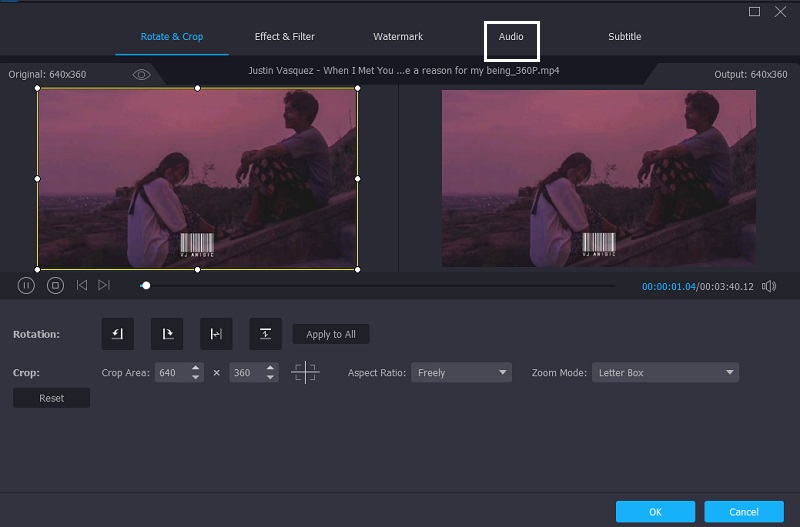 After that, you can now adjust the Delay slider in the audio settings to correct the audio delay. Then, modify the audio and video as needed until they are in sync. Once you perfectly sync the audio and video, press the OK button.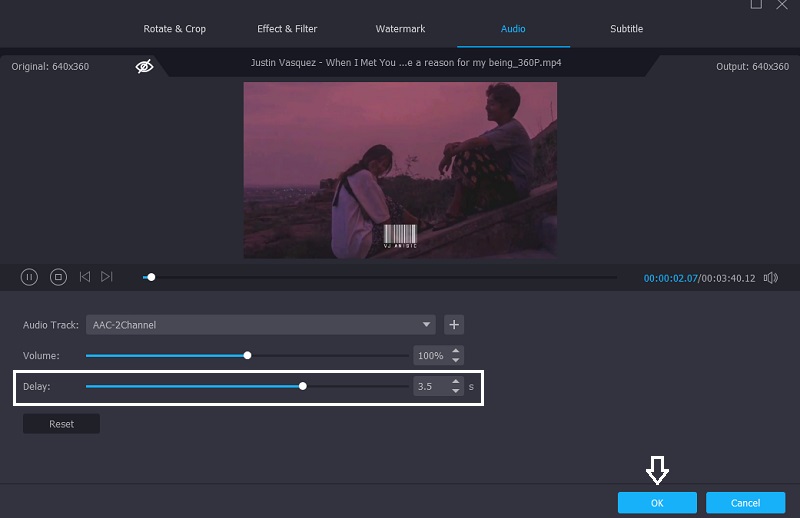 Step 4: Save the Video Clips
Once you have performed the preceding steps, you can now proceed to the conversion process. After pressing the Convert All button, wait for your video file to convert. And that is all!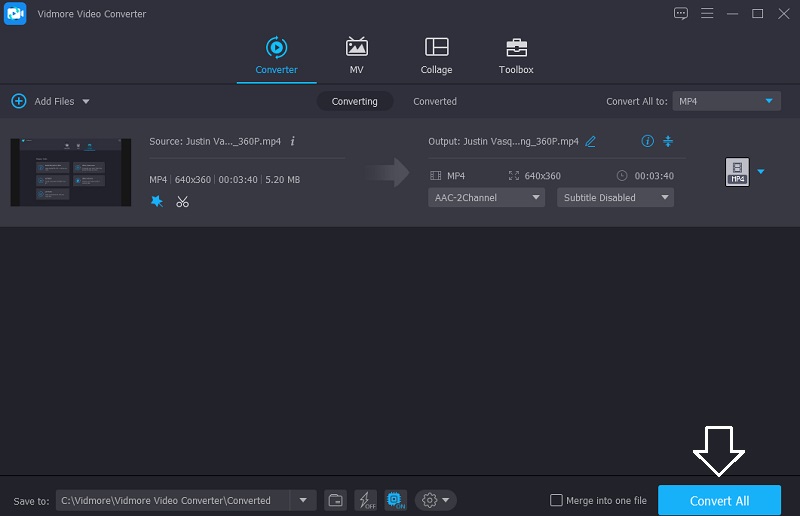 Part 3. FAQs on How to Sync Audio and Video in Premiere
What is the deal with my video trailing behind my audio?
When there is too much information to process when streaming, video often takes longer than audio, so it will not sync on the audio.
How can I get rid of recorded video lag?
Close all other tabs and programs first. Restarting your computer is another option. If feasible, record a single browser tab rather than your entire desktop. Finally, choose a resolution limit for your recording.
Is there an app for fixing audio video out of sync on Android?
Yes, you may give Wondershare Repairit a try. It is one of the most popular and widely used tools for resolving audio and video delays on Android devices. It is quick and dependable to repair audio video sync on Android by carefully inspecting the video's details.
Conclusion
Through the help of this post, you will not have a hard time editing the audio that doesn't match your video clips. We have provided concrete solutions on how to sync audio and video clips in Premiere through the list of information. All you have to do is follow the instructions above to sync your audio and video files perfectly. But if you still find it hard to match the audio to the actual video, you better give Vidmore Video Converter a try. It will surely make your loads easier. So what are you waiting for? Start to sync the audio with your video clips with the help of the powerful tools above.