Convert WFP to Video Format: Save Filmora Project as Video
When working with Filmora, you may need to convert your WFP files into other video formats for various purposes. Converting your Filmora projects to other video formats allows for more excellent playback, compatibility with different devices and programs, and flexibility in sharing. Do you know how to convert the Filmora project to video? If so, we got your back. This post will help you convert WFP to other video formats you desire to play without experiencing issues. Let's get started!

Part 1. Is WFP a Video Format
A file with the WFP file extension is a Wondershare Filmora Project file created by Filmora, a paid video editing program. Unlike MP4, MKV, AVI, or other media files that contain actual media files, a WFP file holds project-related materials. It involves the timeline with audio and video tracks and the references of the media files according to the locations and names. These files store audio and video settings for the project, including the resolution, channel, bitrate, frame rate, and sample rate. It serves as a container for the users' project, allowing them to open and continue editing their videos in Filmora quickly.
Part 2. How to Convert WFP to Other Video Formats
1. Filmora
If there is one program that can convert WFP to other video formats efficiently and hassle-free, that is Wondershare Filmora. It is commonly used for video editing, making it a popular choice for content creators, filmmakers, vloggers, and more. As a result, they can produce high-quality videos without the steep learning curve of a professional-grade program. This program is a user-friendly and feature-rich environment for video editing and supports various video formats. The video formats it supports are MOV, MP4, AVI, WMV, MKV, MPEG, FLV, MTS/M2TS, VOV, and WEBM. With that, you can convert WFP to other desired video formats. Are you excited to know how to do it?
Below are the instructional steps to convert WFP to WMV, MOV, AVI, MP4, and more that you can select from:
Step 1. First and foremost, you must visit the Filmora website to choose your editor version and download your copy of the program. When the Filmora is up and running on your computer, click on New Project from the main interface or screen.
Step 2. You are now required to import the file to the Filmora interface. Head to File, and then Open Project/Open Recent to import your file. Besides that, you can click the Import Media Files button available under the Import tab. After that, browse the file over your computer storage. The file will restore previous editing settings, such as project settings, timeline with video tracks, effects, transitions, titles, edits, and more.
Step 3. Drag and drop the file over the Filmora timeline. If needed, continue further video editing. Once you finish your job, click the Export button from the upper corner of the video editing workplace. Afterward, a dialog box will appear on your screen; press Export with Watermark.
Step 4. From the upcoming screen, head to Local and select your preferred output video format. You can convert WFP to MOV, AVI, WMV, MP4, and more according to your desire or need.
Step 5. Soon after you are satisfied with your settings, tick the Export button to begin the procedure. Your file will be converted successfully to your selected format, and then select the Open Folder button to locate your video export.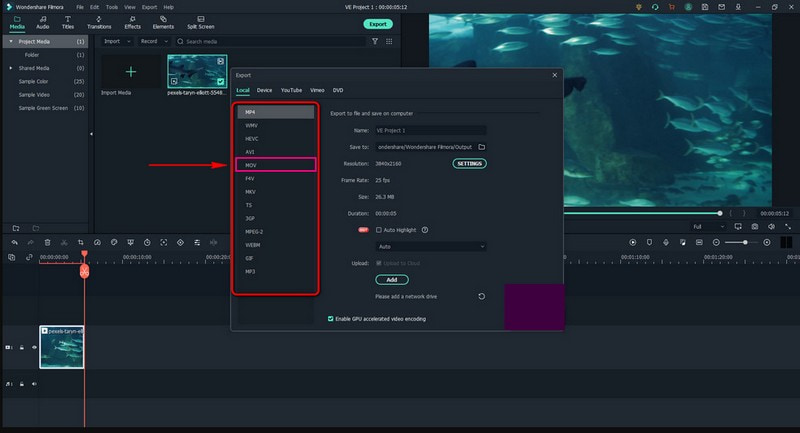 2. Vidmore Screen Recorder
If you are looking for another method to convert WFP to other video formats, Vidmore Screen Recorder can help you. This program can help you record everything on the selected screen size. You can capture the entire screen or pick specific areas to record. You can record high-quality videos with smooth motion and simultaneously capture system audio, microphone audio, or both. In addition, you can draw, incorporate texts, shapes, and arrows, and highlight specific screen areas in real-time. On top of that, it supports various video formats, such as MP4, AVI, FLV, MOV, TS, MKV, and GIF. Amazing, right?
The above details can help you convert and save WFP to other video formats through recording. For that reason, you can play the file without needing other applications, as it is already converted to a video format. Amazing, right?
Below are the instructional steps to convert WFP to AVI, MP4, FLV, MOV, and more that you can select from:
Step 1. Download and Install the program from the official website. Once installed, proceed to launch the program.
Step 2. Pick Video Recorder from the features available on the main interface. After that, the video recorder settings will then appear on your screen. Turn on Display1 and choose your desired screen size. Turn on the Webcam to add your face to the recording. Turn on the System Sound to record the audio from the video playing through your computer. Lastly, turn on the Microphone if you want to add your voice to the recording.

Step 3. When the settings are settled, return to Filmora, and prepare the SWP file you will play. When done, press the REC button to start recording the WFP file.

Step 4. Once the recording starts, you can pause, resume, and stop the recordings. Once done, click the Stop button to end recording the WFP file.
Step 5. The window player pops up on your screen, where you can preview the recorded WFP file. When satisfied, hit the Save button, and save it based on your preferred format. After that, the WFP file is converted to another video format without a watermark embedded.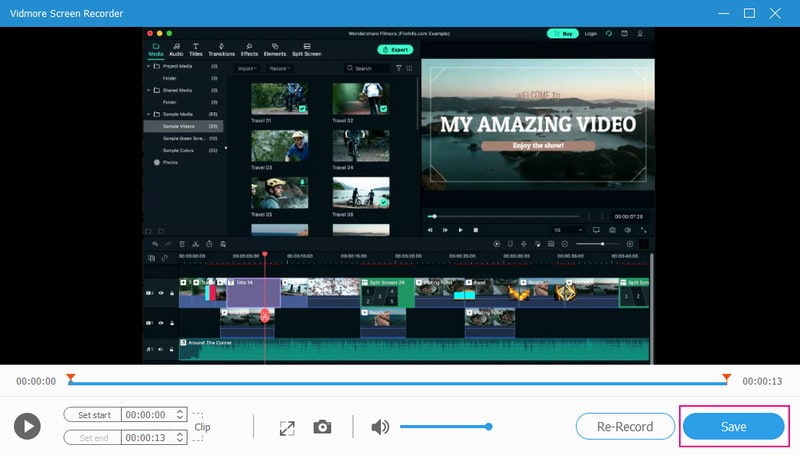 Part 3. FAQs about WFP to Video
Why is the Filmora MOV file not supported?
If you encounter a problem where a MOV file is not supported in Filmora, you must ensure you use the updated version. Also, you must check the MOV file codec because some MOV files use unsupported audio or video codecs.
What is the purpose of a WFP file?
The purpose of the WFP file is to allow the users to save and reopen their projects in Filmora for further editing. Besides that, it contains essential information, such as audio and video clips, effects, transitions, and editing setting specific to the project.
Can I convert WFP to MOV using Vidmore Screen Recorder?
Yes, indeed! You can convert WFP to AVI using Vidmore Screen Recorder through the process of recording. Once the recording is finished, save the WFP file to MOV format.
Can I convert a video file to a WFP file?
Unfortunately, you cannot convert a video file directly into a WFP file because it is only specific to Filmora and contains project-related information.
Can you upload WFP files to Youtube?
No, you cannot upload WFP files to Youtube because WFP is not a media file that holds the audio or video source. To upload WFP files to Youtube, you must convert the file to another media file that is compatible with Youtube.
Conclusion
This post taught you how to save the Filmora project as a video using various excellent programs. Converting a WFP file to another video format involves rendering or exporting the project as a video file in the preferred format. With the help of Filmora, you have converted the WFP file to your desired video format. Also, Vidmore Screen Recorder allows you to record the WFP file and save it to another video format supported by most media players.