Top 4 Programs to Add MP3 Music to MP4 Video Online and Offline
What makes a video interesting to watch is the audio added to it. In other words, music plays a massive role in creating a video clip. It would be best if you got the right piece for your video. Whether it is a presentation, funny clips, action, or comedy, there is an appropriate soundtrack for it. If you have a collection of MP3 files downloaded before, you probably think of adding them to your MP4 files.
With this in mind, we prepared a list of the best software apps that help you add MP3 to MP4. We include their features, functions, and pros and cons so that you can choose the app that suits you best. Read on to learn more.

Part 1. How to Add Audio to MP4 on Desktop
1. Vidmore Video Converter
Vidmore Video Converter is the best choice for an easy yet professional tool. This allows you to add almost any audio, including MP3, AAC, WMA, OGG, and many more audio formats. Furthermore, you may render the video together with the filters, subtitles, texts you added to the video using the program. It also comes with basic editing features to cut, crop, and split audio/video. Most importantly, you can convert the video to any format, including device-supported formats like iPhone, Samsung, Huawei, etc. Advance to the steps to add audio to video MP3 using this program.
Step 1. Acquire the Vidmore Video Converter
First of all, grab the program's installer by clicking on any Free Download buttons located below. Have the app installed on your computer and launch it afterward.
Step 2. Add video clip to the software
After launching the app, click on the Plus sign button on the main interface to add an MP4 video from your local computer drive. You may also press the Spacebar to load the folder and locate your target MP4 video.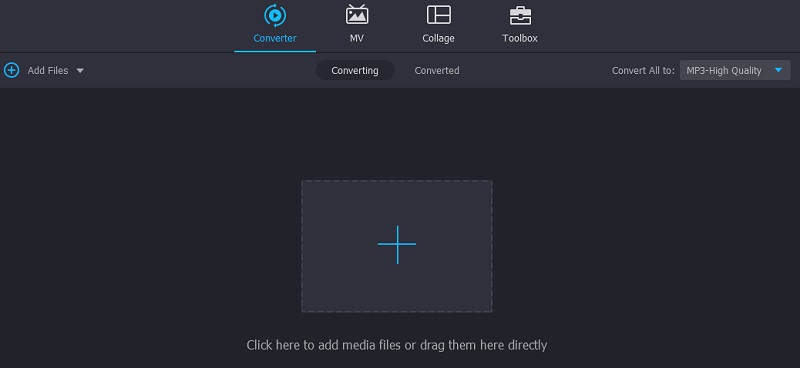 Step 3. Add audio to MP4 video
When you are done uploading the video, you should see its thumbnail. Click on the Add Audio drop-down button and choose Add Audio Track option. It will open a folder. From here, locate the MP3 file you want to add. You will be given options to edit the audio from the dialogue box that will appear.

Step 4. Save the output
Finally, choose an output format from the Profile menu. Once done, click the Convert All button to export the file and save it to your computer.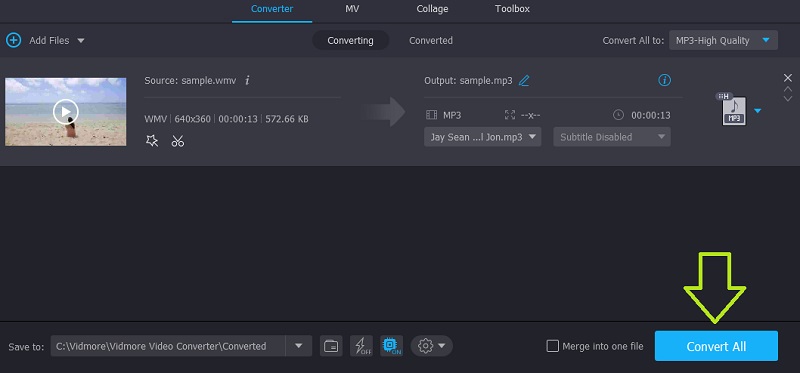 2. VLC
You can also add MP3 to MP4 in VLC quickly and easily. This is a totally free and open-source media platform available on all platforms, including Mac, Windows, Linux, iPhone, and Android. Likewise, it supports various audio files like MP3, AAC, FLAC, etc. On top of that, it features one of the most necessary functions, which is adding audio to tracks to videos. If you are interested in adding MP3 to MP4 in VLC, follow the guide below.
Step 1. Before anything else, download the VLC app on Windows PC or Mac. Install and launch it on your computer.
Step 2. Now, navigate to Media > Multiple Files. A window will appear. From here, click the Add button and load your selected MP4 file.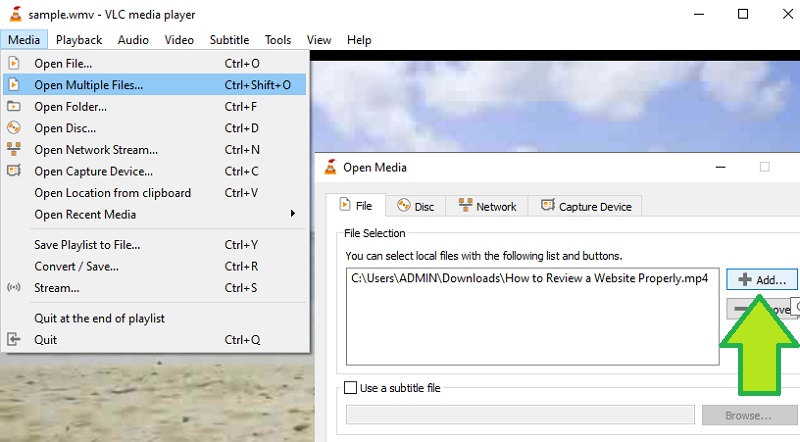 Step 3. After that, tick on the Show more options checkbox followed by the Play another media synchronously. You should see options for adding a media file.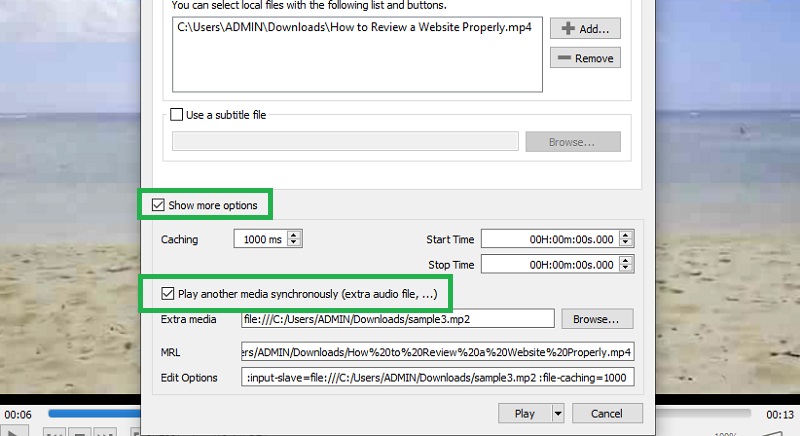 Step 4. Next, click on the Browse button, and another window will appear. Click the Add button and load the MP3 file you wish to add to the video from this window.
Step 5. Finally, click the Play button from the Open Media window to add the MP3 to MP4. The software should play the video along with the audio that you added.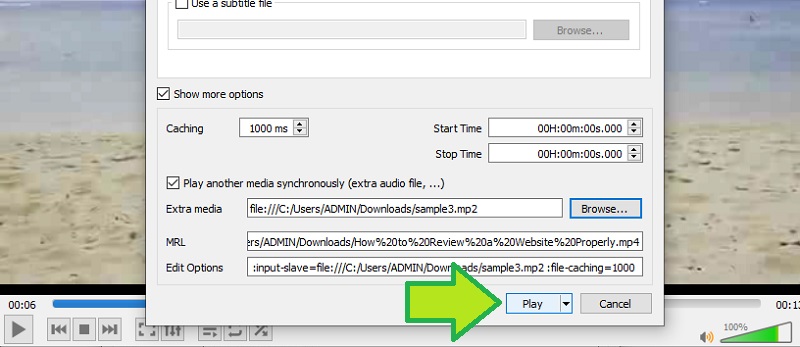 Part 2. How to Add Audio to MP4 Online
1. Fastreel
A following method is an online tool that helps you add audio to MP4. Besides that, it offers many other useful tools, including cutting, cropping, muting audio, rotating, and so much more. Also, you can choose to add music from its own music collection or upload it from your local drive. After uploading, you may adjust the volume according to your need. Now, here's how to add MP3 to MP4 video online with the help of Fastreel.
Step 1. Open a browser and access the main website of the program. On the collection of online tools, look for Add music to a video under the Audio section.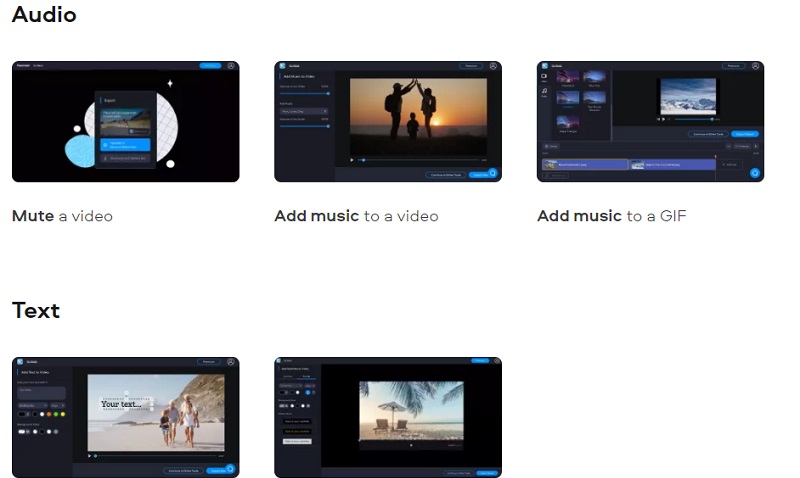 Step 2. Click the Add You File button on the page and load the MP4 video you would like to edit.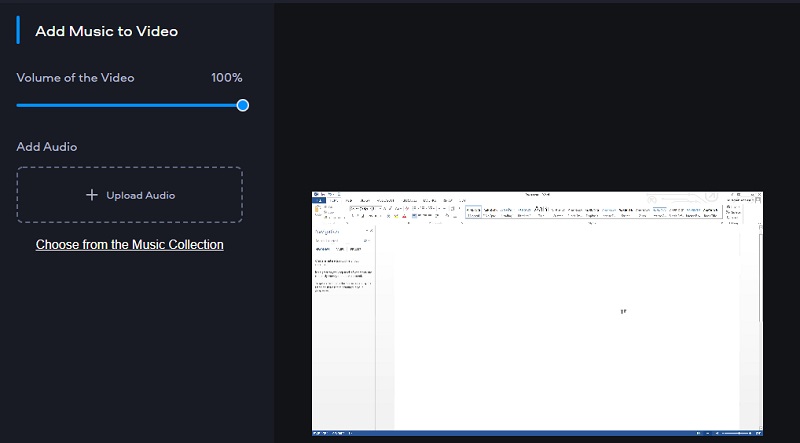 Step 3. From the next window, click on the Upload Audio button and upload the MP3 file you like to add to the video. Adjust the audio volume and export the output.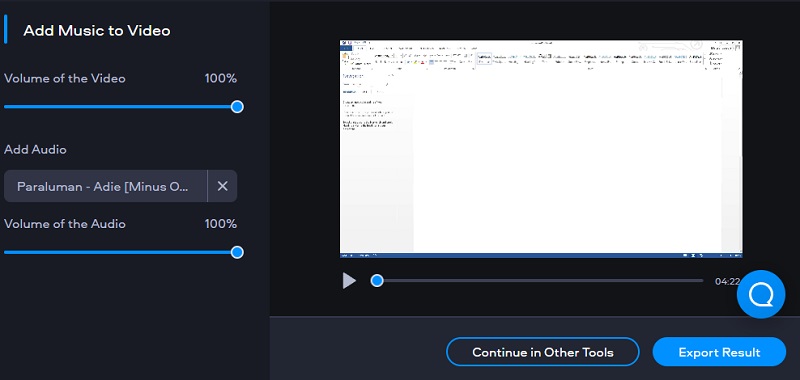 2. Clideo
Clideo is also a good alternative to add MP3 to MP4 online. You can add your favorite MP3 music to your video clips and upload it from different file sources. That includes loading files from Dropbox and Google Drive. You may cut the clip and adjust the audio and video volume with it. On top of that, this enables you to export the file to another video format. Follow the guide below and learn how to add MP3 music to video online using Clideo.
Step 1. Launch Clideo using a browser of your choice. Then, click the Choose file button to upload a video.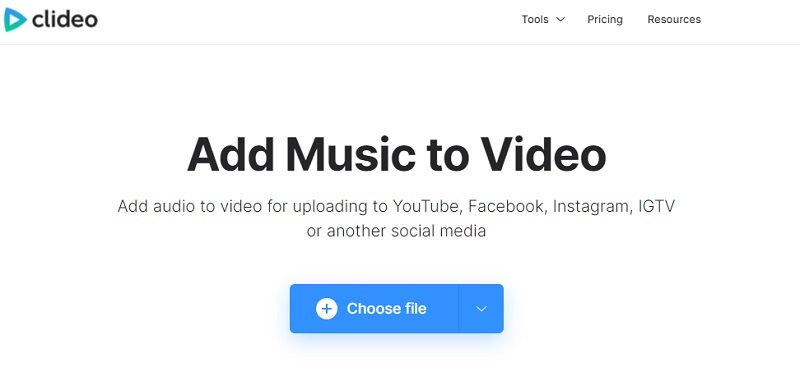 Step 2. After uploading the video, you will arrive at another page to load the MP3 audio. You can click on the drop-down and choose whether to upload from Drive or Dropbox. The audio file shall be added to the timeline.
Step 3. A set of options should appear on the right side of the interface. From here, you can adjust the volume of the audio and video or trim and apply a loop effect.
Step 4. Finally, choose an output format by clicking the profile menu at the bottom left side of the interface.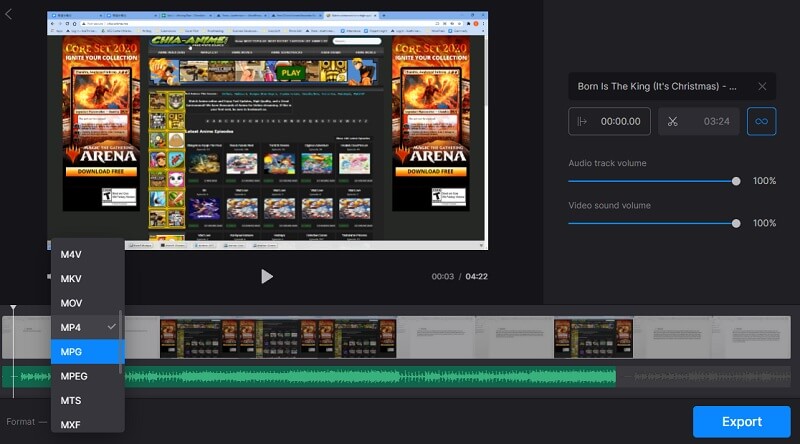 Part 3. FAQs of Adding MP3 to MP4
How to combine MP3 and MP4?
MP3 and MP4 are two different media types. MP3 is an audio-only media, while MP4 may contain a video and an audio file. To combine these two media files, you need an audio editor. You may also use the methods mentioned above.
How do you add background music to a video on an iPhone?
If you are looking for a native way to add background music to a video on an iPhone, iMovie is the app to go. This is an application for editing media files tailored for Apple devices like Mac, iPhone, and iPad.
How to replace background music in the video?
To replace the background music in the video, you can mute the original audio and add MP3 to the video with the software.
Conclusion
Those are the top methods to add an MP3 file to MP4. Now, it would be easier for you to add your favorite music, recording, or voiceover to various videos like MP4. Depending on your preference, you can choose to pick the online or offline method.