How to Cut Audio in Audacity: Best Approach You Can Count On
Sometimes we cannot avoid recording an audio track longer than what we wanted and it somehow causes our storage to be full. Therefore, you will be needing an application that can help you to cut your recorded audio. And speaking audio cutter application, Audacity is here to extend a hand.
Maybe you are new to Audacity or you are still looking for ways on how to split your audio files, well today is your lucky day! Because in this post, we will give you all the information that you will be needing on how to cut an audio in Audacity. Check out the guide information on the list beneath.

Part 1. How to Cut FLAC in Audacity
Given the fact that you already have the Audacity application but you don't know how to trim an audio to it, this part of this post will show you the right way on how to do it. The only thing that you will need is to check out the guide information below for you to successfully trim an audio in Audacity.
Step 1: In Audacity, open the audio clip you want to operate with. Then press the F1 on your keyboard and click the marker on the region that you want to cut.
Step 2: After that, to cut your audio track, press the Edit section then the Clip Boundaries for your clips to be divided into two. Then press the Split or the Control I on your keyboard.
Step 3: Once you are done following all the steps above, press the Delete key on your keyboard to take control of your audio file. You can decide if you want to fully delete the file or move it to another location in the file. And you have now your cut audio file.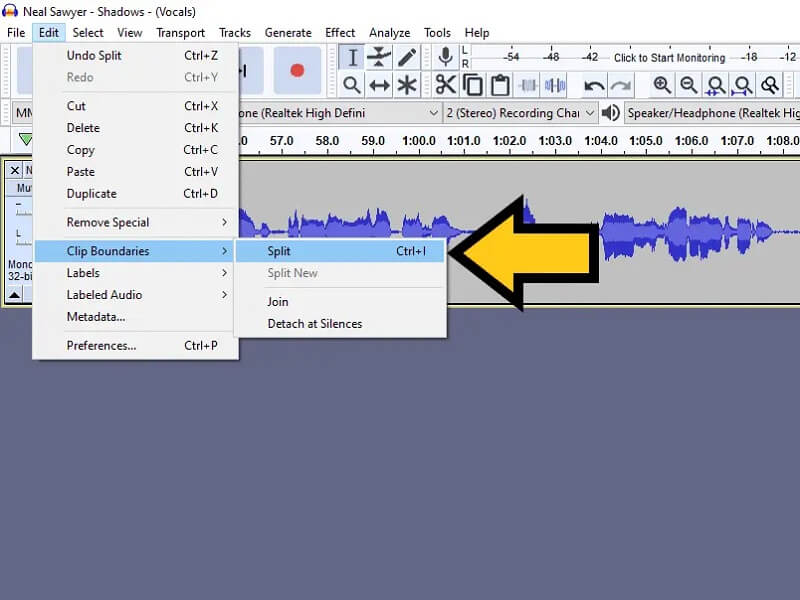 Part 2. Professional Way to Split Audio Track
If you are looking for a professional yet to use application, don't go far anymore because Vidmore Video Converter is the one you are looking for! This application is both downloadable on Mac and Windows. Aside from that, Vidmore is built with a user-friendly interface which makes it even more favorable for the users.
Additional thing that this app gets user's buy-in is its easy navigation features. You don't need to have a lot of knowledge when it comes to the technicalities of the software because you can easily cut or trim your audio tracks here. Sounds interesting right? So without further ado, here is the detailed yet easy to follow steps to split audio track using this application.
Step 1: Download the Vidmore Video Converter
Go to your browser and search for Vidmore Video Converter, or try clicking one of the Download buttons below. After that, install and run the app on your system.
Step 2. Add Your Target File
After the software has started, click the Add Files button in the left upper corner of the screen, or simply press the Plus symbol in the center of the screen, and pick the audio you wish to cut.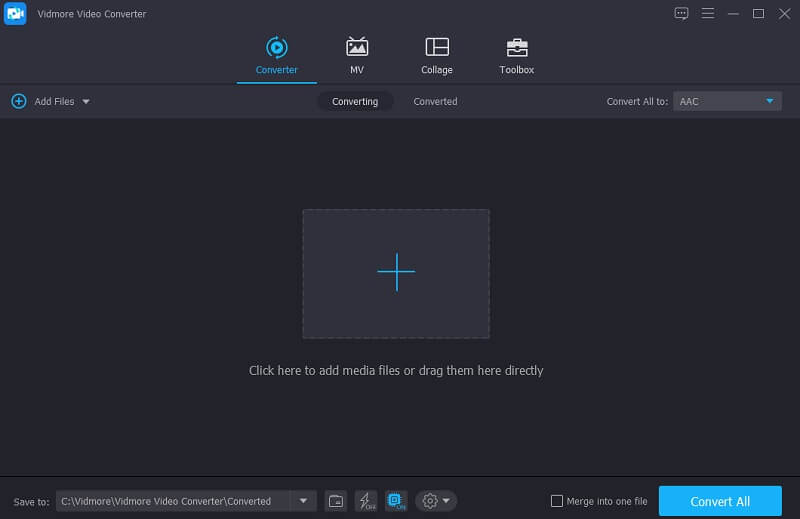 Step 3. Cut Your Audio File
After you've added your target file, click the Scissor icon next to it to be guided through the editing features. Simply place the cursor over the area of the file that you wish to keep to clip it. Or you can click the Fast Split tab to cut your audio clips in different regions by putting the number you want your file to be divided on the Split by Average tab. Then, click the Save tab.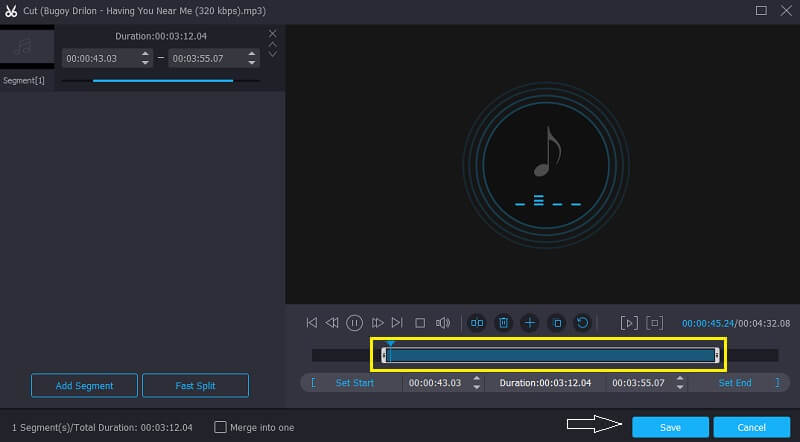 Step 4. Save the Audio File
Once you're finished with the adjustments to your file, select the Convert All button to finalize cutting and converting it. That's all there is to it!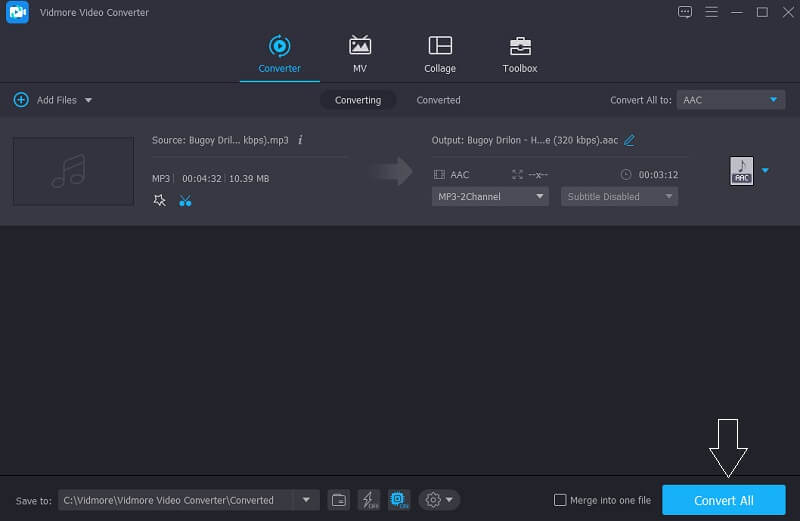 Part 3. How to Cut Audio Online
Let's say that you don't have enough storage for you to download another application, but you really need to cut your audio file, therefore you can rely on the online tools that are being offered by the internet. Through these web-based apps, you will not have to worry about having another tool to cut your audio tracks because you can still use it without the need to download it. And now, we will show you the two online tools that you can rely on to cut your audio files. Take a look at their information below.
1. Audioalter
First on the list of the browser-based apps that you can rely on cutting your audio file is Audioalter. This app offers rich features like auto panner, equalizer, noise reducer, vocal remover, volume changer and trimmer also. And another thing that is good about this tool is its friendly interface. And it helps users to easily catch up with its editing tools. And to give you more details on how to cut an audio using Audioalter, have a glance on the indicated steps below.
Step 1: Go to the page of Audioalter then find the Trimmer/ Cutter on the options. Upload the audio file that you want to trim or cut.
Step 2: After that, move the left and right handle of the audio on where you would like to cut the audio file. Then click the Keep tab in order to retain the file that you have selected
Step 3: To successfully trim the audio, click the Submit button on the right lower part of the screen and once the process is done, click the Download button.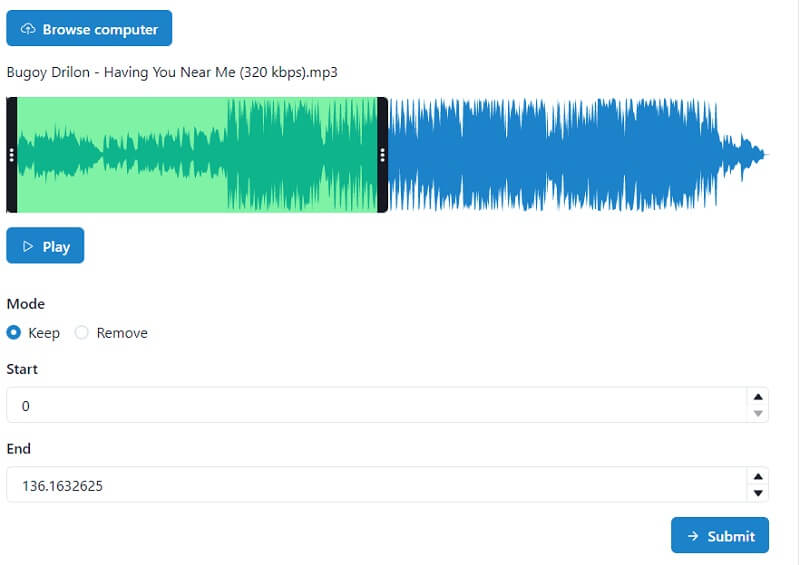 2. Clideo
Another trustworthy browser-based application that you can use to cut your audio files is Clideo. This tool accepts two ways of cutting audio tracks. First is by means of moving the two cursors on the start and end of the clip. The second one is by putting the time that you require. Like the first app, this tool also possesses a user-friendly interface which makes it easier for users to master it. And for a better understanding of this tool, take a glance on the steps provided beneath.
Step 1: On your search engine, look for the Clideo: Audio Cutter. Once you are led to the official page, click the Choose File for you to import your target clip.
Step 2: After you imported a clip, choose from the choices below if you want to Extract or Delete the selected audio clip.
Step 3: After your file was cut, you can now save it by clicking the Export tab below.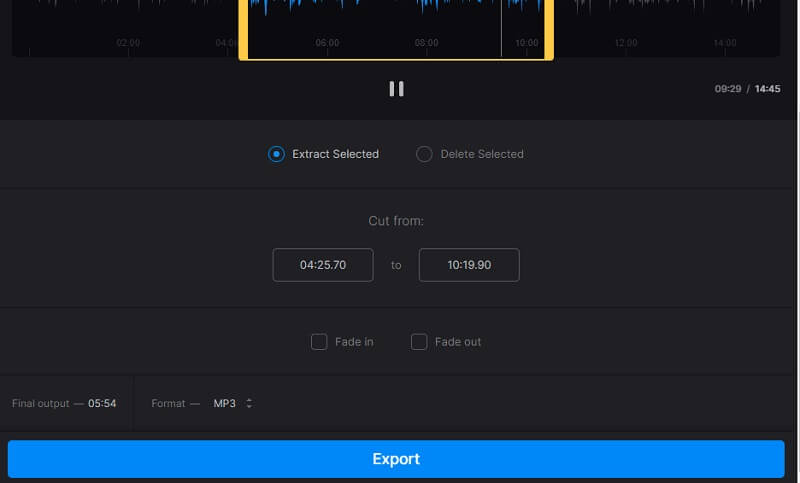 Part 4. FAQs on How to Cut Audio in Audacity
1. Can I choose a format after I trim a file on Clideo?
Yes, you can see the available formats that are being offered by Clideo on the bottom part of the screen.
2. Can I cut a WAV file on Vidmore?
Definitely yes! You are allowed to cut a file on Vidmore. Actually you can cut any file with different formats.
3. Am I allowed to cut an extracted audio from a video in Vidmore?
Yes you can, and that is what makes Vidmore a multi-purpose application. It can do your work all at once.
Conclusion
The above posts are the guides on how to split audio in Audacity. But if you want an alternative online and offline application that you can use to easily cut your audio files, consider the products given above.