Create Fade In and Audio Fade Out Effects with 5 Notable Programs
Fade effects are often present in every song we listen to and hear. The subtle build-up makes the transitions from silent to loud sound seamless and harmonious. As a matter of fact, this is also popular among movie makers to create impactful scenes. In other words, this sound effect is an essential part of a song or a sound in a video.
But don't sweat it. You don't need to be an audio engineer to affect your songs or movies. This is easy with the help of an audio editor. Whether you are a beginner or an advanced user, we have an application for you. Find the best tools to apply audio fade-out and fade-in effects.

Part 1. Best Way to Fade In/Out Audio
Vidmore Video Converter is one of the audio editing tools you can use to apply fade-in and fade-out effects to a song. The tool comes with an intuitive interface that allows you to easily edit and produce engaging media content. Not to mention, this tool enables you to make video projects providing an extensive collection of stylish templates for different themes. Apart from that, you can enhance the content by applying basic effects, filters, watermarks, etc. In addition, you can make a collage of your pictures or videos using the collage maker. Below is the procedure to create an audio fade out and fade in using this program.
Step 1. Acquire the program
To get started, download the Vidmore Video Converter on your computer using the Free Download buttons provided below. Once the download finishes, install the app and launch it on your computer.
Step 2. Add video to the program
Once the program is launched, you will be welcomed with its main interface. Go to the MV tab and then hit the Plus icon at the bottom of the interface to load a video.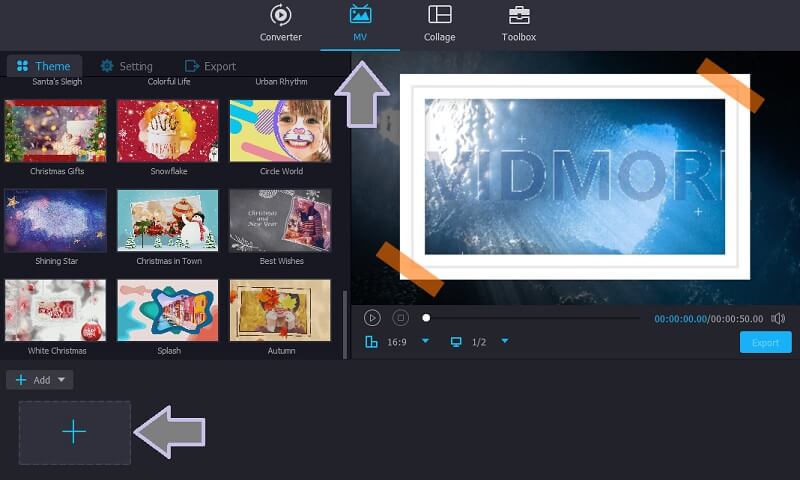 Step 3. Add fade in and fade out sound effect
After adding a video file, open the Setting tab at the top of the themes collection. Then, put a checkmark on the Fade in and Fade out checkboxes to add this effect. You may also adjust the audio's volume and delay as you like.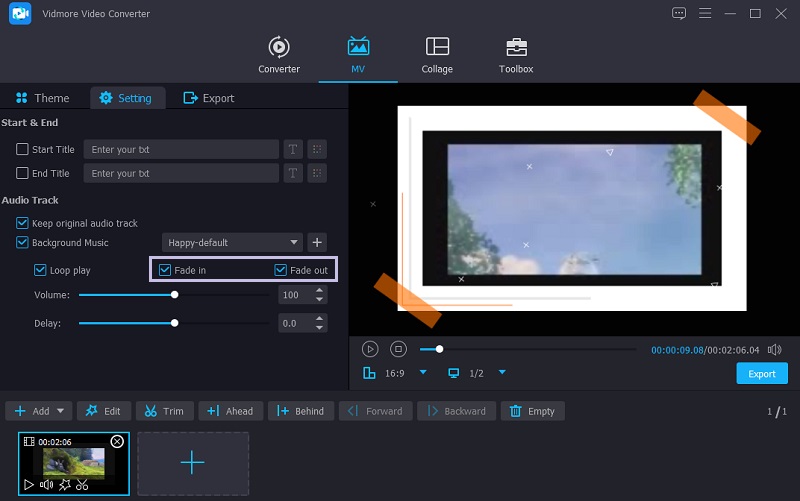 Step 4. Export the final version
At this point, go to the Export tab next to the Setting tab, then choose a video format, resolution, and resolution. Optionally, you can set the file destination and operation it will perform after the export process. Finally, click the Start Export button to begin the task.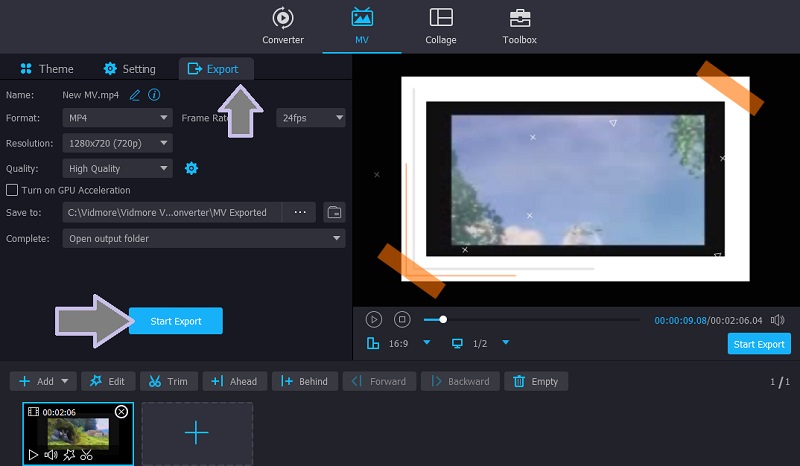 Part 2. Other Ways to Fade In/Out Audio
1. Adobe Premiere Pro
For your professional audio and video editing needs, you can rely on Adobe Premiere Pro. With it, you can apply various audio effects, including audio fade out and fade in. All the audio tracks are presented in the timeline as green bars with an audio waveform. But you can choose to remove the waveform depending on your preference. Still, it would be great to have them in the waveform to visualize the audio to expect. This also promotes precise edit and processing of audio files. Besides that, the tool has its native term for combining audio files into Nesting. Thus, if you want to fade in or fade out audio in Premiere, have a hands-on experience of the program.

2. Final Cut Pro
Just like the program mentioned above, Final Cut Pro also offers a bunch of amazing and practical tools for editing audio and video clips. By removing the noise or hum, applying effects, and syncing video and audio, you can quickly enhance the content you are creating. You may also take advantage of its volume booster to adjust the clip's volume in the Audio inspector or directly from the program's timeline. Most significantly, effects like fade in Final Cut Pro will not be missing to add fade in at the beginning and out at the end of the clip. It comes with an easy-to-use handle to control the fade effects.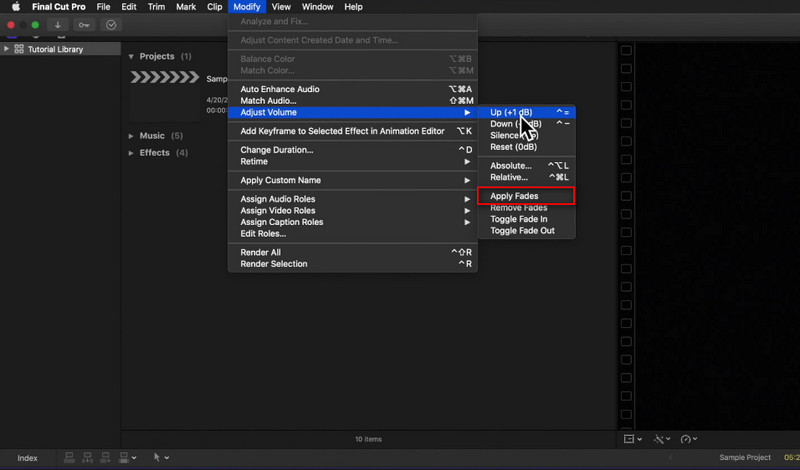 3. Adobe After Effects
If you are an audiophile or a professional audio maker looking for an advanced program, Adobe After Effect is the app to go. Likewise, it enables you to adjust the audio levels using the DB meter, 0 as the baseline, and lower than it will decrease the volume. Moreover, adding a fade-in or out layer can be done in a matter of seconds. Typically, you can tweak the fade in and out layer from the opacity property of the program. Aside from fade audio in After Effects, you can explore more of its helpful features to enhance your clips.

4. Davinci Resolve
Davinci Resolve is an alternative program that you can use to assist you in adding layers of fade in and out to your clips. Similarly, it comes with a volume slider that adjusts the volume when normalizing an audio clip. Well, aside from the fade audio in this program, you can also create a crossfade effect in between two audio clips or the break in the clips to produce a smooth transition between the two clips. Furthermore, you can detach audio from a video clip with just clicking the chain link in the app's toolbar. Davinci Resolve fade-out audio will definitely be of great help with the rise of the audio editing phenomenon.

Part 3. FAQs of Fading In/Out Audio
What is the difference between fade in and fade out?
When using fade-in, the audio clip or song will begin at a low volume and gradually increase as the song progresses. Fade out slowly lowers the volume, usually at the song's end.
What exactly is a fade in music?
Fade refers to the gradual increase or decrease of the audio level at the beginning or end of the audio. Its purpose is to create a smooth transition between songs and give effect to the sound clip.
Is it possible to fade out audio at the end of the video clip?
Yes. With Vidmore Video Converter, you can end the video clip without an unpleasant effect on the viewer by adding a fade-out effect at the end of the clip. Moreover, you can add a fade-in effect to not start the video with a stark beginning.
Conclusion
These five methods are available for users who want to add an audio fade out and fade in layer to their video or audio clips. You can surely get a suitable application for your needs. Although advanced editors like Premiere are great, Vidmore Video Converter is a better choice if you are a beginner. But you have grasped these advanced programs. You can edit your clips on a different level.