The Great Audio Compressors You Can Use Online and Offline
Due to various files installed on our devices, we cannot avoid lacking storage. And we cannot keep away from the fact that some audio or video files contain a large amount of space. There are instances wherein a single song comprises more than 100MB. Therefore, as a result, we will really have whole storage. Or have you ever experienced sending an audio file by email, and there will be a pop-up message that will appear, stating that it exceeded the limit? If you happen to encounter those scenarios, you can use this article as a reference to help you with your concern. At this point, we will review the best audio compressors that you can utilize online and offline. Please take a look at them and see which one is more convenient.

Part 1. How is Audio Being Compressed?
There are several methods for compressing audio. To reduce the file size, audio files are compressed by deleting particular types of audio data. Compression can be set to compress audio very heavily or very lightly. As a result, most audio file formats attempt to strike a compromise between audio quality and file size. AAC and MP3 are the most popular compressed audio formats. Data is typically omitted when photos, audio, or movies are compressed to minimize file size. When streaming or downloading files, this is useful. Music streamed and files that may be downloaded, such as MP3 files. To lower the dynamic range, audio compressors are used. It is the difference in volume between the softest and loudest sounds. Compressing may make your music seem more polished by reducing maximum levels and keeping a greater average loudness.
Part 2. Best Audio Compressors
If you ought to compress the audio files you have on your device's folder, you can use these most commendable online and offline audio compressors as a reference. See which one works without hassle.
1. Vidmore Video Converter
Vidmore Video Converter is the first and most recommended tool for compressing your file on your Mac and Windows devices. It has powerful audio and video editing tools like cutting, trimming, merging. Because of its user-friendly and beginner-friendly interface, you can compress your files in just a few clicks. There's no need to be concerned about the quality of your file being harmed when you squeeze it because you may adjust the file's settings. Vidmore Video Converter supports more than 200 audio and video formats. Therefore, there will be no hassle regarding its compatibility. Furthermore, the converting procedure is simple. With that, to better help you compress audio using Vidmore Video Converter is a step-by-step method to provide you with a better understanding of how this application works.
Step 1: Download the Audio Compressor
First, you need to get the software. You can use the download links below to get the program. Then, install and launch the software when it has been installed.
Step 2: Upload the File You Want to Compress
Then, go to the Add Files or Plus sign on the software's left upper part of the screen after it is up and running. And then, choose the file you require to compress from your device's folder.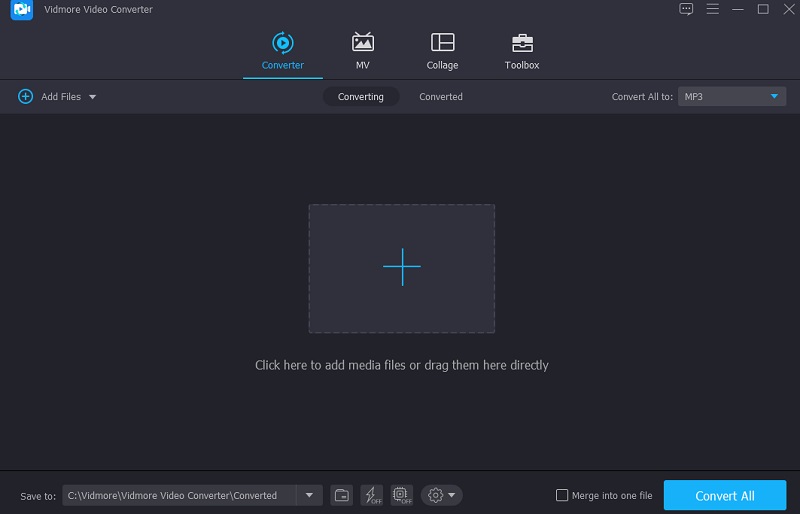 Step 3: Compress the Audio File Format
After adding your audio file, go to the dropdown menu on the right side of the audio and select the Audio section. Choose a file format for your project. Then, select the bitrate with the low or medium quality from the offered quality options.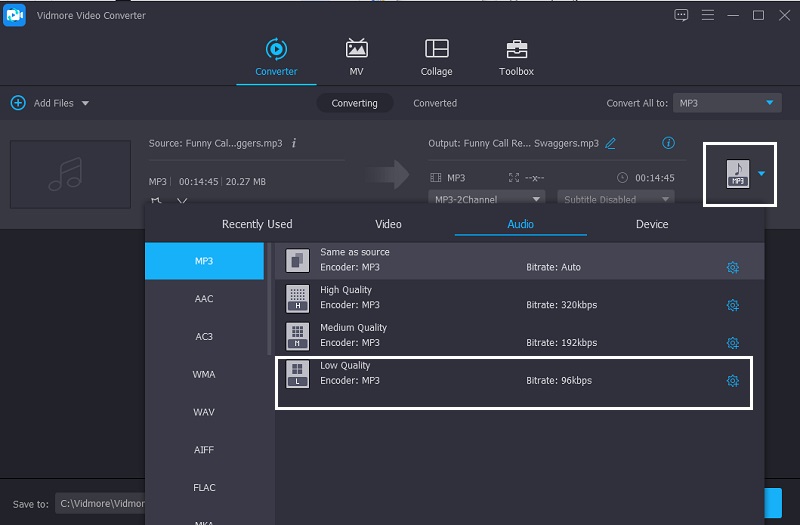 Step 4: Convert the Compressed File
After choosing the bitrate for your audio file, go to the Convert All tab to convert it entirely to compressed audio. Please wait for a few moments, and that's all there is to it! Your file has been reduced in size.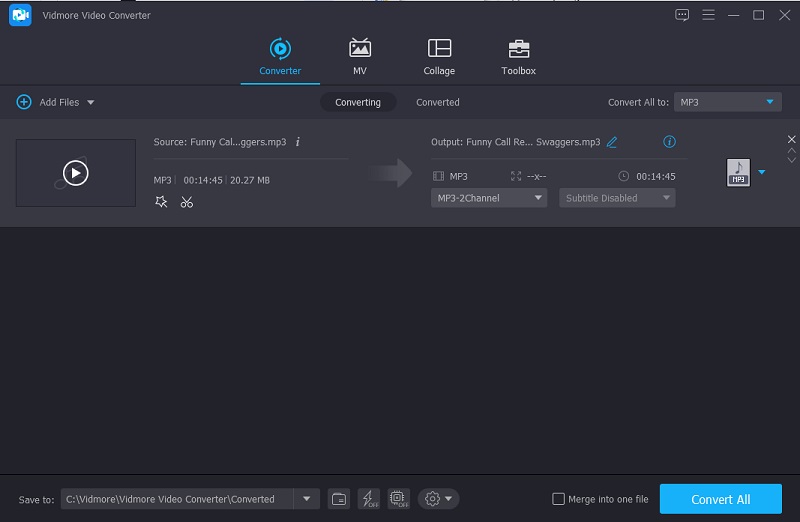 2. Audacity
Audacity is just another excellent free audio compressor. It is a complete application that runs on PC, Linux, and Mac, so you can install it on whatever device you possess. It allows cutting, trimming, merging of your audio tracks. Audacity also supports the current audio format, making it an excellent choice for many individuals. As a result, you may use this program to compress your files. However, if you are a beginner, you may find it confusing to navigate. But all in all, it can definitely help you compress the file you want to reduce in size.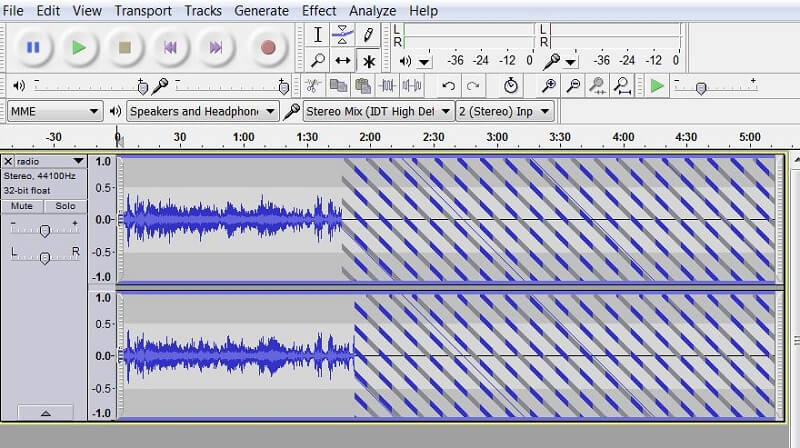 3. Vidmore Free Video Converter
If you want to compress your audio files to conserve space on your device, there is a solution for you. You may rely on the Vidmore Free Video Converter. It is a web-based program that is available on Windows and Mac devices. This browser-based tool has a friendly interface to navigate and compress your files easily. This web utility will compress your files without causing you any problems. Aside from it supporting different file formats, it also allows faster conversion processes. That is why most users are charmed by this easy-to-use online program. However, this tool is just a pure audio and video converter and doesn't allow other audio and video editing. And it is not for elite editors because it has basic features.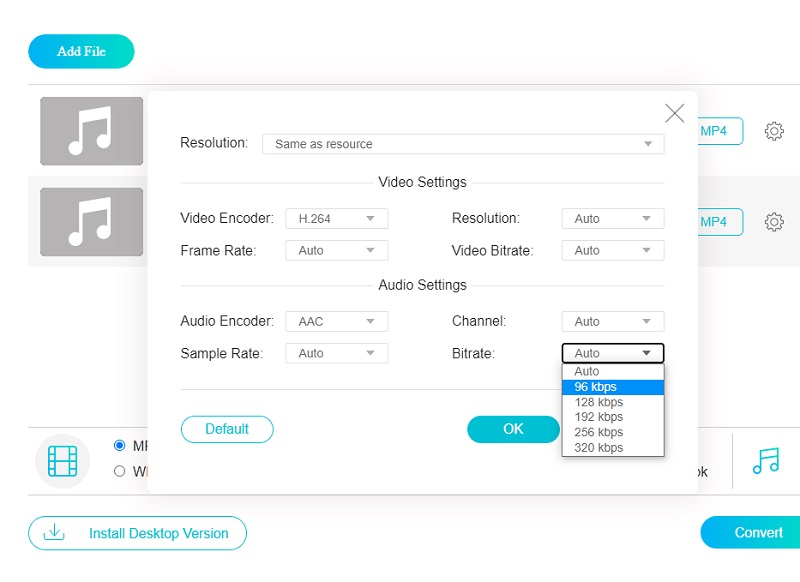 4. Free Convert.com
Another online program you can count on is FreeConvert.com. It is an audio, document, image, and video converter. This web-based program supports different file formats that are compatible with your file. Some are MP4, 3GP, AVI, FLV, MKV, WMV, MOV, and many more. What makes it even more convenient for users is its fast conversion process, so it will be quicker for you to compress the files you require. However, the maximum file limit for this tool is 1GB. So if you want to have access to larger file size, you need to sign up on their page.

Part 3. Compare the 4 Compressors
Here is a comparison chart below to illustrate similarities and differences between the online and offline audio compressors.
KEY FEATURES

Available on Mac and Windows

Fast Conversion Process

Friendly Interface

Supports Many File Formats

Converts Without Limit
| | | | |
| --- | --- | --- | --- |
| VIDMORE VIDEO CONVERTER | AUDACITY | VIDMORE FREE VIDEO CONVERTER | FREECONVERT.COM |
| | | | |
| | | | |
| | | | |
| | | | |
| | | | |
Part 4. FAQs About Audio Compressors
How to compress audio files on an Android device?
You can use the MP3, MP4 Audio and Video Cutter. All you have to do is select the audio file you wish to compress from your device's folder. When you open the file, it will automatically begin to play, so prepare to use the pause button if you don't want to create any noise. Toggle on the compress option and select your preferred encoding and bitrate. Select the large, round convert option and give your file a name when you're finished. When you click OK, your file will start to compress.
How can I compress files in Audacity?
To begin, use the Selection Tool to click-and-drag the whole track to highlight it. Then go to the Effect tab and choose Compressor. A new window will pop up after that. It's simply a matter of adjusting the compressor settings. To hear a preview of the effect, click the Preview button. When you're finished, click OK.
What are the ways to compress the size of a video?
A zip file can be created. Converting a movie to a zip file is the most frequent approach to compress it. With iMovie for Mac, you may also make a video shorter and smaller. Reduce the quality of a video you've downloaded.
Conclusion
With the applications described above, you'll be able to share that audio file without having to worry about the notification that says the file is too large. You will also not lack space on your device's storage, and you just need to depend on the audio compressor online and offline. Even if you don't have a complete understanding of audio editing, you can now simply reduce the size of your audio with the aid of this article. All you have to do now is find the most convenient application for you. So, which program do you believe is the most effective for you?