Top 3 Audio Overlay Apps to Create Attractive Video/Audio Clips
There are instances when you need to overlay audio to another audio or a video for your convenience. In the events, you like to add an audio effect to a song, create a mashup of two songs. The fame of self-edited clips is constantly rising as more and more users are sharing content on streaming websites. In order to overlay an audio file, it is vital to find a trustworthy audio overlay program to put the clips in harmony and create appealing content.
Gladly, various tools can help you overlay audio in a video. Although some are difficult to handle, we have prepared some of the most recommended apps suitable for all user levels. Thus, if you are interested in learning about them, read through the rest of the post.

Part 1. Why Overlay Audio
Overlaying an audio file to a clip allows you to enhance every project. So, instead of playing a plain and simple clip, it is just right to make it appealing by playing it with an audio overlay. Besides, you don't like to upload or share your project without good audio in it. There will surely be a great difference if it is just an instrument sound effect, background music, voiceover, or recording. Usually, this would help make presentations, podcasts, speech recording, lectures, and a lot more. See the efficient and practical programs below to overlay two audio files online and offline.
Part 2. How to Overlay Audio on Desktop
1. Vidmore Video Converter
Vidmore Video Converter is the best way to go if you are looking for a tool that does not impose technical settings to process media files. This desktop software allows you to overlay any audio file to a video supporting AAC, MP3, WMA, WAV, FLAC, etc. Apart from that, you can edit the audio file before overlaying it to the audio, adjusting the audio volume and delay. With this tool, you can easily convert almost any audio and video file. The best part is that the program comes with hardware acceleration to process media files quickly. The guided instruction on overlaying audio in a video is listed below.
Step 1. Launch Vidmore Video Converter
First of all, grab the program on your computer. Simply click on any of the Free Download buttons. Open the file extension and follow the on-screen setup to install the app. After that, launch the program.
Step 2. Import a video
Now, click the Plus sign button in the main interface to upload the file you want to edit. You may also press the Spacebar to open the folder, locate the video and upload it.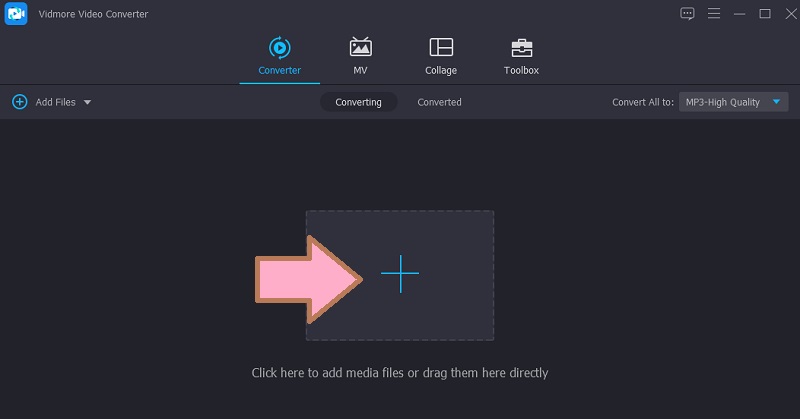 Step 3. Overlay audio track to video
After that, click on the Audio Track drop-down menu. Select Add Audio Track option and choose whether you want to make adjustments with the audio file or keep it unedited.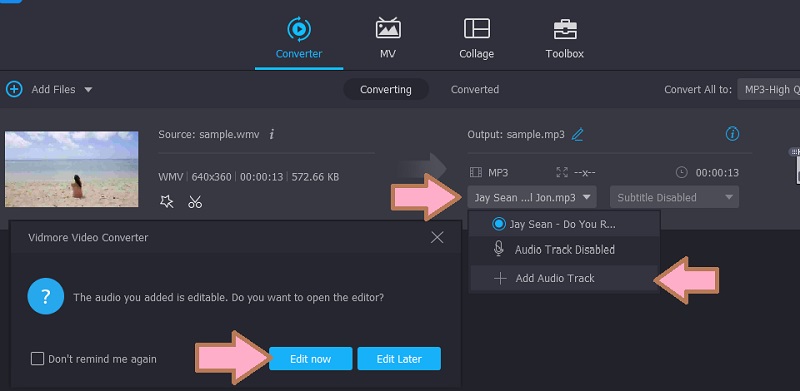 Step 4. Save the project
This time, click the Profile tray, and from the Video tab, select the format appropriate for the clip. To finally save the project, click the Convert All button.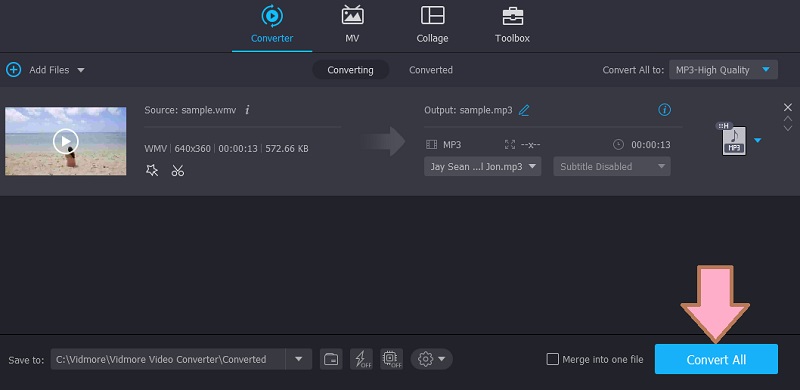 2. iMovie
You can also use iMovie to modify videos using smart built-in editing tools for Mac computers. This program enables you to add audio effects, background music and make some adjustments. Using this tool, you can trim, adjust the volume level, change the speed, and so much more. Aside from that, you can also add effects to the clip by applying fade in and fade out. As a matter of fact, you can do the same on your iPhone and iPad but with limited audio editing tools, unlike with Mac. Follow the step-by-step procedure below to learn how to overt audio in iMovie.
Step 1. Launch iMovie on your Mac, followed by the project you want to edit.
Step 2. Tap the Add Media button that looks like a Plus icon followed by the Audio. Next, go to the Soundtracks section and browse from the collection.
Step 3. Next to the soundtrack is the Add Audio button. Tap on it to insert the soundtrack to the project you are editing. Fast and easy. You were now able to overlay video with audio in iMovie.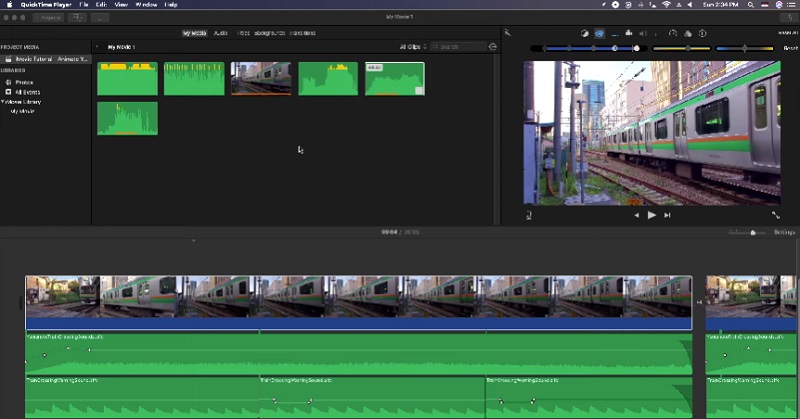 Additional Note: You may also add sound effects to your project. Just find them under the Sound Effects. Also, the program also enables you to adjust the audio volume according to the needs of the clip. By adding sound effects, you will be able to learn how to overlay two audio files in a video clip.
Part 3. How to Overlay Audio Online
For an online way to overlay audio, the best method is to use Kapwing. It is totally free of charge and works on almost any browser. Using this program, you can combine or overlay two audio files. This may include different tracks such as recording, sound effects, background music, and many others. The best part is that there is a free music collection that you can browse into and incorporate into your clips. Now, to demonstrate the process of how to overlay audio over video, you may look into the steps below.
Step 1. Launch Kapwing using any browser on your computer. After that, register with an account to be able to get to the editor.
Step 2. Now click on the Start editing button and upload your target video.
Step 3. Once the video is uploaded, click on the Audio option on the left side menu and add the audio clips into the timeline to overlay audio.
Step 4. After that, click on the Export Video button on the upper right-hand side of the interface. In the next window, click the Download button to get the output file.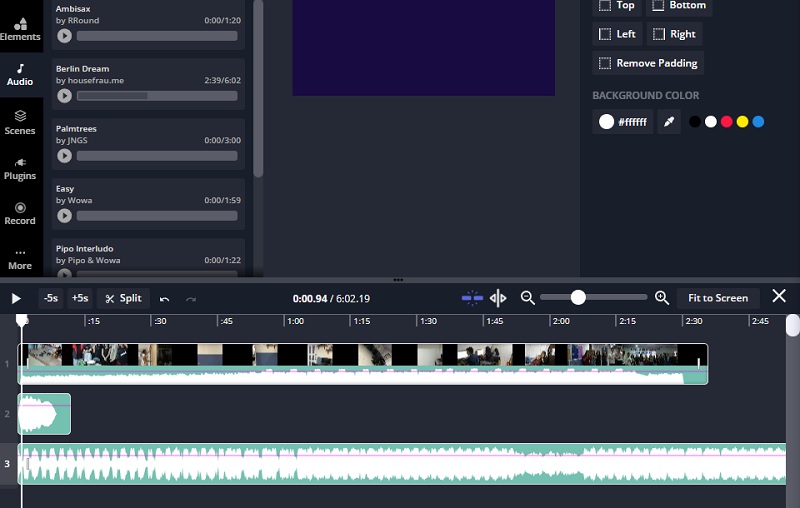 Part 4. FAQs of Overlaying Audio
What is an audio overlay?
Audio overlay is the process of adding two or more audio clips in one project. It can be a voice recording, sound effects, music background, etc.
Can I overlay voice in the clip?
Yes. As long as the software supports the audio format that you are adding, you can insert it into your video clips. There are also programs that allow you to directly record and overlay it to other audio.
How can I audio boost overlay?
Most programs come with a feature that allows you to adjust the volume. This means that you can use these programs to audio boost overlay.
Conclusion
There you have it. Those are the solutions that you can use for audio overlay. Now you can add different audio clips and give impact to sound in your video. Moreover, you have four solutions, so you can pick which method best suits you.