Best Offline and Online Audio Cutters for Mobile Devices and Desktops
There will be cases that you want to shorten the audio or get rid of the noisy portions. For the most part, it can be annoying to hear unnecessary or unimportant parts. Thankfully, there are audio cutter apps to help you address this issue. Some of these programs are also equipped with advanced features to help you enhance your audio output. Check out these must-have tools and learn more about them in the remainder of this post.

Part 1. Free Online Audio Trimmers
Like most individuals, you might like to cut your MP3 files online directly. This means that you will not download or install an extra program to accomplish this task. So, without further discussion, here we will walk you through the best online audio cutters.
1. Audio Trimmer: Online Audio & Mp3 Cutter
Audio Trimmer: Online Audio & MP3 Cutter is a web-based program that is made for the purpose of editing audio from your browser. Despite being an online tool, it can compete with similar programs because of its innovative and impressive features. By using this program, you will be able to add effects to the track like fade in and fade out. It supports a variety of audio formats including MP3, WMA, WAV, and many more.
Pros
Has a lot of supported audio formats
Best for creating an iPhone ringtone
Compatible with mobile devices
Cons
Can only upload files no more than 100MB

2. 123 Apps: Audio Cutter
123 Apps: Audio Cutter is another program that provides convenience since it enables users to get your job done from the browser directly. Besides, it works on almost all platforms allowing you to cut audio from Google Chrome, Microsoft Edge, Firefox and other web browsers. Essentially, 123 Apps' Audio Cutter, has by far the best and simple interface which makes the cutting of unwanted parts of audio easy and fast.
Pros
Rip an audio track from a movie or video
Versatile importing of audio files
Add fade in and fade out sound effects
Cons
Limited to only one export file except for the original format

3. Online MP3 Cutter
If the above solutions won't suffice, you should consider using Online MP3 Cutter to get rid of those unwanted parts of an audio file. Likewise, the program lets you cut files with accuracy by typing values. Even more, you can change the format according to your needs. Indeed, Online MP3 Cutter is a practical tool for those people who need to cut and change the audio format of their audio files.
Pros
Manually determine the start/end time by typing in seconds
No need to sign up to use the audio clipper
Change format into a variety of audio formats
Cons
Tend to be slow when processing the trimmed audio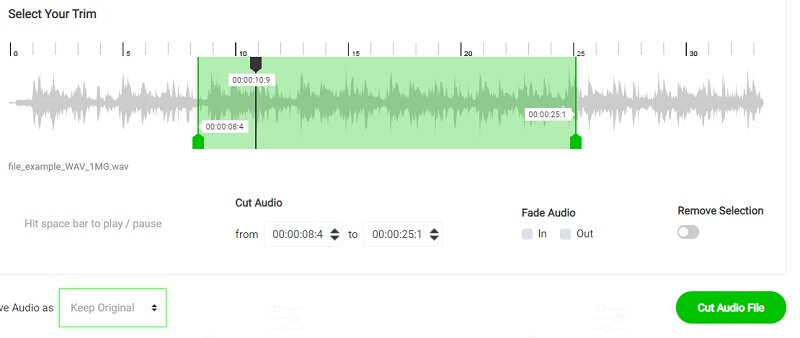 Part 2. How to Cut Audio on Mac and Windows
Online tools are indeed convenient. However, they tend to be limited in features and are dependent on internet connection. Put in another context, you won't be able to use them unless you have access to the internet. Below are some of the great alternatives that run even without connecting to the internet.
1. Vidmore Video Converter
Vidmore Video Converter is a robust program that has a lot of excellent features to offer its users. This grants you the capability to split or cut an audio file into multiple fragments or segments. Besides trimming and splitting audio, you can also adjust some configurations to match your preferences. Through this tool, you'll be able to modify the audio track channel, adjust the volume as well as the latency of the audio as you wish.
Above all, the user interface is quite intuitive so you'll be able to immediately identify the function buttons and accomplish your audio trimming task in a matter of seconds. It can be used even by non-techie consumers and polish audio files in no time. In view of the fact that this tool packs video editing features, you will also be able to trim, split, crop, adjust the speed of the video and so much more. Now to trim audio using this amazing software, you can take a look at the given instructions below.
Step 1. Install the Audio Trimmer Software
To get started, download and install the program. You may choose from the Free Download buttons that correspond to the Operating System you're running. Run the app afterward.
Step 2. Upload a music clip
Next step is to import an audio file from your local drive. You may choose to drag and drop the track on the interface to load the file or click the Plus sign and select your target audio file.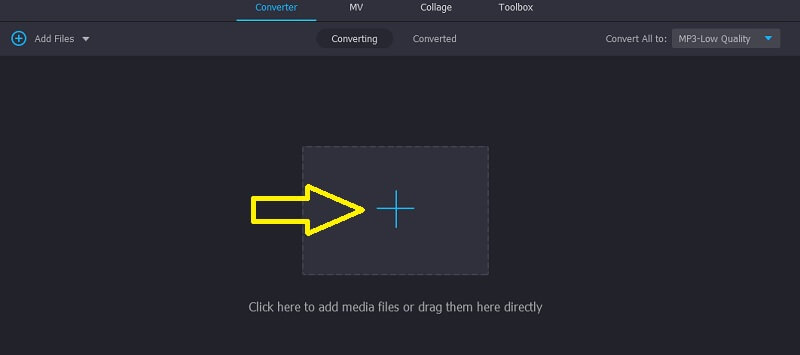 Step 3. Trim the audio
To split audio using this audio trimmer, click the Cut button that looks like scissors to open the start trimming the music track. Choose the part of the audio that you want to cut. On the timeline, use the Playhead and click the Split button to cut some parts. On the right side of the Playhead is the part that will remain while the left side part of the track will be deleted. Once all configuration is done, simply hit the Save button to confirm the changes.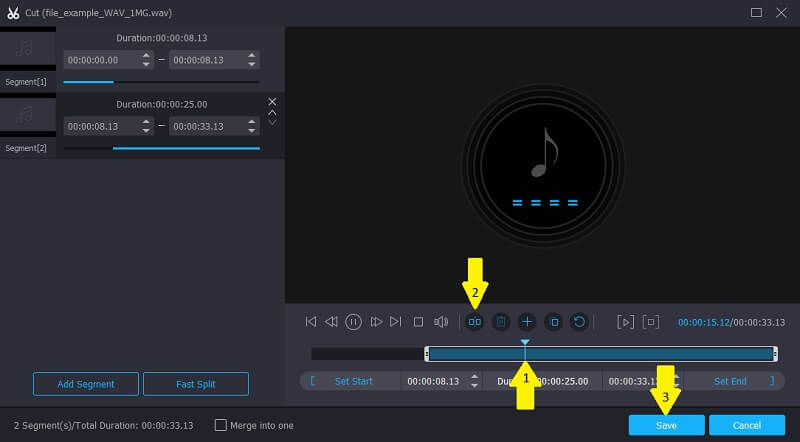 Step 4. Save the music fragment
You may keep the original audio file format by selecting the same format or change it into another audio format depending on your needs. Just go to the Profile tab and select your desired format. Once done, click the Convert All button to start rendering the file.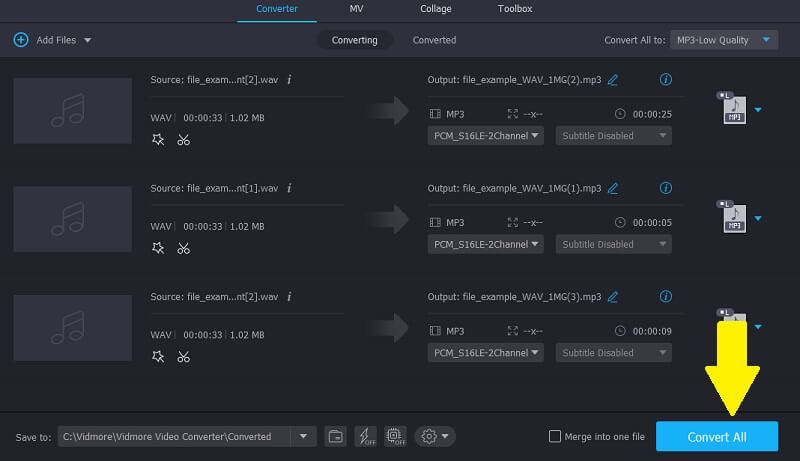 2. Audacity
Audacity is a free and open-source app that packs a plethora of music editing functions. It facilitates bulk operation allowing you to edit multiple audio tracks at the same time. It does not only allow you to edit on Mac and Windows PC, but also on Linux OS. More importantly, it allows you to record music and merge several MP3 audio files to produce a mixed and seamless song. Know further about this PC audio splitter by referring to the steps below.
Step 1. First off, install Audacity on your computer and launch it.
Step 2. Import the audio track that you want to trim and start trimming the audio by clicking the Selection Tool.
Step 3. From the Edit menu, choose Clip Boundaries followed by Split. Then, press the Delete key.
3. Live 11
If you are looking for an advanced audio trimmer, you may opt to use Live 11. From another angle, this is suitable for musicians who are into creating professional music and sound. It packs the versatile options for creating real-time concerts including background chords and rhymes. At the same time, users will be able to mix, sync tracks, record and a lot more. Find out how the Live11 PC audio splitter works by taking the below steps.
Step 1. First of all, install the app on your PC and launch it to see the working interface of the program.
Step 2. Upload the music clip then and apply the necessary changes to the track.
Step 3. To split or trim the music clip, move the Waveform on your desired position and press the key combination of Ctrl and E. Then the music track should split into two clips.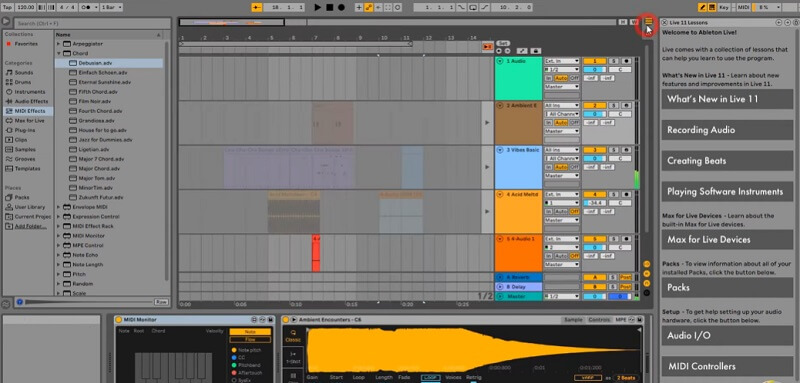 Part 3. Mobile Apps to Cut Audio on iOS/Android Device
1. TwistedWave Audio Editor
When it comes to mobile audio trimmers, TwistedWave Audio Editor usually tops the list especially for iOS users. You'll be glad to hear that this program supports many audio formats including WAV, AAC, ALAc, CAF, etc. Also, it comes with a recording option allowing you to capture audio from applications like Audiobus.
Pros
Allows uploading files from iPod library
Provides support to custom fades
Supports various exporting formats
Cons
Cannot remove background noise
Does not offer free trial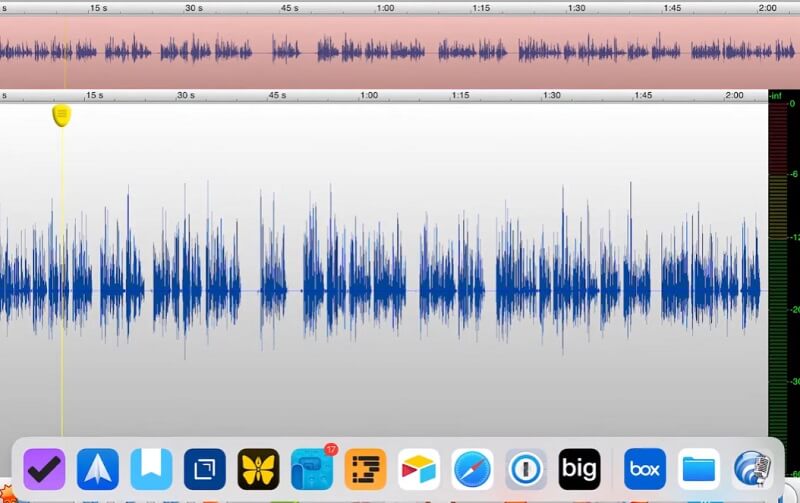 2. Voice PRO - HQ Audio Editor
This is another program that allows you to multitask meaning you can do more than audio cutting. It enables you to trim part of the audio clip and save them individually. This also works as an audio joiner since the app is equipped with a merging audio capability. On top of that, its main function is to remove vocals in the music track. Hence, if you want to get the background music alone, this audio cutter is perfect for your needs.
Pros
Can remove vocals and reverb
Balances the music and vocal sound by adjusting the volume
Join record of any format
Cons
Prone to crashing and unresponsive interface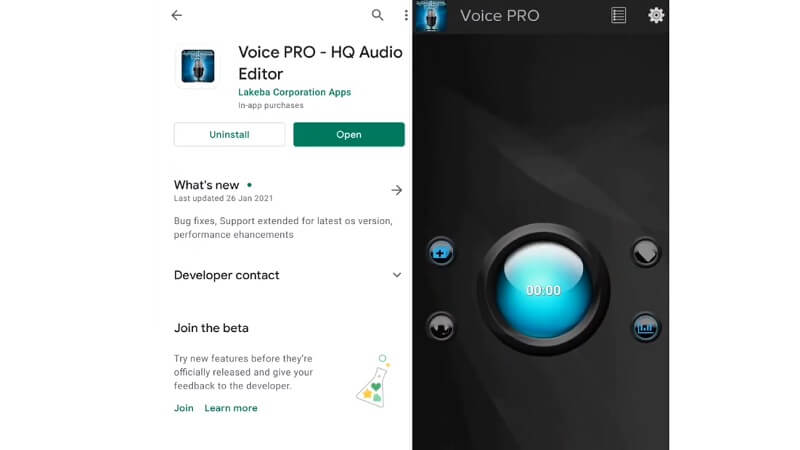 3. MP3 Cutter
MP3 Cutter is also a handy program for your audio trimming needs. It comes with multiple features such as adding silence to an audio as well as fade. The program does not only allow you to remove specific parts from audio, but also use the forward and backward select for a convenient way of cutting audio.
Pros
Cut milliseconds of a clip
Import and export files to SD card
Make a ringtone from edited audio
Cons
Pesky ads showing on the screen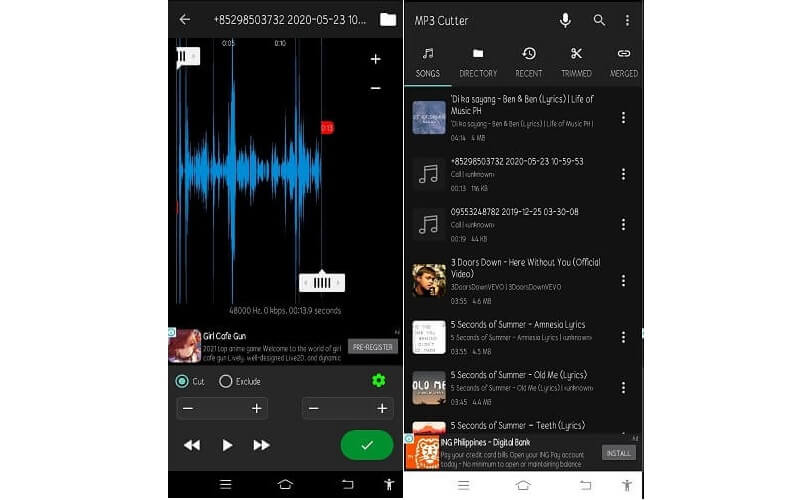 Part 4. FAQs of Audio Trimming
How can I trim and record audio?
There is an application that allows you to access these two features. This app is called Wavepad. What's so good about this app is that it has versions for desktops, iPhone, and Android devices. So, you can easily record audio on Windows, Mac, and your smartphone.
How to set an audio as a mobile ringtone?
After making your own ringtone using the above tools, you can transfer them to your iPhone or Android device. Head to the Phone ringtone settings of your mobile device and select the clip that you edited then set it as a ringtone.
Can I remove noise from a clip by trimming the audio?
Yes. To do this, play the clip and find the baseline of the noise. Keep playing the audio until you reach the part where there's no noise in the audio. Highlight the baseline where the noise starts and at the portion where the noise is gone then delete this part.
Conclusion
Now you have all the means to remove the noisy parts of an audio for better management using the above audio trimmers. All these tools have a similar purpose of cutting audio portions yet also offer some additional helpful music editing features for you to enjoy. As such, it is highly suggested to contemplate on each app for you to discern which works best for your needs.