Top 8 Free & Paid Voice Recorders to Record Audio on Your Computer with Microphone
With voice recording increasingly popular, then the demand for computer microphone recording software as quickly as possible increases and the importance of audio quality grows. A good voice recording software is invaluable to those who need to record a high-quality speech, lecture, melody, podcast, etc.
Regardless of the reason you want to record audio on PC from microphone, there are plenty of voice recorders for Windows PC and Mac. Below, we have put together a curated list of the top voice recording software for your computer. Whether you're looking for a free voice recorder for PC/Mac or you are open to purchasing one, you'll find the best of the best voice recorder programs in the list below.

TOP 1. Vidmore Audio Recorder: Best Computer Microphone Recording Software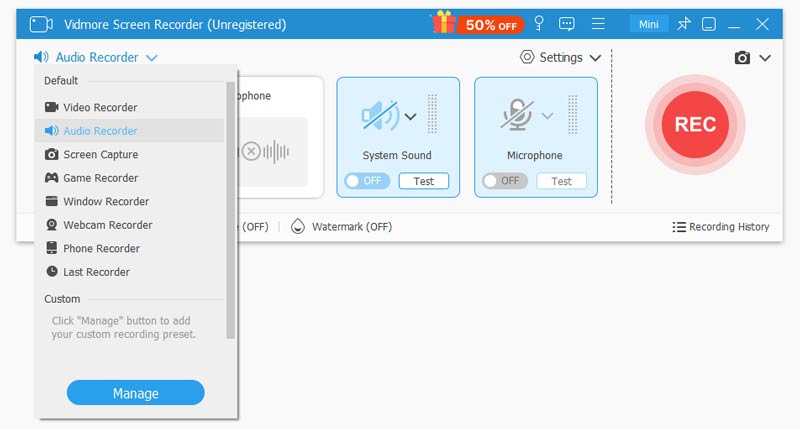 Vidmore Audio Recorder is one of the most professional voice recording applications for Windows and Mac that also works as a powerful and intuitive screen recorder. It allows you to capture any audio from a microphone, system sound, or both. Whether you're a college student recording a lesson, a musician recording a particular melody, a journalist recording an interview, or a professional recording an important meeting or audio calls, this sound recording tool enormously helpful in many settings.
It also provides numerous output options for saving your captured voice, such as MP3, M4A, WMA, AAC, etc. And a feature that makes the app a favorite among users is that you are able to preview and edit the recorded file before exporting it. After getting your voice recording, you can directly share it via Facebook, Twitter, YouTube, Instagram, etc.
Supported Platforms: Windows and Mac
TOP 2. Audacity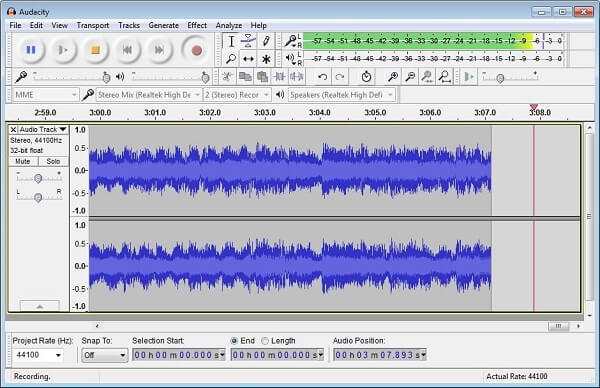 If you are looking for a powerful, free, open-source sound recorder, Audacity is the go-to choice for easy and quick voice recording work. Audacity enables you to record in either 16-bit or 24-bit audio. One of Audacity's best features is that it can smoothly convert and combine any sounds you drag in, regardless of sample rate and formats.
On top of that, it also offers flexible editing tools. You can cut, duplicate, delete, arrange multiple clips on the same track, and draw in edits right down to the sample level. Audacity is available for Windows, macOS, and Linux. To get started with Audacity, simply click the record button to start recording from your computer's built-in microphone or external microphone.
Supported Platforms: Windows, Mac, and Linux.
Related: Detailed Guide about Audacity Record Computer Audio
TOP 3. Adobe Audition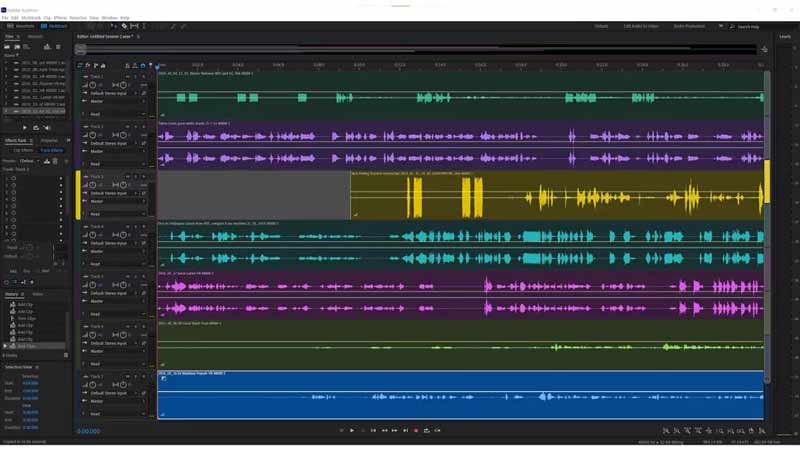 Adobe Audition is an all featured voice recorder and editor for video post-production, podcasts, and audio restoration. From single voice shows to multi-cast soundscaped audio dramas, it can satisfy almost all of your sound recording needs. My favorite part is that it has the ability to record on multiple tracks with separate microphones with a lot of flexibility and control. You can set gain levels appropriate to each person's voice, then give them individual EQ and processing treatment in post-production.
It also works as a powerful audio editor to clip audio tracks, apply effects to audio clips, and more. Besides, Audition specializes in cleaning up or restoring audio and offers precision, nondestructive editing for corporate and commercial video, as well as podcasts. However, it is only available via an expensive monthly subscription of $20.99 per month.
Supported Platforms: Windows and Mac
TOP 4. Free Online Audio Recorder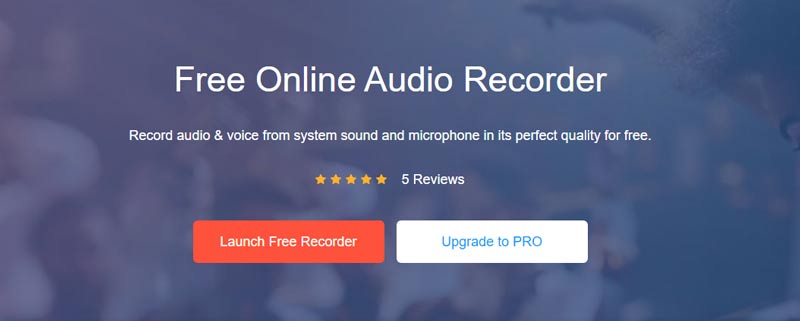 Free Online Audio Recorder is our very own free voice recorder. There are many things to love about it making it a popular choice among users looking for a great online voice recording tool. It is as simple as pressing a button to capture any sound from different sources anytime. And it is consumer-oriented and easy to use. More importantly, it will always be free to record your voice from the microphone and download the recorded files. Also, you don't have to put up with ads, registration, or other useless stuff.
Supported Platforms: Any browser
TOP 5. WavePad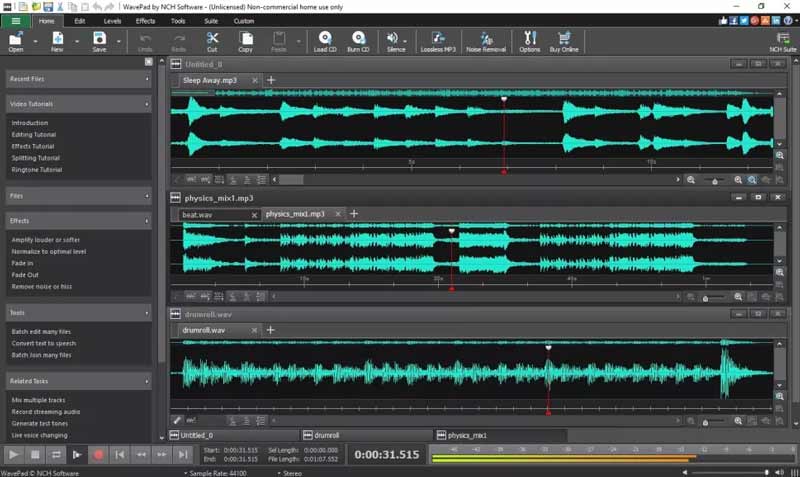 WavePad is an excellent, intuitive, and user-friendly voice recording program and comes with strong editing capabilities and wide file compatibility. WavePad has a clean layout, even a novice can use it record from the microphone and accomplish a variety of audio editing jobs. To record with WavePad, you can use your built-in microphone or connect a USB microphone into your computer and then press record. Note that it can't record more than one audio source at a time, but you can download MixPad within WavePad to record and mix multiple audio tracks simultaneously.
While recording your voice, you are given 20 filters and effects to use, such as echo, delay, reverse, amplify, reverb and distortion. When it comes to editing audio files, the WavePad application gives you multiple options including mix, split, fade-in/fade-out, a normalizer, an equalizer, and more. The audio program supports recording your voice in WAV, MP3, WMA, OGG, AIF, FLAC, AAC, etc. WavePad pricing varies from $3.88 per user per month to $69.95 per user per year.
Supported Platforms: Windows and Mac
FAQs of Voice Recorder
Does Windows 11 have a built-in voice recorder?
You can record audio in Windows 11 easily using the Microsoft Voice Recorder app. Voice Recorder (Sound Recorder before Windows 11) is an audio recording program included in most versions of the Microsoft Windows family of operating systems.
Does a Mac have a built-in microphone?
The MacBook has a built-in microphone near the top of the screen, and it also supports external USB microphones.
What is the best voice recorder for the iPhone or iPad?
Here are top applications for iPhone/iPad voice recording:
Top 7 Best Voice Recorder Apps to Record Sound on iPhone and iPad
Conclusion
From the above-mentioned voice recorders, we can easily find that there are plenty of options these days when it comes to choosing a voice recording application for our computer. You can download some of them (many of them free) to get the job done right. Keep in mind that the app that is best for you will depend on what you need to use it for.