Most Dependable Tools to Compress Your AIFF Files: Online and Offline
We cannot prevent a shortage of storage space because of the restricted storage capacity of our PC. Because of this, we have no choice but to destroy all of our most treasured audio recordings. So what's the big deal now? What's the point of deleting them when you can compress them? If you're one of those individuals who rely on their files and can't bear to lose one, this article is for you. If you'd like to learn how to compress AIFF files, please read on.

Part 1. What Is The Difference Between AIFF and AIFF C?
AIFF is an abbreviation for Audio Interchange File Format. It is a file format used to hold any audio recordings. This format was created by Apple Inc., although many other firms have now used it. You may open this file with various tools, including Audacity, QuickTime Player, and any other media player on your computer. However, AIF does not allow compressed audio data. Thus Apple developed a new format known as AIFF-C.
AIFF-C is an uncompressed audio format file extension that refers to Audio Interchange File Format, Container. AIFF-C files are mainly used on the Mac operating system and are compatible with the QuickTime Player program. This format was created by Apple Inc. and is one of the most widely used formats in today's music production, audio editing, sound editing, expert broadcasting, and any other music player available on your computing device. The advantage of this form of container is that it does not need any extra software to access it. AIFF-C may be opened by software that supports AIFF.
Part 2. Best Way to Compress AIFF
If you consider an excellent tool with a friendly interface, you need to consider Vidmore Video Converter. It is the first and most popular way to compress your AIFF files. This fantastic software is compatible with both Windows and Macintosh. As a result, you may use it on any computer. Because of the straightforward interface, you don't need to become a specialist to compress WMA files. You don't have to worry about the document's quality while compressing it since you may adjust its parameters. Finally, the converting procedure is simple. Here's a step-by-step walkthrough to assist you in learning how this program works.
Step 1: Get the AIFF Audio Compressor
Start by downloading the program. Click on the links below to get the software. Open and utilize the installed software right now.
Step 2: Add the AIFF Files You Want to Compress
Open the program and choose Add Files or Plus from the File menu to add files. Select a file on your device and tap Open to begin the compression process.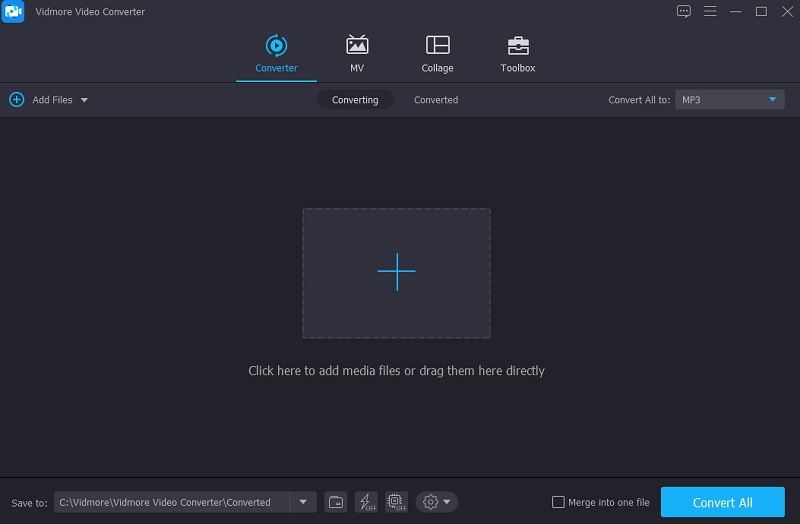 Step 3: Go to the Audio Settings
Navigate to the Audio section in the right-hand drop-down menu once you've inserted your AIFF file. Choose a file type before you start working on your project. Pick a lower or medium bitrate option from a wide variety of high-quality options.
Step 4: Compress the AIFF File
The Convert All tab is where you'll find the option to compress your audio file after you've selected it. After waiting for a few seconds, everything will be alright. To conserve space, your file has been compressed.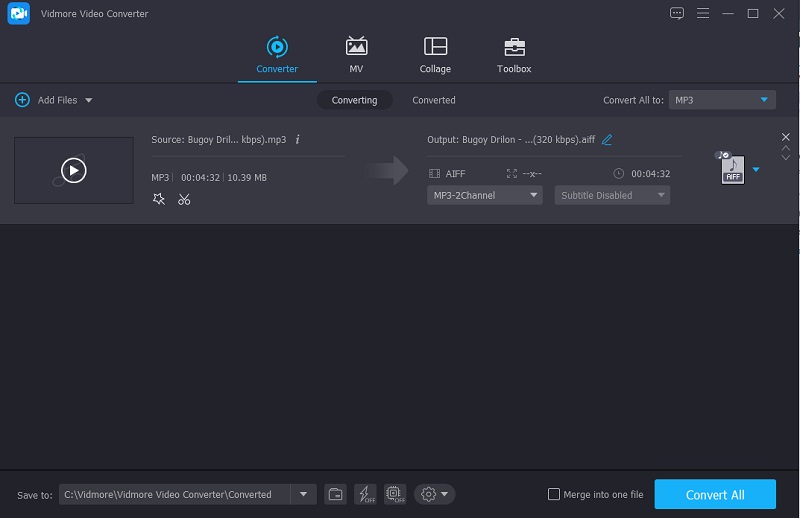 Part 3. How to Compress AIFF Online
You may try online tools if your gadget cannot absorb another tool. That being said, here are two methods for compressing an AIFF file over the internet.
1. Vidmore Free Video Converter
Using Vidmore Free Video Converter is the best alternative if you are looking for an online tool that converts files without restrictions. This online program is straightforward, making it ideal for beginners. When it comes to AIFF files, it has no issue at all. That is one of the reasons why the vast majority of people are charmed by this easy-to-use application. Because we are all aware that web-based applications have limitations, especially when it comes to converting. This online software provides a distinct advantage over other options. It can alter forever. Additionally, here's an easy-to-follow lesson on how to make your AIFF file smaller.
Step 1: Insert Vidmore Free Video Converter into your search engine's search box and click the Add Files to Convert button. It will activate the program launcher.
Step 2: After that, click on the Add Files to Convert button again. It will open a folder containing all of your data and select the file you wish to use for your project.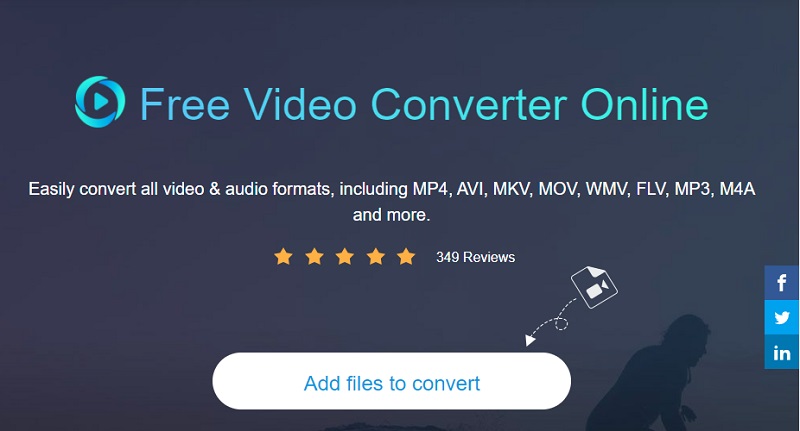 Step 3: By selecting the Music button, you may change the format of the file that is being played. Select the lowest possible bitrate from the Bitrate drop-down option by pressing the Setting button. It is necessary to hit the OK button to confirm your modifications and preserve your work.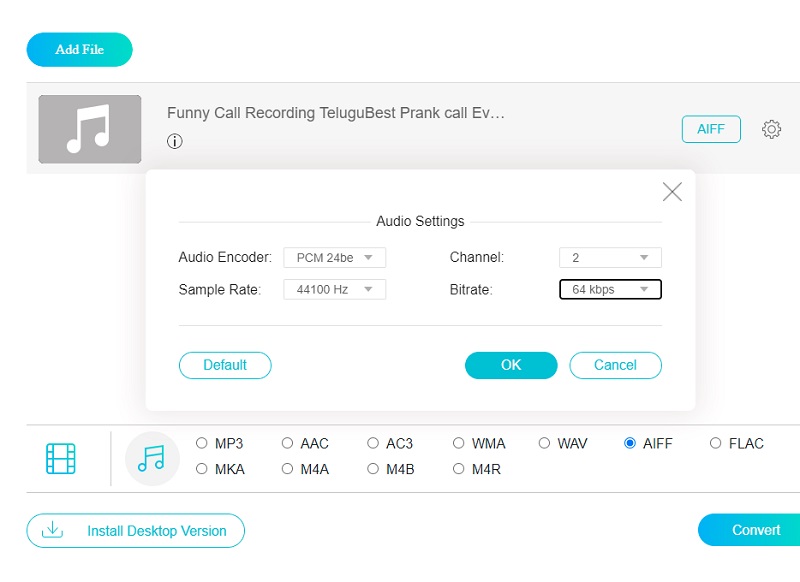 Step 4: When you've finished with all phases, click the Convert button to complete the process. Following the selection of the Select Folder button, a new window will appear, which will enable you to specify a new place for the converted file.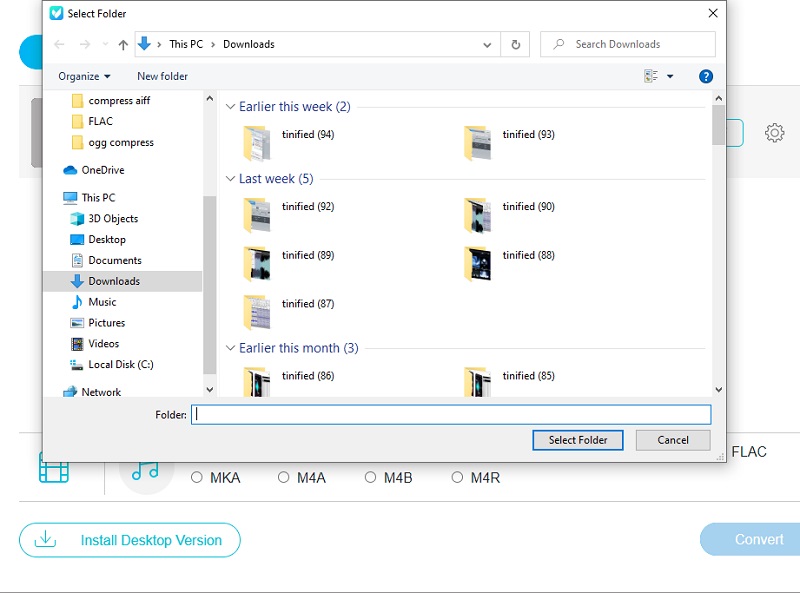 2. AConvert
You may utilize internet software to compress your AIFF files if you don't even have enough storage devices and need to. The AConvert audio compressor is one of the most popular on the internet. Its primary function is to change the file format. In the meantime, you may alter the compression settings to minimize the file size. It is a painless and risk-free process. Users may convert AIFF files to various formats using this web platform while retaining the original quality. To learn how AConvert works, look at the procedure below.
Step 1: When you open your browser and type in their URL, the website's homepage will show. Selecting the Choose File option will allow you to add the file to the website interface.
Step 2: Following the successful addition of the FLAC file to the main interface, choose the FLAC file from the Target Format drop-down menu. Then, select the proper bitrate from the drop-down menu for your FLAC file.
Step 3: After you've completed making your changes, click Convert Now to begin the process of exporting and compressing the document. You may monitor the procedure's progress and then download a reduced version of the same file if you choose.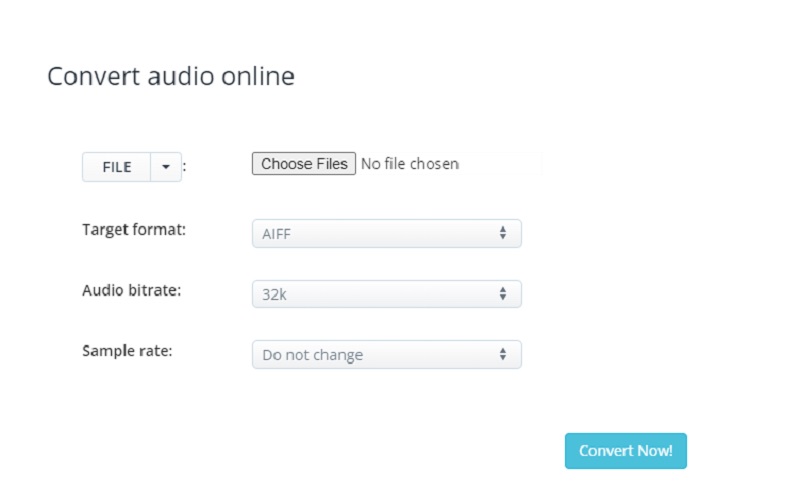 Part 4. Comparison Chart About AIFF Compressors
| | | | |
| --- | --- | --- | --- |
| KEY FEATURES | VIDMORE FREE VIDEO CONVERTER | VIDMORE VIDEO CONVERTER | ACONVERT |
| Windows and Mac Compliant | | | |
| Rich in Audio Editing Tools | | | |
| User-Friendly Interface | | | |
| Converts Without Limit | | | |
Part 5. FAQs About Compressing AIFF Files
Is it possible to play AIFF files on Android?
Windows Media Player, Apple iTunes, VLC, Media Player Classic, and others are media players that can play AIFF files. Yes, but finding influential AIFF players for Android smartphones and PC platforms is difficult.
Is it possible to play AIFF files on an iPhone?
Yes, it can play MP3, AAC, ALAC, WAV, and AIFF audio files, according to Apple's specifications.
Is the AIFF format of excellent quality?
AIFF is a lossless audio file format that delivers higher audio quality than other audio file formats.
Conclusion
With the help of the given information above, you will never have to delete all your files because your device storage is whole. All you have to do is compress your AIFF files, and everything will be alright!