Slapping 4 AAC to AIFF Converters You Should Consider Using
Both AAC and AIFF are used in Apple products which have high performance in terms of audio quality. They only differ on the method of how they digitize and record audio files. While AAC is a lossy format, AIFF is a lossless format that preserves the quality and data in the audio file. It is true that AAC files consume less space but there are advantages that you can benefit from using AIFF.
This format is easy to edit and manipulate and allows you to cut or trim the track as you like. It also allows for metadata that shows the type of codec, sample rate, channels, etc. As a result, you may like to convert AAC to AIFF. In this post, we will have a rundown of the recommended tools to achieve this job.

Part 1. How to Convert AAC to AIFF on Windows/Mac
1. Vidmore Video Converter
Vidmore Video Converter offers an effective and easy method to convert audio and video files to your desired audio output. This program supports a variety of popular audio file formats including AIFF, AAC, MP3, WMA, WAV, and OGG. In fact, its major features encompass stable and rapid conversion, support for converting video to audio, audio output settings specification, and music editor to meet varied user needs. For a hands-on experience of this useful AAC to AIFF converter, you may take the following steps for your reference.
Step 1. Download AAC to AIFF Converter
First off, grab the installer of the app by ticking on any of the Free Download buttons provided underneath. After grabbing the tool, install and launch the app on your computer.
Step 2. Upload an AAC file
This time, click the Plus sign button to upload a file. It should open the File Explorer on your computer. From here, find the media file that you attempt to convert. You may also drag and drop the file into the upload area of the tool.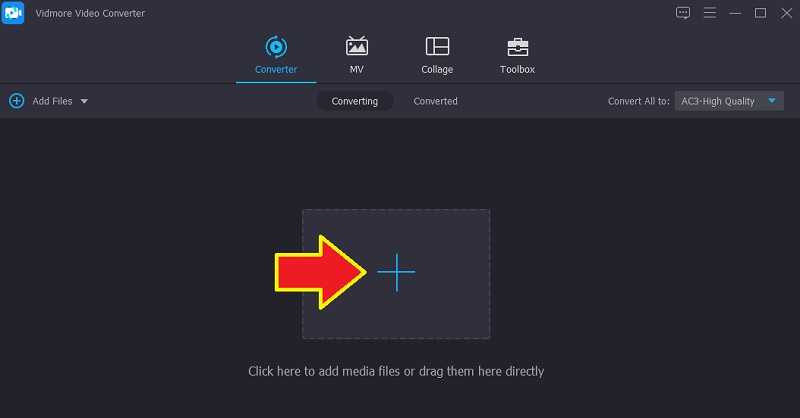 Step 3. Select output format
At this point, unfold the Profile menu to see all the available formats. Head over to the Audio tab and on the left side, look for AIFF audio format. Next, you can customize the parameters according to your preferred output.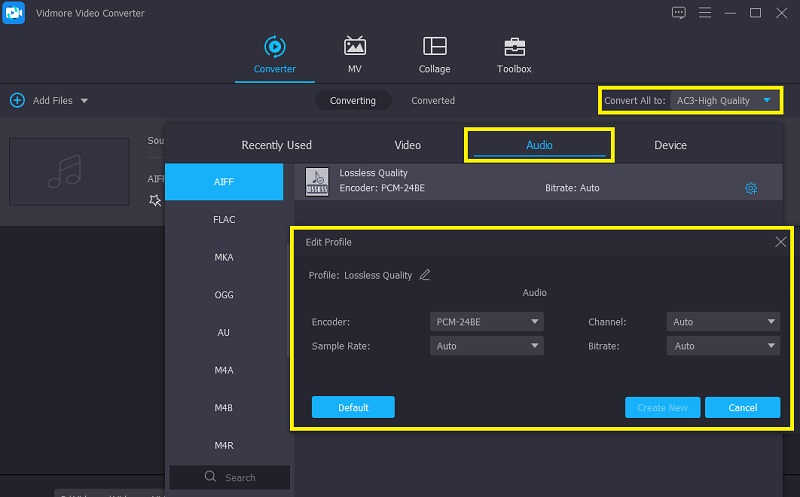 Step 4. Save the audio's final version
Once done, here's how to transcode a file with this AAC to AIFF converter for Mac and Windows. To do this, click the Convert All button at the bottom right corner of the interface. To check the playback, go to the Converted tab and find it from the latest converts which are usually at the top of the list.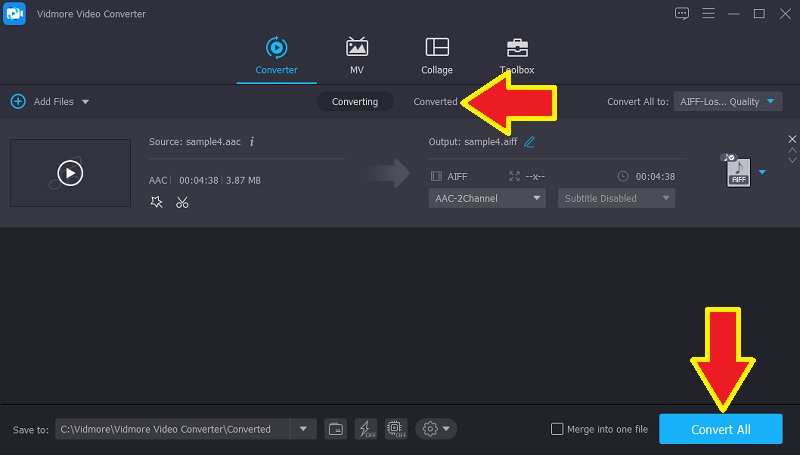 2. iTunes
iTunes is a free audio player and a free audio converter designed for Apple devices but also comes with a Windows counterpart. As an audio converter, it offers support to some Apple audio formats like AAC, AIFF, WAV, and MP3. Even better, it facilitates Apple lossless encoder to further meet the varied needs of users. Aside from that, it also comes with a component where you can flexibly customize the stereo bit rate, sample rate, and channels. On top of that, you can apply high-efficiency settings as well as optimize for voice. To turn AAC to AIFF on iTunes, follow the simplified guide below.
Step 1. To get started, launch iTunes on your computer and upload the AAC file that you like to convert.
Step 2. Open the Preferences from the menu and hit the Edit tab. Now go to the Import Settings option and unfold the selection for Import Using. From here, set the conversion to AIFF Encoder.
Step 3. On the same page, select the uploaded AAC file and launch the File menu then point the cursor to the Convert option. After that, select the Create AIFF version to initiate the process.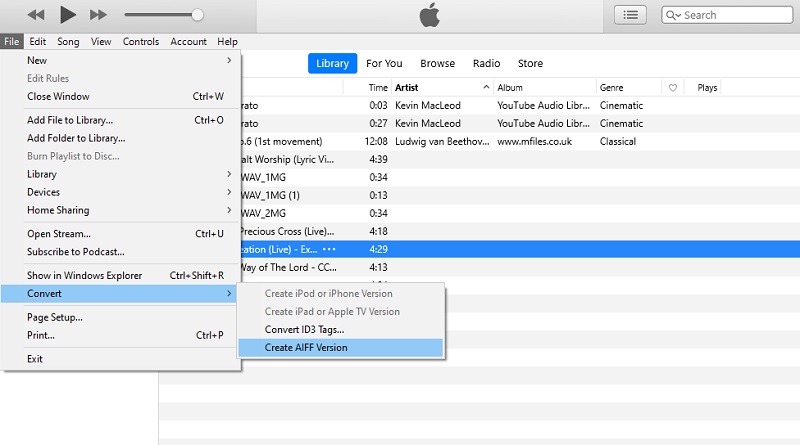 3. Foobar2000
Foobar2000 is a digital media player primarily developed for Windows OS. The tool offers extensive settings where you can customize the interface of the app. Besides, it comes with a powerful conversion tool that lets you convert your audio files to AIFF, OGG, WAV, and MP3. If you desire, you can also use the tool as a CD ripper that lets you extract audio from a compact disk. On the other hand,
Step 1. Download and install Foobar 2000 on your computer by going to its official website.
Step 2. Go to the File menu and click the Open button. Now select your target AAC file from your file folder. Right-click on the uploaded file and select the Convert option then choose Quick Convert.
Step 3. A dialogue box should appear where you could select the output format for the file. Select AIFF and hit the Convert button at the bottom right corner of the interface.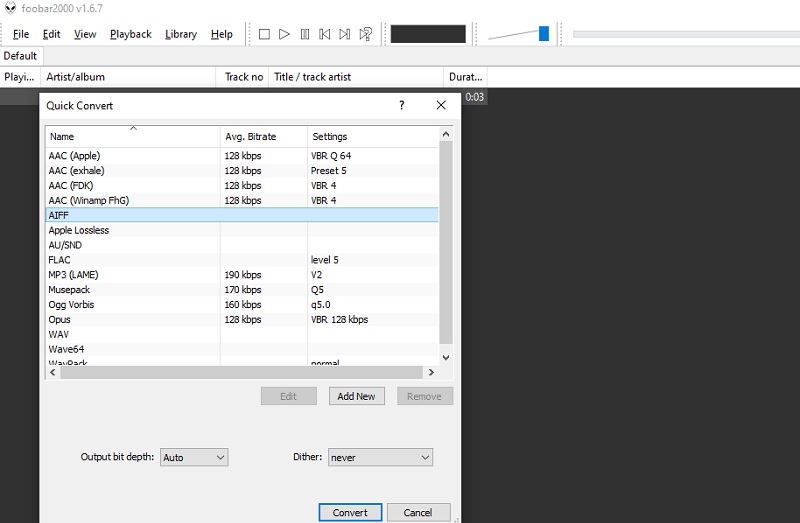 Part 2. How to Convert AAC to AIFF Online for Free
Highly effective with support to a wide selection of formats. This is what Vidmore Free Video Converter is developed for. This is a web service app that is completely free that does not allow sign up for membership as well. One of the useful features of this AAC to AIFF converter online is its capability to facilitate single and batch conversion mode. Now, here's how to handle this program.
Step 1. Launch any browser on your computer and visit the official website of the tool. Immediately hit the Add files to convert button to download and install the launcher of the program.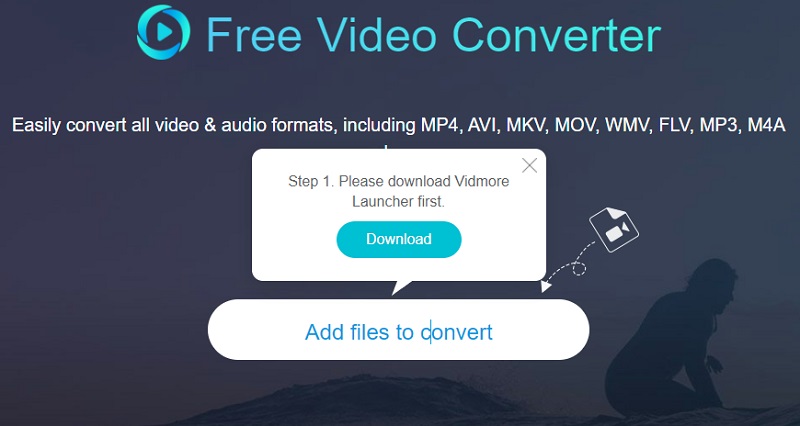 Step 2. Once done, it will prompt you to upload a media file by opening the File Explorer. After that, select the AAC file you want to convert and upload it into the program.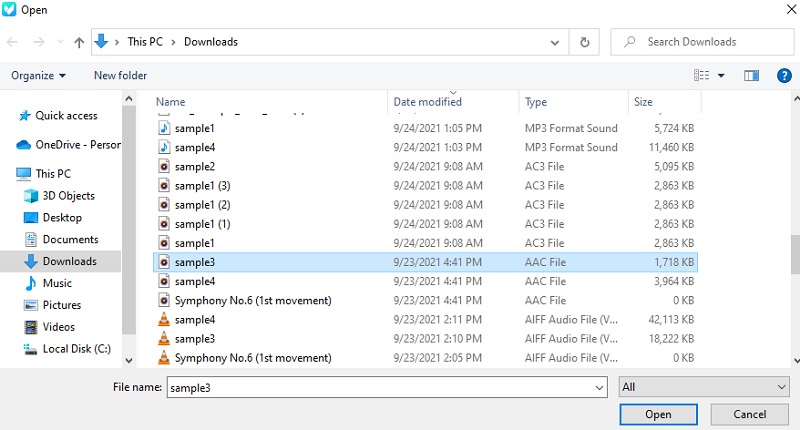 Step 3. When the file is loaded, click on the Music icon to open the audio format selection. From here, select AIFF by ticking on its radio button. Then hit the Convert button to start the conversion process.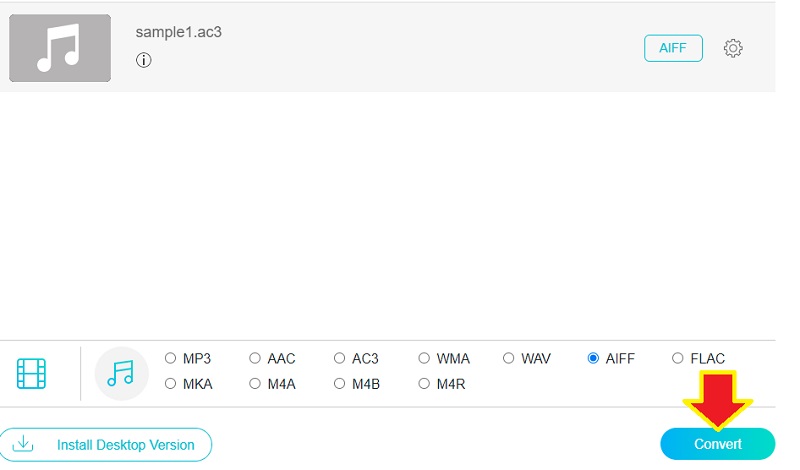 Part 3. AAC vs. AIFF
You might be curious regarding the difference between the two audio formats. It is true that they are used in Apple products yet they have differences in many aspects. To find out how they differ and contrast, you may look at the table illustration below.
Stands for
Compression
Space consumption
Developer
Used
AAC
Advanced Audio Coding
Lossy compression
Consumes less space
Bell Labs, Fraunhofer Society, Dolby Laboratories, Sony Corporation, Nokia, LG Electronics, NEC Corp, NTT Docomo, and Panasonic.
Used for storing music on music on internet, music players and phones
AIFF
Audio Interchange File Format
Lossless compression
Consumes more space
Apple
Can be used for editing music and storing music
Part 4. FAQs of AAC to AIFF
Which is better, AAC or AIFF?
If you are concerned about the quality, AIFF will not fail to impress you. Due to its lossless format, it will lose any data or information so it can retain the original quality of the audio file.
Can I play AIFF on iTunes?
iTunes can recognize files including AIFF, WAV, and Apple Lossless. Since AIFF is uncompressed, expect it to have a great audio quality when played.
Are AIFF files still in use?
In the music industry, there is still a need for saving original audio data. That means uncompressed audio formats like AIFF guarantee the quality of the file. Since there will be a series of mixing and mastering processes happening on most of the audio files, uncompressed formats are important.
Conclusion
Here we tackled the best audio methods to convert AAC to AIFF. Choosing the best tool will definitely depend on your specific conversion preferences and needs. If you like to convert without internet access, you should go with offline programs. On the other hand, an online tool can be the best choice for you if you want to convert without downloading any program.