Merge AIFF Files and Play it Consequently on Your Media Players
There are times where we want to play our favorite audio tracks however there are circumstances that they are not in the order that we want. That is why some music lovers are combining them with the help of file merger online or offline. You may be curious if it is possible to combine your favorite files into one, and what kind of tools would you use.That is why to answer your concern, you can now play your most loved audio tracks by combining AIFF files.
With all of that said, if you are interested and excited about how to merge your AIFF files online and offline, you can refer to this post as we will give you the top three AIFF file mergers.

Part 1. What is AIFF?
Apple Inc. created the AIFF format, which stands for Audio Interchange File Format. It includes high-resolution audio in a lossless format. Due to the fact that it is an uncompressed audio file, the audio quality is higher. And of course, because they contain more data, they require more storage space. Audio Interchange File Format is most commonly used to store sound data for computers and other audio electronic devices.
Part 2. Three Ways to Merge AIFF Files
If you are excited to combine your most loved files, you can refer to these top three audio joiners online and offline. See their description and think which tool suits your device best.
1. Vidmore Video Converter
First on the list of the most recommended AIFF mergers that you can acquire on your Mac and Windows device is the Vidmore Video Converter. It is a professional software that merges not just audio files but also video clips. This software has solved a lot of concerns from users who want to play their most loved audio tracks consequently. You don't have to worry about its technicalities because its interface is very easy to navigate and even a child can control it. Aside from that, you can also edit your most loved audio files by navigating its cutting and trimming tool. And you can also take control of the audio's quality through the help of its editing features. What makes this software more amazing is it allows you to convert multiple audio and video files without being limited on the file size.
After all of that said, combine your AIFF files by referring to the step by step process below.
Step 1: Download the AIFF Merger
Before anything else, you need to get the software by clicking the Download button given below and get its installer. Once you install the software, let it run on your system.
Step 2: Insert Your AIFF Files
Open the AIFF merger and as you are directed on the main interface of the tool, you can now add your files by clicking the Add Files on the left upper part of the screen or simply click the Plus icon at the center for a quicker way.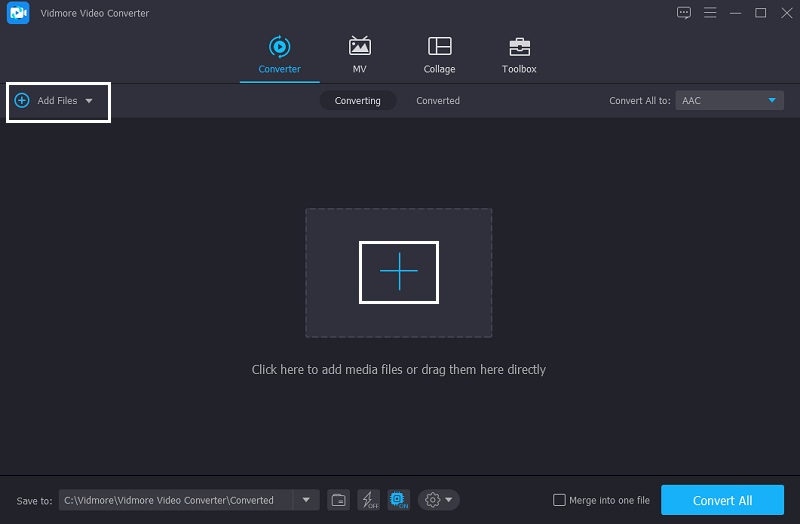 Step 3: Merge Your AIFF Files
After you uploaded the AIFF files on the main screen of the tool, you can now merge it by checking the box indicated as Merge into one file.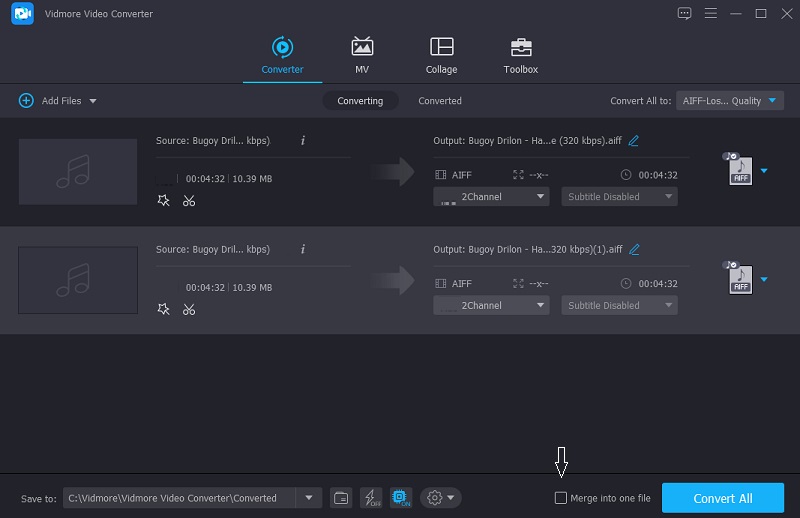 Step 4: Convert Your AIFF Files
After checking the box below, apply the changes by clicking the Convert All button and wait for a few moments before your AIFF files are converted. And that's all! You can have your combined AIFF files in just a few clicks.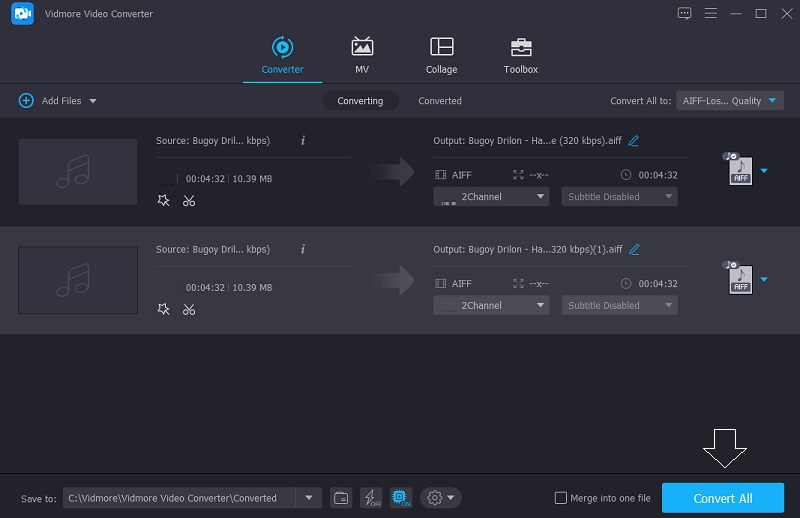 2. 123 Apps: Audio Joiner
If you are an on the go person and don't have time in downloading an audio merger, you can count on an online tool. Therefore, 123 Apps: Audio Joiner is a good fit. This browser based program was intended for beginners who simply desire to convert their most loved files into one. What makes it more convenient to users is it offers more than 300 file formats so you can choose the file format that you require. With that, here is a definitive guide on how to merge AIFF files using Audio Joiner.
Step 1: Go to the official page of the Audio Joiner and you will be directed to the main screen. Then, click the Add Tracks and upload the AIFF files from your Library.
Step 2: Once the audio tracks are reflected on the main screen, you can use the left and right cursors on the clips to trim the file you don't want to include in the merge.
Step 3: Once you've made your decisions, click the Join tab in the lower left corner of the screen and wait for the procedure to complete.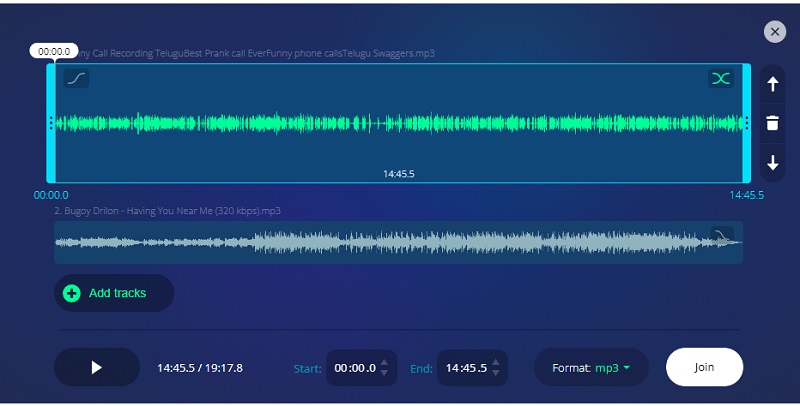 3. Clideo Online
If you are looking for a free yet a very secure online tool, you can come on the Clideo Online. This web based program allows you to combine your audio files without requiring you to download any installer. Aside from that, it supports combining multiple files at the same time. No need to worry about the compatibility as it operates on most of the devices. However, the conversion limit should not exceed 500mb. To give you an idea how to merge AIFF files using the Clideo App, here is a simple guide below.
Step 1: First, you need to search the Clideo on your browser and once you are directed to the main page, click the AIFF that you would like to merge by clicking the Choose Files at the center.
Step 2: After uploading the AIFF files on the main screen, you can now upload another file by clicking the Add more files.
Step 3: Once the AIFF files that you require to merge are on the Timeline, simply click the Export button and you can now get your AIFF files.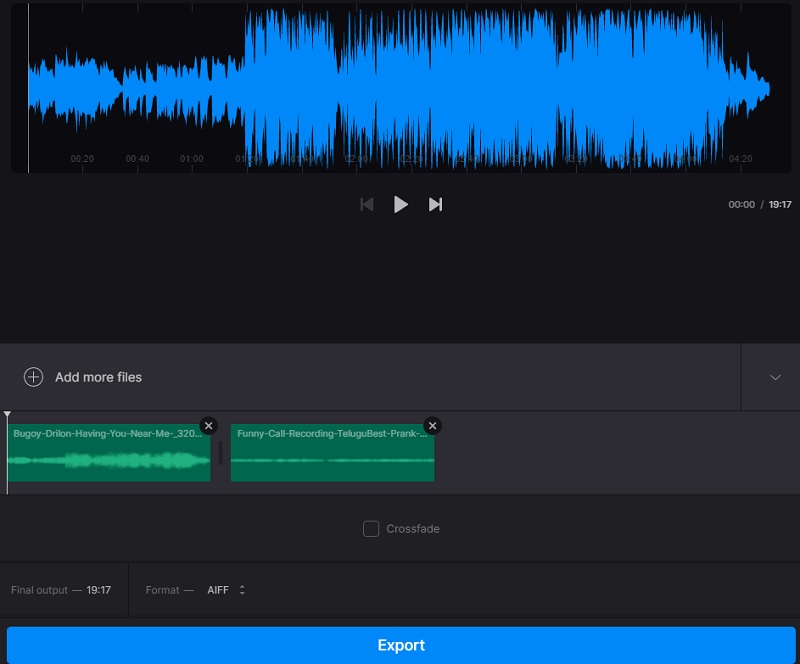 Part 3. FAQs on Merging AIFF Files
What media players can play AIFF files?
Windows Media Player, iTunes, QuickTime, VLC, Media Player Classic, and presumably most other multi-format media players can play AIFF & AIF files.
Can I burn AIFF to CD?
Yes, after the AIFF files have been added to the program window, click the Burn button in the lower right corner to begin burning AIFF to CD.
What is the disadvantage of AIFF files?
The disadvantage is that AIFF files require significantly more storage space than other lossy formats.
Conclusion
You can now enjoy your most loved files in the order that you want by simply using an audio joiner software or online. What are you waiting for? Begin to merge your AIFF files!