The Ultimate Programs on How to Compress M4A File Into Smaller Size
Due to the limited storage that our computer device possesses, we cannot avoid a lack of space. And because of that, we cannot do anything but delete our most loved audio files. But that was before! Why delete them if you can compress them into a smaller size? If you are one of those people who value their files and cannot afford to lose one of them, you will find this post beneficial to you. Continue reading this post because we will teach you how to compress M4A audio files.

Part 1. What Do You Need To Know About M4A File
If you are not a person who is conscious when it comes to different file formats, you will not know what an M4A format is and how it differs from other file formats. But if you want to know more about M4A, here is some information we will share with you. M4A is a file extension for an audio file that has been compressed using advanced audio coding (AAC), a lossy compression method. M4A was planned to be the successor of MP3, which was not initially designed for audio solely but was level III in a MPEG 1 or 2 file format. M4A is an abbreviation for MPEG 4 Audio.
Another thing is, M4A file extension is often used for audio-only MPEG 4 container files. M4A files are not encrypted. The M4P file extension is often used for protected files. Compared to MP3 files, AAC or M4A files have higher quality and fewer file sizes. Because of several format modifications, M4A files sound better than MP3 files when encoded at the same bit rate.
Part 2. Best Tool to Compress M4A Files
The Vidmore Video Converter is the first and most popular option for a program that can help you compress your M4A files. This great tool is compatible with both Windows and Mac. As a result, it will work on any device. Because of its consumer and beginner-friendly interface, you can easily compress your M4A files without the need for expert abilities. There's no need to worry about your file's quality being damaged when you squeeze it since you may change the file's settings. Furthermore, the conversion process is straightforward. Here is a step-by-step procedure to help you understand how this software works.
Step 1: Download the M4A File Compressor
To begin, you'll need to download the software. Using the links below, you can download the program. Then, when the software has been installed, open it up and use it.
Step 2: Upload the M4A File You Want to Compress
Click on the Add Files or Plus icon to add files to the app once it's running. Then choose the file from your device's storage that you wish to compress.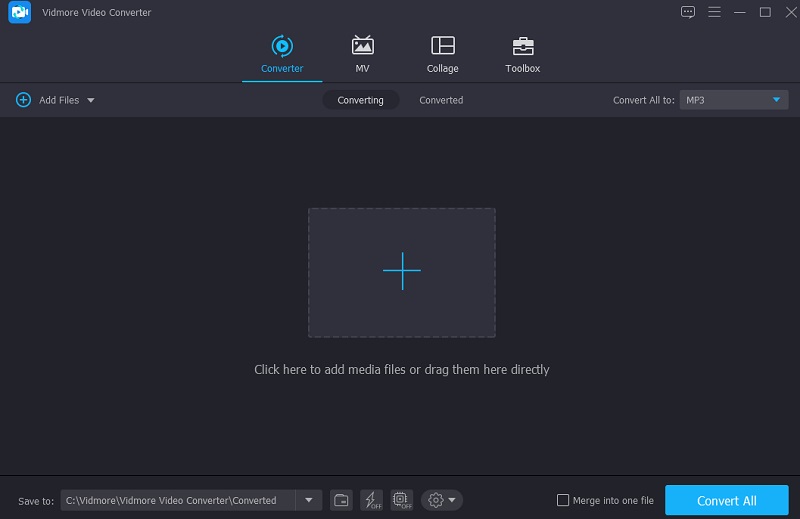 Step 3: Begin to Compress The M4A File
Once you've uploaded your M4A file, navigate to the Audio section in the drop-down menu on the right. You need to choose a file format for your project. Then, choose a low or medium-quality bitrate from the available quality choices.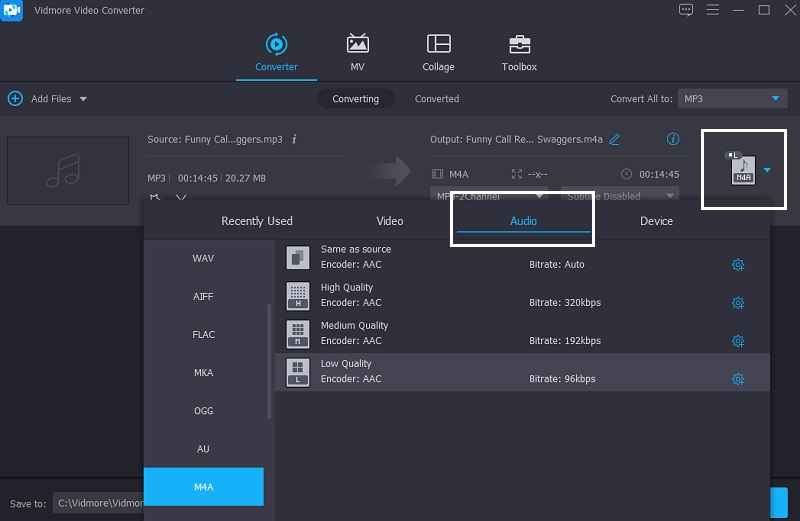 Step 4: Convert the M4A File
After choosing a bitrate for your audio file, go to the Convert All tab to compress it. Wait a few seconds, and everything else is a piece of cake! Your file has been compressed to save space.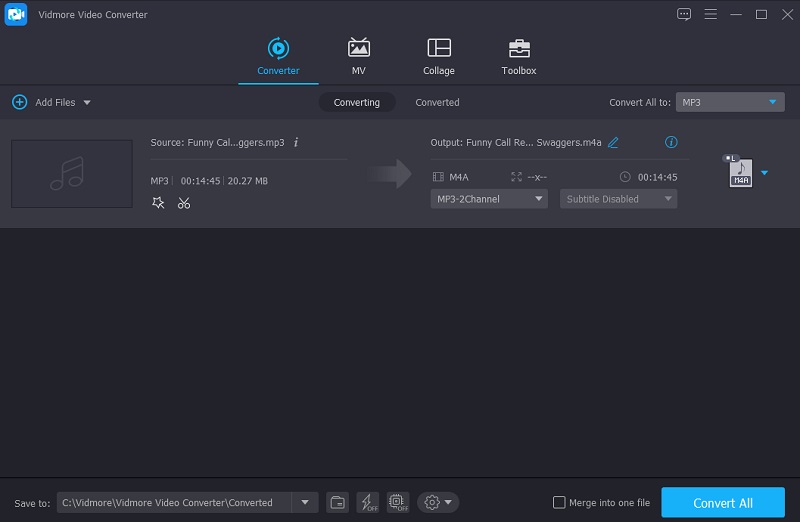 Part 3. Two Ways How to Compress M4A Files Online
If you are an on-the-go person and you depend on an online solution. We listed here the alternative M4A file compressors you can use online.
1. Audio Converter
One of the most popular and safe web-based M4A compressors is the Audio Converter. For free, any file type may be converted or compressed using this web service. Many choices and advanced settings are available on the platform for customizing many aspects of the audio and video experience. However, if you are a beginner, you may find this too complicated. But all-in-all, it will help you achieve the file compression you require.
Step 1: Click on the Open File option on the screen when you open the link. You may use Google Drive or Folder to upload files straight to the site's interface. Then wait for your file to upload.
Step 2: Next, choose Advanced Settings to modify the audio file's bit rate and sample frequency. Additionally, the tool will allow you to change the track information.
Step 3: To complete the process, choose the Convert option and the audio file will be compressed and transformed appropriately.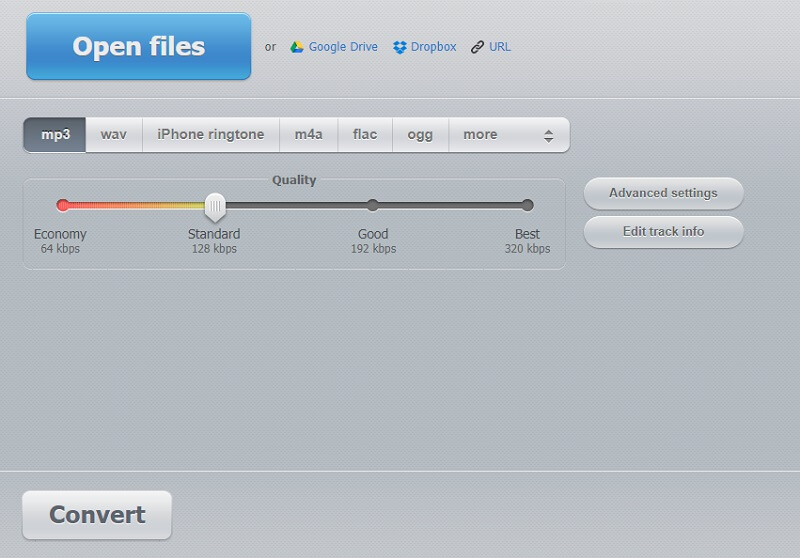 2. AConvert
Next on the list of helpful browser-based M4A file compressors is the AConvert. Its primary function is to change the format of the file. However, if you want to lower the file size in the meantime, you may adjust the compression settings. It's a safe and straightforward method. This online platform allows users to convert M4A files to various formats while retaining the original quality of the files. If you want to see how AConvert works, look at the process below.
Step 1: On your browser, visit their link, and the website's homepage will open up. Click on the Choose File option to add the file to the website interface.
Step 2: After successfully adding the M4A file on the main interface, choose the M4A file on the Target Format. Then, set the suitable bitrate for your M4A file.
Step 3: After making the changes, click Convert Now to convert and compile the file. You may watch the process unfold and download the same file in a smaller version.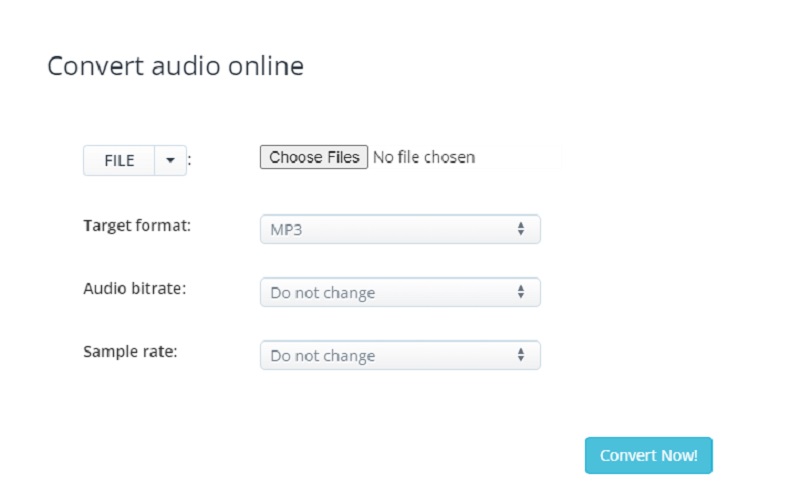 Part 4. FAQs About Compressing M4A Files
Why are M4A files so large?
These files are commonly 128kbps, 192kbps, or 256kbps stereo files. Bitrate directly affects file size and quality. Sound quality and file size increase with bitrate.
Why can't I play my M4A file on Android even if I already compressed it?
If you have an Android smartphone, you should know that the default music player cannot play M4A files. Thus you will need to install a third-party music player program.
How to compress an M4A file on Mac?
Select a lower bitrate, such as 128, in the import options. Highlight the songs you wish to create an AAC version of, then use the command Advanced and click Create AAC version. It generates new versions and adds them to your collection.
Conclusion
You already know that M4A files are popular, but PCs and some non-Apple devices only support them. It's no surprise that they're consuming your storage space. It is when an audio compressor comes in handy. You may now effortlessly compress your M4A files online and offline by depending on this page.