Cut and Join M4A files on Mac and Windows with Best Audio Editors
M4A is a file extension that represents a compressed audio file in the MPEG-4 container. It was first made popular when Apple Inc. used it as a format for iTunes and iPod song downloads. Due to this reason, many users are having difficulty editing it on other apps especially for non-Apple users. Luckily, there are a number of effective M4A audio cutters online and offline. Without a doubt, you will be able to manipulate your M4A files with less effort. To cut to the chase, here are some of the best audio editing software for your M4A files workaround tasks.

Part 1. Top 5 M4A Cutter and Joiner
1. Vidmore Video Converter
Vidmore Video Converter is a versatile app that works on Windows and Macintosh OS. Moreover, the tool's interface is quite intuitive and allows you to accomplish your audio cutting task in an instant. There are different cutting methods that this M4A audio trimmer employs. You may automatically split the track into multiple tracks using the Fast Split feature. Also, you can drag the left and right music bars to select the best part of the audio and cut it. For a precise cutting, you can enter the start and end duration in seconds. On top of that, it integrates a merging capability that lets you combine different segments or merge two M4A files into one.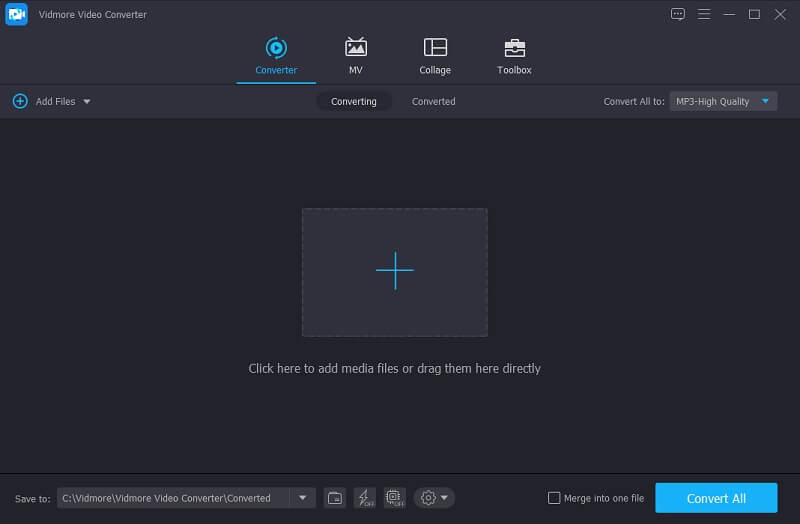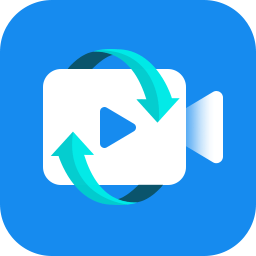 Incredibly Useful M4A Music Cutter
Join M4A files on Mac and Windows
Several cutting options
Supports a large array of formats
Split files without audio length limitation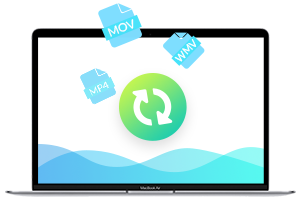 2. Audacity
Packed with a plethora of music editing functions, Audacity is an open-source that is a totally free program you can use on almost all major platforms including Windows, Mac OS, and Linux. The basic functionalities of the tool include recording and editing audio clips. From the toolbar of the application, you can also find functions like loop play that will keep playing the audio clip until you manually stop it. Moreover, the tool supports recording via microphones, overlays a dub on another track, and manages recording devices according to your needs. The best part is you will be able to learn how to merge MP4 and M4A files into one and render them into a new track using its audio mixer.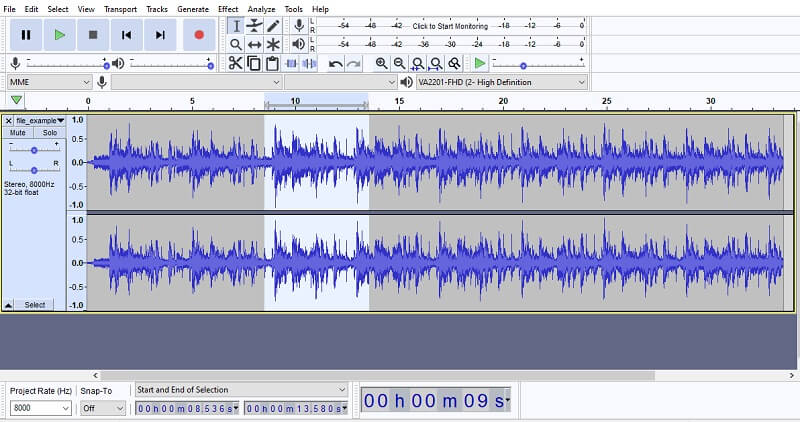 3. Lexis Audio Editor
Tweak audio files into perfection on your mobile device with the help of Lexis Audio Editor. Although the app is tailored for Android phones, it supports M4A which is generally for Apple's gadgets. In addition, it enables you to manipulate more formats including WAV, WMA, FLAC, and AAC format. Using this M4A cutter Android app, you are entitled to export your audio data in an MP3 format allowing you to use it in other applications and operators. Other editing tools include band equalizer, compressor, noise reduction, and so much more. To enhance the quality of the audio, there are options for modifying the tempo, pitch, and rate to match your preference. Despite being a mobile app, it does not fall behind as an M4A cutter and joiner.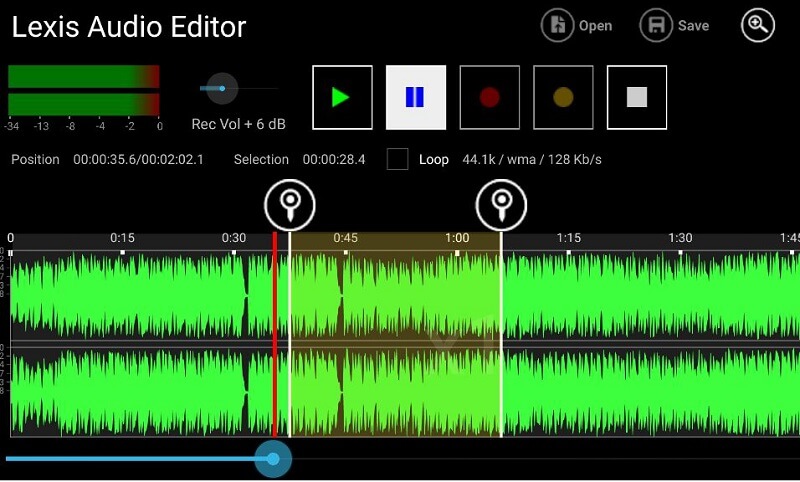 4. Audio Trimmer
Whether you want to make a ringtone or an audiobook online, Audio Trimmer can be of great help. This simple program lets you trim, crop, and cut out parts of audio in a matter of seconds. About the cutter, you can drag the handles in selecting the parts of the audio to cut. Additionally, you can enter start and endpoints in seconds for precise audio cutting. On top of that, this M4A music cutter gives you the ability to export your audio file to MP3 and M4R format.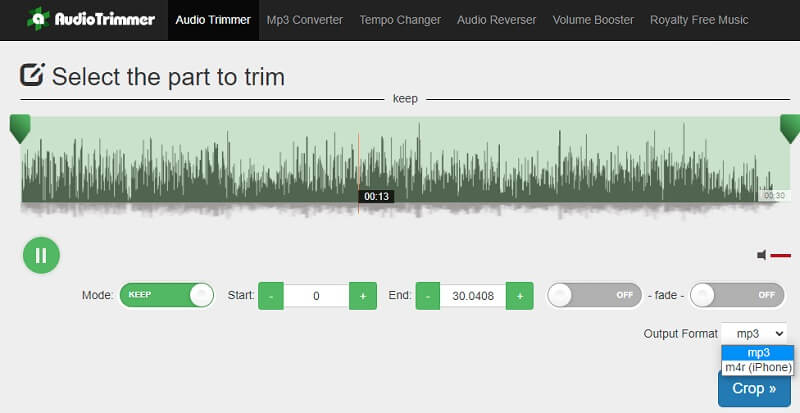 5. Clideo
Clideo is an web-based M4A clipper that can assist you in trimming and splitting audio files. It runs on almost all browsers allowing you to cut audio files on your Windows and Mac computers. Just like the aforementioned tool, it provides different methods for audio cutting. There are handlebars to mark the beginning and end part as well as by entering the duration seconds. Plus, to make a professional track, you should apply fade in and fade out effects, which can also be done using this tool. Most importantly, its audio merger enables you to join M4A files online effortlessly.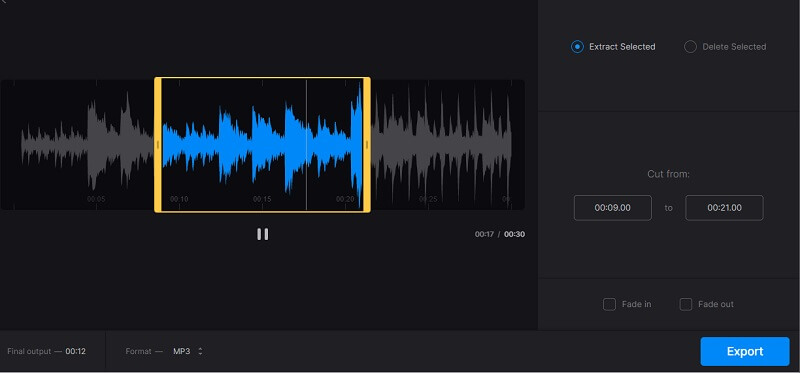 Part 2. How to edit M4A on Windows and Mac
If you are quite unsure where to start and what M4A cutter app to use, you can take Vidmore Video Converter as an example. You may take the step-by-step procedure below as your reference.
Step 1. Grab the app's installer
To get started, grab the app's installer by clicking one of the Free Download buttons above. Make sure to choose the right operating system for your computer and have it installed on your computer. Consequently, launch the app.
Step 2. Add an M4A file
Once done, click the Plus sign button on the main interface of the app and import the file that you wish to cut. To upload a folder of audio files, click on the Add Files dropdown and select Add Folder. Then, select the folder or songs that you need.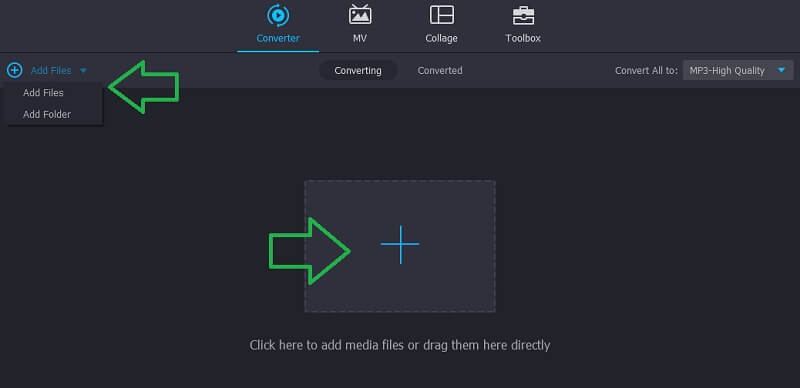 Step 3. Cut M4A track
Now click the Cut button to see the music workingstation of the tool. From here, click the Fast Split button and enter the number of cuts you want to generate out of the M4R file. Alternatively, you can drag the start and end handle bar according to your desired parts of the audio file. This time, play the audio and once you get your desired results, click on the Save button.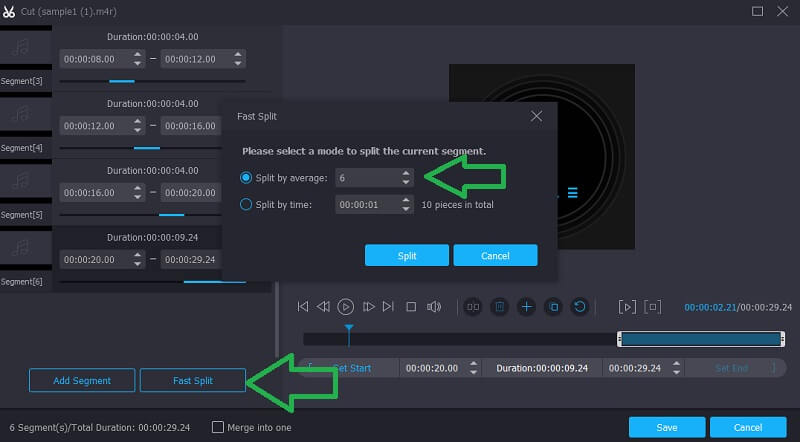 Step 4. Save the final version of the track
After all the changes, head back to the Converter tab and select an output format if you want to play it on other music players or leave it unchanged if you want to retain its original format. To select an output format, simply open the Profile menu and select the Audio tab, select your desired format and hit the Convert All button at the bottom right hand portion to start processing the file.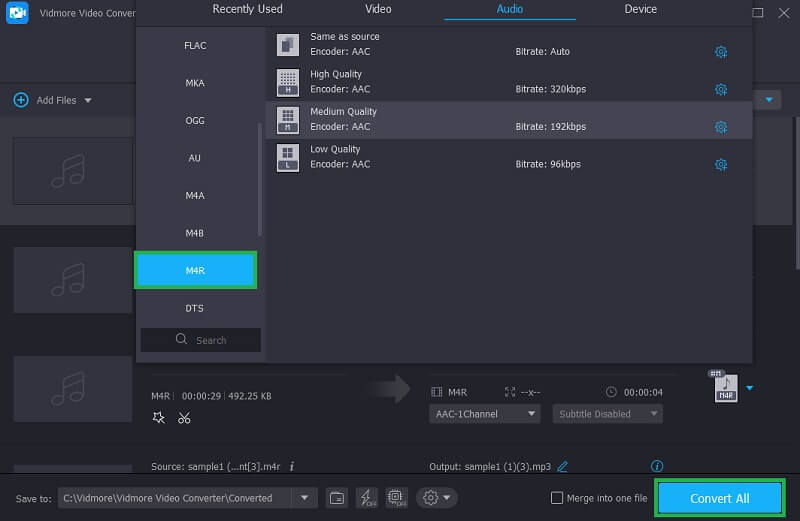 Part 3. FAQs of M4A Cutter and Joiner
How can I edit M4A files?
There are a lot of options available that you can use to edit M4A files. One of the tools introduced above is the Vidmore Video Converter which is a video editor yet affiliated with lots of useful audio editing features. This includes cutting, trimming, merging, and more.
How can I convert M4A to MP3 for free?
You can convert M4A to MP3 using online converters for totally no cost. They run on web browsers so you don't need to download additional apps.
Is M4A the same as MP4?
As mentioned above, M4A file extension is what MP4 as its audio representative. That means every MP4 file contains an M4A file.
Conclusion
In this article, we mainly tackled the most recommended programs available online. You can choose among the audio cutters for M4A above. There are online, offline, as well as mobile solutions. Therefore, choosing the best app would totally depend on your preference.