Merge Your MP3 Files Using These Most Recommended Applications
Have you experienced being annoyed while playing your most favorite music because they are not in the sequence that you want? Well, be at ease because there will always be a solution to your concern. Because you can just use MP3 mergers to compile your most loved tracks into a single one!
You may be curious on what application you would download in order to possibly merge your MP3 files, so without further ado, let us review the best MP3 joiner along with their procedure below.

Part 1. What Are the Advantages and Disadvantages of MP3
MP3 is one of the most known file formats in compressing audios and it is being popular up to these days. Well we cannot blame users for using this format due to its ability to be compatible in most of the devices. In this chapter, we are going to tackle the advantages and disadvantages of an MP3 file format.
The advantage of an MP3 format is it offers a small file size. Despite the number of songs in your device, an MP3 file doesn't take a lot of space. Another good thing about this format is it can be easily shared on any type of device whether it is Mac, Windows or mobile device. Also MP3 format's compression is not fixed which makes the users to freely compress your files into the size that you require. What makes it even more convenient is, you don't have to be an expert before you can navigate the MP3 players.
Some of the drawbacks that an MP3 player has is the low audio quality. Its ability to have a small file size causes it to delete some of the file's data. That is why the quality is being compromised. And another thing about an MP3 player is it's susceptible to viruses.
Part 2. Top MP3 Mergers
In this chapter, we will help you compile your most favorite songs with the help of these MP3 joiner applications. You will not have to take time in playing your most loved tracks one by one just because they are not on your desired list. As in this part, we will share the top 4 MP3 mergers that are compatible on Windows, Mac and mobile devices. Take a look at the list of data below.
1. Vidmore Video Converter
If you are looking for an MP3 merger app that will help you to compile your files, Vidmore Video Converter is a great choice. This app is both applicable on Mac and Windows which makes it more convenient due to its compatibility on different devices. If you are someone who is not used to an MP3 joiner, worry no more because this app offers a user-friendly interface that is why you will not have a hard time navigating its tools.
Vidmore Video Converter also allows you to merge multiple MP3 files and convert in just a seconds! Amazing right? And what is even more amazing about this app is you can cut the songs that you want and merge them according to your desire. And to finally kill the curiosity in your mind, here is a simple step on how to join your MP3 files all in one file. Take a look at the guide info below.
Step 1: Download the MP3 Merger
To start with, download and install the Vidmore Video Converter on your system by clicking the Download button indicated below. After that, launch it on your device.
Step 2: Add Your MP3 Files
Once the program is running, proceed in adding the files that you want to merge by clicking the Add File on the left upper part of the tool's interface or just click the Plus sign at the center to quickly add your files.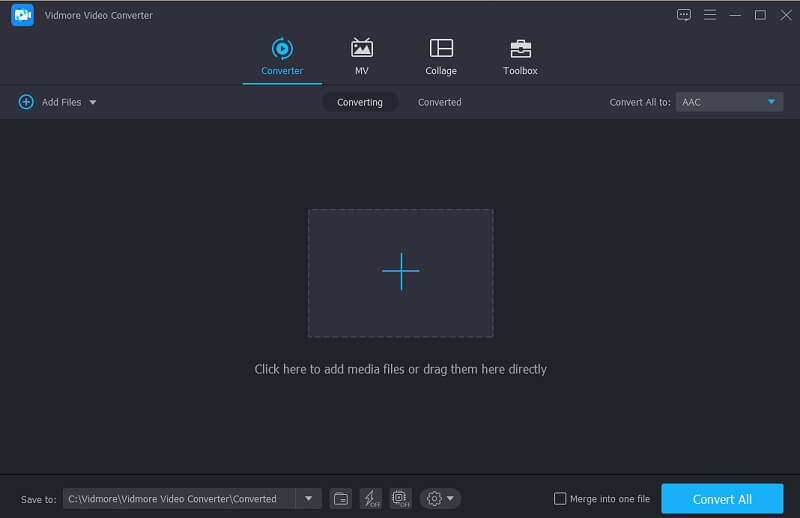 Step 3: Merge Your MP3 File
After you added your most loved tracks, all you have to do is check the Merge into one file box to compile your MP3 files.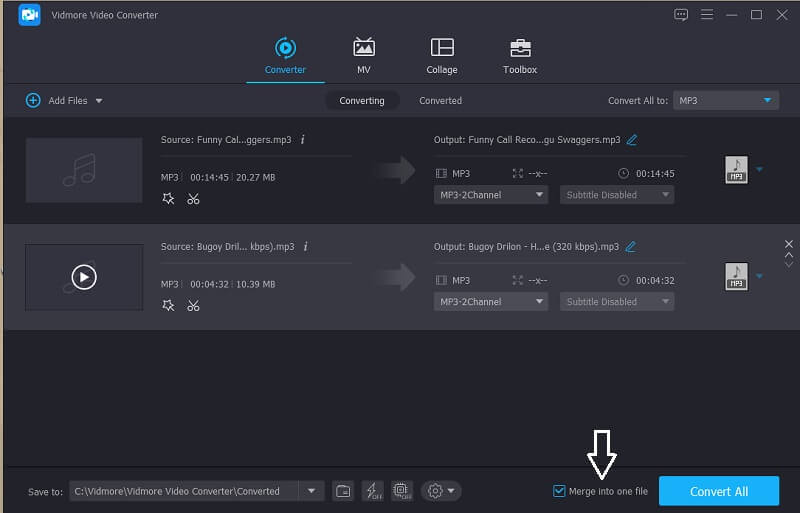 Step 4: Convert the Merged MP3 Files
To successfully merge your files, click the Convert All button at the right lower part of the main interface of the tool. Then wait for a few moments for the mp3 output.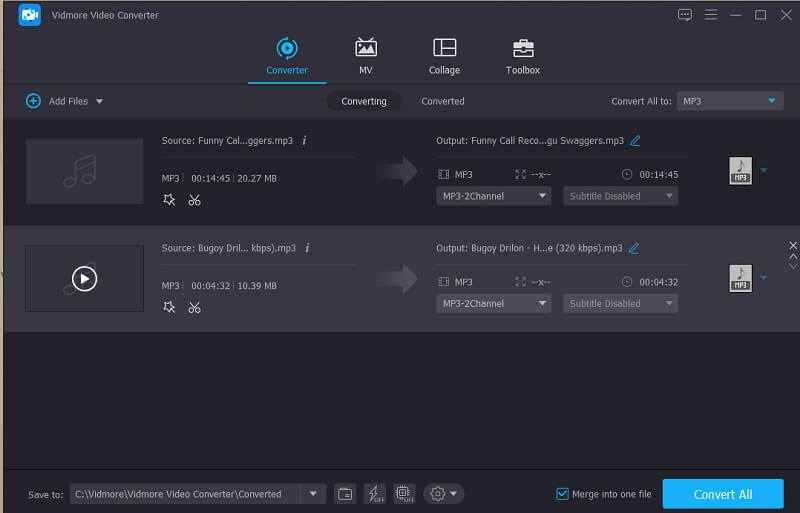 2. Audacity
Another application that is being used by many is Audacity. In fact, it is one of the tools that are good at merging multiple file formats as well as MP3 files. Given the fact that it does not have a user-friendly interface, it could be a hindrance for some of the users. That is why to help you out on how to merge files using Audacity, here is a list of step by step processes on the written information below.
Step 1: Download and install the Audacity in your device. Open the app then click the File section and on the sub-menu, hit the Open and add the MP3 file that you want to merge.
Step 2: After that, click the Ctrl + A and Ctrl + C key to select and copy one of the MP3 files. Then go to the other window. Move your mouse and click with a single mouse click exactly where you want to place your MP3. Then press Ctrl + V to paste the audio track you copied.
Step 3: Once the files are merged, click the File panel then select the Export sub menu. After you click it, another option will come out, click the Export as MP3 then.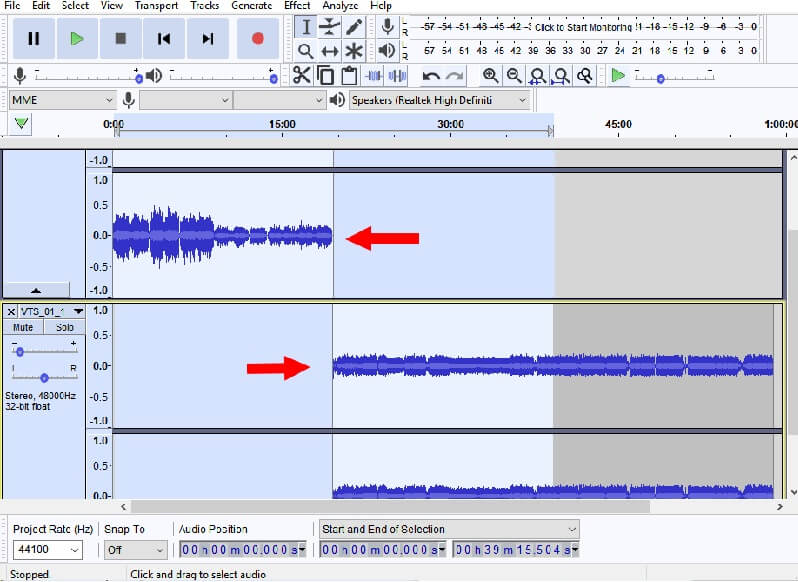 3. 123 Apps: Audio Joiner
This Audio Joiner application is an online MP3 cutter and joiner. Therefore, it is a big help especially if you are saving a space in your device because you don't have to install an application because you can do it online. This tool allows you to join your files without a limit and it supports more than 300 audio file formats and it automatically converts them into MP3 for an easier operation. With that, how to merge MP3 online? Here is a quick guide below.
Step 1: On your browser, search for Audio Joiner then click the Add tracks and select the MP3 files that you want to join.
Step 2: After you added the file that you want to merge, you can cut the file that you don't want to include in merging your files by moving the left and right cursor of the clips.
Step 3: Once you are decided on the changes, click the Join tab at the lower part of the screen and wait for the process.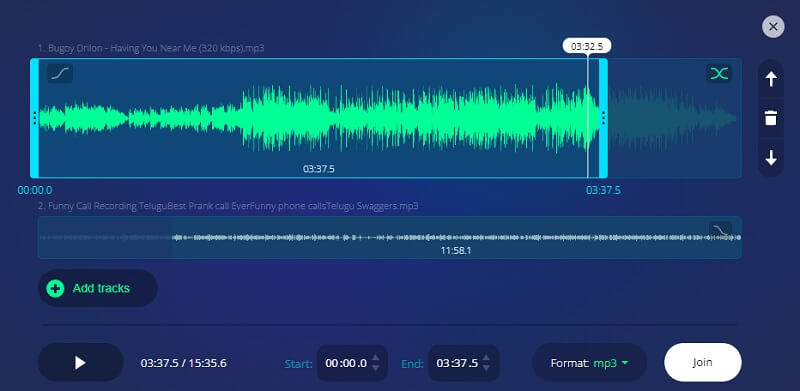 4. MP3 Cutter and Audio Merger
MP3 Cutter and Audio Merger is an application that is intended for your mobile devices. It is a good option if you don't have a full blown computer. It has a user-friendly interface which makes it even easier for users to merge and trim MP3 files. Aside from that, it also supports different formats to be converted just like AACA, 3GPP, OGG and other formats to be edited. And to give you a better understanding how this powerful app works, here is the guide information below.
Step 1: Download and install the app on your mobile device, then open it and click the Audio Merger on the list of options. After that, choose the MP3 files that you want to join.
Step 2: After adding the MP3 files, click the Merge tab at the lower part of the screen then choose the File Type as MP3 then the Process Type as Join. Click the Continue tab after.
Step 3: Once the MP3 files were merged, click the Apply & Save button to successfully save your files.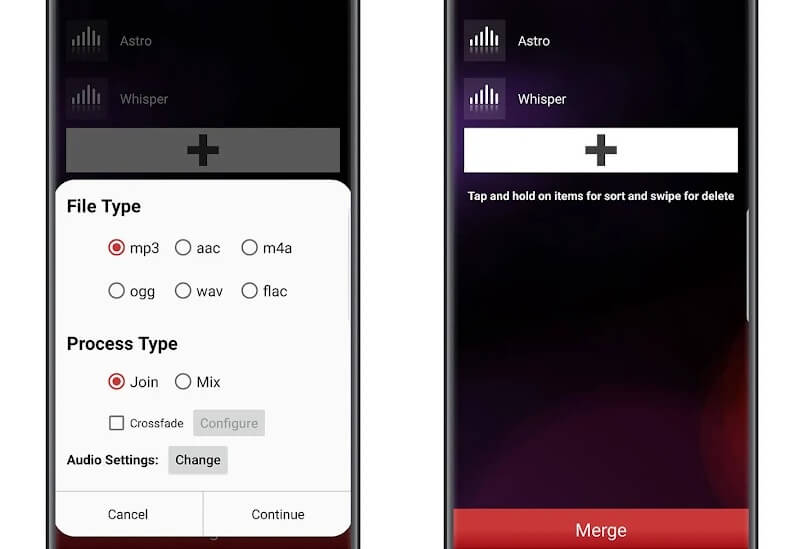 Part 3. Comparison Chart
This comparison chart is a simple illustration of the four MP3 mergers as well as their similarities and differences according to the given standard of a MP3 joiner application.
Key Features

Offers Different Format

Easy Conversion

User Friendly

Rich Editing Feature
| | | | |
| --- | --- | --- | --- |
| Vidmore Video Converter | Audacity | 123 Apps: Audio Joiner | MP3 Cutter and Audio Merger |
| | | | |
| | | | |
| | | | |
| | | | |
Part 4. FAQs about MP3 Mergers
1. Can I merge MP3 files on Vidmore even if it has a large file size?
Absolutely yes! Good thing about Vidmore is it allows you to convert multiple files without any limit.
2. Can I extract an audio from a video and make it into an MP3 file?
Yes, you can by means of changing the format of the file into MP3. But some devices may fail to recognize that audio file. So, you can use Vidmore Video Converter to extract audio from a video without any loss.
3. Is it possible to make a ringtone with an MP3 file?
It is possible by means of converting your MP3 file into an M4R format. But some devices may fail to recognize that audio file. So, you can use Vidmore Video Converter to extract audio from a video without any loss.
Conclusion
Now, you will not have to wish to have your most loved files in a sequence form because you can compile through the help of the MP3 mergers that was indicated above. Feel free to choose either which one you prefer.