Ultimate Tutorial How to Edit Music ID3 Tags in iTunes with Great Ease
Have you gone through a situation when your song does not have any information, or your single has improper tags? Such a familiar scenario happens around you and me. No wonder it is difficult to recognize a particular unfamiliar song, especially if no information is embedded in it. Additionally, organizing your songs is challenging since they need proper tags.
So, to help you create an organized collection of songs and easily recognize those unfamiliar songs, we provide the optimal solutions for you. Now, if you are a Mac user and you wish to do this task with iTunes, below is a comprehensive tutorial on how to edit ID3 tags in iTunes. Read on to learn more.

Part 1. How to Edit ID3 Tags in iTunes
More than a media player, library, or song organizer, iTunes also works as a metadata editor. That means to say it is more than just created for streaming audio tracks or organizing your collection of songs. Another nice benefit of using iTunes is editing metadata. That being said, you can add and edit information about your song. The program enables you to edit titles, composers, albums, album artists, and many more.
You may also add an album artwork or cover to make your song easily recognized. On top of that, you can insert lyrics and see all the metadata or ID 3 tags you added or edited. There are a lot of great features it offers. If you are interested in using this tool, kindly check the tutorial on how you can iTunes Metadata on Mac.
Step 1. Go to the iTunes app on your Mac. After that, locate the song or audio track that you wish to edit the metadata. Click on it and highlight its track.
Step 2. From the menu, hit the Song option and choose Info from the selection. Then, a dialog box will appear showing the tags and other information you can edit. Here, you can edit iTunes music metadata. You may also hit the combination keys of Command + I for the keyboard shortcut.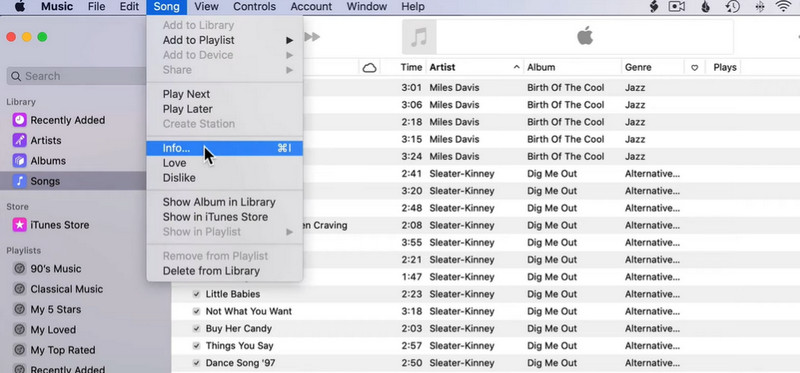 Step 3. Now, you will see different tabs in the panel. That includes Details, Artwork, Lyrics, Options, Sorting, and File. Tick on the Details tab to edit the ID3 tags.

Step 4. Click on a specific field and edit values by adding the correct information or necessary data. Once done, hit OK at the bottom right corner to update the metadata. You may also fx itunes metadata on Windows, provided you install iTunes on your computer.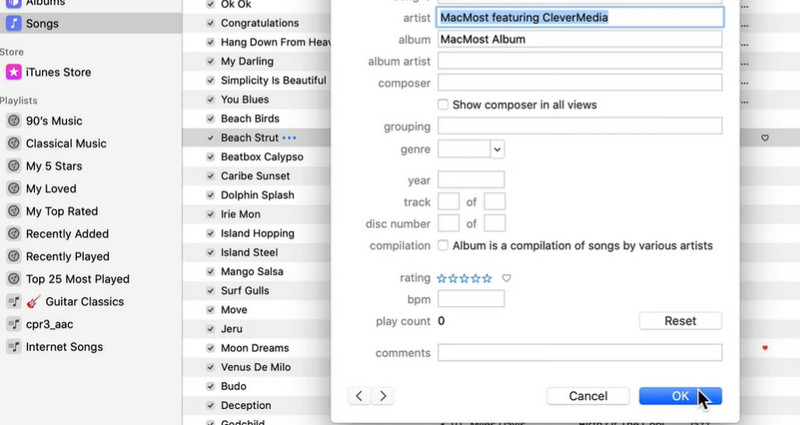 Part 2. Edit Music Metadata on Mac without iTunes
Suppose iTunes is not your thing, or you need so much time to navigate the program. There are simple yet effective programs you can use as an alternative. One optimal program you should consider using is Vidmore Video Converter. This tool enables you to edit metadata from title, composer, year, album, track, and even cover or album artwork. Additionally, it enables users to insert comments to their tracks.
Furthermore, any audio file format is accepted by the tool. There is no need to convert them to a universal format to be able to edit their metadata. Aside from that, users may also edit their videos' metadata with this tool's help. On the other hand, check out how to edit MP3 metadata on Mac without iTunes through the following steps.
Step 1. Acquire the program and launch
First of all, get the tool's installer. To do so, hit any of the Free Download buttons provided below. Just make sure to get the correct installer for your computer's OS. Next, follow the installation process and launch it.
Step 2. Open metadata editor
Right after launching the application, go to the Toolbox tab displayed on the upper portion of the program's interface. From here, you will see a bunch of affiliated tools offered by the tool. Select the Media Metadata Editor to access it.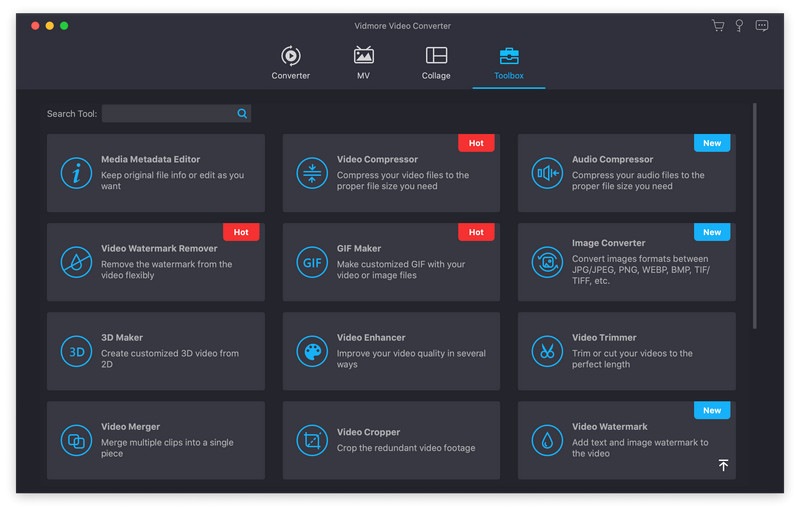 Step 3. Add a media file
Once you click on the Media Metadata Editor, a dialog box will appear where you will add your media file. Tick the Plus sign button and locate your desired audio file from your computer folders. Once done, it will bring you to the panel that displays the information about your song.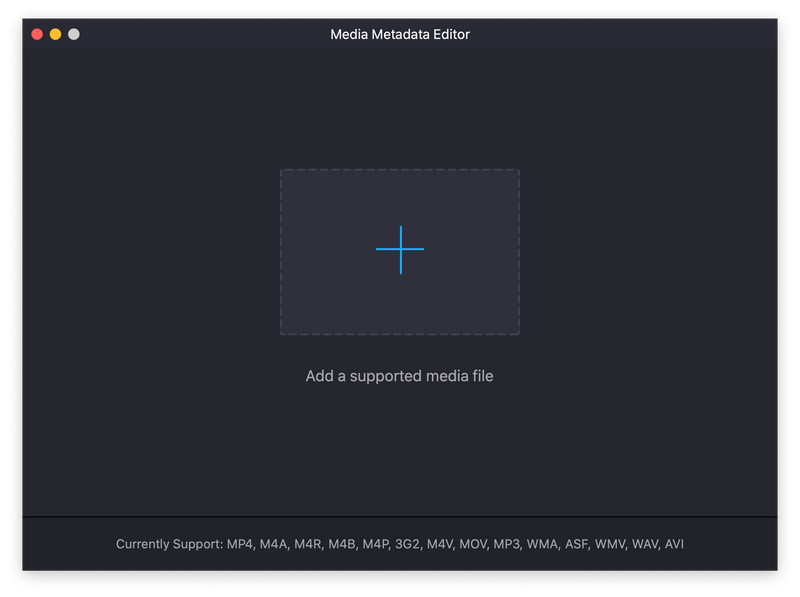 Step 4. Edit and save metadata or ID3 tags
At this point, you may now edit the ID3 tags on your Windows device as if you have an iTunes metadata Windows editor. Simply tick on a particular field corresponding to the metadata you want to edit. If you are satisfied with the changes, just hit the Save button, and you are done.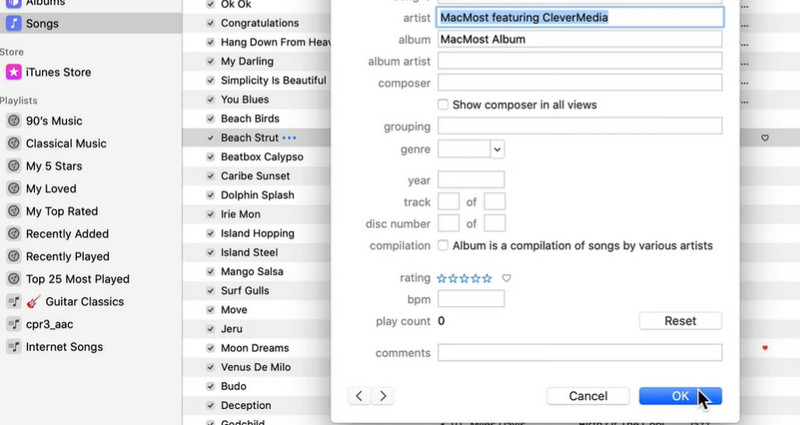 Part 3. FAQs about Editing Music Metadata on iTunes
Can I add or edit metadata tags in iTunes?
Everything from Title to Year can be edited in iTunes. Next to the property is their valued field. Tick on these fields and key in information to edit them quickly. But if you want to add property or tags, it is not possible with iTunes.
Where is music metadata stored?
Metadata, such as title, album, album artist, and other song-related data, are stored in the file itself. The same goes for the album artwork. They were stored in the file when they were added using Get Info.
Does Apple Music allow you to edit metadata?
That is possible by associating Apple Music with iTunes connect. After this process, you will be able to edit almost all the metadata of your songs from Apple Music.
Conclusion
iTunes is indeed a great program not only for organizing songs but also for editing the metadata of your songs. With the tutorial above, editing iTunes metadata on Mac is no sweat for you. On the other hand, there is another program you can use if you are not into iTunes. The tool also offers the features of editing metadata or ID3 tags in a more straightforward and uncomplicated manner. Ultimately, it is up to you to decide which program to use based on your preferences.