Top 4 Best OGG Split Applications for Maximum Listening Enjoyment
You might have a collection or playlist of OGG files that are very long and you want to shorten them. This case occurs especially if there are advertisements on the audio file that you are listening to. There will also be cases when the introduction of the song is too and not necessary. Besides cutting the OGG file short, you will also be able to reduce the size of the audio allowing you to store more music files. Gladly, tons of OGG audio cutters are available you can easily find online. Below we will discuss further OGG and some of the best programs you should consider using to cut audio files.

Part 1. What is OGG?
OGG is a free, unpatented, container file format that can hold streams of audio and video. Moreover, this can hold track and artist information including metadata as well. These contents are optimized for streaming content. Due to the fact that it is patent-free, you may use this audio file type for your projects or software without worrying about copyright issues at all.
Part 2. Top 4 OGG Cutter
1. Vidmore Video Converter
Vidmore Video Converter is powerful software for the event of cutting, splitting, and trimming any audio file including OGG files. This enables you to precisely remove the unwanted portions of the audio by entering the duration in seconds. Aside from that, you can also easily remove the beginning and ending part of the audio by moving the slider. Optionally, you may take advantage of the split feature if you are only taking away a long introduction part of the audio or the only portion in the beginning part of the audio. Aside from its capability to manipulate audio, it also works well with converting audio/video files with support to almost all media formats. In addition, you can operate in batches without any loss of quality. Following is a guide on how to use this undeniable OGG audio cutter.
Step 1. Download and install the program on your computer. You may click one of the Free Download buttons to get the installer and launch it afterwards.
Step 2. Upload the OGG audio file that you need to cut. To do this, click the Plus sign button on the main interface of the tool. Alternatively, you can drag and drop a file as another way of uploading files.
Step 3. Click on the Cut button to open the music editor. On the right section, you will see the sliders and other options for cutting and trimming audio files. Move the sliders to mark the portion that you wish to keep or enter the start and end duration according to your requirements. Then click the Save button.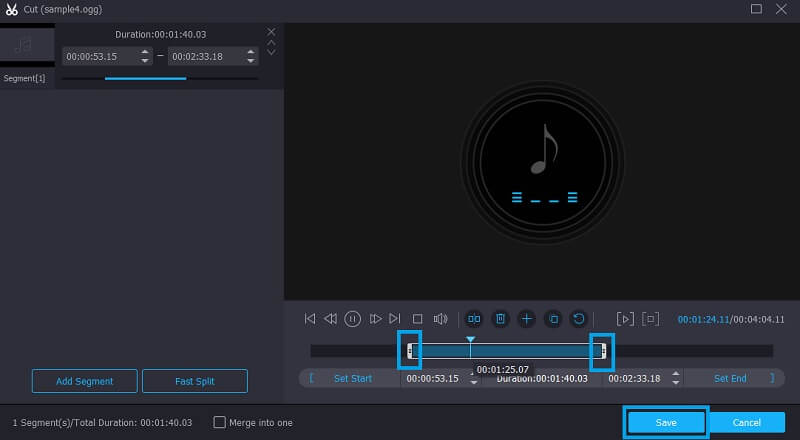 Step 4. Once done, go back to the Converter tab. From this tab, you may choose to convert the audio file to another format or keep the original format. When satisfied, click the Convert All button.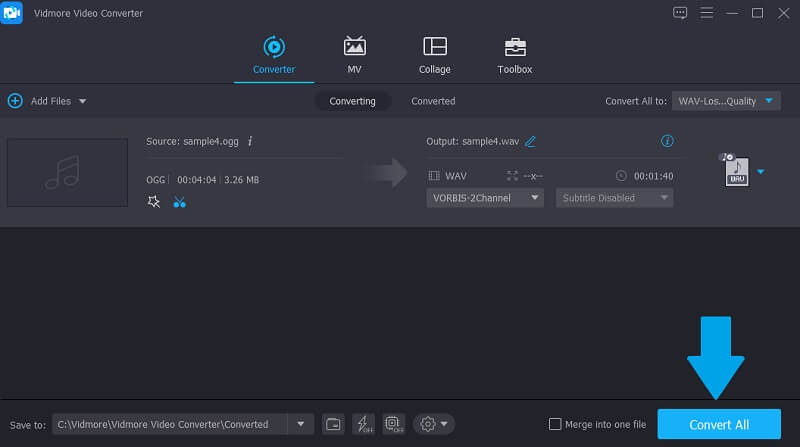 2. Audioalter
With Audioalter, you can drag a local OGG file from your computer and reword it online using this program. This is a web-based OGG split online tool to cut OGG files without having to download a separate program. It works on major browsers like Opera, Chrome, and Firefox. In addition, it supports OGG, WAV, WAV, MP3, and FLAC file formats. Aside from that, it also comes with an intuitive audio editor allowing you to visualize the audio in a waveform illustration to easily determine which part you would want to cut out. Similarly, you can specify the duration in milliseconds to cut files with precision and accuracy. To utilize this easy audio MP3, WMA, OGG cutter, you may refer to the guide below.
Step 1. Visit Audioalter's official page using a browser on your computer. From here, choose the Trimmer/Cutter option.
Step 2. From the next panel, click the Browse computer button to upload a media file by selecting the target OGG audio file that you wish to manipulate from your local folder.
Step 3. Now move the left handle to where you want the audio to start. On the other hand, move the right handle or slider to which part you would like the audio to stop.
Step 4. To activate the process of this OGG cutter online, simply hit the Submit button. Then hit the Download button to keep a copy of the trimmed OGG file.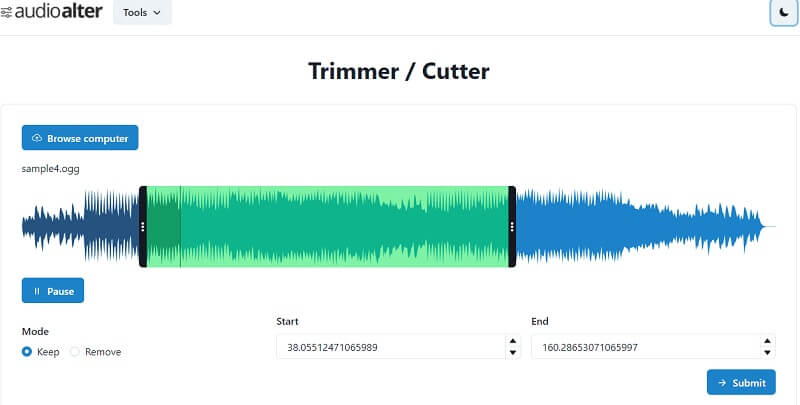 3. Clideo
Another tool to help you cut OGG files online is Clideo. The tool is totally online that you can use on your Windows and Mac browser to cut OGG files effortlessly. It comes with the basic tools for cutting such as the handles or markers and inserting of duration in seconds. Well, aside from that, this also enables you to tweak other settings like adding fade in and fade out effects and the ability to convert from one audio format to another. It does not only allow you to import files locally but also lets you import from your cloud storage including Dropbox and Google Drive. Now let's have a glance at the steps on how to use this OGG audio cutter.
Step 1. Go to the Audio Cutter Online website in Clideo using your favorite browser.
Step 2. Press the Choose file to upload an audio file from your local folder or click the drop-down arrow to choose another storage. From there, select the OGG file that you want to rework.
Step 3. Mark the part that you wish to retain or remove and select from between the Extract selected and Delete selected options.
Step 4. After that, click the Export button at the bottom right-hand side of the interface. Finally, click the Download button to save the cut audio file.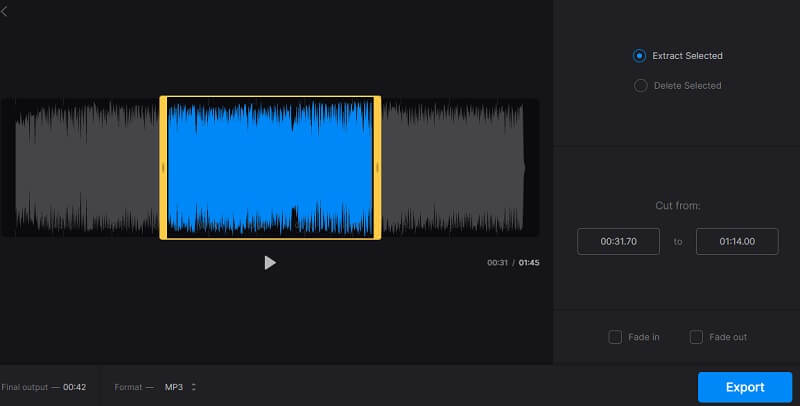 4. VLC
On occasions that you need to cut OGG files and other audio formats, VLC should also come in handy. This is best known for video streams especially for Windows users. Despite that, VLC is not solely developed for viewing videos but also for trimming and cropping media files. However, trimming audio clips in VLC is quite limited. To crop a music clip in VLC, it makes use of the recording method. Nevertheless, follow the quick guide to learn how to trim OGG with VLC Player.
Step 1. Download VLC from its official site. After that, install and launch it on your computer.
Step 2. Now go to the View option from the main menu and select Advanced Controls.
Step 3. Open the OGG file you desire to trim. At the bottom part of the window, decide where the part you would like the recording to start by clicking the red Record button.
Step 4. Once the playhead reaches the endpoint click on the Record button again and it will automatically create a playback saved on the Music folder on your computer.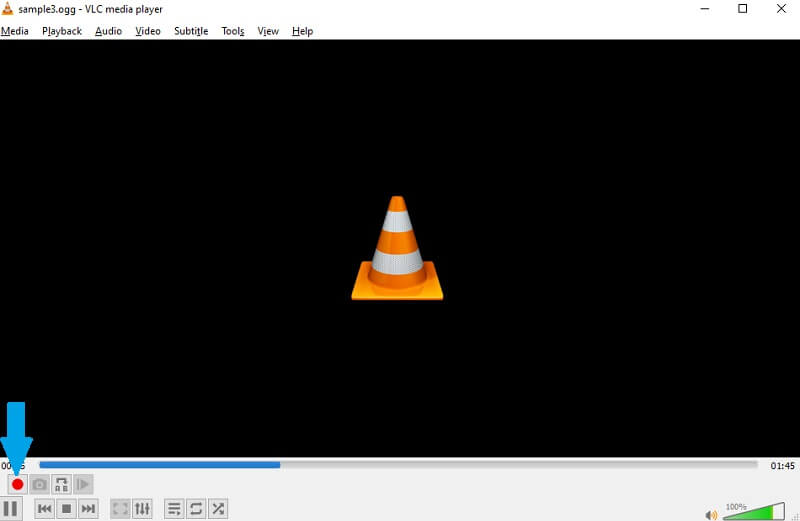 Part 3. FAQs of OGG Cutter
Can I open OGG files?
Yes! There are lots of music players and software that you can use to play OGG files. Among the popular ones are Windows Media Player and VLC. Moreover, Vidmore has a built-in music player allowing you to listen to your OGG's audio playback easily.
Can I make OGG files?
Definitely. This is possible with the help of converter software. One of the tools introduced in this post to help you convert any audio file format to OGG is Vidmore.
What is the difference between OGG and OGV?
OGG files are usually used for audio files and OGV is a video file container.
Conclusion
There is always a simple way to do things just like when you need to cut audio files. In the case of manipulating OGG, you can use above mentioned OGG audio cutter programs to fulfill this task.