Change WAV Metadata with Matchless Online and Offline WAV Tag Editors
Jointly developed and maintained by Microsoft and IBM, Waveform Audio File Format or WAVE is an audio file format. On the other hand, files in this format are universally accepted as WAV files. It can end with the extension .wav or .wave. Therefore, you should distinguish these two. Meanwhile, you might need to find and input the accurate and exact metadata of your WAV files. The good news is we have many programs available to edit WAV metadata.
On the contrary, which program to use when there are plenty of options to choose from. You will surely encounter such problems, especially picking the right tool. Nevertheless, we are here to help. In this post, we will share the best tools and their instructional guide, demonstrating how to edit WAV tags. Check them out below to learn more.

Part 1. WAV Metadata Editor Online
For a download-free and convenient way of editing WAV metadata, you may go with an online program. GroupDocs is a great web-based tool that helps online users edit the metadata information of their audio files, such as WAV and MP3 audio files. The good thing about this tool is that it is compatible with almost every platform, including Mac, Windows, iOS, and Android. Not only it allows you to edit the metadata of your audio files.
You may also use the program to edit the metadata of your image files, including JPG, PNG, GIF, TIFF, WebP, BMP, and many more. On top of that, you can quickly edit the metadata of your documents, like Word, Excel, OneNote, Outlook, and more. Check out the advantages and disadvantages of this WAV editor-free tool below and see if it fits your needs.
Pros
It accepts many types of file formats, like image, audio, and video.
No need to install additional programs.
Works fast in uploading and saving the edited file.
Cons
Occasional errors in uploaded files.
It works fast only under a fast internet connection.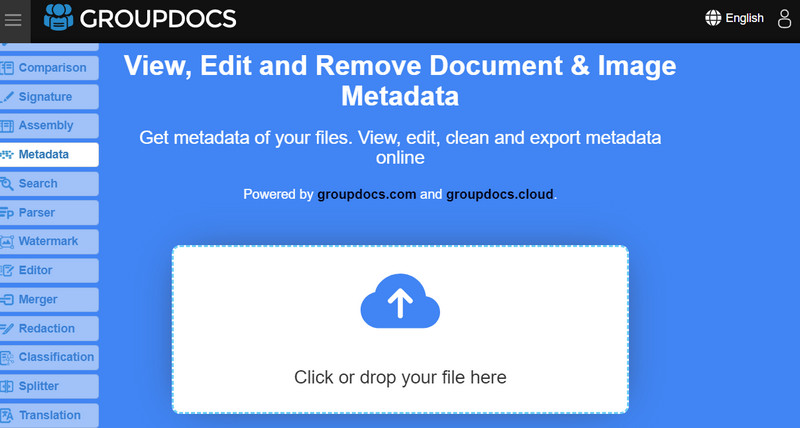 Part 2. Best WAV Metadata Editor for Windows and Mac
In order to help you learn how to add metadata to WAV files on Mac and Windows, Vidmore Video Converter is your best friend. You can use this tool to identify and track information on your audio files without having to worry about the audio file formats. Be it WAV, MP3, WMA, AAC, AC3, M4A, or OGG. This tool has a wide variety of accepted audio formats. Moreover, it allows you to view and edit metadata about the audio file. That includes File name, Artist, Album, title, Genre, and many more.
On top of that, you can add comments to the audio file or a thumbnail cover of your audio or video files to quickly and effortlessly recognize them. That is typically helpful when a video or audio file is unfamiliar. Now, for further scrutiny of the program, you can look at the list of pros and cons below.
Pros
The concise interface allows all information to be seen at a glance.
It is a multi-format metadata tag editor.
Add a video or audio artwork cover.
It offers more video and audio editing options.
Cons
It cannot edit multiple metadata of files simultaneously.
Limitations in the free version of the program are implemented.
If you wish to edit WAV file metadata instantly, below is a demo guide to walk you through.
Step 1. Install and launch the program
First of all, get the updated version of Vidmore Video Converter by clicking the Free Download button based on the installed operating system on your computer. Next, follow the setup wizard to install the tool properly. Right after, launch the tool and get familiarized with its interface and functionality.
Step 2. Access the metadata editor
After launching and examining the tool, go to the Toolbox tab. From here, you will see a list of tools that this program offers. Now, select the Media Metadata Editor from the list of tools. After that, a new dialog box will appear.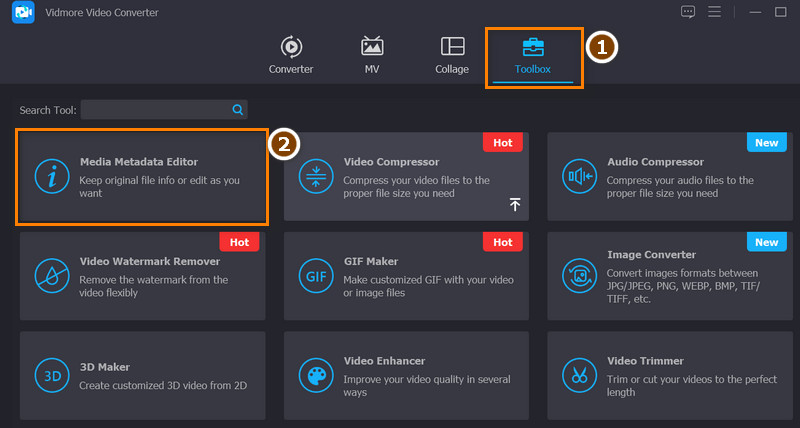 Step 3. Upload your desired WAV file
To use the WAV tag editor, you have to load your target WAV file to the program by hitting the plus sign button in the middle of the dialog box. You will find that your File Explorer opens up. Then, you will need to browse through your files to see the audio file you wish to edit the metadata of. Select your desired WAV file and hit Open in the File Explorer.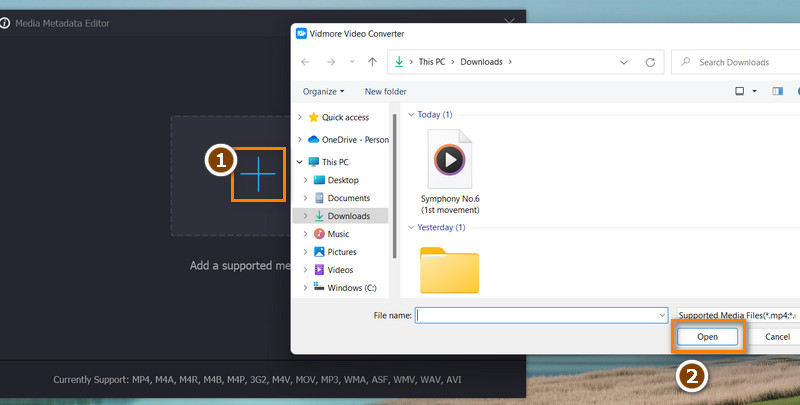 Step 4. Add ID3 tags or edit metadata of WAV files
To learn how to add ID3 tags to WAV files, you need to tick on the respective audio tag category. Then, adjust or add the right information to your WAV file's metadata tags. You may add a thumbnail to your audio file by ticking the add sign button under the cover artwork frame. Once you are finished, hit the Save button to confirm the changes in your WAV files.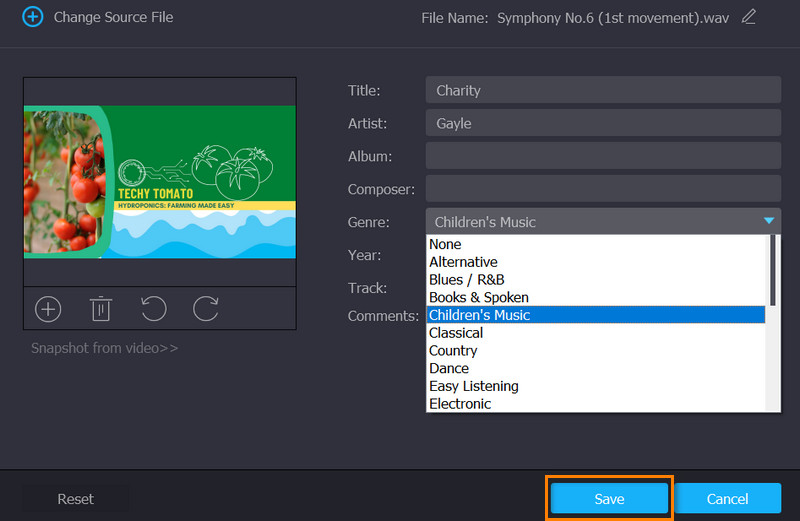 Part 3. FAQs about WAV Metadata Editors
What is the disadvantage of a WAV file?
If your device doesn't have adequate memory space, large size will be an issue. That is because this file is an uncompressed file. Additionally, this limits the amount of WAV files that can be shared online.
Can I add tags to WAV files using iTunes?
Yes. Simply install iTunes on your computer and go to Preferences > General. After that, select the playlist and drag the WAV files from the folder to the iTunes interface. Now, press the key combinations of Command and i to see the multiple-item information. Then, you can enter the exact information you hope to use.
Is it possible to edit WAV metadata through native Windows programs?
Yes. This method involves using only Windows Explorer on your computer. Right-click on the selected WAV file and select Properties. After that, go to Details and edit the tags. Finally, hit Apply, followed by the OK button.
Conclusion
Until you have the right information, you can't organize your WAV files in a manner that you can quickly locate them. Clearly, these tools are developed for such situations. These tools will help you change WAV metadata so you can input important information, not to mention help in organizing your WAV files.