Undeniable WAV Cutter and Joiner Apps for Windows and Macintosh OS
At times you want to create ringtones for your mobile phones, send funny audio files, make audio books, and merge the best audio parts from different tracks. This is possible with the help of an audio joiner or cutter. Yet if you happen to only have WAV audio, there's nothing to worry about. Here we compiled some of the best WAV cutters and joiners to help you achieve your purpose. Whether you need to make audio books, delete irrelevant audio parts, make jokes out of your audio files, you can confidently rely on the WAV trimmer and cutter apps that we will review. Have a wider knowledge regarding these programs after the jump.

Part 1. What is WAV
WAVE or Waveform Audio File Format, first released in 1991, is an audio file format developed by Microsoft and IBM. This file usually ends with the extension .wave or .wave, which is the reason the audio format is universally known as WAV files. WAV files are commonly uncompressed but can contain both compressed and uncompressed audio. In other words, it still supports lossy compression schemes even though most common WAV files are uncompressed. That is why it is considered a lossless audio format that preserves high-quality sound.
As a matter of fact, the WAV file is what Windows PCs use for raw and uncompressed audio. This format also holds information like stereo or mono property, sample rate, bit depth, track number, etc. Both Windows and Mac computers support uncompressed WAV files so you don't need to worry about its playback on either of the platforms. The best part is there are no strict encoding or decoding requirements allowing you to easily manipulate and edit WAV files. Therefore, we prepared the best WAV cutter and joiner to help you rework your sound files.
Part 2. Top 5 WAV Cutters and Joiners
Here are the most recommended and decent programs that can help you do basic and advanced workaround with your WAV audio files. Continue reading to get the needed information.
1. Vidmore Video Converter
Vidmore Video Converter provides the right tools for editing audio files. This fantastic application helps you instantly split a track into multiple segments, which is especially helpful when uploading files, easy distribution, and more. With it, you can precisely cut the audio clip by defining the number of cuts or entering the cutting time duration. Aside from that, you can also cut the best part for different tracks and combine them into one song. On top of that, it provides support to almost all kinds of audio formats making it the most recommended and easy MP3, OGG, WAV cutter. For a walkthrough of this app, simply follow along with the guide.
Step 1. Acquire the app
You first need to download the latest version of the app in order to maximize its features. After installing the program, launch it on your computer.
Step 2. Upload an WAV file
The next step is to add a WAV file that you wish to edit. Just click on the Plus sign button presented on the main interface of the tool to upload a media file.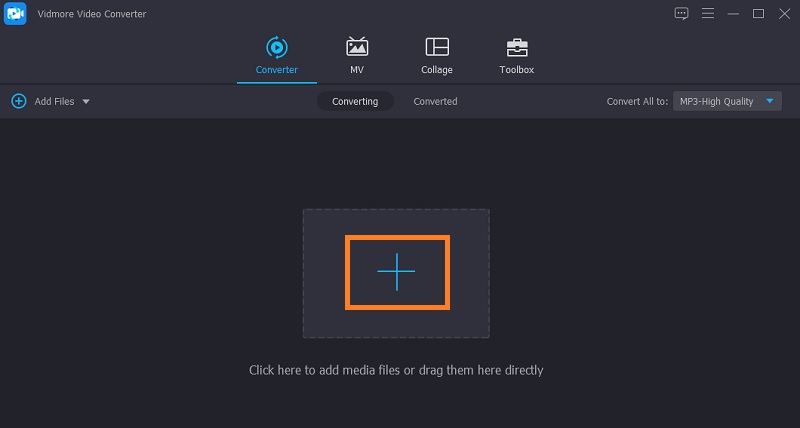 Step 3. Cut WAV audio
To cut the WAV file, tick the Cut button and you will be redirected to the music studio editor of the program. From here, click the Fast Split button and enter the number of cuts to split the audio track into smaller parts. Hit the Split button afterwardsYou can remove the irrelevant parts by selecting the unwanted segment and clicking the Trash icon from the media player section.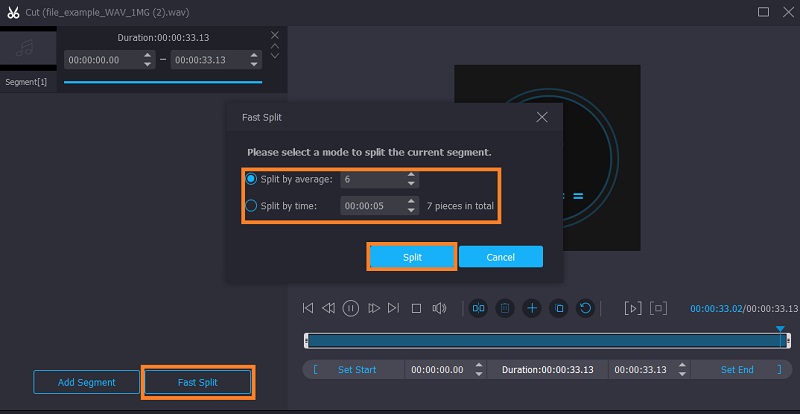 Step 4. Save the edited WAV
After that, you can save the edited WAV file to other popular formats or keep the original format. Simply go back to the Converter tab and open the Profile menu. Select an appropriate format from the Audio tab. In case you need to merge the tracks together, tick on the Merge into one file check box alongside the Convert All button then click the Convert All button to process the file.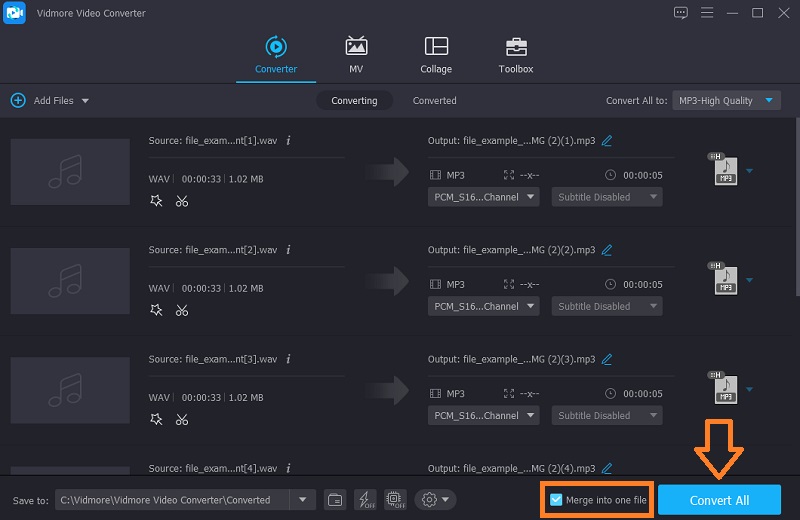 2. Audacity
Audacity is another great program that can help you cut audio files. It greatly supports but is somewhat limited to WAV, AIFF, and MP3 audio file format. With FFmpeg library installed into the app, you will be able to import and edit a large range of formats. The program integrates the Zoom feature that allows you to take a closer look at the waveform of the audio and easily cut it making it the best WAV cutter to download.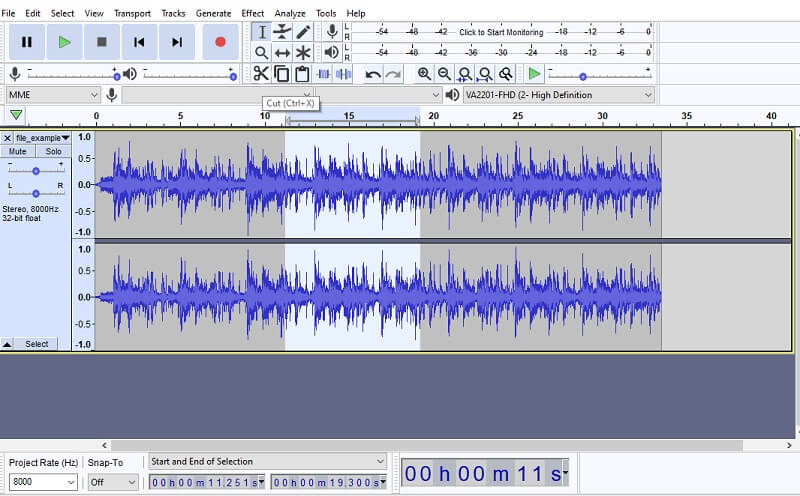 3. ocenaudio
There is also a WAV cutter available for Mac. With ocenaudio, you will be able to cut out parts of the song and edit metadata. Another impressive thing about this program is that it has a built-in library for sound effects that you can insert into the song that you are reworking. Apart from that, you can easily identify the peaks and lows of your audio file with the app's spectrogram view.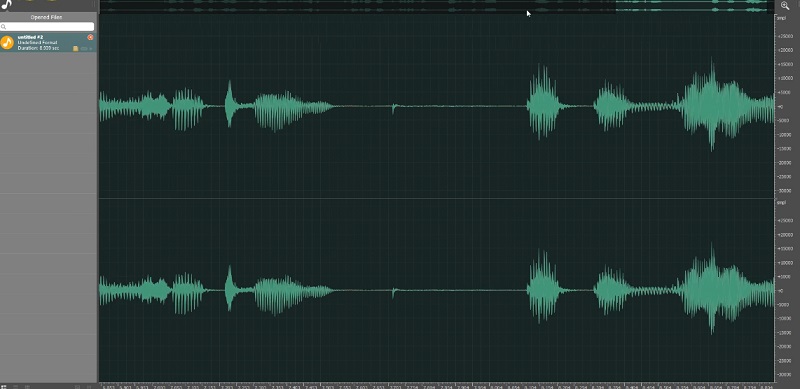 4. Clideo
If installing an application is not your thing, then you can consider using Clideo. This tool also makes use of music grabbers to rip the best portion of an audio. Besides that, you may precisely cut the audio by defining the start and end points for cutting then. Plus, export the file to your desired format using this audio WAV file cutter online.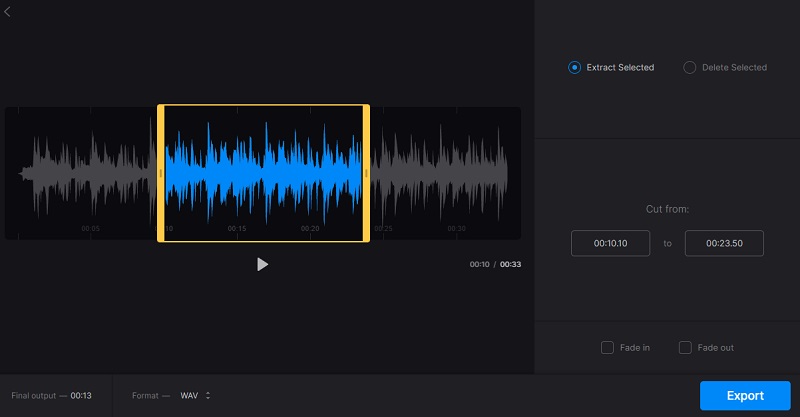 5. Audio Trimmer
Audio Trimmer is another great addition to the list of WAV trimmer and cutter programs. It does not only allow you to cut audio files from the web page directly. With it, you can also apply effects including fade in and fade out to produce a professional audio file. In addition, this online WAV trimmer grants you access to its features even from your mobile device.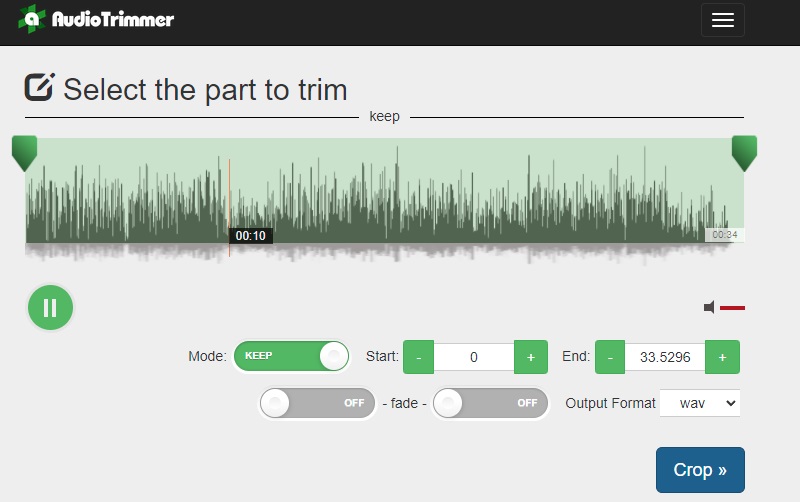 Part 3. FAQs of Trimming WAV
How to merge WAV files together?
This is basically done by joining your WAV tracks into one single file. You can choose the order of audio playback according to your preference. In a sense, you are creating a playlist of WAV files by combining them together into one.
How can I merge files on Mac?
You can merge files using an application. Unfortunately, QuickTime does not support this feature. Alternatively, you may use Vidmore Video Converter which is available for both Macintosh and Windows PC.
What is the best MP3 to WAV cutter program?
The best program for someone could be subjective. It would solely depend on one's preference for an application or tool. However, you can simply use the ones we introduced above. One of the best programs is Vidmore. This enables you to cut MP3 or WAV and convert save it as another audio format.
Conclusion
Whether you need a WAV joiner or cutter, the programs mentioned in this post offer this function and some various features for different kinds of needs. Therefore, go on and produce perfect or professional WAV files with these great software.