WAV Cutter and Joiner Tools to Merge Multiple Audio Tracks Together
Merging files is an activity where you put multiple media files together for different purposes. This can be a need especially if you need to create a continuous non-stop track of your audio files or make a sort of a remix sound file by combining them together. In this manner, you don't need to play them one by one and be interrupted by the sudden pause of playing a separate song. If you happen to have WAV files, you don't need to worry that much. Using the appropriate software, you can put WAV files together or any other audio format. Find out the best WAV joiners for online and offline usage below.

Part 1. What is WAV
Developed by Microsoft and IBM, WAV or Waveform Audio File Format is an audio file format mainly used on Windows PC for compressed and raw audio. Except the audio parts that it contains, it also holds information regarding stereo and mono property, sample, rate, bit depth, etc. In actual fact, WAV files are derived from RIFF, which is a universal format for storing audio and video in tagged chunks.
WAV files are commonly uncompressed resulting in lossless audio quality. It provides support to both Windows and Mac OS. Therefore, you won't have any difficulty playing on the mentioned platforms. The same is true when reworking and manipulating this audio file since there is no encoding and decoding needed when editing this type of file.
Part 2. Best WAV Joiners for Windows and Mac
1. Vidmore Video Converter
One of the best tools that you can find online to merge WAV files on Mac and Windows computers is Vidmore Video Converter. This allows you to add as many audio files as you want without limitation to the file size or length of the video. This means that you can add multiple audio files and join them together by sparing no effort. Proving its versatility, this program can also edit audio files allowing you to cut, split, or trim audio files either manually or automatically depending on your requirements. The best part is you can instantly convert audio files to your desired audio format with lots of format options for audio/video. Learn how to merge WAV files with this awesome app by following the steps below.
Pros:
Play the edited or joined audio track in real-time
Convert merged audio files to another format
Powerful music and video editor
Cons:
Limited features on the free trial
Step 1. Install the WAV Joiner
First things first, grab the installer of the tool by clicking any Free Download button beneath. Open the installer and follow the setup guide to install it on your computer. Then, open the program.
Step 2. Upload WAV files
Now to upload media files, click the Plus sign button to open the file folder. Select all the WAV files that you would like to combine and click the Open button to successfully add the files into the app. Alternatively, you can add a collection of songs in a folder by clicking the Add Files dropdown located at the upper left corner of the window. Click the Add Folder and select the folder with the WAV files in it.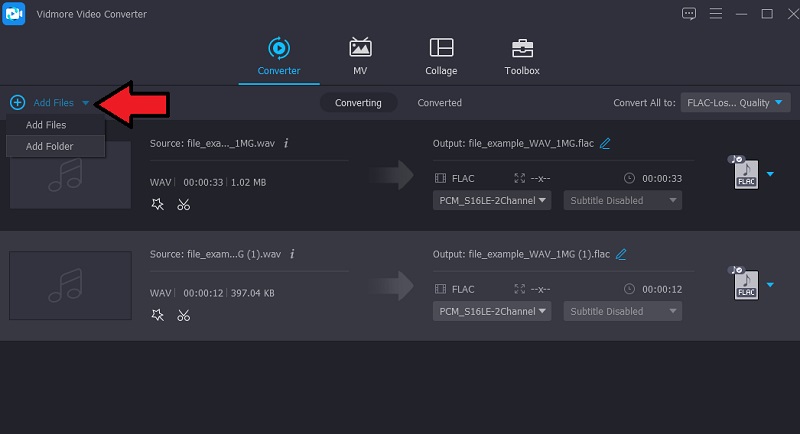 Step 3. Join WAV tracks
Prior to putting the files together, you can select an audio format for a result file or leave it unchanged by selecting the same format. Tick on the Merge into one file checkbox to enable this merging option. Then click the Convert All button to render the file.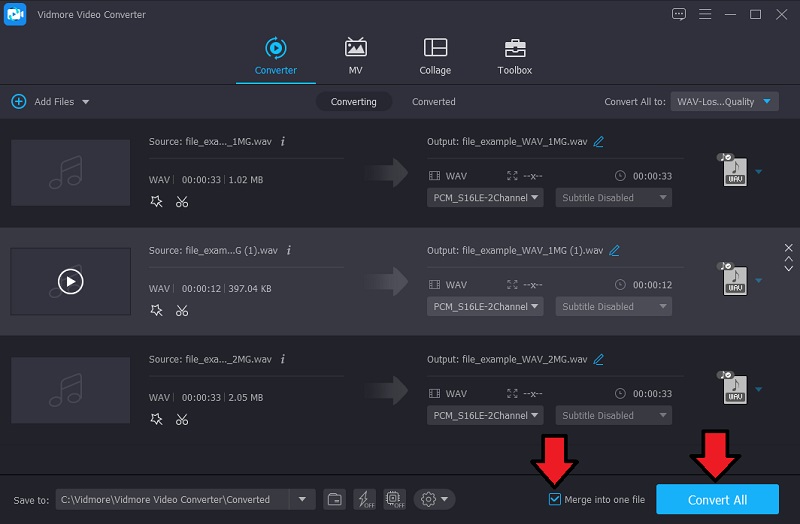 2. Joyoshare VidiKit
Another tool that can help you merge WAV files together is Joyoshare VidiKit. No matter the format, different or the same, you can easily add and combine them together without any quality loss. Before the merging task begins, you can make changes by adjusting the duration of the song one by one then add them to the list of songs that you want to join. Aside from that, you can also add sound effects, whether you want to apply full bass, full treble, etc. These are all possible with Joyoshare VidiKit.
Pros:
Features drag and drop interface
Various sound effects
Record system and microphone sound
Cons:
A bit complicated to navigate
3. Clideo
Well, suppose that you don't like to download and install an additional app to save up memory space on your computer, you should consider using an online tool to join WAV files online. Clideo is a web-based program that provides support to WAV, WMA, OGG, and MP3 audio formats. Compared to similar programs, this works perfectly on Android and iPhone devices so it is possible to merge from the comfort of your mobile device.
Pros:
Arrange the tracks to the desired position
Apply crossfade effect
Export the final output to another format
Cons:
Noticeable latency in uploading files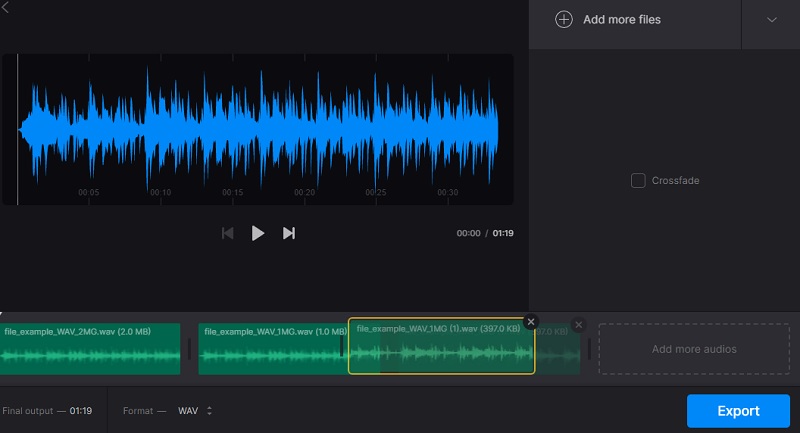 Part 3. FAQs of WAV Joiners
How to merge 2 WAV files together?
You take a look at the tools above that are developed for this kind of need. You can accomplish this either by using a desktop app or without downloading an app through an online tool.
How to merge WAV files in Windows 10?
The right tool that you can use are the ones introduced above. They are fully compatible with major platforms including the web-based app.
What data do WAV files contain?
As mentioned, a WAV file also contains information including sample rate, stereo property, bit depth as well as a number of tracks.
Conclusion
To sum things up, the three WAV cutter and joiner apps offered in this content provide sure-fire ways to join multiple tracks together in a flawless and easy way. In fact, they are also equipped with extra features that are really helpful upon using each program. Try them and assess which one suits your preference well.