Walk Through 5 Apps to Increase the Picture Resolution
Taking photos of everything and everything that catches one's eye has become an increasingly popular hobby among today's consumers. And it is one of the ways that they creatively express themselves and their identities. On the other hand, there are occasions when there are photographs that have a poor resolution because of certain circumstances. On the other hand, there are programs available for mobile devices that may improve the image's resolution. It is a positive aspect of the situation. Join us as we review the different apps to improve image resolution to help you create a social media-worthy post.

Part 1. Apps to Increase Picture Resolution
1. Snapseed
Snapseed is one of your most acceptable options if you seek a way to boost the resolution of your images with a single swipe. Particularly the resolution of faces in photos. You may improve the skin effect, give faces more illumination, and boost the emphasis on your eyes with the help of this picture enhancer software. In addition, using its particular function may enhance some areas of the photo while continuously reducing the amount of time spent editing and adjusting the whole image.
You may also keep your typical and preferred photo effects in this application to quickly apply them to any new pictures you shoot in the future.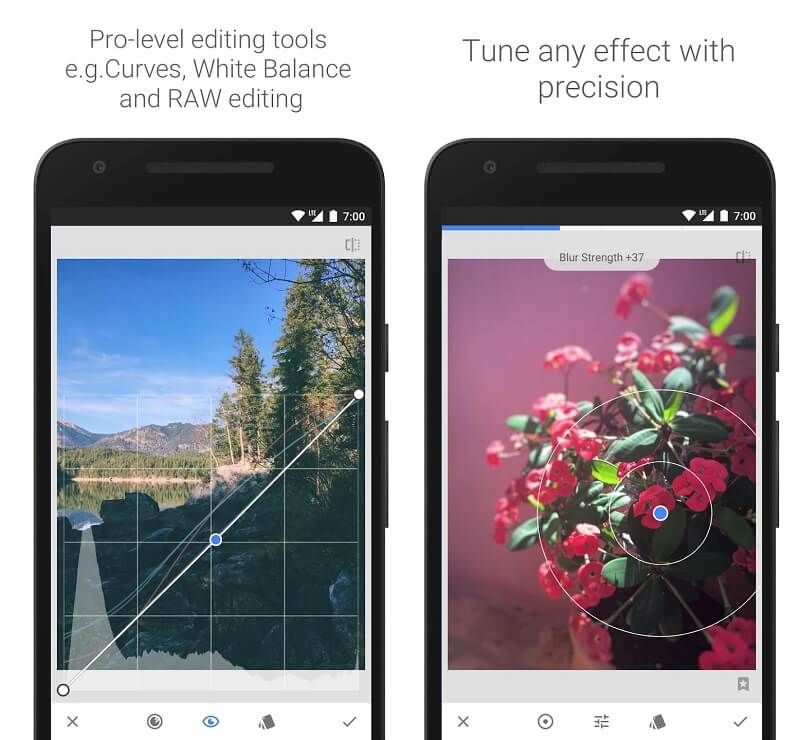 2. Lumii
The Lumii picture editing app for Android is a very effective and intuitive piece of software. With only a few taps on the screen, the software allows you to make edits to your photos and add incredible effects to them. It comes with a wide variety of free-to-use filters, effects, and other customization options. You can crop, add text, and modify color, intensity, brightness, shadows, temperature, shades, sharpness, and exposure. These are the fundamental editing tools that will assist you in editing the resolution of photographs.
However, to access the whole range of functions, you will need to pay for the premium edition of the product.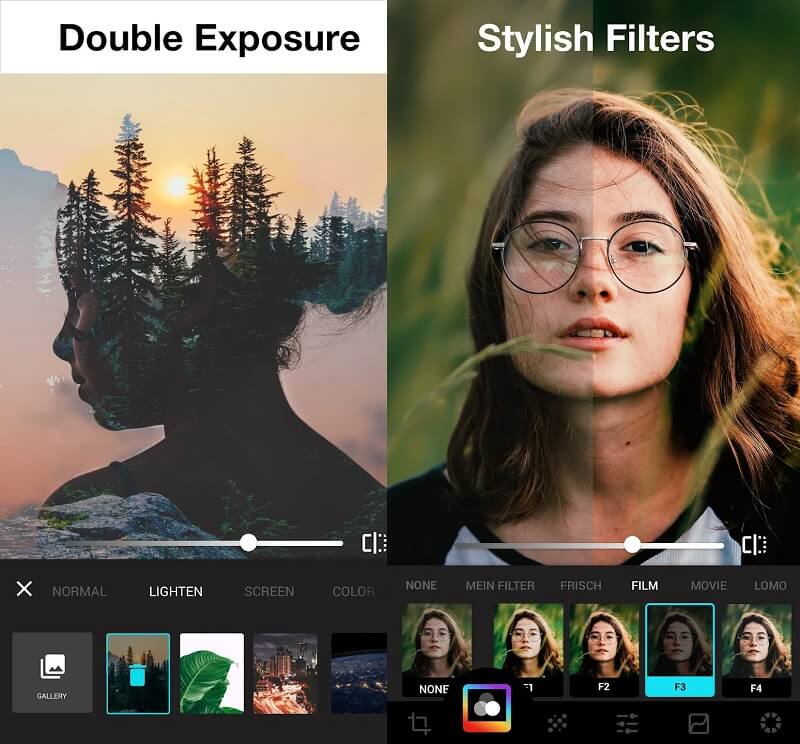 3. VSCO
VSCO is a popular image editing and sharing app for mobile devices. It provides editing features and filters and allows users to share their pictures with other members on the platform. With VSCO, you can enhance photos by adjusting the light, hue, or saturation. You can use many more features to experiment with your photos, such as the preset effects.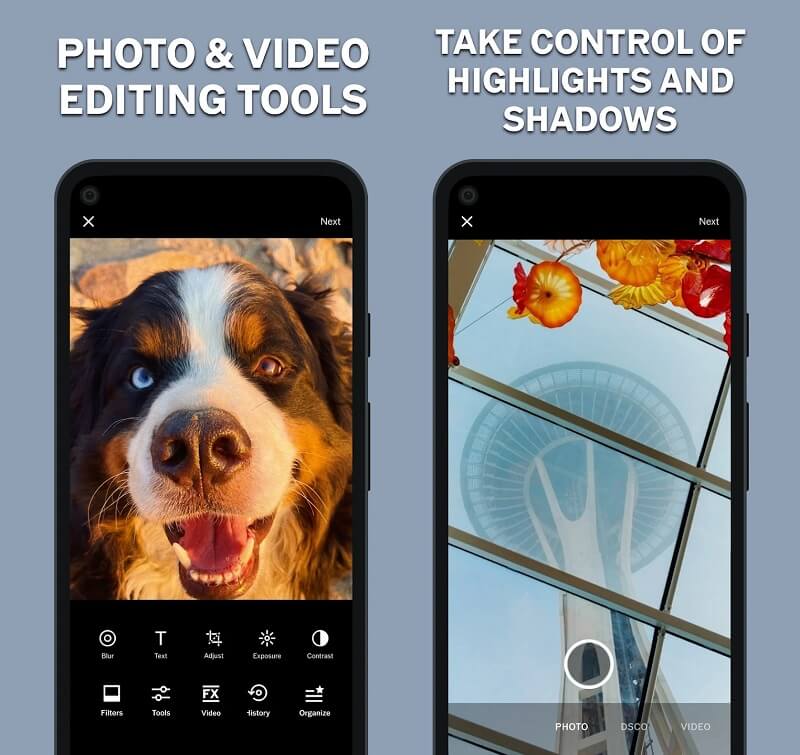 4. PicsArt
One of the most comprehensive mobile picture editing applications available is called PicsArt. It has extensive tools for altering photos, filters, effects, and other options. It stands apart from other photo editing programs such as Lightroom and Snapseed thanks to cloning, stretch, cutout functions, stickers, overlays, and lens flare. It provides many tools and settings, all of which are required for photo editing. Because it improves an image's resolution, PicsArt enables users to do more with their photographs than boost their quality.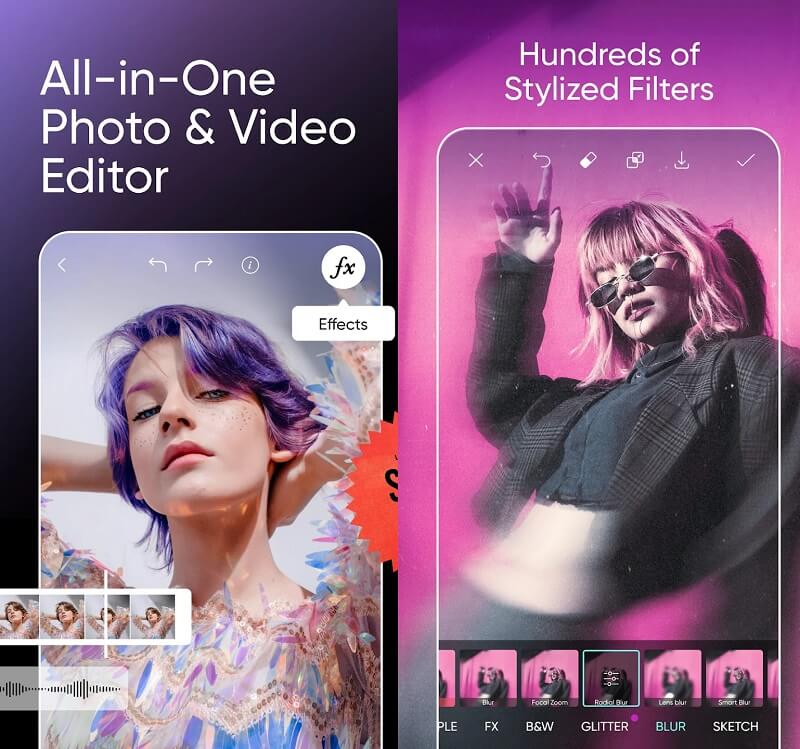 5. Remini
The study of photo enhancers places Remini at the top of the list as the best app for increasing picture resolution. Remini may be the ideal option for you to improve the picture quality on any device quickly. This AI picture enhancer is equipped with generative AI technology, enabling it to handle outdated or low-quality photographs successfully.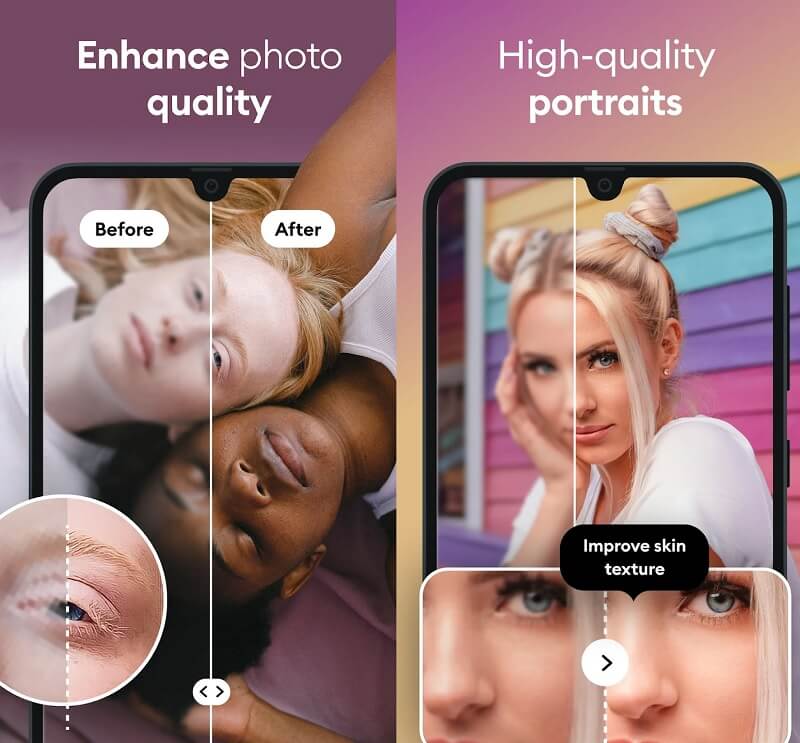 Part 2. Best Photo Resolution Increaser for Windows and Mac
Since mobile devices have a small screen size, it may be challenging to enhance and increase the resolution of an image. That is why others still prefer desktop software. Luckily, there is an online tool that is accessible on Mac and Windows devices which is the Vidmore Free Image Upscaler Online. You got it right. It is an internet-based program, so you don't have to install the software. This photo resolution enhancer is worth having because of the very friendly dashboard. No wonder users are enchanted by using it.
Vidmore Free Image Upscaler Online is an innovative program powered by AI or artificial technology. It makes the whole process light because it automatically increases the resolution of an image without much navigation. It also doesn't have many editing tools, making the editing process more accessible. It is also flexible because it accepts different image formats.
Here is a guide you can follow to give you extra information about this app that increases photo resolution.
Step 1: Once you have loaded the main page of the Vidmore Free Image Upscaler Online program, you will need to choose the Upload Photo icon that is placed in the middle of the page. If you choose that symbol, you will be allowed to select an image from the device you are using to upload it.

Step 2: Then, artificial intelligence will immediately enhance the quality of every pixel in your shot. You may select a different Magnification setting from the menu provided above.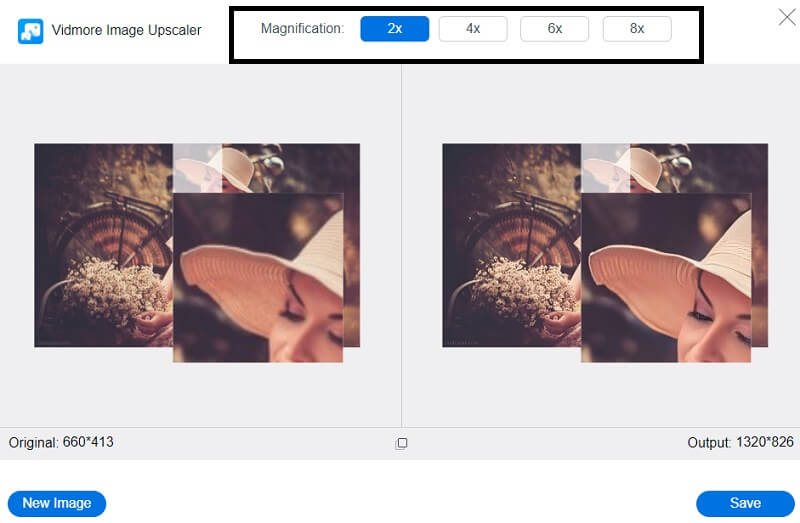 Step 3: After you have adjusted the appearance of the pixels in your image to your liking, you may click the Save button to get an updated version of your image.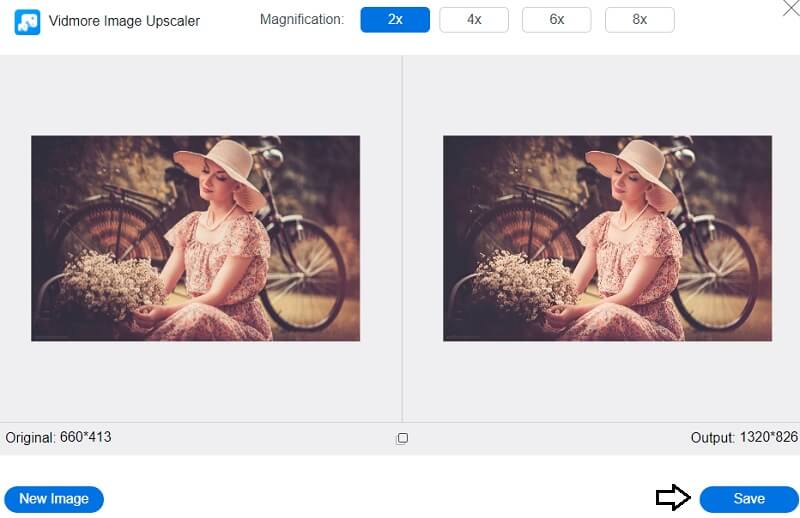 Part 3. FAQs About Apps that Improve Image Resolution
How can you increase the resolution of an image?
In the past, the only option to convert a low-resolution picture into a high-resolution image without revealing poor image quality was to snap a new shot or rescan the picture at a more excellent resolution. Now, you may rely on applications and programs that boost the photo's resolution. You may also use an internet application such as the Vidmore Free Image Upscaler Online.
Do megapixels influence picture quality?
Regarding the size of images you can make from your photographs, the resolution in megapixels is a crucial factor. High-resolution cameras enable you to generate more oversized prints or crop photos without the risk of the image's pixel structure being apparent. The more megapixels a camera has, the more extensive information it can capture.
Why is the resolution so low?
When a picture is expanded without the appropriate tools, this often results in degrading the image's quality. When the image's size is increased, the quality of the shot typically suffers, and the resolution falls substantially.
Conclusions
That puts an end to our conversation! Apps that improve photo resolution mean that you won't have to snap the same picture many times or modify it in bulk if you want to make it seem better. All that is required of you is to ensure that your mobile device is equipped with the appropriate application. However, suppose you want to see your picture on a bigger screen or enhance the resolution of your image without downloading any additional software. In that case, you may switch to an online application such as Vidmore Free Image Upscaler Online. It will allow you to accomplish both of these goals.