Free Apps to Change Photo's Background on Mobile Devices
We cannot deny that mobile devices significantly impact our everyday lives. Mobile devices are there even on the simple acts that we do, such as school and work-related. Mobile devices nowadays can play a lot of roles. It can store different applications that we need. For instance, if we want to enhance our pictures and remove their background, we can install some apps to help us do it. That is why we are fortunate because we have reached the point where we don't need a lot of tools to edit our pictures on a giant screen, but we can do it handily. With that, we listed some apps to change your picture's background.

Part 1. 2 Apps to Change Background of Photo on iPhone
Since the iPhone is a great device, it also requires a great photo editor app. Therefore we reviewed the background photo remover, and we have developed two apps.
1. Background Eraser
Background Eraser is one of the most effective applications for changing the background of your photographs. It not only enables you to remove the background out of an image, but it also allows you to add new ones to it. Crop, compare, density, exposure, and a variety of other image editing tools are included. You can use this app without paying, and you can also purchase a copy.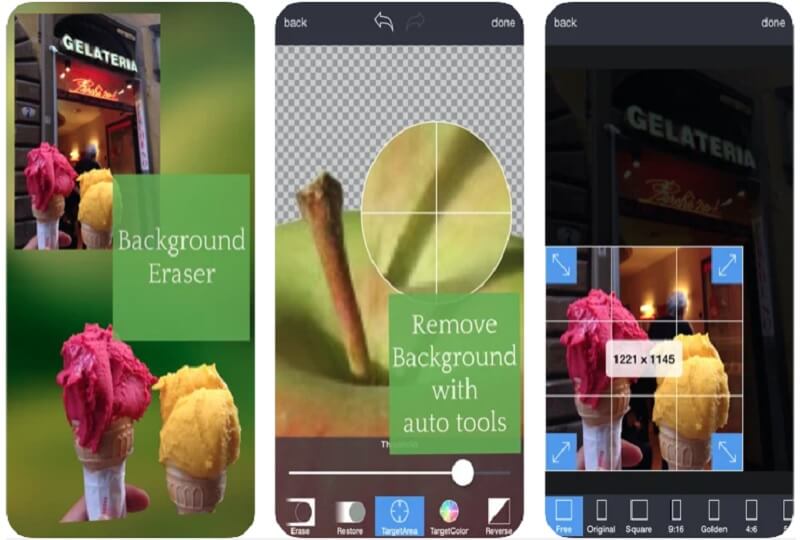 Pros of Background Eraser:
You can use any background to overlay the image.
It stocks photos of backgrounds in a no-cost form.
It comes with a comprehensive set of image editing tools.
Cons of Background Eraser:
It is inaccurate in several ways.
It is a time-consuming process.
2. Canva
Canva is a photo and video editor that you can access from Android and iPhone smartphones and tablets. Canva's popularity has risen due to its user-friendly interface and format editing capabilities. Many people are unaware that Canva has a powerful background image remover. Besides that, it makes it simple to crop, rotate, and flip your photos.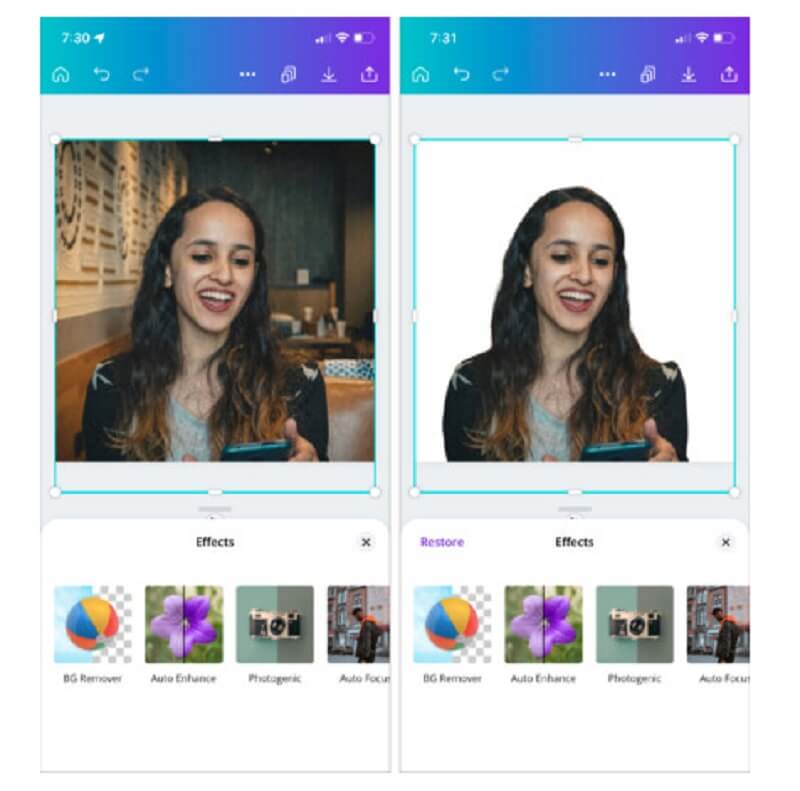 Pros of Canva:
It offers many editing tools.
It is really precise.
Cons of Canva:
You can only use the background remover tool if you have a Premium account.
Part 2. Change the Background of a Picture with 2 Apps for Android
Android devices are very versatile and compatible with most applications today. And if you are wondering what the free apps that will help you change the background of your pictures are, you can have a glance at the tools below.
3. Remove BG
Remove BG is just another straightforward Android application that allows you to quickly and easily change the background of an image on your device. After that, you can save your final product in either JPG or PNG format. Finally, you may use these modified pictures as posters, combine them into collages, construct a slide show, or even use it as a background for another fantastic image.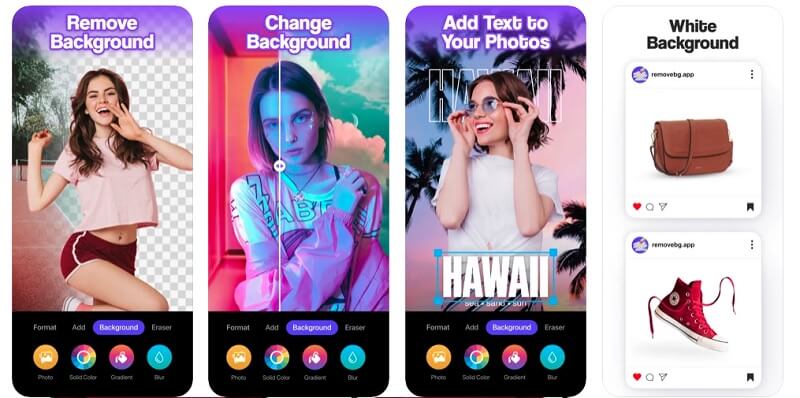 Pros of Remove BG:
You can navigate it even if you are not a skilled editor.
It offers many creative backgrounds.
It has built-in artificial intelligence.
Cons of Canva:
You need to purchase the app before using the complete editing tools.
4. Slick – Auto Background Changer & Eraser
Another way to change the background of your picture on an Android device is through the Slick – Auto Background Changer & Eraser. This app offers a friendly interface. It has a button wherein you can automatically remove the background of a photo. On the other hand, it also allows you to restore your changes. Slick is one of the go-to apps for people who want to be a professional editor in no time.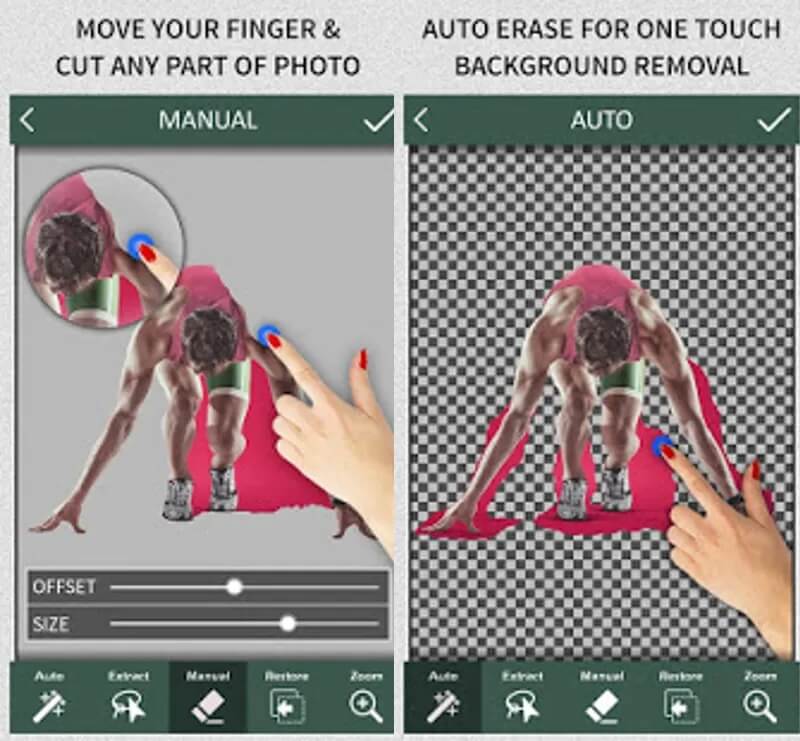 Pros of Slick:
It is very user-friendly.
It automatically changes the background of an image.
Cons of Slick:
You may encounter crashes sometimes.
Part 3. The Best Online App to Change Photo Background
Using a background replacement app on your mobile device is good. Still, somehow, you will have a hard time editing the small details of it because of the limited size of the screen. That is why it is still different if you will use a background remover on a desktop. With that, you can use the Vidmore Background Remover Online. With the helping hands of the built-in artificial intelligence of this program, you will feel like a professional editor because it will automatically remove the background of your images in just a snap.
This tool also wins in versatility because you can access it on both Windows and Mac devices. Aside from that, it also accepts JPEG or PNG files. Lastly, you can still modify your picture with the help of its different editing tools, such as cropping, flipping, and choosing a new background for your images.
Step 1: Look for the Vidmore Background Remover Online on your browser. Tap the Upload Portrait button in the middle and select the picture you want to use.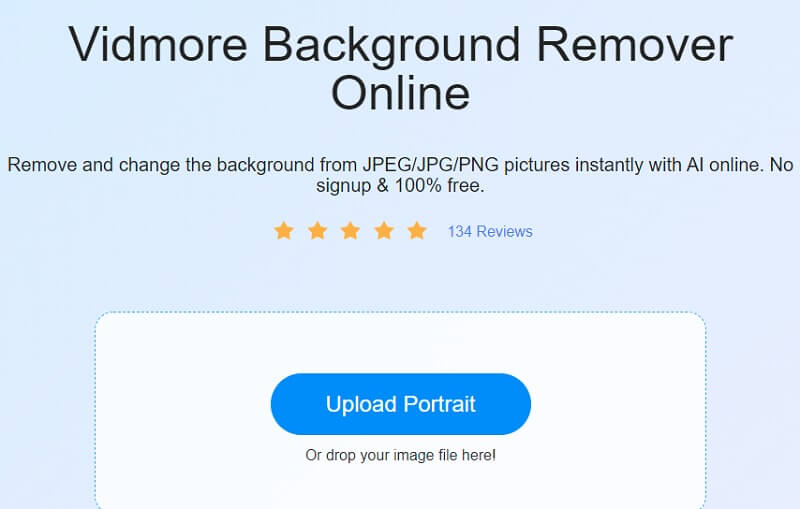 Step 2: It will instantly analyze your picture without the background using the tool's powerful artificial intelligence. Following that, you may begin modifying your image. On the upper-right side of the display, click the Edit option.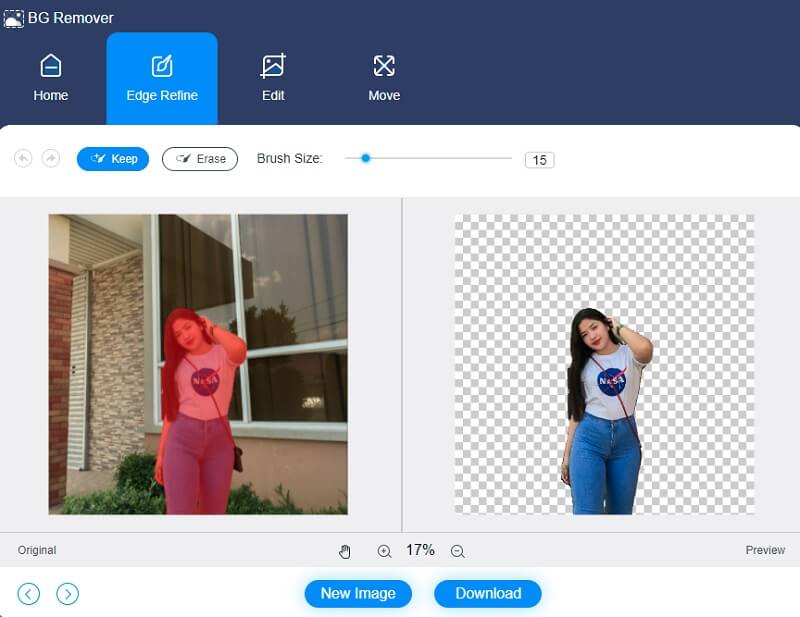 Step 3: When you click on the Edit button, you will be presented with further editing options such as the Color, Image, and Crop tools. Selecting a color for the top portion of your picture will serve as a starting point for creating a backdrop. Additionally, you have the option of adding a backdrop with the picture to the image. All you have to do is click on the image.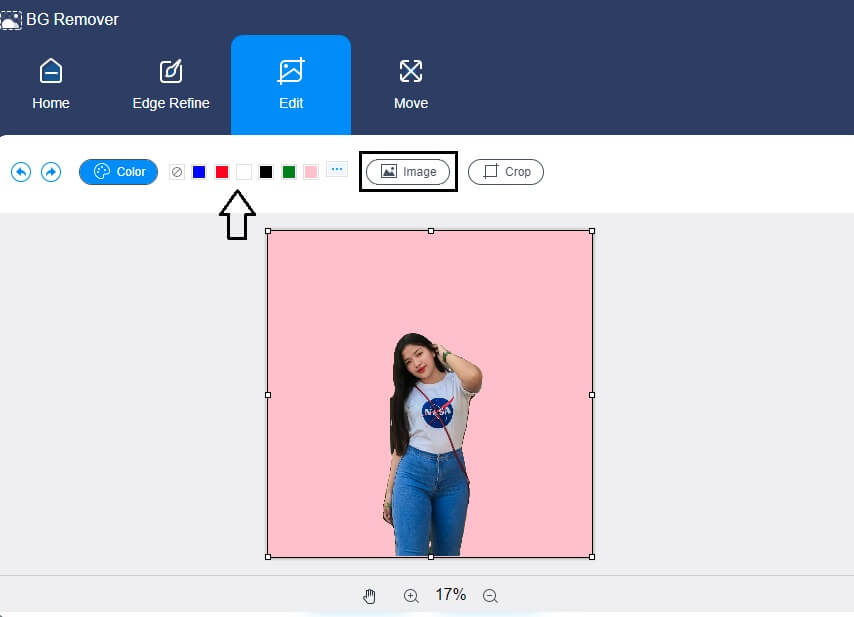 By selecting the Ratio option, you may also crop the image to a certain proportion. Following the selection of that option, you will be able to resize your image to your liking.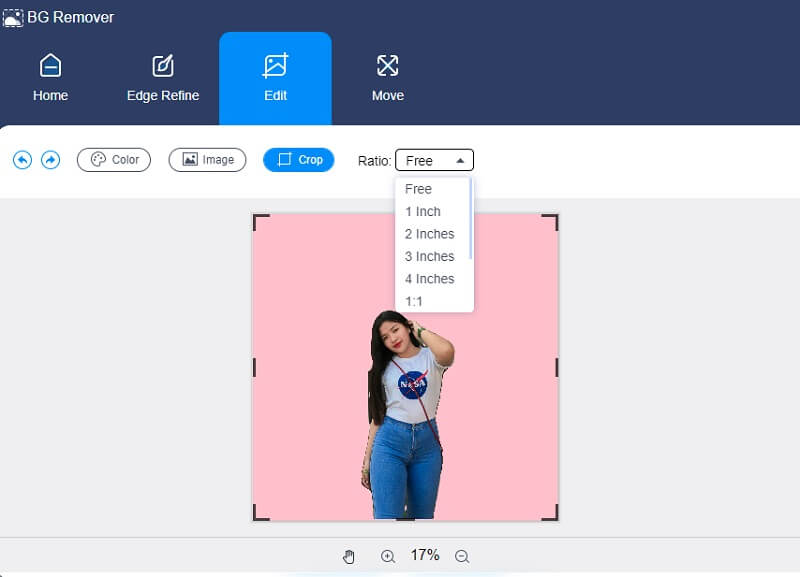 You may also use the Move option to resize your image if you wish to adjust the proportions of your image. By clicking on the Triangle button above, you may flip the image. To rotate your image, just move the slider to the left or right.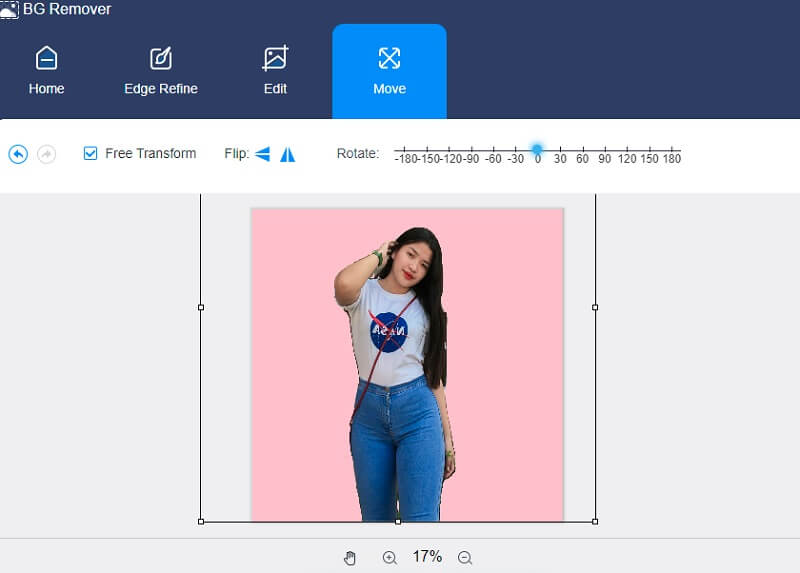 Step 4: If you are satisfied with the output of your photograph, you can now save it by selecting the Download option in the bottom half of the window.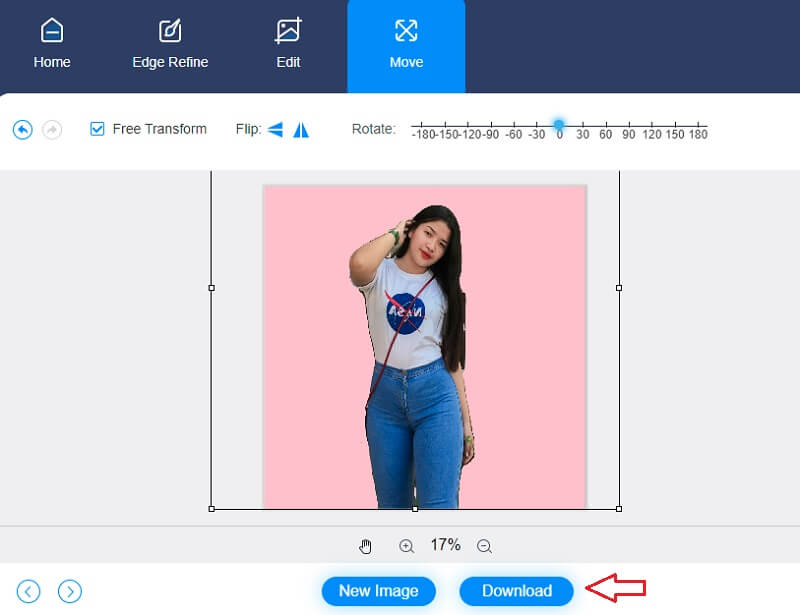 Further Reading:
Top 5 Photo Collage Maker Apps with Comparison Chart
How to Trim Videos in Microsoft Photos App Effortlessly
Part 4. FAQs About Changing the Background of a Photo
How to change the background of a photo on Canva?
On the top toolbar, click the Edit Image button. Following that, pick BG Remover on the left side panel that displays. Then, click Erase to altogether remove the background. Finally, drag your newly created picture into the desired location.
Can I still change the background of a picture in Slick without using its AI?
Yes, you can alter the background of an image with simplicity without depending on complicated image processing methods.
Does removing a background on Android reduce the quality?
If you remove the background from a picture, it will not necessarily lose quality unless you save it with further compression, which is not recommended.
Conclusions
The above tools are free apps to change a photo's background on Android and iPhone. But since we are limited in the size of the screen, it is still suggested to use an online tool to help you. And with that, Vidmore Background Remover Online got your back!