PNG Background Erasers Online and Offline- Tested and Proven Effective
PNG, short for portable network graphics, are image files that are commonly known to have a transparent background or without a background. Usually, graphics like logos and icons are in PNG format, which usually requires transparency and fading. On the other hand, you wish to design them, yet some of the PNG files you get from someone online are not in actual PNG format.
Behind the photo's foreground, you will notice a checkered or mosaic-like background effect. When you overlay it to another picture, the picture behind it does not show up. To this end, we looked for programs that will help you remove the background from PNG. Listed below are handy background PNG remover tools you must consider using.

Part 1. Free PNG Background Remover Online
As the title suggests, in this section you will discover the best free PNG remover you may use online. That means you will not need to download anything on your device. You can choose any available browser on your computer and connect to the internet to remove the background of your PNG images. Also, if installing software is not your thing, then these PNG background remover free online tools are great for your needs. Continue reading to learn more about these tools.
1. Vidmore Background Remover Online
First on the list is Vidmore Background Remover Online. It is one of the best tools to remove PNG or JPG background online. As long as you are connected to the internet, you can erase the background of your picture directly from the webpage. It can effectively separate the foreground from the background because it uses a clever AI that automatically recognizes objects or subjects in a photo.
Meanwhile, users may resize the photo according to their needs. Also, you can produce an inverted image by flipping the object sidewards or upside down. Aside from that, you get to change the background to plain colors or upload your own graphic and set it as the new background for the subject.
On the other hand, follow the walkthrough to learn how to use this background PNG remover:
Step 1. Access the PNG Background Remover website
To get started, launch your preferred browser on your computer. On your browser's address bar, type the name of the tool to enter its official page.
Step 2. Upload the PNG image
When you reach the page, you should see the Upload Portrait button. Click on it to open the folder on your computer. Then, look for the image file you wish to edit and upload it to the page. Alternatively, you can take advantage of the drag-and-drop feature of the tool. Simply drop your target photo to the page to upload the PNG file directly. The background of the PNG photo will be removed automatically.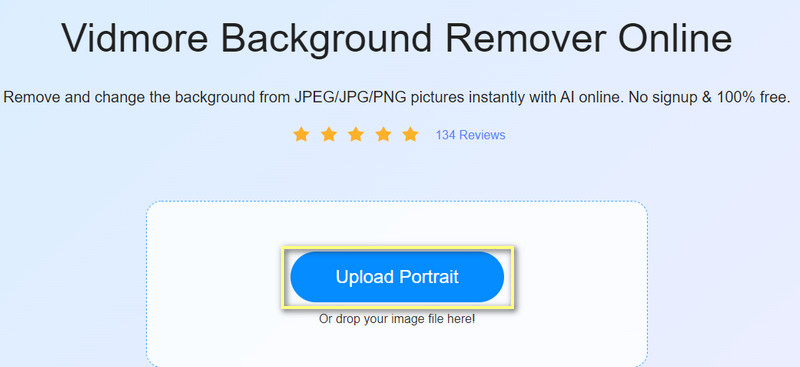 Step 3. Edit the PNG photo
Next, you can replace the photo's background by going to the Edit tab. Choose a color you like to set as the background from the Color option. Also, you may choose to resize the subject of the photo or change its direction by going to the Move tab.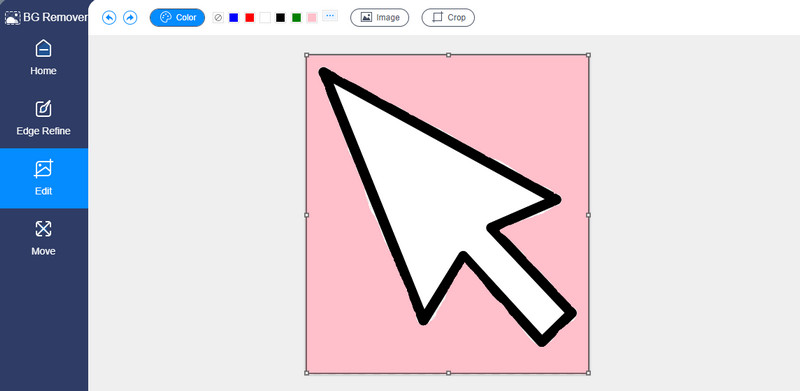 Step 4. Save the PNG photo
You can save your work by simply clicking the Download button, once the process of editing is finished. If you wish to remove the background of another PNG photo, just click the New Image button.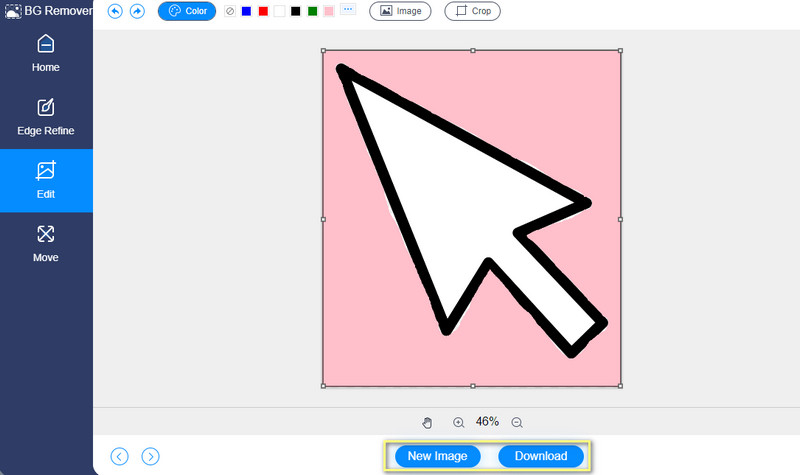 2. InPixio
One more PNG background eraser that can help you get rid of the background of your PNG photo is InPixio. This program offers various methods for uploading images. You may upload via the drag-and-drop feature, via URL, and by opening your computer folder to import. Besides, you can choose the photo you wish to set as the background or select from the pre-designed background offered by the program. Moreover, the tool offers to undo, redo, and reset functions to help you achieve your desired outcome.
Pros
It provides manual and automatic background removal.
Allows customizing the selection tool.
Choose from the pre-designed backgrounds.
Cons
Frequent page refreshes when using manual removal.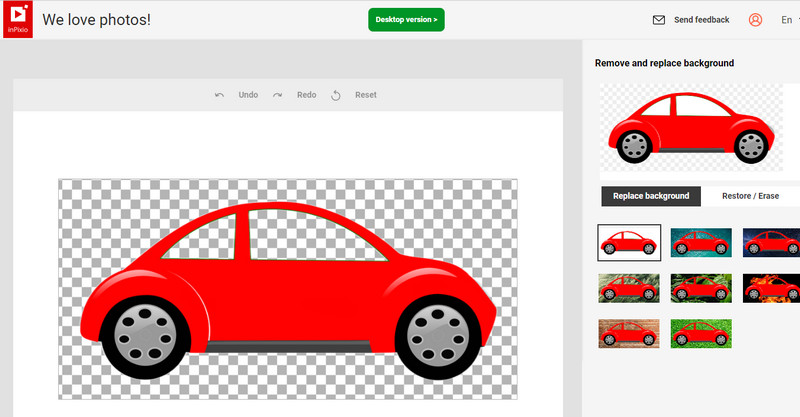 Part 2. PNG Background Remover Software
1. GIMP
GIMP is a cross-platform photo manipulation desktop program to manually delete background from an image with precise cut-out. This PNG background eraser comes with various selection tools, including Ellipse, Free, Fuzzy, and Rectangular, making it one of the best programs to delete photo backgrounds. Apart from that, it provides built-in effects and filters you can employ.
Pros
Use the full service of the tool for free.
Various selection tools are available.
It comes with a color palette for the background.
Cons
It can be challenging to navigate for beginners.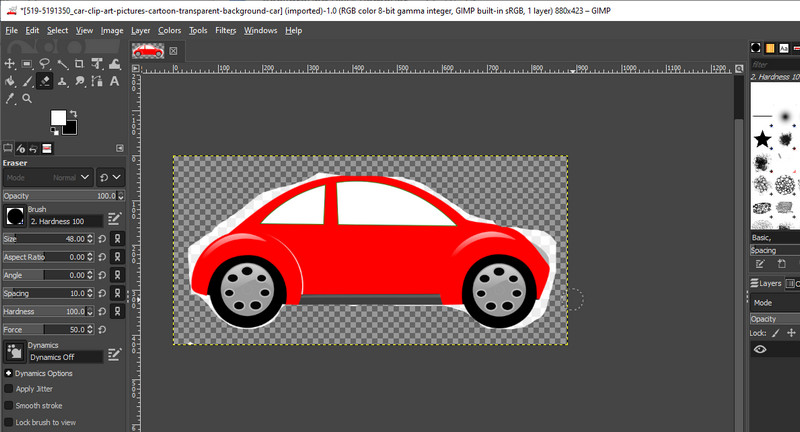 2. Adobe Photoshop
Adobe Photoshop is a famous photo editor available on Windows and Mac platforms. Likewise, the tool is so great because of the selection tools it offers for taking an object out of a photo. Both primary and advanced editing options are offered for high-quality photo manipulation. Besides, it also offers a one-click background removal that works best for pictures with a solid background.
Pros
Fully packed with background eraser and touch-up tools.
It can export image files in various formats.
It comes with a magic eraser and background eraser tools.
Cons
Getting familiarized with the tool may usually take some time.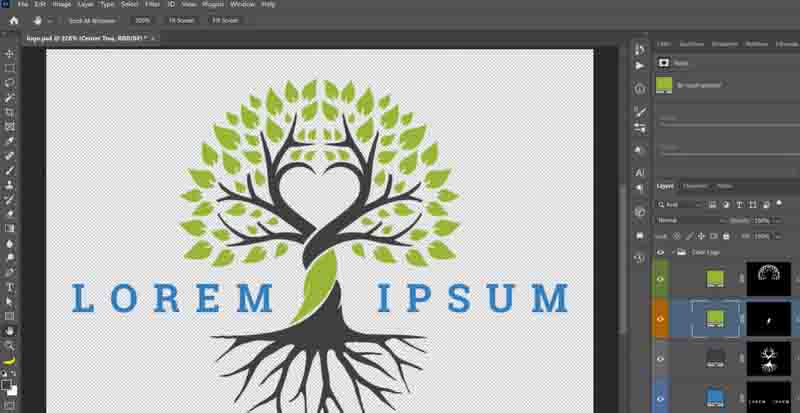 Part 3. FAQs PNG Background Eraser
What is PNG?
PNG or Portable Graphics Format is a raster image format used mainly over the internet. This picture usually displays transparent or no backgrounds, just like GIF images. In this manner, you can place it over another picture background, especially when trying to sell or promote products.
Is PNG better than JPG?
When it comes to storing lots of image files with decent quality, JPG image files are more suitable. Hence, it is the most common format used on the internet. PNG, on the other hand, is significant in file size. That is because of the lossless nature of the photo. Yet, the quality of the graphics is undeniably excellent.
How do I make a PNG image?
One of the most popular ways to make a PNG image is by exporting an image file you are editing to PNG. Yet, the background of the photo must be wholly erased, so the essence of being a PNG still exists.
Conclusion
That is it! You have just learned about the best background PNG remover tools to produce a valid PNG. Therefore, whenever you encounter pictures, not in real PNG, you can instantly remove the background and use the object to stand out. Moreover, both offline and online tools are available for you to use your most preferred method. On the other hand, a list of merits and demerits of each tool are mentioned to help you decide the tool that best fits your preferences.