Learn the Free JPG Background Remover to Erase Picture Backgrounds
It is now a widespread activity to remove background from photos. This operation is usually done to get an object out of a picture or remove the unwanted background from the image. You can then overlay it to another picture. That is particularly helpful when selling products in online malls or shops. You will make your product stand out when removing the background and choosing the right one for replacement.
Do not be intimidated yet. A lot of people think of photo editing as a challenging job. This is a common notion under the influence of Photoshop. Yet, there are free and simple tools to help you remove background. Meanwhile, you might have lots of JPG photos that you wish to remove the background of. Here we sorted out the best JPG background remover you should consider using. Check out below to learn more.

Part 1. JPG Background Remover Online for Free
Downloading programs could not be your schtick. People often opt for online solutions to save memory space and time. Therefore, if you happen to have JPG photos that you want to remove the background without installing an app, you should consider these online tools.
1. Vidmore Background Remover Online
Vidmore Background Remover Online is a 100% free tool developed to remove the background of JPEG, JPG, or PNG image files. The tool automatically recognizes the subject from its background. That is possible because it uses advanced artificial intelligence technology. Moreover, it offers a manual remover feature for a precise cut-out. You could work your way on animal fur, plant leaves, human hair, and other complex details in a photo.
Furthermore, you can edit both the background and subject of the photo. This JPG ba ckground remover online free tool lets you replace your deleted background with plain solid colors. Or, overlay it to another graphic. As for the subject, you can move it anywhere, resize, flip, and rotate to get placement.
Here are the steps you need to learn to use this JPG background remover:
Step 1. Launch the web service tool
First and foremost, open the official page using your preferred browser. On the browser's address bar, type in the name of the tool to enter the main page's interface.
Step 2. Add a picture into the program
Click the Upload Portrait button from the tool's main interface and start looking for your target photo. After finding the photo, you like to edit, click the Open button from the folder to upload successfully.
Step 3. Enhance the imported photo
Once the photo is imported, the tool will automatically remove its background. After this operation, you can refine the edges using the brush tool. There will be two frames for the original and preview sections.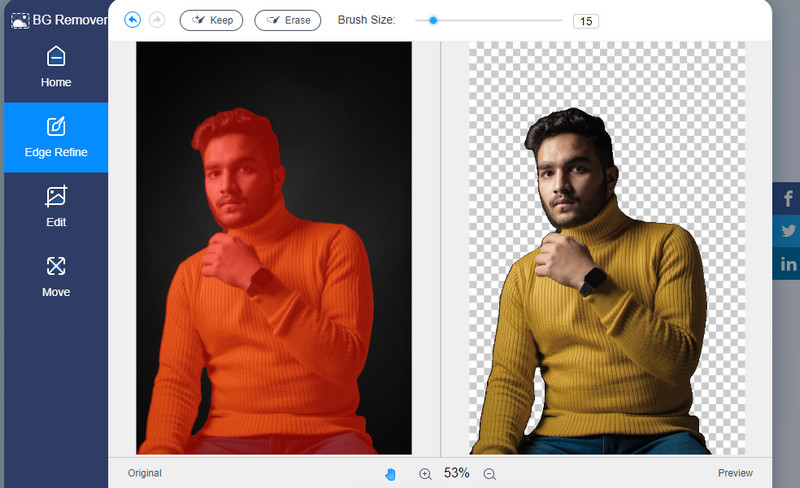 You can edit or enhance the photo's background by going to the Edit tab. From here, replace the background with a plain color or graphic by clicking on the Image option. On the other hand, you can freely transform, flip, or rotate the subject from the Move tab.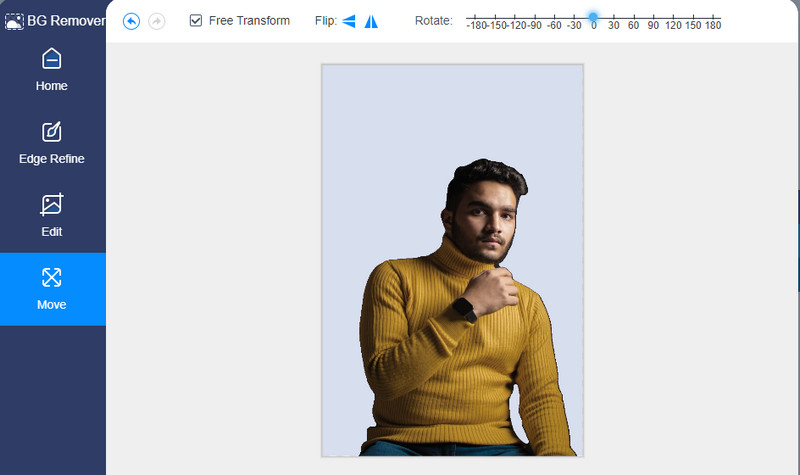 Step 4. Save your photo
Once happy with the results, save your work by clicking the Download button. This operation will download your file on your local drive. Click the New Image button to upload and remove another photo background.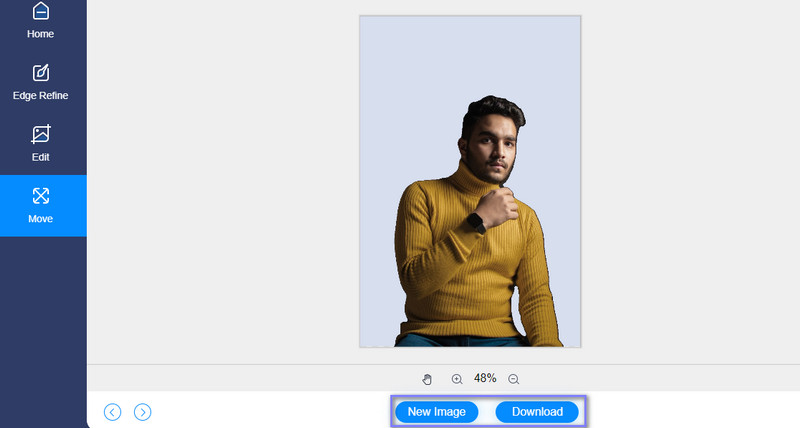 2. PhotoScissors
Another JPG background remover online free program is PhotoScissors. The tool helps in cutting out a person or object from its background with ease. All you got to do is upload your photo and leave the rest of the work to the tool. Besides deleting backgrounds, it is also helpful for swapping backgrounds and creating a collage without the need for any professional skills.
Pros
Clean cut-out that does not involve lots of clicks.
It enables replacing the background directly from the page.
Supports both JPG and PNG formats.
Cons
Only a few image formats are supported.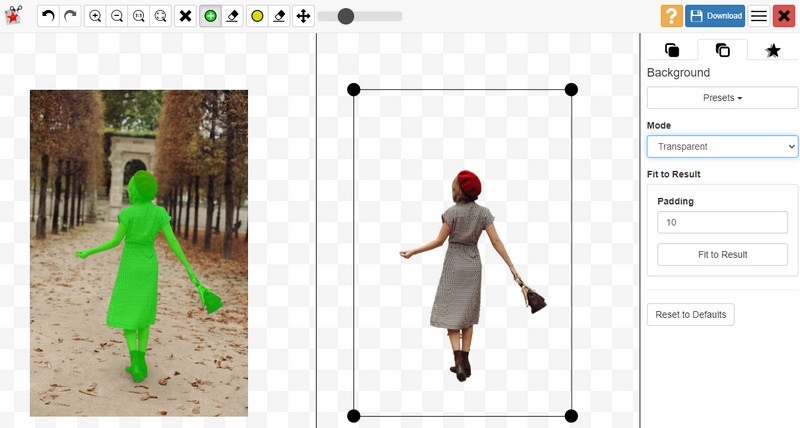 Part 2. JPG Background Remover Software
There are instances when you need to process photos using a desktop program or software, especially when you have an unstable internet connection. Also, for the sake of working offline, you are looking for a JPG background remover tool. That said, here we have some recommendations that will help you erase the background of a JPG file, whether you are offline or online.
1. GIMP
GIMP is a free cross-platform photo editor you may have. It comes with a free selection tool that aids in achieving a clean cut-out, especially for challenging photos like human hair or objects with tiny details. Moreover, it provides retouch features to enhance your photo. As a result, users can access touch-up brushes, gradients, textures, text elements with sub-pixel rendering, and so much more.
Pros
Provides graphic design elements.
Manipulate photos with high quality.
It comes with a color palette.
Cons
It has a steep learning curve.
Consumes a lot of memory space.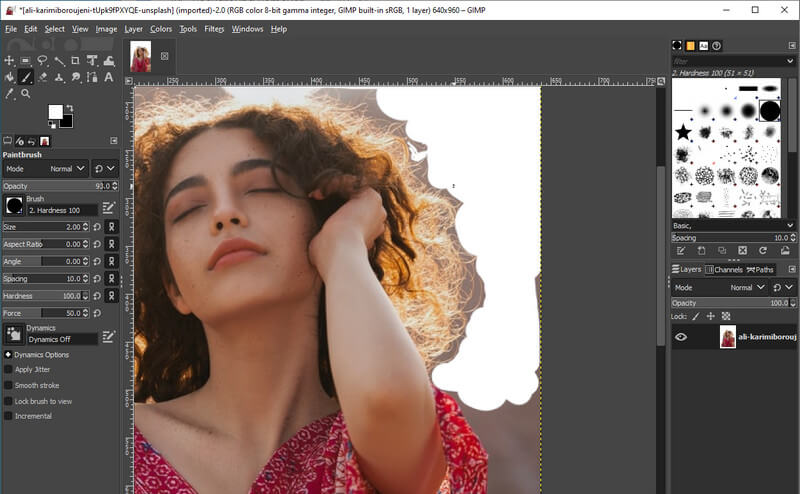 2. LazPaint
Aside from the programs mentioned earlier, you may also consider using LazPaint as a JPEG background remover. Likewise, this tool is available across various formats, including Windows, Linux, macOS, Rpi, and FreeBSD. It has all the essential selection and eraser tools. The color palette makes it easy to pick the color you need.
Pros
Provides almost all remover tools.
Multi-platform JPG background remover.
It is available in various quality photo settings.
Cons
It takes a while to be familiarized with the functions.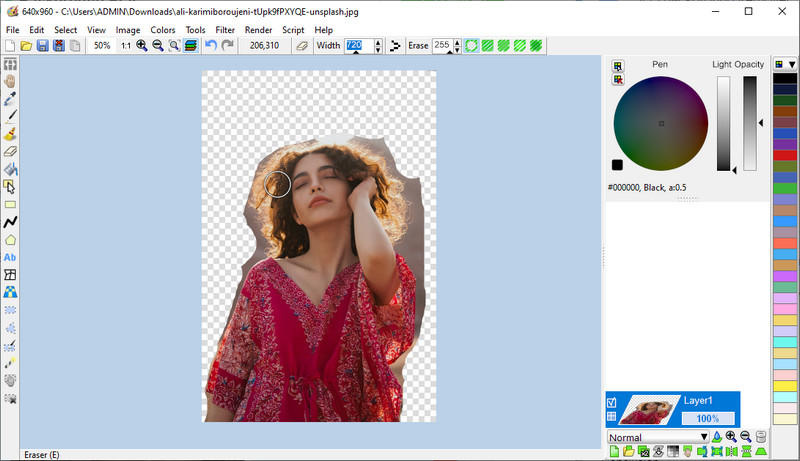 Part 3. FAQs on JPG Remover
What is JPG?
JPG is a common image format composed of compressed image data. Actually, it is popular on the internet, mobile devices, and PC for sharing photos online. It comes with a 10:1 compression ratio making it compact and storing lots of images without consuming too much space.
Is JPG the same as JPEG?
You might wonder which format you are going to use between JPEG and JPG. In actual fact, JPG and PNG have no difference at all. JPG was born out of the required letter extension for earlier Windows versions. Also, it is prevalent over that JPEG.
What is the difference between PNG and JPG?
As mentioned, JPEG contains compressed image data. The lossy compression in JPG removes some image information to reduce the overall size of the image file. On the other hand, PNG comes with lossless data. Hence, the size is usually larger though the quality is better than JPG.
Conclusion
The programs mentioned above are the best JPG background remover software to help you remove the background of your JPG files with absolute ease. Weighing which tool works best for you would be easier because its advantages and disadvantages are reviewed.