Image Background Remover in LunaPic You Should Know About
Background affects the whole composition of the photo. That is why many users pay a lot of attention to this element. Some delete the background of a photo to promote an item or product, completely change the environment, and more. In actual fact, there are various ways you may have to perform background removal operations.
One of the well-known programs for such tasks is LunaPic. It is a photo editor online that helps wipe out the background and replace it instantly and easily. Like any other program, removing background using this tool can be done automatically or manually. Plus, the tool infuses tools designed to enhance your photos, like adding shadows and other effects. Without further discussion, you can learn how to remove background from an image in LunaPic using the guidelines below.

Part 1. How to Remove Background from Image in Lunapic
Lunapic is a free online tool that can edit an image background effortlessly. Though it is an online program, it offers many ways of erasing the background. You can use it for removing background for logos and graphics, for objects with complex backgrounds, for signature, etc. In addition, the tool integrates a scissors crop tool to select and manually draw around the edges of the object you want to cut out.
Over and above, there are plenty of effects you can apply to your photo. You may apply gradient blend, kaleidoscope, color glitch, and so much more. If you wish, you could share your work on social media platforms. Now, let us learn how to remove the background online with Lunapic through the guidelines provided below.
Step 1. Access the web tool
Run a web browser on your computer and navigate to the official page of LunaPic to access the program.
Step 2. Insert an image file
After reaching the main page of the tool, click the Upload button. This command will open a folder on your computer. Browse and select your target photo to edit.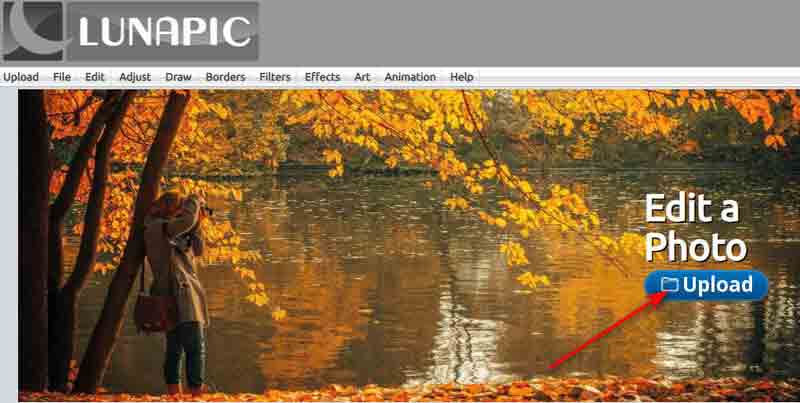 Step 3. Access background removal tools
Next, click on the Background Removal Tools above the information of the uploaded photo. Then, a list of removal options will appear. Select your preferred method to erase background in LunaPic.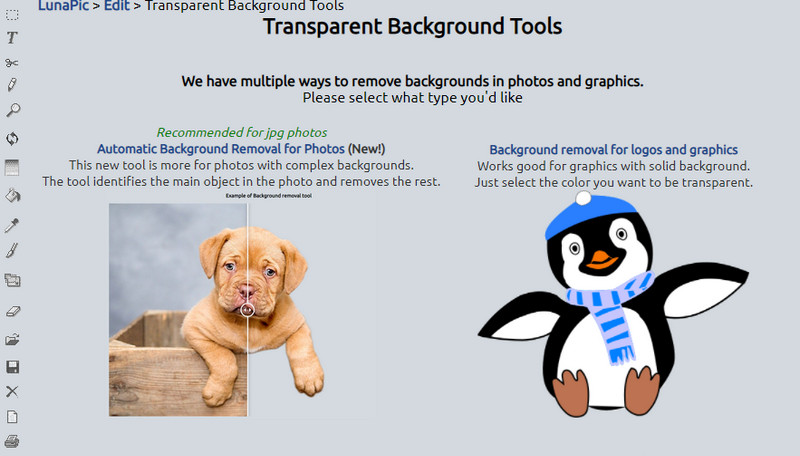 Step 4. Edit the photo and save your work
You should see options to edit your work at the top of the interface. Modifying borders, effects, or adjusting colors is also available in this program. After using LunaPic to clear the background, save your work by going to File > Save Image.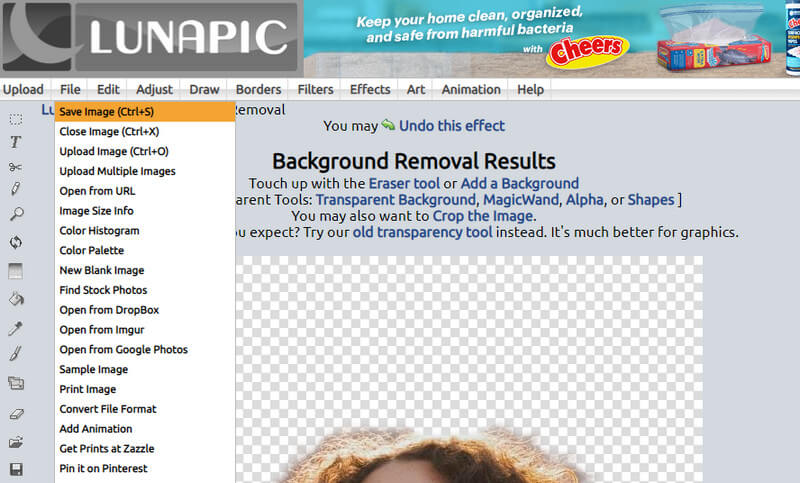 Part 2. Best Alternative Program to LunaPic
Undoubtedly, LunaPic is a great photo editor. In fact, it offers the same features and editing capabilities as Photoshop. The thing is, many users find it challenging to navigate. In lieu of this tool, we have a simple and easy-to-use recommendation.
The tool is called Vidmore Background Remover Online. In like manner, it boasts automatic and manual background removal tools. That means it comes with AI-powered Technology that detects the subject and separates it from the background in an instant. Also, it allows you to manipulate your photos, allowing you to resize, rotate, or flip the subject.
On the other hand, here is how to get rid of the background in the LunaPic alternative:
Step 1. Visit the Background Eraser LunaPic alternative
To get started, access the tool's website by opening a browser. Type the name of the tool on your address bar and hit Enter to reach the main page.
Step 2. Upload a photo
When you reach the main page, click the Upload Portrait button. This command will open the folder on your computer. Then, search for the photo you wish to edit and import it into the tool. Also, you may drop the file into the designated area for uploading.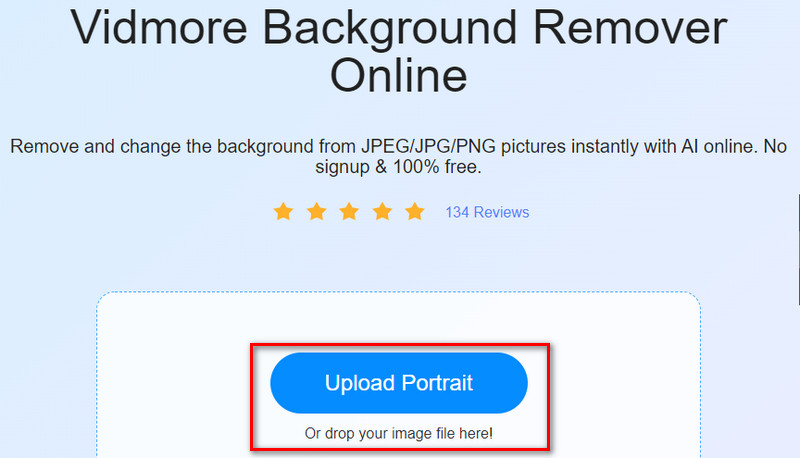 Step 3. Enhance the photo
Once the photo is uploaded, the tool will automatically separate the foreground from its background. When dealing with complex backgrounds, you can use manual removal to select the portion to keep or erase. You can refine the edges as you please to achieve a clean cut-out.
In addition, you can resize the brush or selection tool accordingly. You can then edit the background and replace it with plain colors. Under the Move tab, the subject can be resized, flipped, and rotated under the Move tab.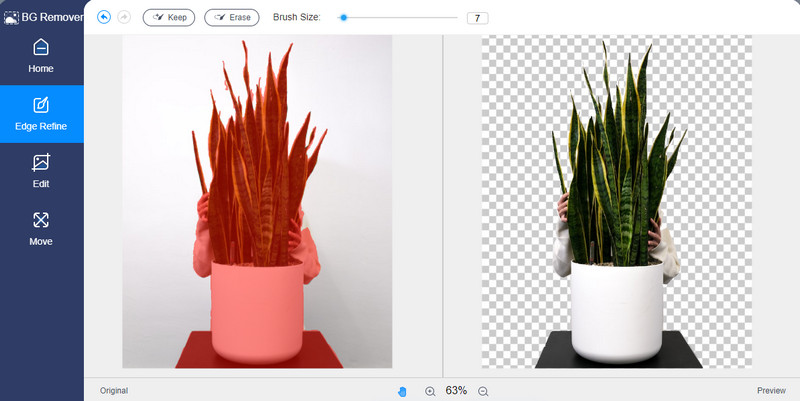 Step 4. Save your work once satisfied
If you are finished editing, you can save your work afterward. Click the Download button if you are satisfied with the outcome. Simply hit the New Image button if you wish to process another photo. It will allow you to upload another photo and process it for free.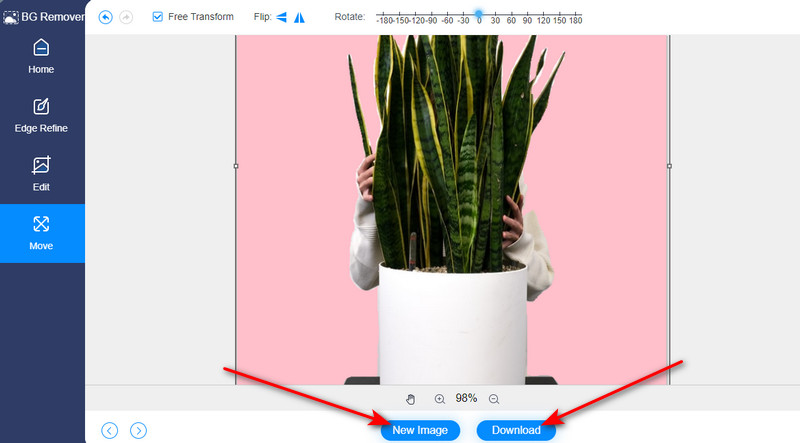 Part 3. FAQs on Removing Background in Lunapic
Is Lunapic available for usage on Android and iOS devices?
Yes. Although it is accessible on a browser for free, its mobile version for Android and iOS devices is available when you purchase it. Best of all, you can access the editing tools like filters, annotations, effects, animations, and more.
Is LunaPic safe to use?
Perhaps you have doubts about using LunaPic, which is the reason for this inquiry. Based on the rating on the World of Trust. LunaPic was able to get a 4.5-star rating which makes it safe to use. In addition, there are no reports regarding spyware and adware. Therefore, online users continue to use this program to edit photos online. Hence, suppose you are looking for a trustworthy, reliable, and helpful tool, LunaPic should be on top of your list of photo editors.
How can I cut out image shapes in LunaPic?
With LunaPic, you can be creative because it enables you to achieve an image cut out in the form of shapes. It allows you to produce clover shapes, circles, hearts, birds, squares, pumpkins, and many more. Moreover, it allows you to overlay any photo of your choice regardless of the format. That improves the overall visual of the image and makes room for creativity.
Conclusion
With the growing demand for creativity, removing the background of a picture is a skill you need to acquire. Frankly speaking, Lunapic is one of the practical tools to erase the background. Surprisingly, you can erase the background in Lunapic in several ways. Besides the automatic method, there are manual tools for removing the background of a picture.
Therefore, you can choose whichever method you are comfortable using. Yet, some users find it not easy to use. You will encounter massive page refreshes when trying to remove the background manually. Suppose these are somewhat deal breakers for you. In that case, you switch to the best alternative for removing background online, which is Vidmore Background Remover Online.