Helpful Ways to Remove Background from an Image on iPhone for Free
iPhone devices are well-known for their ability to capture photos with high-quality graphics. In fact, many users opt to use it in place of a digital camera for capturing photos and videos. Meanwhile, there are cases that you want to replace the background of the photo you have taken.
This is usually the typical scenario when taking photos of an object for product promotion. It could also be there are unwanted elements in the background. Or, you just want to change the photo's environment to change. Regardless of your purpose, we will help you get this job done by introducing iOS apps for background removal. Find out how to erase background on iPhone by reading below.

Part 1. Two Methods to Remove Background from an Image on iPhone
There are plenty of ways to erase the background of a photo on your iOS device. Whether you are an iPad or iPad user, the process is not complicated, and you can choose from a plethora of apps found in the App Store. Henceforth, we will review some of the best tools to get rid of the background in photos on iPhone. Also, a step-by-step walkthrough is provided for each tool for your perusal. Check them out below to learn more.
1. PhotoRoom Studio Photo Editor
PhotoRoom Studio Photo Editor is an iPad and iPhone program designed to remove unwanted background from your image. With it, you can achieve a high-precision cutout. Perfect for photos with complicated details like human hair. Plus, it presents a plethora of templates you can employ in your photo. No matter your motif, you can achieve it using this tool. PhotoRoom offers themes depending on your subject.
You can apply profile pics, minimal shop, professional product imagery, magazine covers, and a lot more. Over and above, users may process a batch of pictures at once or simultaneously to save time. Learn how to make the background out of a photo on iPhone using PhotoRoom by referring to the steps below.
Step 1. First off, go ahead and look for PhotoRoom in the App Store. From here, download and install the app. Launch it afterward.
Step 2. From the app's main interface, tap the Start from Photo button located at the bottom of your screen. Then, upload the image you wish to edit.
Step 3. After that, the app will delete the background of the photo and will show different results with different backgrounds.
Step 4. If you are satisfied with the chosen background, you can further enhance it by adding shadows, animation, text, etc. Then, tap the Export icon at the top right corner to save it.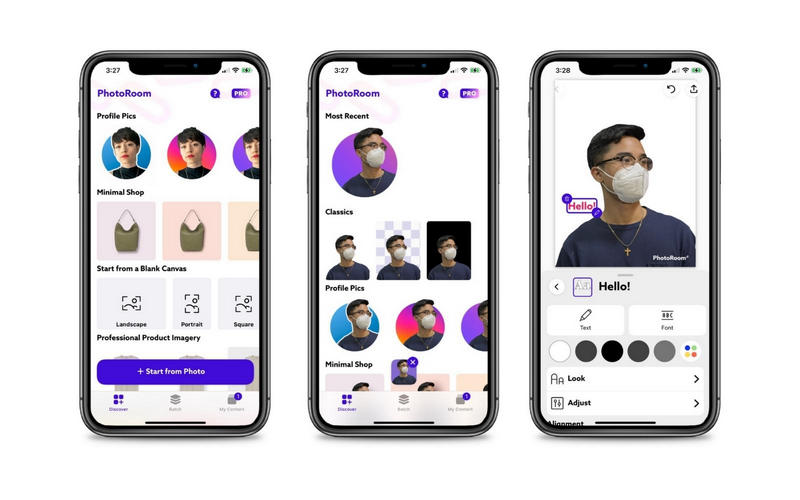 2. ProKnockOut-Cut Photo Editor
Another app you may use to remove background iPhone photos is ProKnockOut-Cut Photo Editor. This program allows you to choose a frame for posting on your desired social platforms before the background removal even starts. You can choose to enable the automatic cutout feature or remove the background manually. On the other hand, you get to clean the cutout by toggling on the refine edge. This operation will soften the edges of the subject for a smooth and clean-looking cutout.
If some portions of the subject were removed, the tool comes with a restore feature to put back the deleted parts in place again. There is a lot more than this app offers. However, you may need to sign up for a pro account to access them all. Nonetheless, here is how to remove the background from the picture on iPhone using this app.
Step 1. Get the mobile app from the App Store and install it on your iPad or iPhone device.
Step 2. Open the app and select the Cutout option to import a picture.
Step 3. Wait until the process of background removal is finished.
Step 4. Edit your work and tap on the Export icon at the top right corner to save it.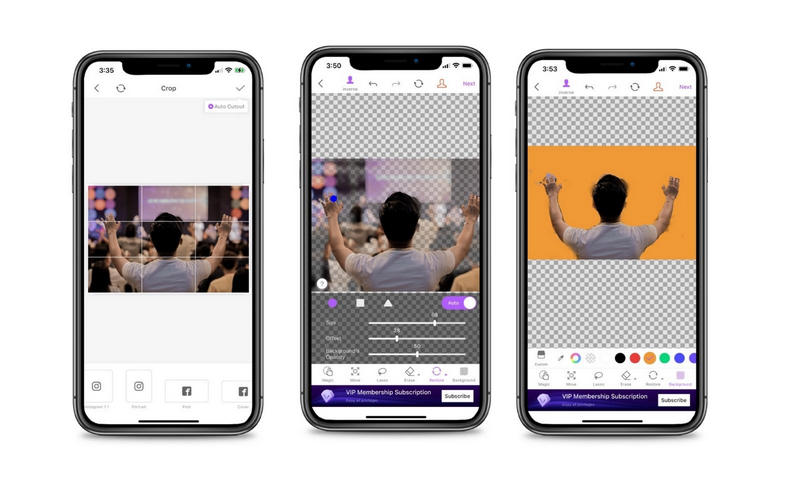 Part 2. How to Remove Background from Pictures for iPhone
Perhaps you are not fond of downloading programs. An online solution like Vidmore Background Remover Online will work best for your needs. This program helps you get the job of erasing the background easily and quickly without putting so much effort. You can replace the background with plain colors and choose from the color picker. Alternatively, it enables you to replace the background with images and access essential editing functions. All in all, you can have an all-in-one photo editor in Vidmore Background Remover Online. To remove the background from an image for iPhone, please look at the steps below.
Step 1. Access the background remover
Launch the background remover online app by clicking typing its name on your browser's address bar.
Step 2. Import an image
Next, click the Upload Portrait button from the program's main interface. Optionally, you can drop your target photo from the folder to the designated upload area to import a photo.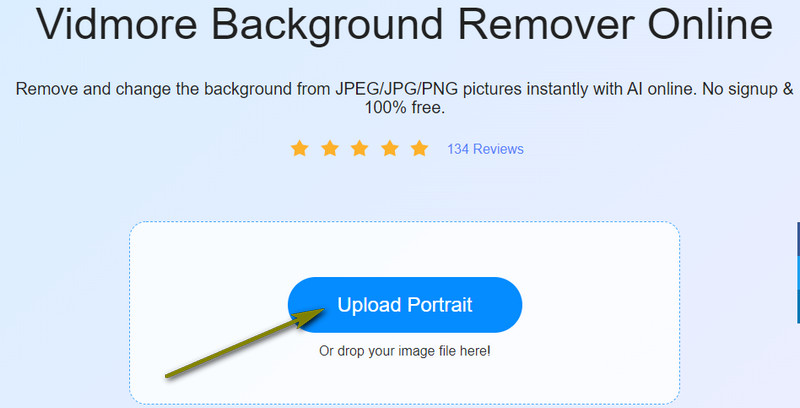 Step 3. Enhance the photo
The app will automatically delete the background showing a precise cutout of your photo. You can enhance the cutout by replacing it with another background. Pick a solid background from the Color option or click on the Image option to change the background to a graphic.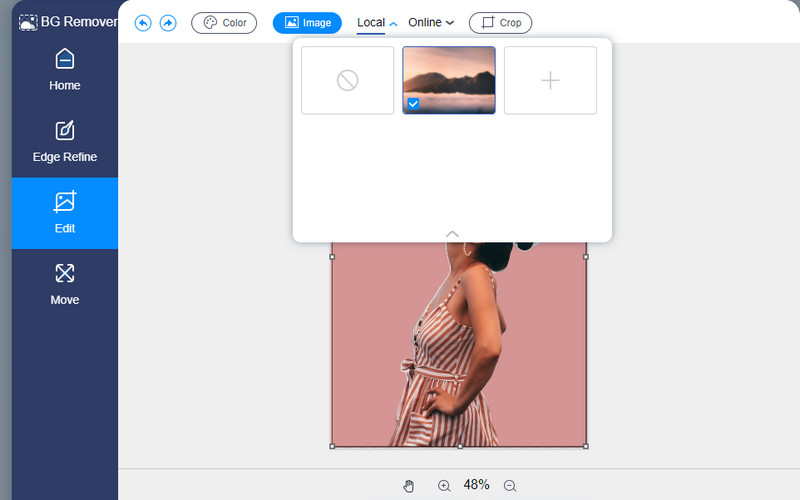 Step 4. Save your work
After removing the background and editing the photo, you may save your work. Simply click the Download button. You can find the output in your computer's download folder to preview.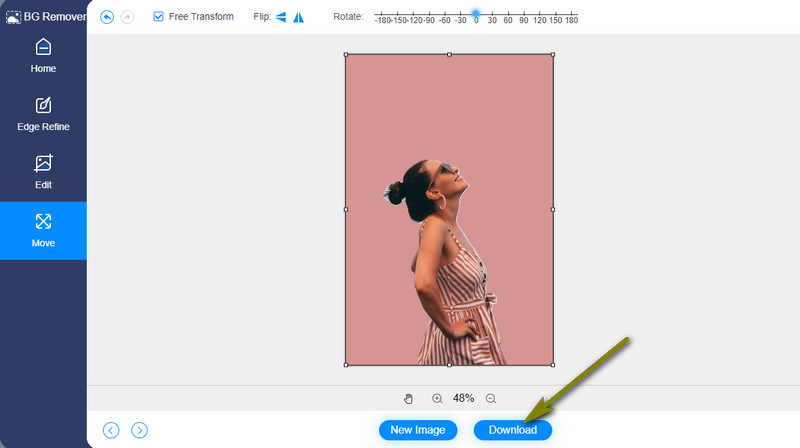 Part 3. FAQs on Removing Background for iPhone
How can I make a picture transparent on iPhone?
iOS background remover apps help you delete background on your iPhone photos. After this, you can save your work to PNG format or select the transparent background. You can achieve a transparent picture on your iPhone device by doing it.
How do I erase the background of a picture without losing quality?
Perhaps you encountered background removers that do not retain the original quality of the photos. One of the recommended apps to help you remove background without the quality contaminated is Vidmore Background Remover Online.
Can I remove the photo background on my iPhone without downloading apps?
Yes. iOS mobile devices come with the Shortcut app that allows you to remove the background from your photo. The app can erase background from panoramas, GIFs, panoramas, live photos, etc.
Conclusion
On a final note, those are some programs to remove the background from an image on iPhone. Each program is unique in their own way yet share the same purpose of removing the background of your photos effectively. Meanwhile, you can accomplish this task without downloading a program using Vidmore Background Remover Online. Plus, it only takes seconds to remove the background without losing the photo's original quality.