Top 5 GIF Enlargers You Can Navigate on All Platforms
The usage of animated GIFs is becoming more common in today's culture. People are turning to it to communicate how they feel via visuals and short videos. Nevertheless, there are occasions when the GIF we want is of a size that cannot be seen. Because of this, some people find it comforting to use a tool while expanding the size of their files. If you are also looking for a way to enlarge GIFs without losing the quality, you got the right page! Read this article to review some of the most valuable tools.

Part 1. Top 5 GIF Enlargers
1. Vidmore Free Image Upscaler Online
Image magnifiers are in high demand these days as more and more people want to enhance the quality of their photographs. We struck gold when we discovered an online program on the internet used by several picture editors. Vidmore Free Image Upscaler Online offers the highest quality results of any online image magnifier compatible with all web browsers. In addition, you may improve the image's quality by upscaling it to a magnification level of eight times its original size. You won't have any issues when you try to upload photographs with this application since it applies to all image file formats, including BMP, JPG, and PNG.
This program is already fantastic. But what makes it an edge is that it can automatically recognize when the quality of your photograph is poor. You can improve it using an AI technology method. Even though it is an online application, it nonetheless works quite rapidly to improve the quality of your shot.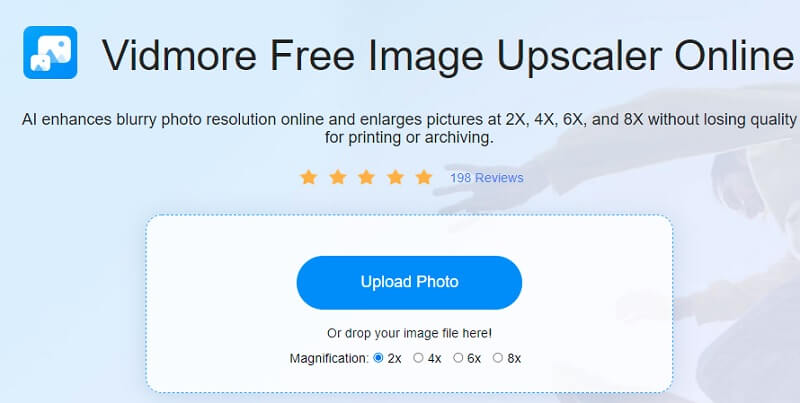 Pros of Vidmore Free Image Upscaler Online:
It shows a user interface that is easy to understand.
Allows you to get a preview of the picture after it has been upscaled.
Available for use on mobile devices in addition to Windows and Mac computers.
It does not cost anything at all.
Cons of Vidmore Free Image Upscaler Online:
It is either a new picture or an enlarged GIF.
2. Adobe Photoshop
In a matter of seconds, you can enlarge any GIF using Photoshop. It is the tool of choice for any professional user who wants to make their photographs, such as GIFs, seem better and more attractive. It's still tricky for folks who aren't tech-savvy to utilize the professional tool. In addition, this is a costly tool to use if you need to enlarge your GIF. While this application may help you resize GIFs and add some extra features, learning to use it will take longer than the other options.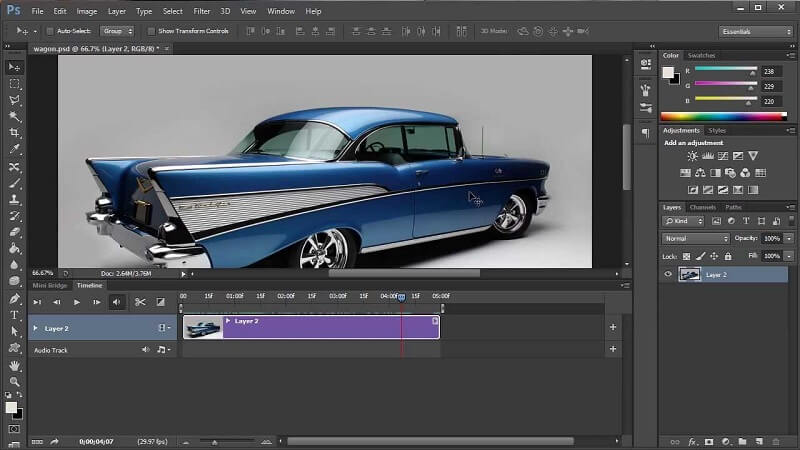 Pros of Adobe Photoshop:
When it comes to professional photo editing, this is your best option.
It offers more sophisticated editing options for GIFs.
It offers a wide variety of editing tools.
Cons of Adobe Photoshop:
You will be required to make a payment for the license.
It is not easy to use for beginners.
3. GIFGIFs.com
GIFGIFs is a library with a simple editor for resizing huge GIFs. This program helps people edit clips online. Additionally, it has no advertisements, which is excellent. Its resizer requires you to provide the precise size of the image's ratio. This issue is more distressing than the advertisements since you will need to attempt several times to ensure that it is the precise resizing you need. On the other hand, you may use this option to resize your GIFs if you already have an idea of the aspect ratio you need.

Pros of GIFGIFs:
It doesn't have any ads on the web that could bother you while you change the size of the GIF.
It is entirely free and effortless to use.
It comes included with a GIFS library.
Cons of GIFGIFs:
You are unable to see a preview of the GIF.
You are not able to choose the size that you like.
4. RedKetchup
RedKetchup enlarges GIFs online. Its GIF resizer lets you change its dimensions and scale. This program can enlarge files and increase their quality. Crop your GIF to eliminate superfluous elements. In addition, you may use this tool on almost any web browser available today. RedKetchup is the tool you need if you want to export the picture you resized to be used on other platforms, and it is the tool you have been looking for. RedKetchup - GIF Resizer is a program that could be useful for you if you want to expand GIFs without sacrificing the quality of the images.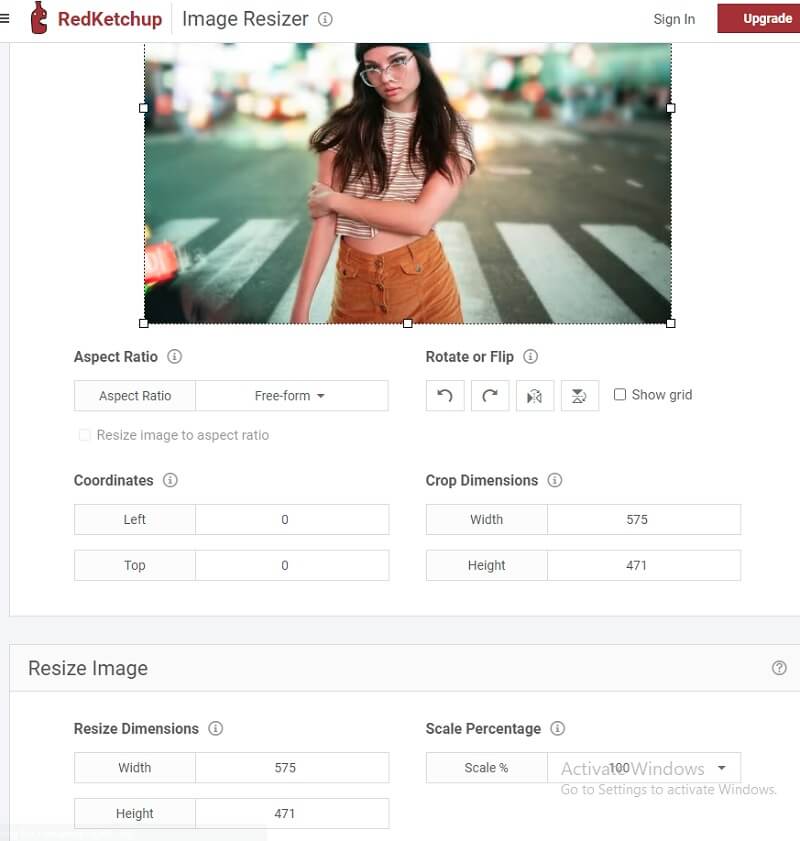 Pros of RedKetchup:
It gives you the ability to magnify photos at the same time.
It includes tools for making animations.
Cons of RedKetchup:
It features numerous unsettling commercials.
5. Ezgif
Ezgif is an online GIF and picture enlargement tool that you may use. You may use this online tool to improve the quality of your image. The app is also compatible with a wide range of picture formats. You may also use Ezgif if you don't want to download anything to your smartphone. To preserve space on your device, you may utilize this online utility since you can use it from any operating system with an internet connection.
In addition to this, it is compatible with the vast majority of web browsers. Ezgif also contains additional editing functions. It is a converter that can turn your video clip into a GIF, image rotation, cropper, and editing tools. However, suppose your internet connection is poor. In that case, the process of uploading files will also be slow, which many users find to be bothersome.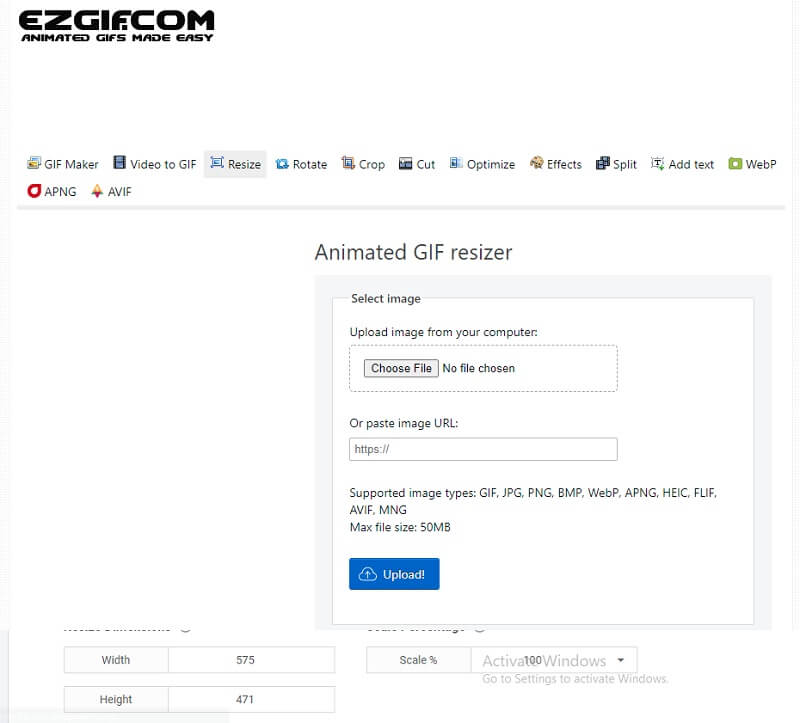 Pros of Ezgif:
You won't be paid anything to use it.
It shows a user interface that is easy to understand.
Cons of Ezgif:
It has a lot of annoying advertisements.
Part 2. FAQs About GIF Enlargers
Is the GIF's quality affected by resizing?
The GIF shouldn't be severely altered into a blurry one in terms of quality. However, the quality of the GIF will vary once you enlarge the GIF. However, it shouldn't be too different from the original GIF. If you run into this issue, it explains that you altered the quality of the GIF during the process of exporting and not when you were resizing it.
Will it move after being converted from JPG to GIF?
Not because JPEGs do not move in the same way that animated GIFs do. However, if you change it to a picture GIF, you can convert your many JPEGs into GIFs.
Is it possible to enlarge a GIF without sacrificing its quality?
Resizing your GIF won't reduce its resolution or pixels. If you shrink your GIF, you'll lose quality.
Conclusions
You may enlarge animated GIFs at your speed with the assistance of the tools that are provided here. You may also use the Vidmore Free Image Upscaler Online if you are looking for a GIF enlarger that will not compromise the quality of the file.