Best Photo Resizers Online to Resize Without Losing Quality
The size of a photo is a huge factor in producing high-quality and impressive graphics. Whether for posting on social media platforms or website posts, getting the correct sizes for your image will attract or entice viewers. However, it is a struggle for everyone, especially when enlarging photos. In most cases, enlarged photos lose their quality, making them unacceptable for posting.
Meanwhile, if your goal is to post pictures on your social media accounts or blog posts while getting the most out of your photo, you will need a resizing tool. The thing is, not every picture resizer tool is efficient. On that note, we will introduce the tools that will help you change the size of a photo with maintained or improved quality. Therefore, here are the best image resizers you can use online.

Part 1. Top 10 Online Photo Resizers
1. Vidmore Free Image Upscaler
The first program that made it on our list is Vidmore Free Image Upscaler Online. It is a web-based application that works best for enlarging photos and significantly improves the photo's quality. In addition, the program is infused with AI technology that helps users achieve excellent-looking pictures. You can also process an uploaded photo four times. That is possible due to the available magnification factors offered by the program.
It comes with 2X, 4X, 6X, and 8X magnification factors. The higher the magnification, the larger the size and the quality improves. On top of that, it works on all types of photos, including animated or cartoon images. Also, it can help you repair damaged, grainy, and blurry photos.
Pros:
Pick from several outputs or magnification factors.
Clean user interface.
Effectively improve the quality of damaged photos.
Magnifying tool to check photo details.
Cons:
It cannot resize photos in bulk.
No output format option for saving photos.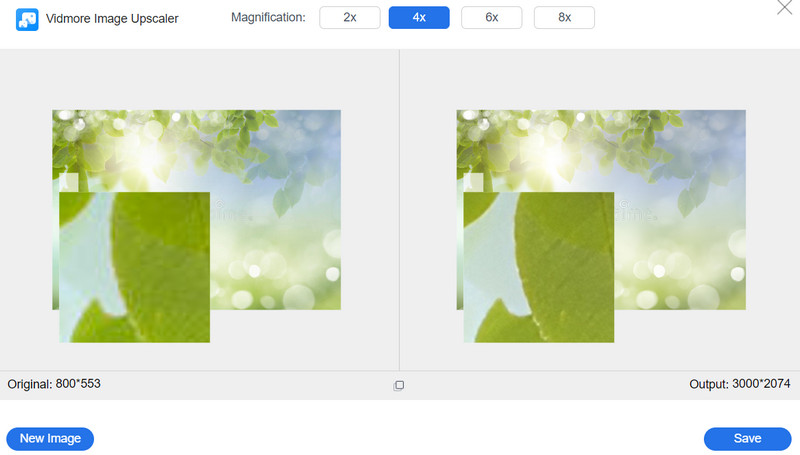 2. Fotor
Whether an amateur or intermediate editor, Fotor could help you quickly resize photos online. With just a click, users can apply a super-resolution enlarger that makes the photo vibrant and more defined compared to the original one. Additionally, a result comparison helps you see the changes before and after processing the photo. Aside from that, you can also employ basic photo editing tools, including crop, rotate & clip, and filter adjustments. More importantly, you may adjust the physical size at your will. All in all, Fotor is an excellent free image resizer you can have.
Pros:
Modify brightness and color.
Apply skin retouch in just a tap.
Remove the background of a photo.
Collage several photos.
Cons:
It does not save your sessions when closed without saving.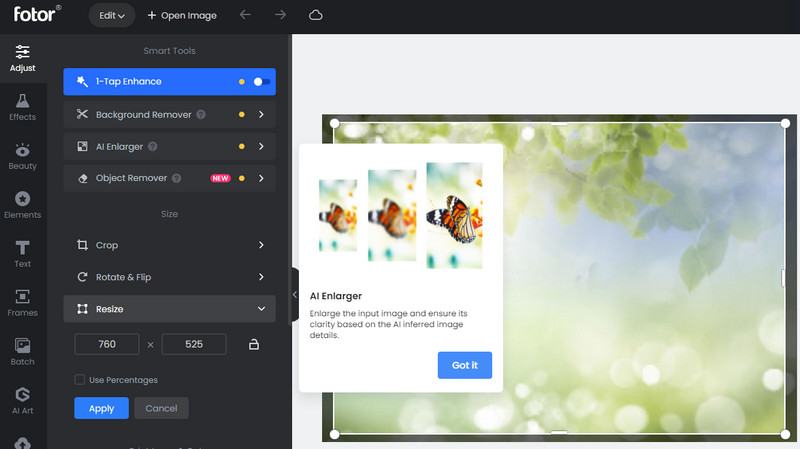 3. BeFunky
Through BeFunky, you will be able to resize images for free, but there is a lot more to this program besides resizing images. By the way, you may adjust the width and height of the photo. In addition, it is possible to resize your image by percentage scale. Meanwhile, you wish to customize these properties individually. In that case, you will need to uncheck the Lock Aspect Ratio option. With the touch-up feature, adjusting skin, eyes, mouth, and miscellaneous on your photo can be well reached. Other features are more of personal preferences. If you like to add filters and effects, add frames, overlays, or text, you can do so using this photo pixel resizer.
Pros:
Search and edit stock photos from the program directly.
It can work as a batch photo resizer.
Flexible touch-up tools.
Cons:
AI one-click enhancer is not available in the free version.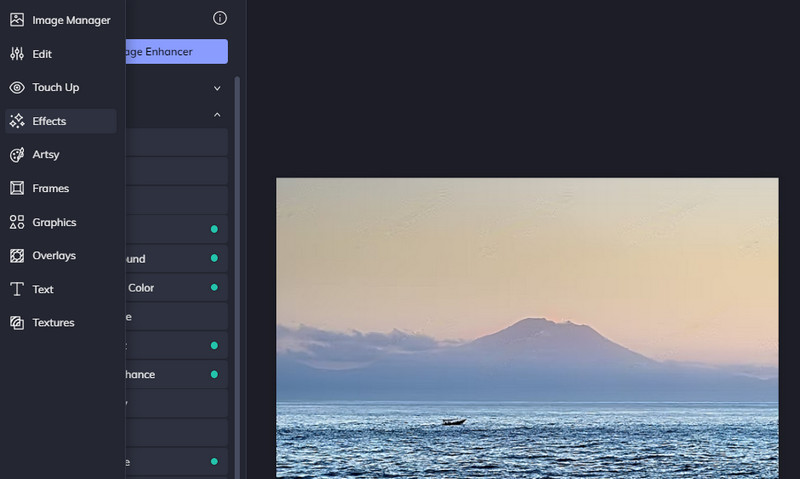 4. Image Enlarger
The following online photo resizer you can use is Image Enlarger. Like the previous tools, you can resize and instantly improve your photo's quality. What is good about this program is every user can take advantage of resampling methods that work for any image format. Furthermore, you may set the width and height to your desired dimension. Another important thing to stress about this tool is you can upload photos via the URL. On top of that, the resulting image can be up to 4500 pixels. The only caveat is it has a 5 MB file size upload.
Pros:
Straightforward interface for quick photo resizing.
Save photos in JPG and PNG formats.
Upload photos via the URL.
Cons:
The maximum file size upload is 5 MB.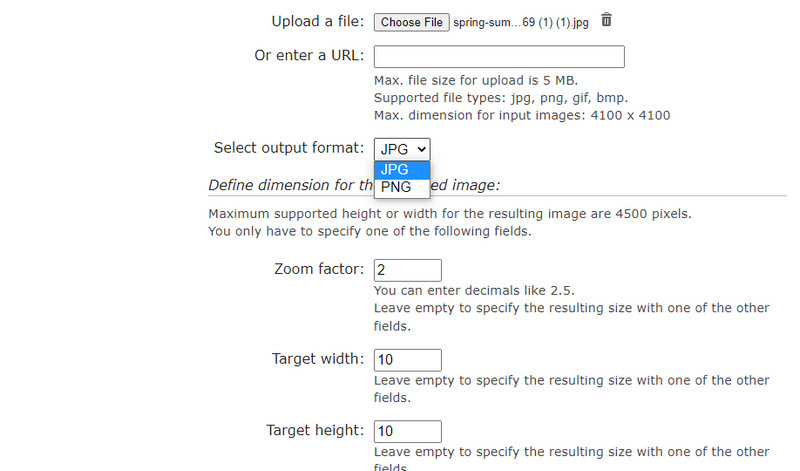 5. PicsArt
If you are looking for a popular online photo resizer, PicsArt is probably the best one for you. How about a t-shirt, a logo, or any artwork for various applications? Yes, this program can assist you in getting the proper sizing for various platforms and purposes. In like manner, the tool lets you increase the quality of a photo online with just a click. That is possible through the AI technology infused in the program. By the way, it comes with different file sizes to fit your selected or desired social media platform. They are already pre-designed. You just have to import your photo and let the program do the rest of the work for you.
Pros:
Pick from several ready-made aspect ratios for different applications.
Export photos to JPG, PNG, and PDF.
There are a lot of sizing options for your work.
Smart filters and effects are provided.
Cons:
Image manual control is difficult.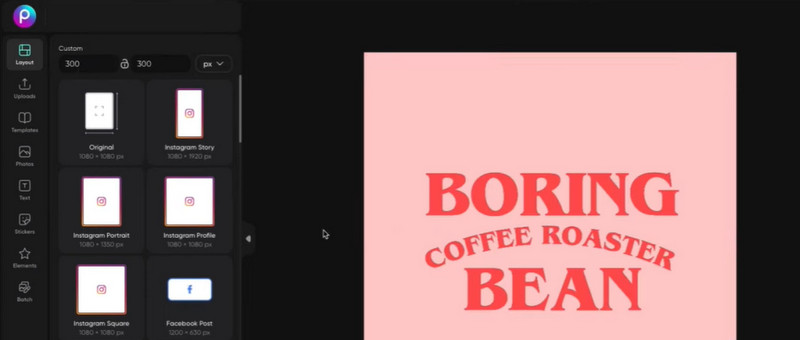 6. Shopify Photo Resizer
Perhaps you are seeking a program for editing your products or items offered. The Shopify Photo Resizer will help you achieve a good-looking product image advertisement to attract customers. The program is optimized for website images, employing the proper sizing and configuration for a wide range of applications. The resulting file is suitable not only for product photos but also for social media profiles, online newsletters, and so much more. Plus, there are also size presets for quick and easy ways of resizing photos. Over and above, the program can be used by any online user for free. Also, you can import and process photos in batches.
Pros:
Upload images to the program by batch.
Preset sizes for images for instant resizing.
Best for product photos and images for the web.
Cons:
It can only process a maximum of 6 photos per batch.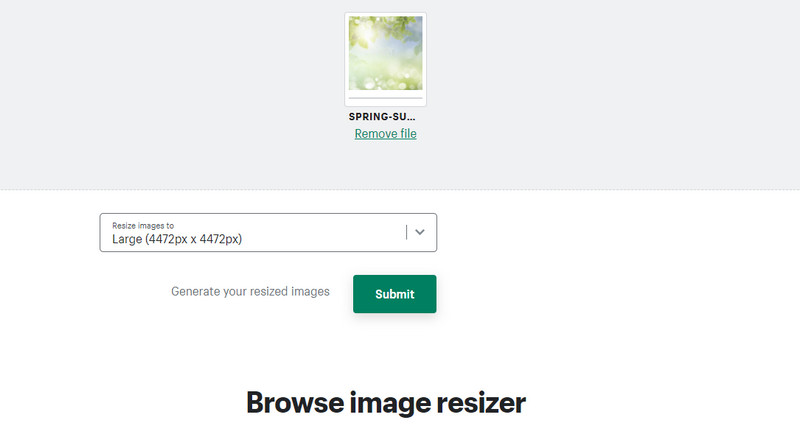 7. Kapwing Photo Resizer
Kapwing is a famous online media editor most people use to make creative photography. The tool can help you resize photos without losing any quality. Besides adjusting the size of a photo, you can crop and erase part of a photo. Additionally, it enables you to edit the corners and adjust opacity, brightness, saturation, and blur. On top of that, the photo can be rotated to any angle. You can set the photo by the number or select a rotate action. All in all, Kapwing is a decent online photo resizer any user can use, especially beginners.
Pros:
Set the photo resolution to SD, HD, and full HD.
Rotate photos to get the right angle.
Add and apply filters.
Crop photos online.
Cons:
It can only save photos in JPEG format.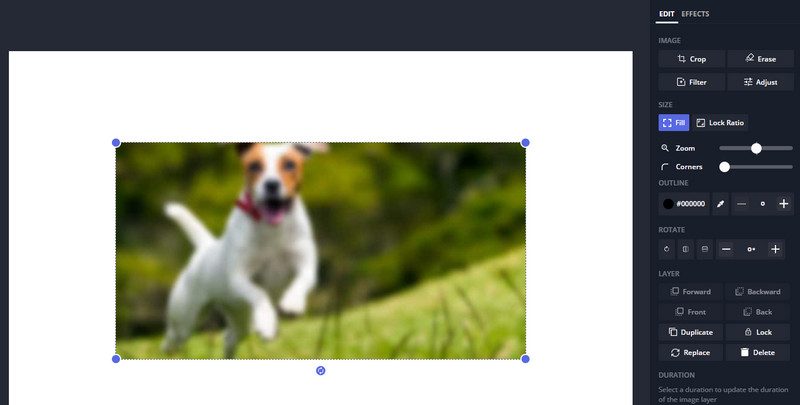 8. Locket Studio
If you're among those looking for a locket photo resizer, Locketstudio is your best option. This program lets you crop an image that fits a locket template. It comes with heart, oval, and circle locket shapes. In addition to this, you can apply different millimeters based on your selected shape. On top of that, the program works perfectly for a collage of locket photos. Furthermore, you can adjust the photo in the locket, enabling you to zoom and rotate.
Pros:
It provides several locket templates.
Crop image that perfectly fits the locket.
Responsive and straightforward user interface.
Cons:
Recommended only for locket photos.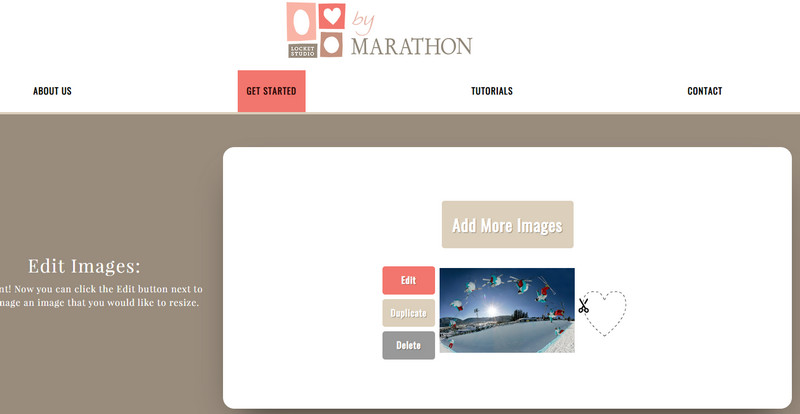 9. Social Image Resizer Tool
Social Image Resizer Tool is ideal when resizing a photo for posting on social media platforms. It allows you to make covers and thumbnails for YouTube, Instagram, Pinterest, Google, and many more. As soon as you upload a photo, a dropdown menu will appear displaying actions you can perform or what you want to use the picture for. The caveat of this tool is that you can only upload a file with a 2 MB file size. Any photo larger than the required file size is not accepted. Otherwise, use a compressor to reduce the photo's size to 2 MB and import it into the program. Therefore, it might be your best option if you want the best photo resizer for PC for social media posts.
Pros:
It offers various aspect ratios.
Various export settings.
Input width and height value.
Cons:
The maximum file size is 2 MB.
Save an image in JFIF format.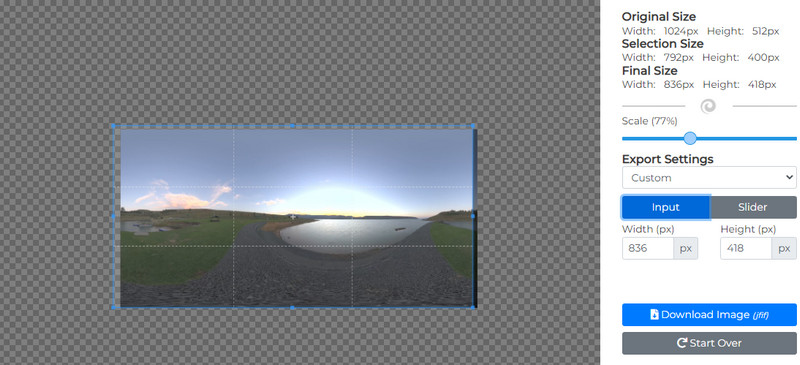 10. Online Image Resize
For a quick and fast way to resize an image, you can rely on Online Image Resize. Similarly, the program can be used as a batch photo resizer, enabling users to import and process multiple photos at once. In line with this, you can set the width and apply to all the uploaded photos to the program. On the other hand, users may edit photos individually. You can access functions such as cropping, mirroring, and mirroring. Overall, it is best for basic image resizing.
Pros:
Adjust image width using a slider.
Process and edit multiple files at once.
Recommended for beginners.
Cons:
The interface is outdated compared to similar tools.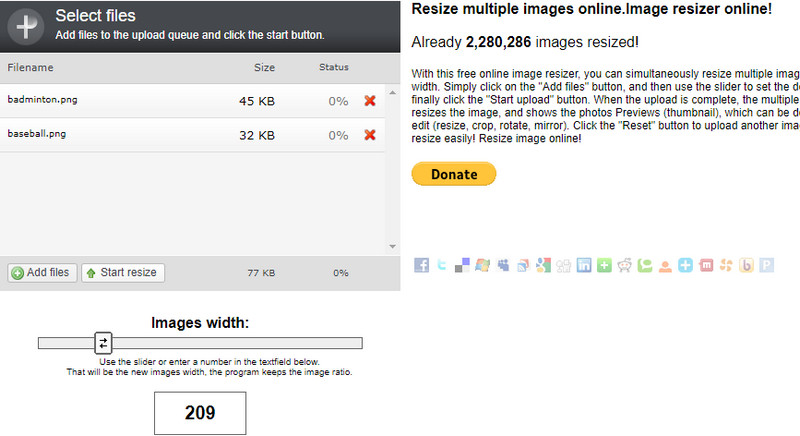 Part 2. FAQs About Photo Resizers
How do I resize photos in Photoshop?
You can adjust the image size or scale depending on your preference. Simply go to the Image Size option and modify the resolution as necessary. Then you can simply resize photos in Photoshop.
Is it possible to resize photos on an iPhone?
Yes. You may resize your photo on your iPhone using the default photo viewer. It comes with a built-in photo editor that allows you to crop, rotate, and flip your photo.
How can I reduce the size of my photo?
There are many image compressors online that will help you constrict a photo's size. However, you must look for a tool that can shrink without losing quality.
Conclusion
Your online presence is what you should establish. And one of the key ingredients to help you do that is ensuring that your photo has the right size and quality. People will know that a professional has done a picture when it has the proper quality and image size. We are glad to extend assistance by providing a list of the best online photo resizers. Each has unique features and functions but shares the same purpose: getting the right size for your photos.