Review of 5 Image Denoising Tools Applicable on All Platforms
The undesirable appearance of grain in photographs is one of the most typical issues encountered by photographers with great expertise. Removing noise from photographs is a common practice for many photographers using various methods. Others, however, are beginning to lose faith in the quality of their photographs since picture denoising is not common knowledge for everyone. Because of this, this essay is geared toward anybody interested in using image denoising technologies, regardless of whether or not they are professional photographers.

Part 1. What is Image Denoising?
Denoising a picture removes noise from an already noisy image to return it to its original state. Denoising a picture, however, might make it impossible to differentiate between noise, edges, and textures since they are high-frequency components. As a result, the denoised photos may invariably lose some information. Recovery of relevant information from noisy photos during noise reduction to produce high-quality photographs is a significant challenge today.
Part 2. Top 5 Image Denoiser Online
1. Vidmore Free Image Upscaler Online
Vidmore Free Image Upscaler Online works well on many platforms and devices. No troubles, regardless of your computer's running system. It uses AI, putting it at the forefront of technology. As a consequence, customers have no trouble resizing or improving their photos. The magnify feature makes it easy to zoom in and out of photos. In addition, you may use different file types. After a picture has been altered, a dependable program will not cause the image's quality to deteriorate.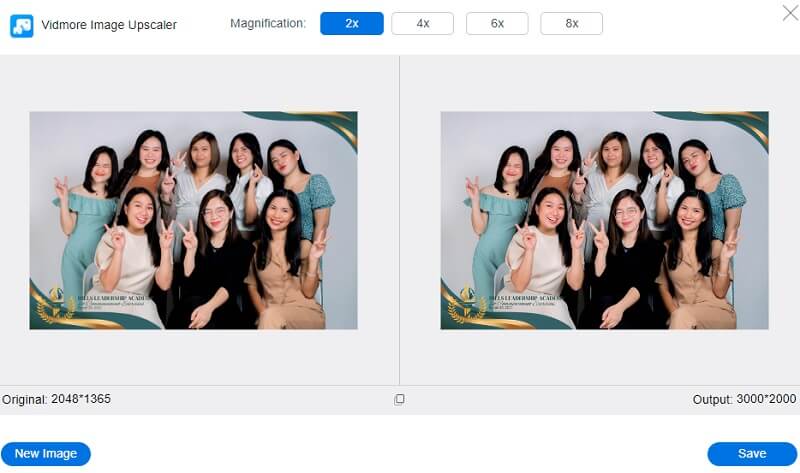 Pros of Vidmore Free Image Upscaler Online:
Great for people who are just starting.
It works well on all devices.
The picture's overall quality is not diminished.
Maximum image magnification is 8x.
It's free.
Cons of Vidmore Free Image Upscaler Online:
When the internet is sluggish, downloading may be too.
2. ImageChef Noise Remover
Image Noise Remover is one of the most helpful tools available on the internet for reducing background noise. It's a cloud-based service that doesn't get in the way, delivers results in real-time, and doesn't take a lot of tasks. Your photographs may have the noise removed, and you can also fix any lighting issues with the software. Users can choose the amount of noise they should eliminate from each photo by using a simple slider bar on each image.
You may even sketch off of any picture you have! If you want to remove some of the noise in your life, the free plan gives you unlimited processing each month, which is more than enough.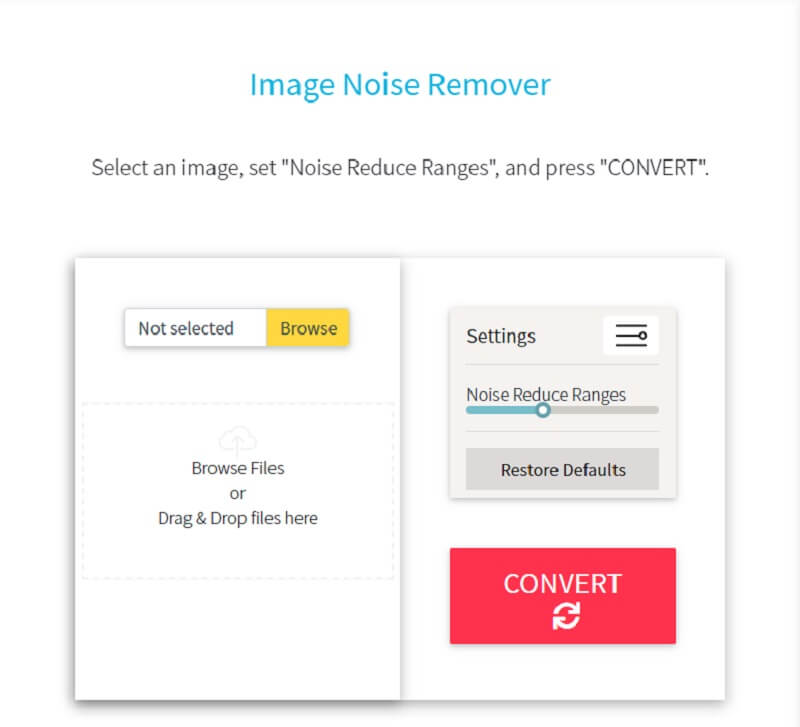 Pros of ImageChef Noise Remover:
There is no charge.
It can manipulate the slider for noise reduction.
The user interface is simple.
Cons of ImageChef Noise Remover:
It's a web-based utility.
3. Waifu2x
Waifu2x is a fantastic image denoiser that is particularly useful for anime artwork. The AI picture upscaling program also can alter photographs. It is feasible to scale photographs hosted online up to a higher resolution. There are some helpful tools for improving the quality of photographs, despite the website having a user interface that is not very impressive. You can choose to upload photographs from a local file or input the URL of an image from the internet while working with this feature.
This picture that can be seen online is of better quality, can eliminate noise, and can expand photos to a maximum size that is double their original size. On the other hand, compared to the capabilities of the other online picture denoisers described, this one offers significantly fewer options.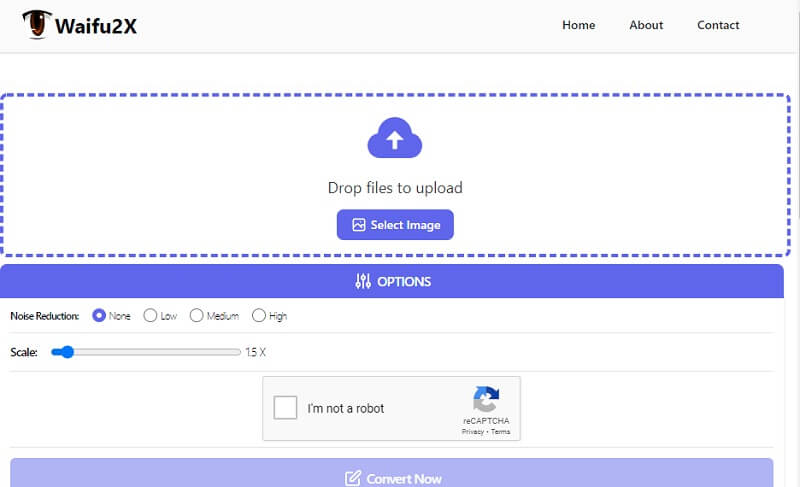 Pros of Waifu2x:
It may convert batches, and this functionality is supported.
It does pretty well enhancing the overall quality of anime visuals.
Support is provided for image noise reduction.
It may convert batches, and this functionality is supported.
Cons of Waifu2x:
It is only obtainable on a minimal scale.
4. ImgLarger AI Denoiser
The picture noise reduction tool offered by ImgLarger stands in stark contrast to other online denoisers, many of which are pretty good in their own right. ImgLarger is an artificial intelligence-powered noise reduction platform that identifies overexposed pixels in your picture and then cleans it up by automatically using an intelligent combination of filtering and masking algorithms.
The outcomes are just staggering. ImgLarger can remove noise from tens of thousands of photos in a few seconds. ImgLarger offers tools for cropping and resizing your photographs, allowing you to resize them without any loss in quality and eliminating noise from photos. Because it has such valuable capabilities, ImgLarger is one of our top choices among image noise reduction programs.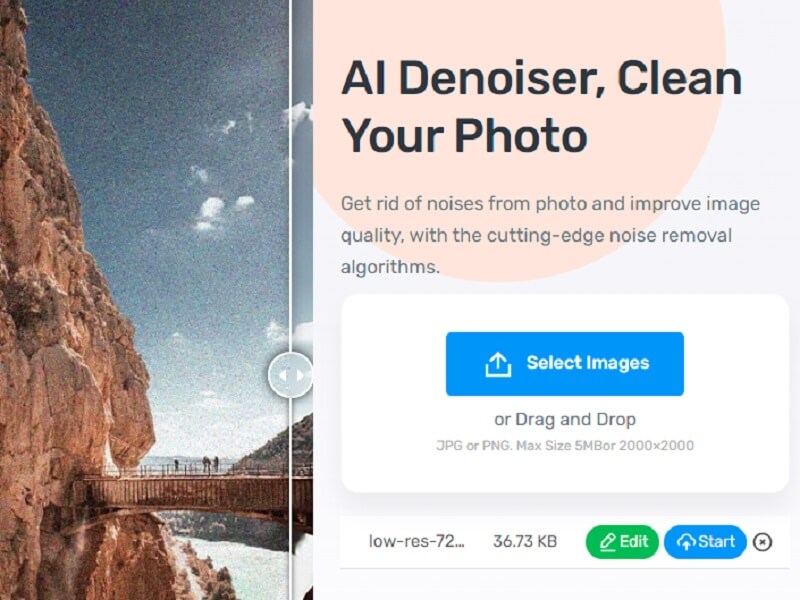 Pros of ImgLarger AI Denoiser:
It does the processing of the photos quickly.
There is a wide variety of software available for picture editing.
Processing occurs on an automated basis.
Cons of ImgLarger AI Denoiser:
There is a limit to the image denoising.
Several formats are not compatible with one another.
Some findings are not pleasing.
5. Image Larger
Imglarger.com is an online image denoiser powered by artificial intelligence that works to minimize the amount of photo noise. Using this web tool, which uses AI to remove noise from photographs, you can simultaneously analyze a large number of noisy images. Even though this picture denoiser advertises itself as a tool that can restore lost features to photographs, the tests ran on three noisy images were unsatisfactory.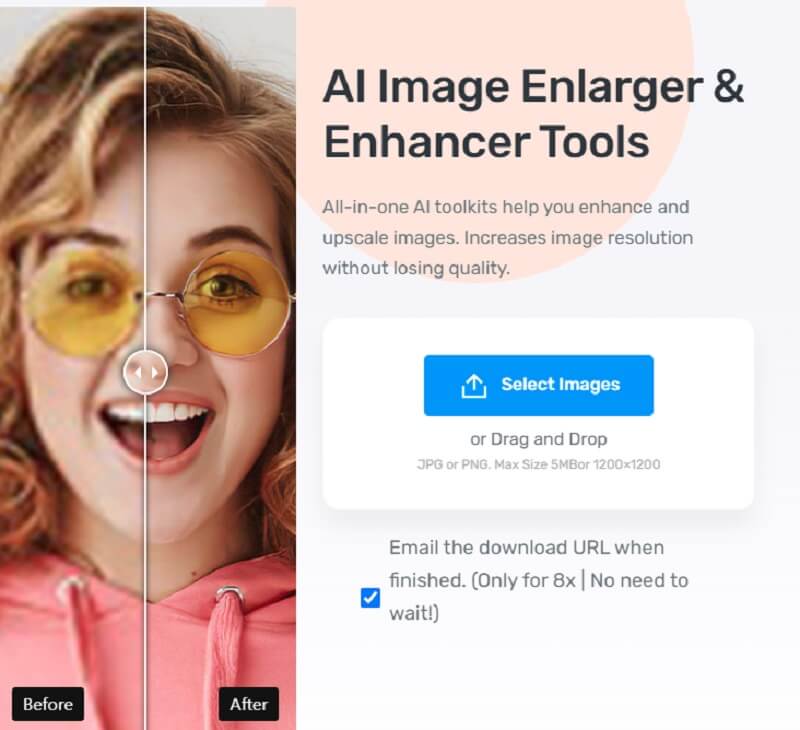 Pros of Imglarger.com:
It costs nothing, and it's pretty simple to use.
It is equipped with AI technology.
Cons of Imglarger.com:
There is no opportunity to choose the desired amount of noise suppression that should be applied.
Part 3. FAQs About Image Denoisers
How does Photoshop denoise a photo?
The Reduce Noise Filter in Photoshop is the most effective tool for lowering background noise. Choose the Noise option under Filter to have access to this filter. After that, choose the Reduce Noise option from the menu. To modify the amount of noise in the shot, you need to switch the mode to Advanced and then go through each color channel.
What is the purpose of picture denoising?
Image denoising plays a significant role in various applications, including image restoration, eye tracking, image restoration, segmentation techniques, and image classification. These are all applications in which acquiring the original image content is essential for solid performance. Image denoising plays a role in these applications.
What happens if the image's noise reduction is too extreme?
When used excessively, noise reduction and sharpening techniques will cause a decline in picture quality rather than enhance that image's overall quality. The smoothing impact that too much noise reduction had on a picture caused the loss of the image's tiny features.
Conclusions
It is typical practice for experienced editors to clean up photographs by removing any distracting noise. And if you are an amateur, the image denoiser online that is shown before will be helpful to you. After reading their explanations, you will be aware of the benefits and drawbacks of each instrument. You are free to choose the one that you think would be most beneficial.