Top 5 List of Reliable JPG Enhancement Online: In-depth Review
When our photographs are of high quality, we all enjoy looking at them. But there are instances when, as a result of the camera that we use, the photos become less clear. Fortunately, it is now possible for us to improve the picture quality of images saved in either JPG or PNG format. The fact that we don't have to spend money on accomplishing it is an even more significant plus. All we need is a JPG image size enhancer online. Let's not make a big deal; instead, let's learn about some of the picture enhancers we may apply to our photos to improve their overall quality.

Part 1. 5 Best Online JPG and PNG Enhancement Online
1. Vidmore Free Image Upscaler Online
Vidmore is an online image enhancer that works in all web browsers. You may use it to make your photos seem better. Therefore, it won't matter to you whether you use a traditional desktop computer or a more basic mobile device. You can choose a magnification level for your picture using this web-based program. The upscaling quality improves proportionally with the magnification level. You can select a 2x, 4x, 6x, or 8x magnification. In addition to that, it makes use of artificial technologies. The resolution of your picture is improved while the blurry parts of your photo are identified and removed automatically by Vidmore Online Free Image Upscaler. In addition to this, it has the capability of restoring any missing pixels, color textures, and other features.
In addition, the program includes a user interface that is easy to use, making it suitable for novices. In addition, you may immediately download the picture to the device you are using. Additionally, it is compatible with all file types, including PNG, JPG, and BMP.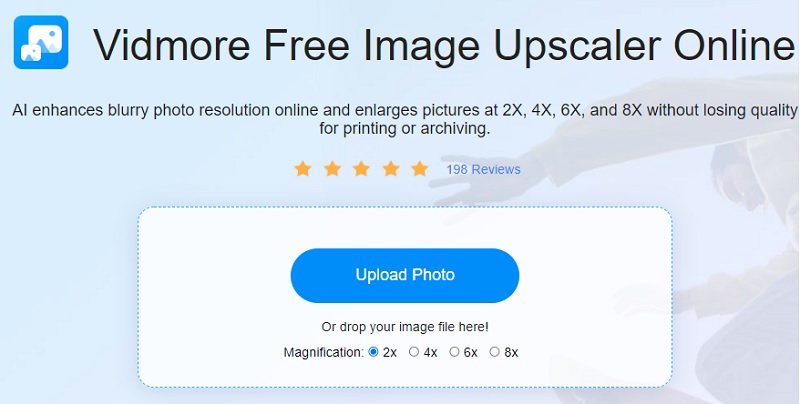 Pros of Vidmore:
It is an excellent tool for those just starting.
The procedure of importing is lightning quick.
Windows, macOS, iOS, and Android are all supported operating systems for navigation.
It allows you to modify how much the upscaling is done.
Cons of Vidmore:
Since it's an online tool, slow internet may hinder the import process.
2. UpscalePics
Consider utilizing UpscalePics if you're looking to boost the quality of a low-quality photo on your smartphone. You may raise the quality of your photo using UpscalePics, an internet pixel enhancer that may aid you in accomplishing so. In addition, it has a feature for removing JPEG noise and imperfections using AI technology. PNG, JPG, and WebP are all supported, as are many more popular image formats. Finally, images may be upscaled to a maximum of 4500.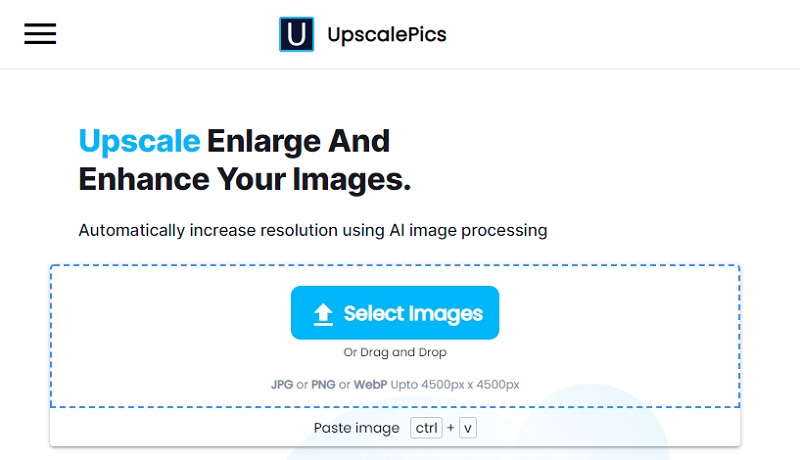 Pros of UpscalePics:
Using it is a breeze because of its streamlined design.
It safeguards your personal information.
Cons of UpscalePics:
Before downloading your upgraded picture, you must sign in to your account.
3. Icons8
You may boost the quality of your low-quality photograph by using the online photo pixel enhancer that is a part of Icon8. This web application is compatible with most file types, including JPG and PNG. It also automatically finds the areas of your picture with a low pixel count. You also have the choice to download your improved picture in a simple and cost-free manner. In addition, it automatically enhances the brightness, contrast, and sharpness of the picture you are working with. On the other hand, given that it is a program that relies on the internet, if your internet connection is poor, the upscaling process will also be slow.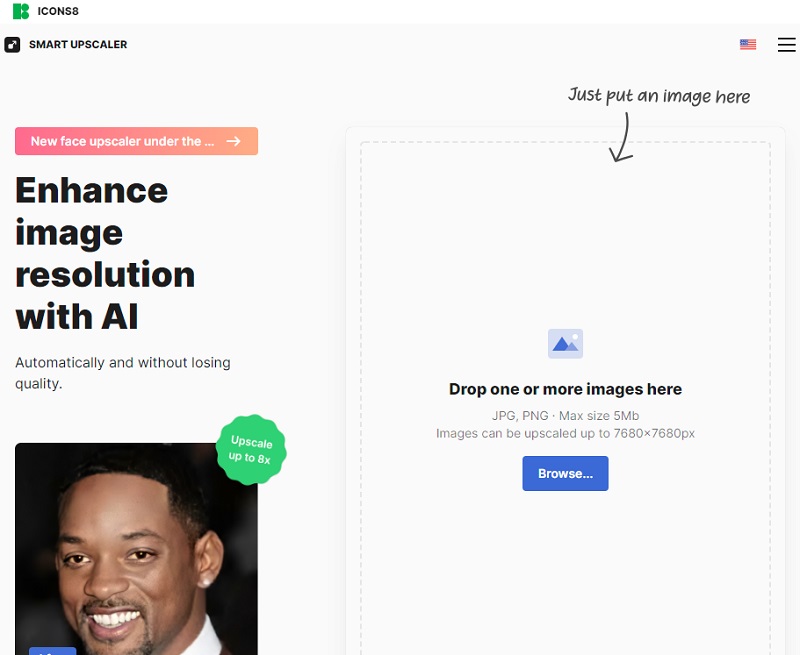 Pros of Icon8:
It improves your appearance in an automated manner.
It is accessible with whatever web browser you use.
Cons of Icon8:
It will mark your picture with a watermark as a result.
4. Remini Web
The mobile app known as Remini serves as a picture editor that uses artificial intelligence to improve and modify photographs. It can make the photographs crisper and more precise, eradicating any degree of blur that may have been there. If you want to restore your old image, the app is a great tool to have at your disposal. The program's clean photographs can efficiently repair pictures that have been rotated improperly.
Remini is an AI-based picture editing tool that, in contrast to other similar applications, does not alter the significant aspects of a photograph but restores them. As a result, the image quality produced after processing is far more crisp and accurate than the original.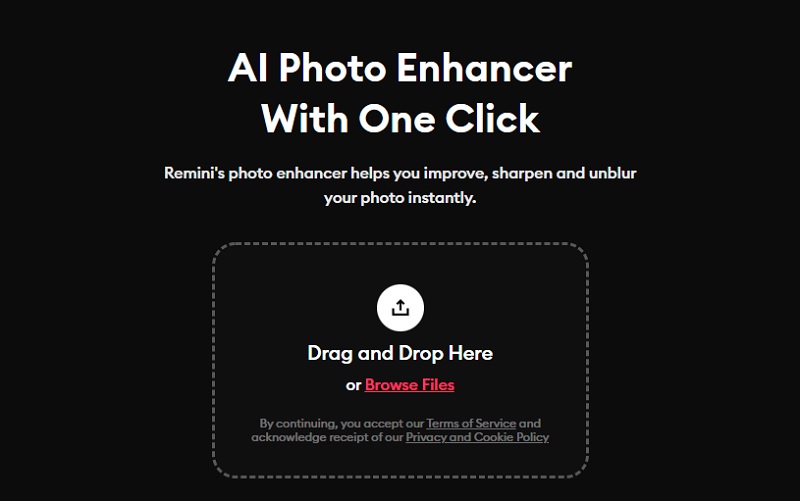 Pros of Remini:
It is driven by machine learning and artificial intelligence.
In addition to that, it may improve video footage.
It is pretty simple to go about.
Cons of Remini:
Free accounts are subject to restrictions, and there are many advertisements.
The maximum file size you can export is 2080 pixels by 2080 pixels.
5. FotoJet
The online picture quality enhancer, FotoJet, is free on all internet browsers. Additionally, it enables you to auto-enhance your picture even if the resolution is of a poor grade. Using this feature, you may effortlessly export your movies from Fotojet to other social media sites. In addition, it has a function that enables you to collage a picture flawlessly. And last, you may use FotoJet on any computer operating system, including Windows, Mac OS X, Linux, or Android. Users won't have any problems accessing the user interface for designing as long as the web browser they use is up to current. And they're using a device that's at least a little recently. The price of FotoJet is determined by a monthly subscription model that costs just a few dollars for each user.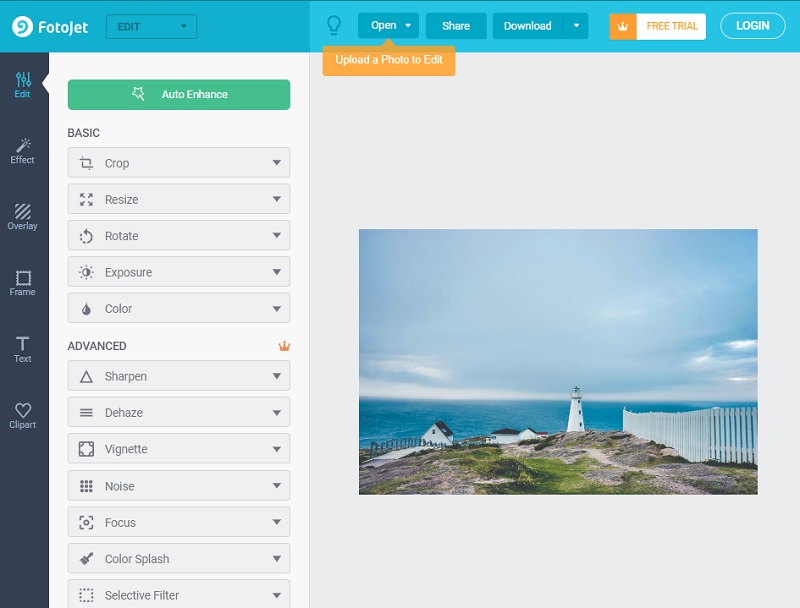 Pros of FotoJet:
It is compatible with almost any digital format.
It has unique templates that are head and shoulders above the rest in the field.
It is a high-quality piece of artwork that it can make in a matter of minutes and with just a few mouse clicks.
Cons of FotoJet:
Some customers may feel that the trial term of seven days is too short for their needs.
The features for altering photos do not have the level of polish that would satisfy all specialists.
Part 2. FAQs About JPG/PNG Enhancement Online
How are JPG and PNG different from each other?
The JPEG format utilizes a lossy compression technique, meaning the picture may lose some of its data. On the contrary, the PNG format uses a lossless compression strategy, which means that the image will not lose any data.
Should I use PNG or JPEG?
Photographs that do not have a translucent backdrop and other memory-intensive files should typically be saved as JPGs since this is the recommended file format. And that you should use PNGs for graphics, files with translucent backgrounds, and other pictures where clarity and color brightness are vital.
Is PNG a superior format to PDF?
PNG is a pixel format, whereas PDF is a larger format that may incorporate vector data and text. Both formats can exchange files.
Conclusions
All of the JPG enhancements online above are guaranteed to aid your blurry images. On the other hand, some of them call for a paid subscription in addition to monetary contributions. Therefore, if you don't want a hassle-free JPG or PNG enhancer online, you can consider using the Vidmore Free Image Upscaler Online instead.