6 Best Photo Resizer Apps for Modifying Photographs
These days, mobile devices have more than one camera lens. Of course, we cannot resist using these high-end camera specifications. However, sometimes we cannot avoid the image being too small or large. And not just that, sometimes we also deal with problems related to image sizes like aspect ratios and formats. But with the help of some handy mobile applications, we can now fix the issues with our images. Without further ado, this post will give you some of the best photo resizer apps to help you.

Part 1. Best Photo Resizer Apps for Android and iPhone
1. Instasize
You may resize any picture to suit on any social media site or online messaging app by using the Instasize app, which is available for Android devices. It's essentially a toolset for social content producers so that they can edit photographs with professional filters, frames, and tweaks. In addition to the resizing tool, Instasize has other features such as a collage builder, text file, effects, and more. The Instasize app is one of the best options when resizing images on an Android device.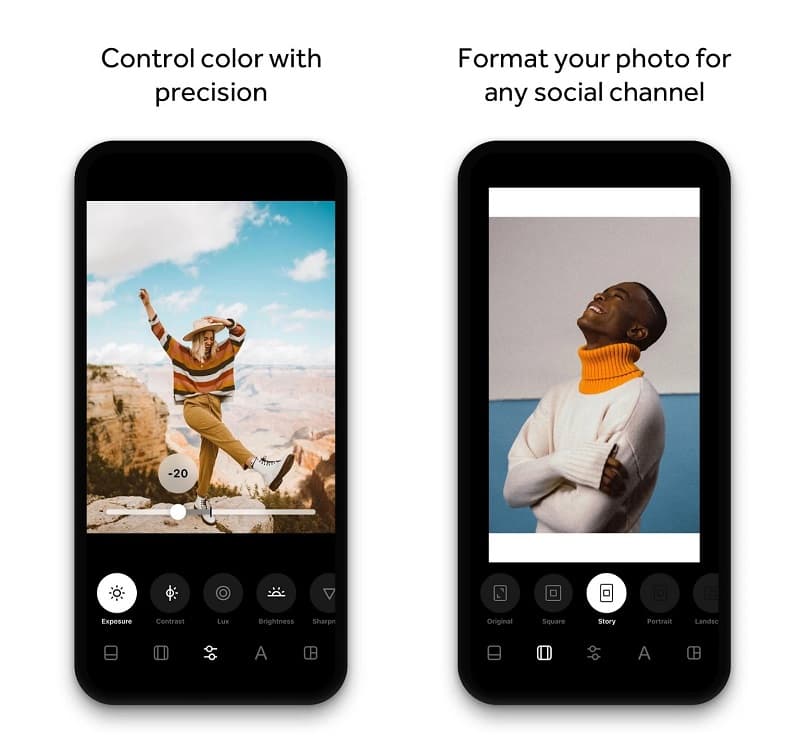 2. PicTools
Suppose you are looking for an image tool that you can use for various purposes on your Android smartphone. In that case, PicTools is one of the options that you should consider. It enables you to resize the photographs, crop them, transform them, and compress them. The software's most intriguing aspect is the ability to convert photos into PDF format. In addition, it also has online help and the ability to process files in batches.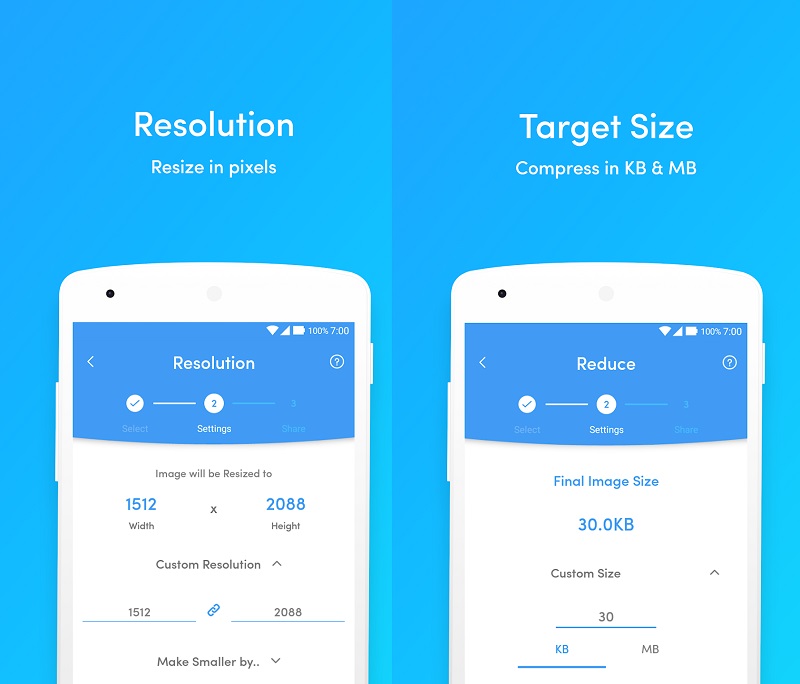 3. Image Crop
People looking for straightforward Android software to crop photographs and videos will find everything they need with Image Crop. It allows you to crop, rotate, resize, and flip images. The program also gives users access to options for modifying their photos, such as text effects, the removal of backgrounds, color modification, and more. Therefore, Image Crop is another excellent tool for Android devices that can resize photographs.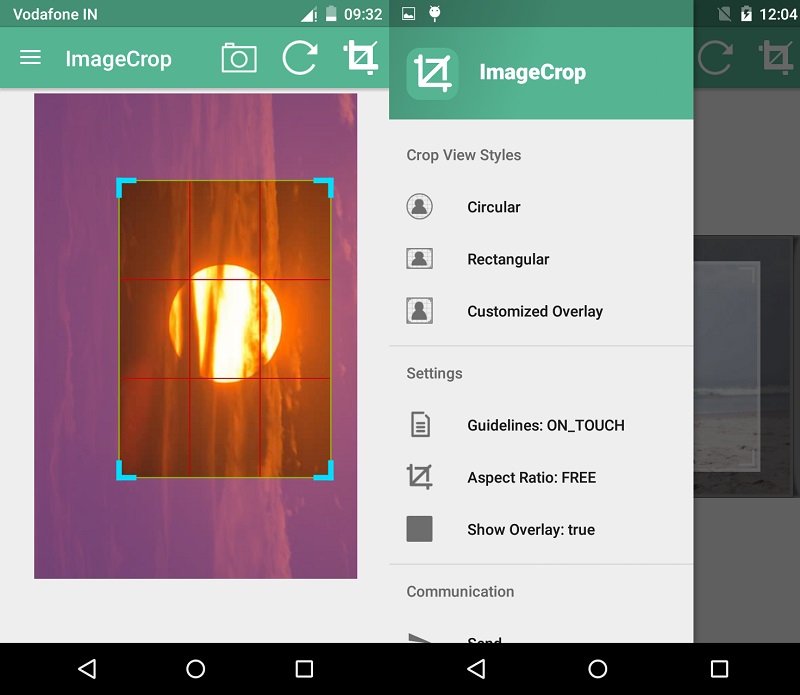 4. Resize Image
This picture resizing application is available for iPhone users. It has an interactive user interface and enables speedy modification of photos. In addition, it enables sharing photographs across other social media platforms. In addition, the application is included with a demo version. It is completely optimized for use on all versions of iOS. It allows you to test the app's functionality before deciding whether to purchase the full version.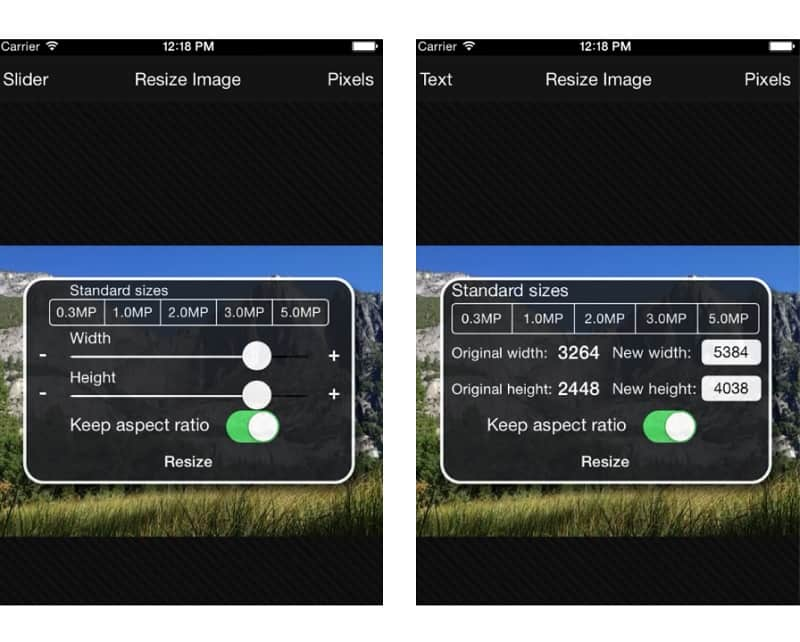 5. Reduce Photo Size
The Reduce Photo Size software surprises you with its functionality. It makes it simple to compress photographs while maintaining a straightforward user interface. This software gives you access to a picture gallery from which you may pick photographs. Even though you cannot precisely resize the Image, you do have the option to decrease it. This decrease tab provides several different settings and preferences for decreasing the size. After the picture has been scaled down, you have the option to rotate it, save it, share it, and do a great deal more.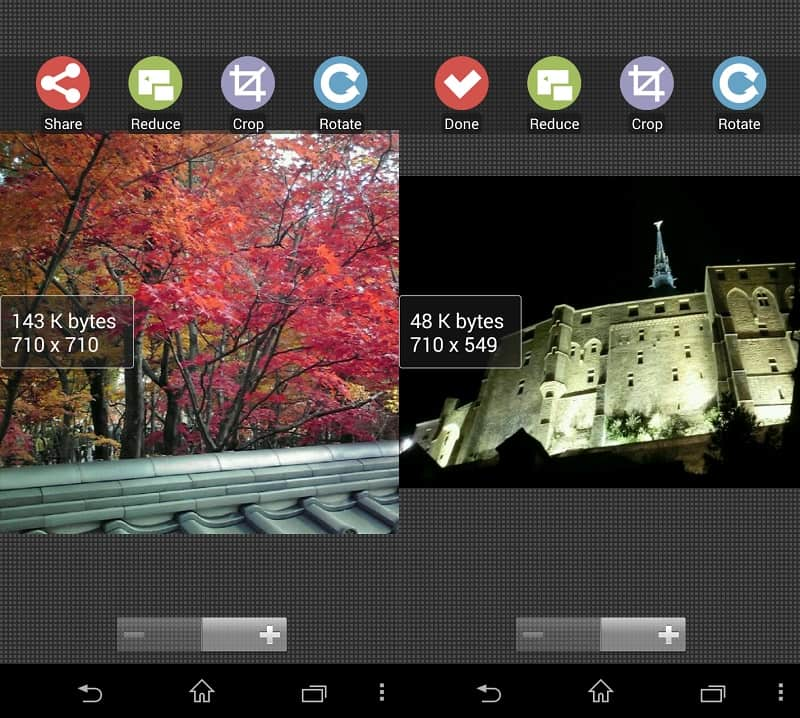 6. PicsArt
PicsArt is another excellent picture editing tool available for Android and iOS. It may seem like a picture editor, but the image scaling option is remarkable. Aside from that, it offers a wide variety of tools and adjustments, all of which are essential components of picture editing software. PicsArt is renowned for its ability to function despite having a lesser picture quality resolution. So you won't have to be concerned about your image's quality being compromised.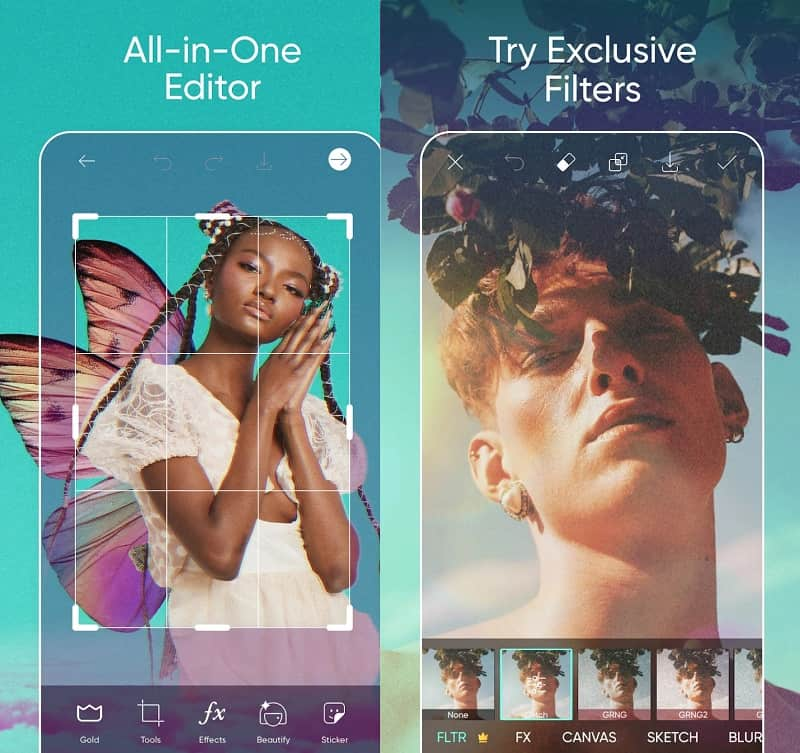 Part 2. Recommended: Best Online Photo Resizer
Aside from photo resizer apps for mobile devices, you can also change the size of an image by using an online tool. And one of the most promising image resizer programs is Vidmore Free Image Upscaler Online. It is a web program that is acceptable for Windows and Mac devices. Therefore you won't have a problem with whatever operating system you use.
Vidmore Free Image Upscaler Online is a very trendy program because it is operated by artificial intelligence. That is why users are not having a hard time resizing their images and enhancing their resolution. Additionally, you can easily zoom in and out your images with the help of the magnification section. It also accepts images with different file formats. Last but not least, Vidmore Free Image Upscaler Online is a trustworthy program because it doesn't compromise an image even after modification.
Here is a simple command you can follow in resizing an image.
Step 1: To continue resizing images online, search for the Vidmore Free Image Upscaler Online and press the Upload Photo symbol. The folder you were looking for will become visible on your device. Select the picture that you wish to modify the dimensions of.

Step 2: Then, as soon as you take the picture, artificial intelligence will automatically improve the quality of each pixel in it. In addition, a sneak peek of your photo will be shown for everyone to see. To resize your photographs, you may modify the Magnification setting by selecting a new option from the above menu.
Step 3: You may get an updated picture version by clicking the Save button once you have resized your photo to your preference in the previous step.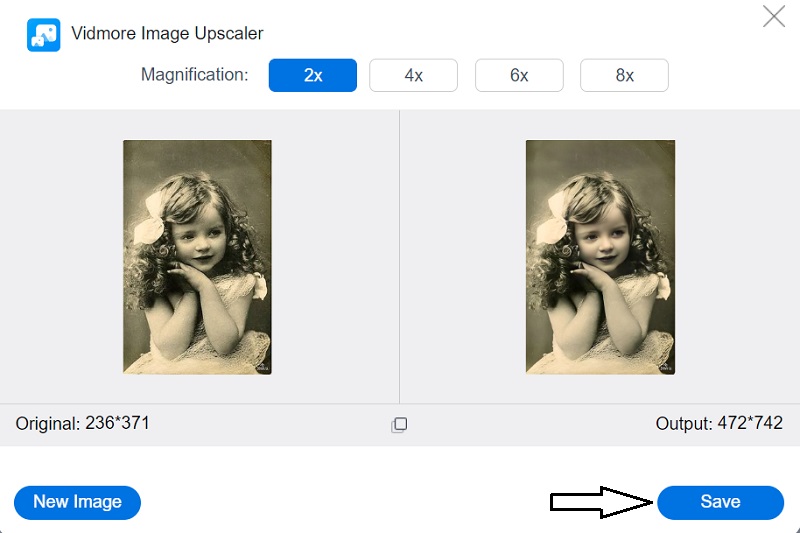 Part 3. FAQs About Photo Resizer Apps
What does it mean to resize an image?
You can resize your picture to make it smaller or bigger without losing any of the original content. The picture's dimensions are changed whenever you resize it, which usually impacts both the file size and the image quality. The most typical purpose for shrinking images is to decrease the size of huge files to make it simpler to send them through email or share them on the internet.
What use does picture resizing serve?
Image scaling is essential when you need to increase or reduce the total number of pixels in a picture. However, remapping may occur when you compensate for camera calibration or turn an image.
What is the distinction between stretching and resizing?
When an image is stretched to make it larger, the pixels in the Image are damaged, which results in a blurry picture. Resizing the Image, on the other hand, will increase the total number of pixels, which will result in a larger picture. When you increase the size of the picture to its original size, you are presented with the same image that is clear of any blurriness.
Conclusions
Those are the best free apps to resize photos on Android and iPhone devices. But suppose you don't have enough capacity to fill up another editing program. In that case, you may rely on an online service such as Vidmore Free Image Upscaler Online. This application will let you upscale your images without costing you anything. Even though it is an online tool, it provides the most effective results when it comes to enhancing the look of your picture and adjusting its size.