Bigjpg Review: All the Information You Need About Bigjpg Online
When you enlarge a picture, you will likely have a fuzzy result. It is because bigger images include a larger pixel. We would all want top-notch, dependable software like Bigjpg, which can provide immediate results. You will get new knowledge and insights about Bigjpg from reading this review. This evaluation will most certainly assist you in deciding which aspects you can locate and study. Get the best of Bigjpg while maximizing its potential for efficiency and comfort.

Part 1. Overview of Bigjpg
Bigjpg is a free internet program that you may use to improve the quality of photographs. The neural network is based on a unique algorithm customized especially for the lines and colors in the picture. This online application can automatically expand the picture while also improving its quality, all thanks to the fact that it makes use of this feature. You may also be able to download and install computer software into your desktop computers or other mobile devices with its assistance. In addition, you merely need to upload the picture and then alter the proportions of the picture to suit your needs. Along these lines, you may also experiment with various aspects of Bigjpg, such as increasing the size of your picture and adjusting the amount of noise reduction applied. At long last, you will be able to download the picture once it has been altered correctly

Main features of Bigjpg:
It can handle various image formats, including JPG, PNG, GIF, and BMP.
cYou can look back at the photographs you've modified in the past and make comparisons.
The Noise Reduction tool provides a range of five settings to choose from.
In the free version, you can scale your picture up to 2X or 4X.
It displays a progress indicator that estimates the amount of time left to complete the process of enlarging the picture.
Pros of Bigjpg:
It has access to the history of any enlarged photos you have previously taken. Simply logging in will get you access to such resources.
It is capable of supporting API.
It is compatible with practically all of the standard picture formats.
It features a user interface that is relatively easy to understand.
Cons of Bigjpg:
You are not given the option to pick a particular resolution for your photograph.
The processing speed is rather sluggish.
Part 2. Best Alternative to Bigjpg
1. Vidmore Free Image Upscaler Online
You may use the most acceptable Bigjpg alternative. One of these is Vidmore Free Image Upscaler Online if you cannot use Bigjpg for free for any reason. Also, suppose the image's outcome of upscaling or enlarging does not meet your expectations because of its unique capabilities. In that case, it is the ideal option for the Bigjpg program. This application offers a user interface that is both straightforward. It will improve the quality and sharpness of your images by using technology that utilizes artificial intelligence.

2. ImageEnlarger.com
You won't have to worry about the image's quality being compromised when you use the Image Enlarger tool to enlarge your pictures. Because of its additional capabilities, this program might be a suitable replacement for Bigjpg. The primary user interface is logically organized and straightforward to comprehend. You only need to input the URL of your photograph or upload the file directly from your computer. It can inform you of the fundamental specifications that must be met by the picture you upload, such as a large file size of 5 MB and a total dimension of 4100 by 4100. It is compatible with several image file types, including JPG, PNG, GIF, and BMP.
You also have the option of selecting the output format you want. It is distinguished by the fact that the dimension of the expanded picture may be defined by it. It also has a height and a breadth to go along with its zoom factor.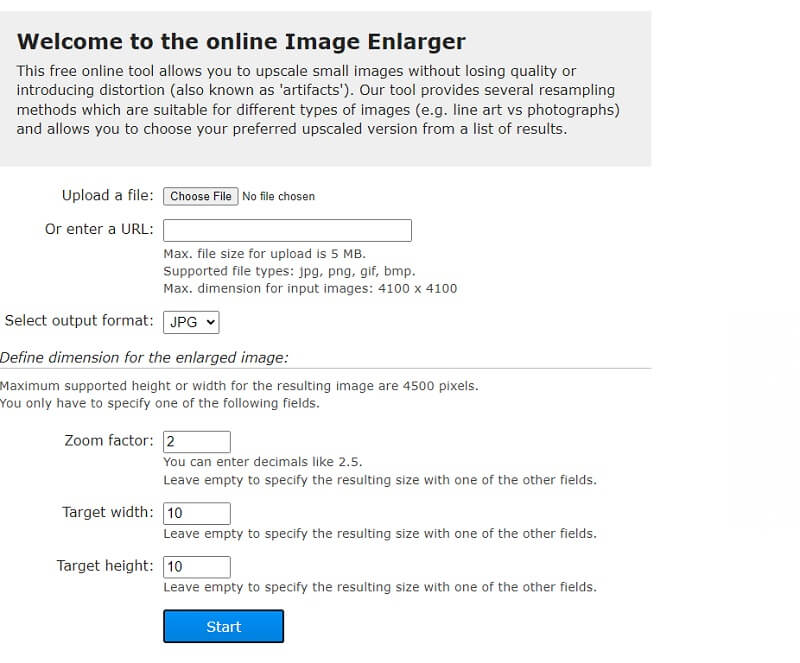 3. PicMonkey
It is compatible with a variety of image file formats, some of which include JPG, PNG, GIF, and BMP. Additionally, you can choose the output format that best suits your needs. The fact that it has the potential to specify the dimension of the extended image is what sets it apart from other similar features. Along with its zoom factor, it also has a height and a width to describe itself. You also can navigate the image enhancer, which might fix any issues with your photos with just the press of a button. If you choose to do it this way, you might save some time. It is a fantastic method for making simultaneous adjustments to the size of your picture.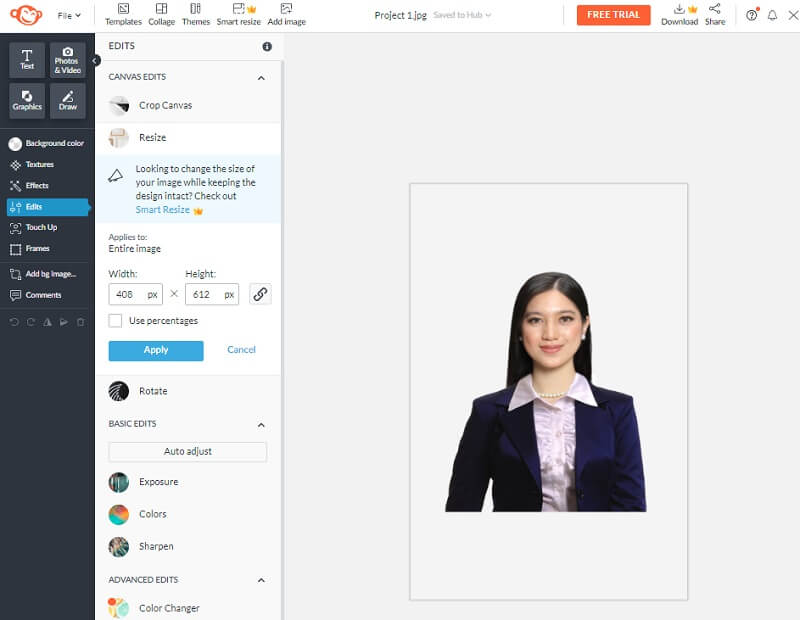 Part 3. FAQs About Bigjpg Online
How can I change the dimensions of a picture in Bigjpg?
Visit the Bigjpg website, then choose a picture to upload to the site by clicking the green button when you've made your selection. After that, your photo will show in the space below the box. To begin configuring the modification that you want to use on your picture, choose the Start button. It may take a few minutes, but you will eventually obtain the outcome. Then, to save the result, click the Download button.
Is it safe to use Bigjpg?
Bigjpg does not restrict users from uploading photographs or increasing their size. After 15 days, photographs that have been uploaded and those that have been expanded will be destroyed automatically. Because the URL to the picture is encrypted, no one other than you will be able to download the image unless you want to share it.
Can you enlarge images in Bigjpg while you're not connected to the Internet?
Bigjpg may be used to expand PNG files without an internet connection. However, you must first log in to your account. Maintain an active browser window if you haven't yet logged in. If you don't save your enlarged picture, it will disappear.
Conclusions
According to the facts above about the Bigjpg review, we can conclude that it is really outstanding. The strengths and shortcomings of the tool are what they should be. Bigjpg is a file format that allows users to magnify and enhance the quality of photographs without requiring the user to have any specialized knowledge or abilities. This tool is simple, and you may grasp its functionality with little effort. To sum it up, it is pretty near to being flawless!