How to Enhance JPEG Resolution (JPG and PNG Formats Included)
Enhancing an image allows you to restore a picture's resolution by refining the distribution of colors on your photo. It is a big deal since it affects a photo's quality and the overall beauty of a photograph. Any undesirable effects like pixelated and blurred or anything that makes a photo awful is unwelcome.
But what if you have gone through a situation where the photos you took are pixelated or blurry. If you are in the same situation, it is probably the perfect time to enhance your photos. If you do not have an idea how to do it, check out the tutorial below to learn how to enhance JPG, JPEG, and PNG.

Part 1. How to Enhance JPG, JPEG, and PNG Resolution on Desktop
Probably you are looking for photo enhancers you can use on your desktop. Here, we collected the programs developed for this kind of need. To cut the chase, learn how you can upscale PNG, JPEG, and JPG.
1. Vidmore Free Image Upscaler Online
With Vidmore Free Image Upscaler Online, you will not worry about downloading software because the tool uses a web browser. Provided you have a working internet. You can enhance pictures without any problem. Moreover, it integrates an AI generative technology that restores and enhances photos instantly while maintaining the original quality. In other words, this feature will give you satisfying results.
The program can upscale many image file formats, including JPG, JPEG, PNG, and many more. It can also handle various formats like cartoons, anime, or a typical photo. Over and above, it comes with no limitations. You have an unlimited number for upscaling, and it can accept any file size. You can rely on these steps to learn how to enhance JPG images online.
Step 1. First, go to your browser and search for the official website of this tool. From the main page, tick the Upload Photo button and select your desired photo by double-clicking it.

Step 2. Once the photo is uploaded successfully, it will be upscaled automatically by a 2X magnification factor. Optionally, you may alter the upscale factor according to your needs. You can select from 2X, 4X, 6X, and 8X. Simply hover your mouse cursor over the photo to see the changes in detail.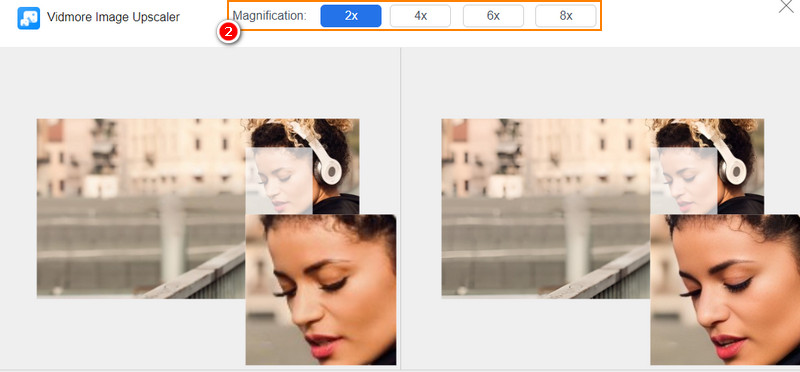 Step 3. Finally, save and download the upscaled photo. You can do this by pressing the Save button at the bottom right corner. If you like to process another photo, just hit the New Image button and follow the same procedure. That is how you enhance JPG online for free.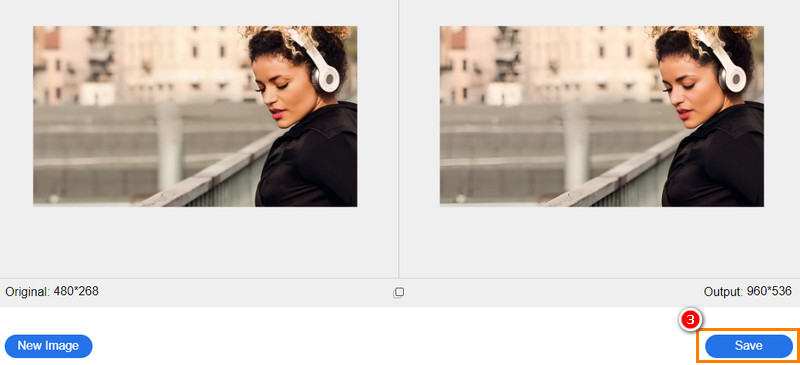 2. Fotor
Another reliable photo enhancer you can use to enhance PNG quality online for free is Fotor. It comes with all the photo editing tools you need, like restoring, fine-tuning, editing, cropping, rotating, and many more photos. The program may help you with your distorted, pixelated, and even blurry pictures, converting them into clear and sharp photos. Other features include denoising, applying mosaic, film grain, etc. The only thing we can comment on is the process of applying effects, which takes so much time. Follow the simple guide below to enhance PNG resolution online.
Step 1. Open a browser you prefer on your computer and visit the tool's official page.
Step 2. From the home page, hit the Edit a photo option to enter the editing panel.
Step 3. Next, drag your desired photo to the program's interface or hit the Open Image button to upload your images.
Step 4. After that, go to the Adjust option on the left side toolbar. Then, look for Brightness & Color. Expand the Basic Adjust menu and adjust the sharpness using the slider.
Step 5. Hit the Download button at the top right to save the edited photo. That is how you enhance PNG quality online.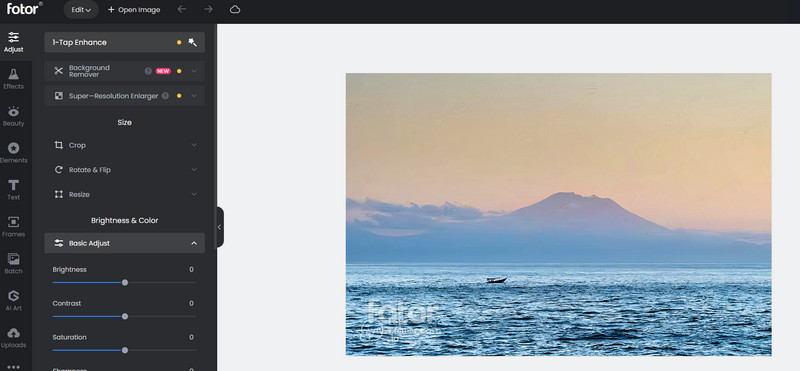 3. Picsart
Picsart is also a photo editing web service you can depend on. Upon visiting the program's page, you will see options for designing photos for social media platforms. Those are convenient, especially if you have a target platform to post your photos. You can access almost every touch-up, filter, effect, and editing tool you need for enhancing photos. What is so captivating about the tool is the organization of its function buttons and features. That makes the program easy to navigate. Even non-tech-savvy people can get used to it in no time. On the other hand, see the steps below to optimize or enhance JPG size, appearance, etc.
Step 1. Search for the tool's official page using any browser on your computer.
Step 2. Then, hit the New Project button from the main page, and you will arrive at the editing page of the tool.
Step 3. After that, upload your preferred photo, and the editing tools will appear on the interface. You can adjust the brightness, contrast, colors, etc.
Step 4. Now, expand the Details menu and play around the Clarity until you get your desired outcome.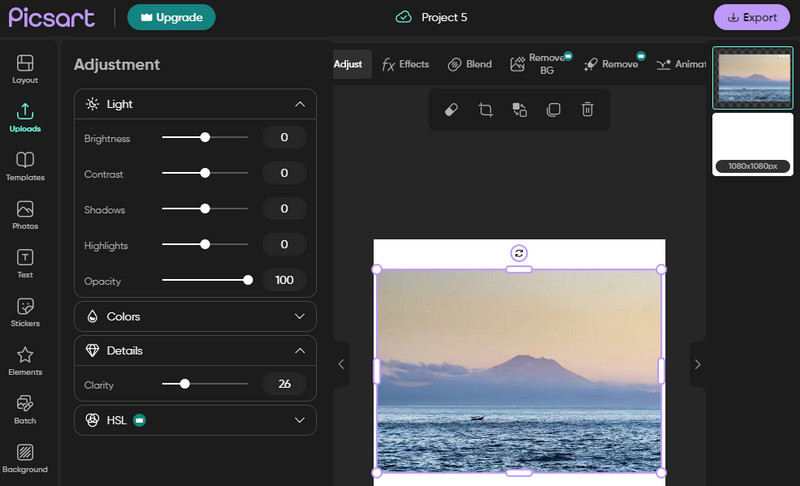 Part 2. How to Enhance JPG, JPEG, and PNG Resolution on Mobile
While there are programs to enhance desktops, there are also for handheld devices. To simplify your work, we discovered useful mobile apps to enhance photos. Learn more by continuing reading.
1. MintAI - Photo Enhancer
You may want to keep old gold photos. With MintAI, you can restore and repair broken or damaged photos. The tool is equipped with powerful AI technology, responsible for restoring old photos, and converting low-resolution photos to high-resolution. Also, you can access features like comic style, where you can turn your photos into comic or cartoon ones. Best of all, it can handle scratches and smudges on your photos.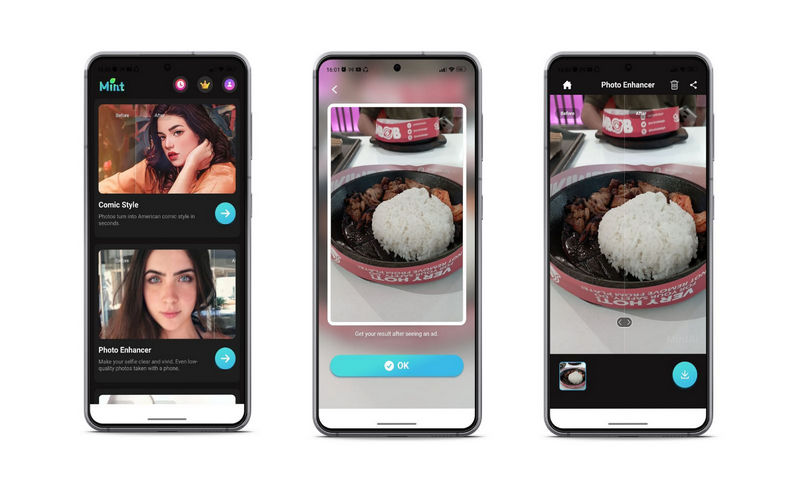 2. Remini
Remini lets you enhance JPG, JPEG, and PNG photos on Android and iOS devices. It does a wonderful job of unblurring, enhancing, and restoring any images on your mobile device. Similarly, it gives you sharp and satisfying results using AI technology. However, it leaves a watermark, and you need to subscribe to access it without any limitations.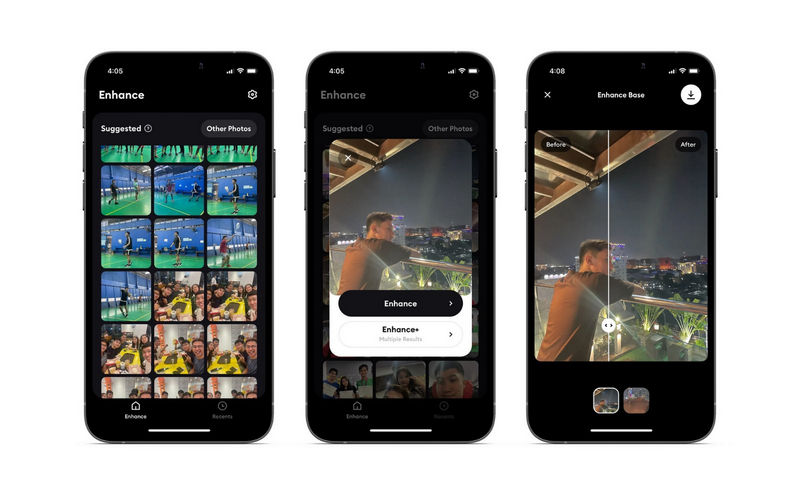 Part 3. FAQs About Enhancing JPG, JPEG, and PNG
What is the best photo resolution?
300 DPI is the standard photo resolution. You do not need to go higher than this resolution or lower because it will either increase the quality or decrease the photo's quality.
Can enlarging a photo increase the quality?
In most cases, yes. However, not all tools deliver efficient results. If you wish to have satisfying results, you should use Vidmore Image Upscaler Online.
Can I convert PNG to JPG?
Yes. However, you will not get the quality from its original format. Yet, if you are not after the quality and make the photo friendly on websites or for sharing, there is nothing to worry about.
Conclusion
This post gives you the best programs to enhance JPG, JPEG, and PNG image files on your desktop and mobile devices. When choosing the best tool, you should consider your working routine or pick according to your preferences. If you are constantly working on a desktop or laptop, you will have a better experience with the desktop tools. On the other hand, go with the mobile tools if you want to enhance images from the comfort of your smartphone.