Best JPG Clear Background Tools to Erase Background in Clever Ways
One element that could either break or make the whole composition of your photo is the background. Choosing the right background for your image files will surely make it extra beautiful and eye-catching. Yet, before you can replace the photo, it is imperative to first learn how to remove the background.
That is usually the trend for JPG photos. If you are in the same situation, you may want to delete the background of your JPG files. Whether you are taking an animal, object, or human out of the photo, there is a tool suitable for your needs. Also, there is no need for specific skills to get this done. That is why in this post, we will show easy and great programs to remove background from JPG images.

Part 1. Remove Background from JPG Online
Suppose you wish to make your background transparent by removing the solid background of your JPG photos online. In that case, Vidmore Background Remover Online is for you. It enables users to remove white background from JPG in just a finger snap. Also, any other photos with solid background colors can be removed using the tool.
Besides, it integrates manual background removal tools to help you select intricate details and separate the foreground from the background. Furthermore, the program supports JPEG, JPG, and PNG files. Actually, the subject is fully customizable, allowing you to adjust its size. Using the inbuilt tools, you can generate sideways pictures, rotate to get the right direction, and so much more.
Learn JPG white background is removed or change background using this program.
Step 1. Launch the JPG background remover
Firstly, navigate the program's website using a browser. To do it, type the program's name on the address bar and enter the page.
Step 2. Import a JPG photo
After that, you should see the Upload Portrait button from the app's main interface. Click this button, and it will open up the folder on your computer. Now, find your target photo to remove the background and upload it into the program. Once it is finished uploading, it will automatically get rid of the background of the JPG.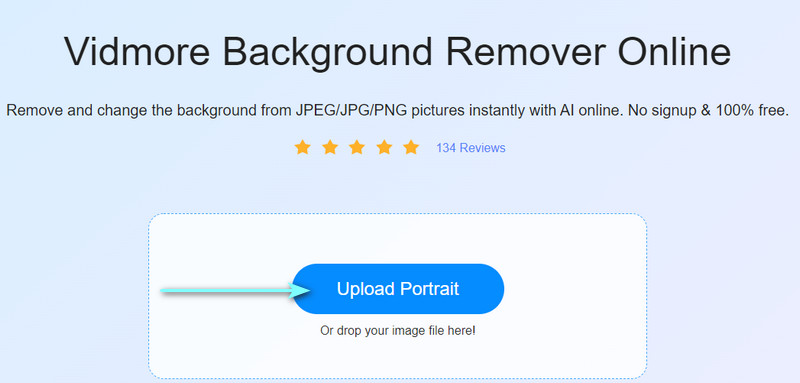 Step 3. Change JPG background
You can modify the background of the picture from the Edit tab. You can choose color background or upload a graphic of your choice. At the same time, you can crop the picture to get your desired photo aspect ratio.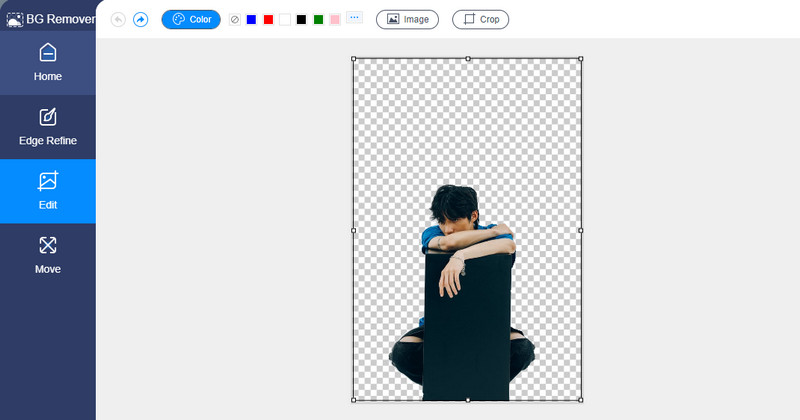 Step 4. Download the image file
If you are done editing your JPG photo, you can grab a copy of your work by clicking the Download button. You can choose to process another JPG photo when you tick on the New Image button.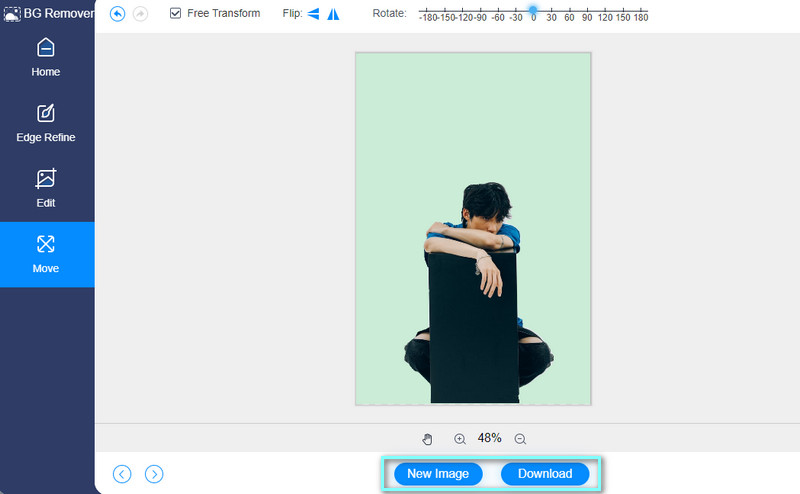 Part 2. How to Remove Background JPG on Phone
You may also be wondering how to get rid of the background using your mobile device. As we know, everything that you can do on a desktop can be done on smartphones. That includes manipulating photos. In particular, you can remove the background at your fingertips. Without further explanation, here are the steps on how to remove background from JPG on the phone.
For iOS:
If you are looking for a capable solution for your iOS device, you should consider using Magic Eraser Background Editor. Using this program, identical color areas can be easily removed. It comes with a Magic Wand tool, which automatically removes the background. Moreover, this tool allows you to edit the photos from your phone's gallery or from a photo you have just taken using your camera. Learn how to make the background out of a JPG. The only issue is the constant pop-up of ads, so better turn off your WI-FI when using this tool.
Step 1. First off, you need to get the mobile app from the App Store on your iOS device. Download and install it. Then, launch the tool to begin.
Step 2. After that, import a photo by selecting from your phone's gallery. Next, choose an aspect ratio you prefer for the photo.
Step 3. Now, tap the Magic Wand tool at the bottom left corner of the screen. Then, select the background to erase it. You may also clean the remaining background using the Eraser tool beside the Magic Wand tool.
Step 4. Lastly, tap on the Share icon at the upper right corner and select a format for your picture.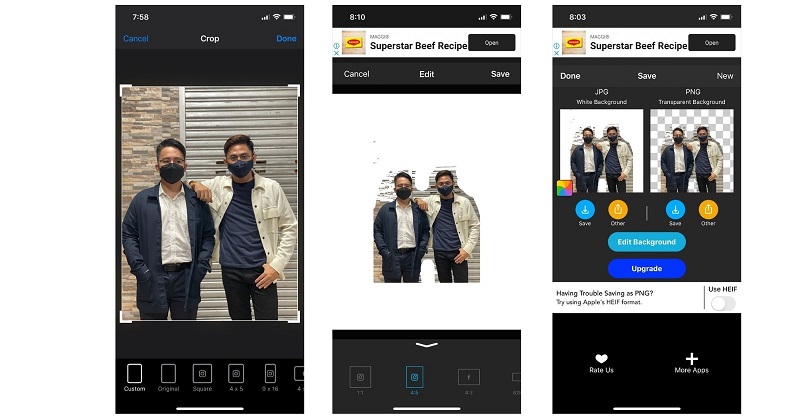 For Android:
Android users may try to go with one of the best mobile apps for JPG clear background operation. None other than Photo Background Change Editor. You can utilize this app to change a person's background or an object. Likewise, the app uses AI technology to automatically remove unwanted backgrounds and objects. Aside from that, it comes with photo touch-ups to produce eye-catching photos. You can adjust the contrast, saturation, brightness, and more with it. To learn how to remove background in JPG, please look into the steps below.
Step 1. Access the Google Play Store and install the app on your Android device.
Step 2. From the app's main interface, upload a JPG image by tapping on the Photo icon.
Step 3. After uploading a photo, the tool will automatically remove the photo's background. Then, you can select a background from the color picker or choose graphics from Unsplash.
Step 4. This time, hit the Save button in the upper portion of your screen to grab a copy of your work.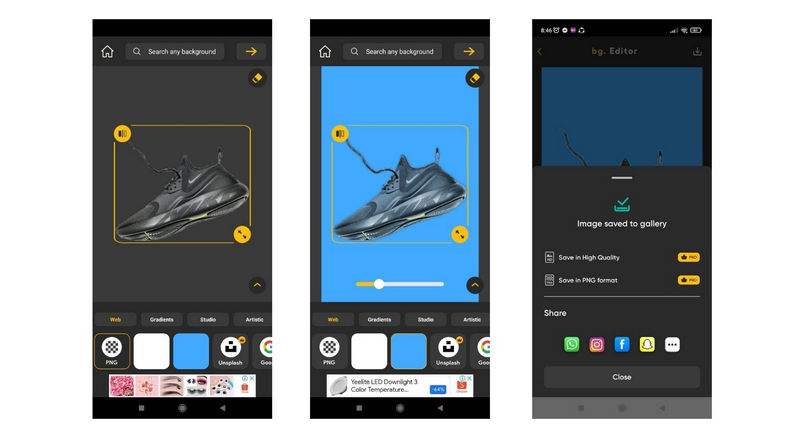 Part 3. FAQs on Removing Background from JPG
Which is better, JPG or PNG?
In terms of quality, PNG wins between the two. Although PNG is more prominent in size than JPG, you can expect a high-quality photo. Yet, suppose your purpose is to upload a photo with decent quality. In that case, JPG is the right image format. Besides, JPG is faster to load on the web compared to PNG.
Can I open a JPEG or JPG file in Photoshop?
Yes. Photoshop accepts both formats. In the same way, when you open any image file, simply navigate to File > Open. After that, look for the JPG file you wish to upload. Optionally, you can drag the file directly in Photoshop.
Is it possible to open a damaged JPG file?
JPG files may be corrupted or damaged due to various reasons. It could be something that happens unexpectedly while the image transmission is ongoing. There are lots of other reasons. But you can try to open the file with apps like Paint or fix the problem by changing the file format.
Conclusion
With the available options, you can get rid of the background from JPG with great ease. There is no need for a particular skill. Just a basic knowledge about photo editing will help you quickly get through the process. Meanwhile, you can choose to accomplish this task on your mobile device or desktop, depending on your current needs or according to your personal preferences.