Android Change Picture Resolution: 3 Workable and Effective Methods
From time to time, people you would capture and post photos. It is also automatic to delete blurry photos from your phone library. Yet, there are cases when that blurred photo has the most pleasing composition or important content making it valuable. Hence, you cannot just erase it that easily.
Good thing you can still salvage your pixelated or blurry photos. If this is the case for your Android device, that would not be a difficult task. To this end, you will need an advanced program to help increase the resolution and bring the photo's total beauty back to life. Here, we round up the recommended tools. That said, learn how to change the resolution of a picture on Android after the jump.

Part 1. Hassle-Free Way to Increase Android Photo Resolution
If you are worrying about paid applications, there are free yet effective tools to help you increase the resolution of your Android photos. You could use Vidmore Free Image Upscaler Online. This program is absolutely free and is fully compatible with mainstream browsers. With this tool, you can change the resolution of pictures on Android using Safari, Chrome, Edge, and more browsers.
It is the fastest way to increase the resolution of your pictures on Android since it is adopted with the latest AI Super Resolution technology. The process of upscaling can be done in seconds. Furthermore, you can enlarge the photo by applying several upscaling factors. You can enlarge at 2X, 4X, 6X, and 8X. If you are interested to learn how to change image resolution on Android, check out the following steps.
Step 1. Visit the program
First, launch your preferred browser and visit the program's main page. Type the link on your address bar to enter the homepage.
Step 2. Import an image
Next, click the Upload Image button from the homepage, and your file folder will appear. From here, select and double-click on your desired photo to import.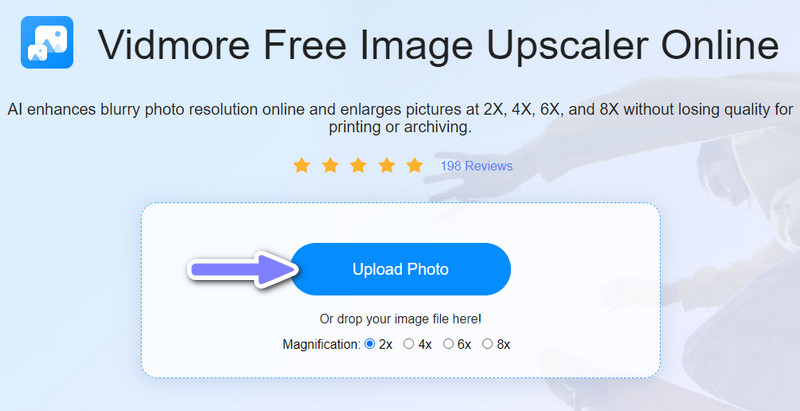 Step 3. Choose a magnification factor
In the next window, you can increase the resolution to 200%, 400%, 600%, and 800%. By default, the uploaded photo will have 200% magnification. Yet, you can change it after uploading a photo.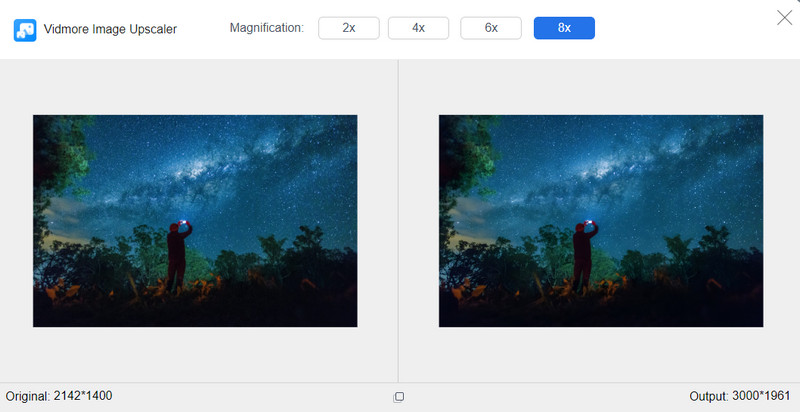 Step 4. Preview and save the output
Once you choose the magnification, please hover your mouse over the output and compare it with the original photo. Once satisfied with the results, hit the Save button, and it will be saved to your download folder.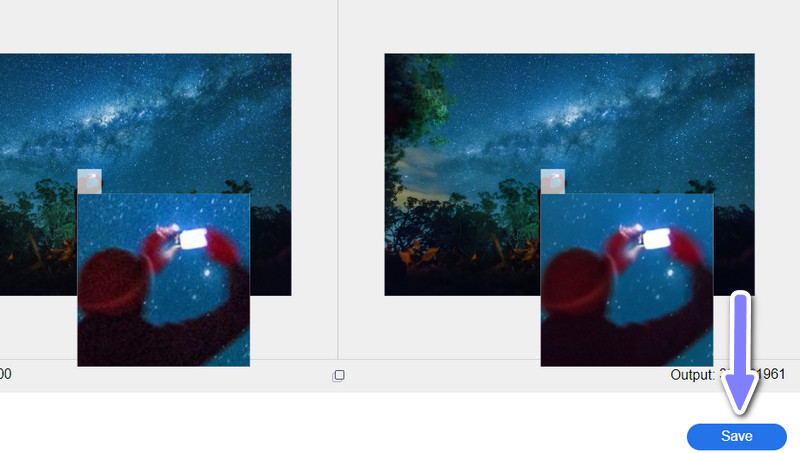 Part 2. Tutorial on How to Change the Resolution of a Picture on Android
Different from the previous method, you can adjust the camera setting and utilize resolution changer apps. Be mindful, though. These methods require some skills. On the other hand, you may use apps to help you with the process.
1. Adjust Camera Settings
The camera setting is an excellent factor in the resolution of your photos on Android. If only you could get good camera settings, you could get high-resolution photos. As we know, high-resolution photos result in high-quality photos. With that said, here are some camera settings you may employ to have Android change picture resolution.
Shoot in burst mode
On the other hand, you can shoot photos in burst mode, which will help you eliminate low-resolution pictures. This camera setting enables you to take multiple shots at a time. By then, you have options on which photo has a good resolution.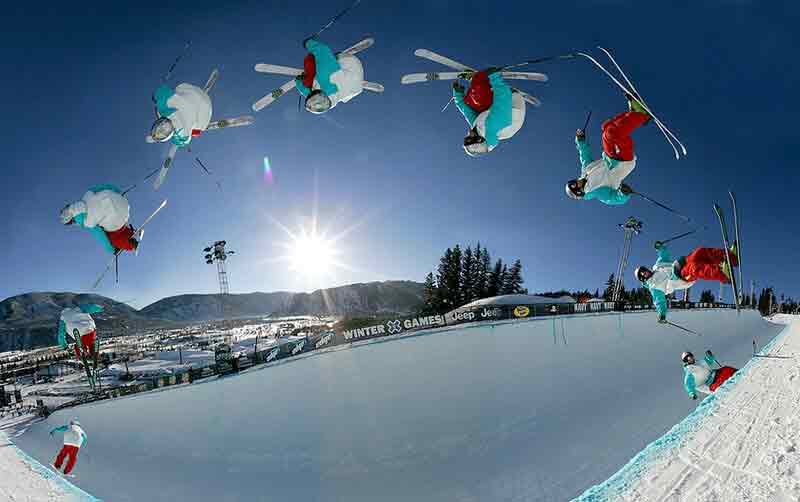 Shoot with HDR mode
HDR, or high dynamic range, takes three different photos at different exposures. It combines and highlights the best parts of the photo. Though it is an old practice, this setting results in more high-definition photos. This feature is introduced on modern Android phones, and you can enable this on the camera settings of your Android. Search for an icon that says HDR somewhere on your phone's screen and tap on it.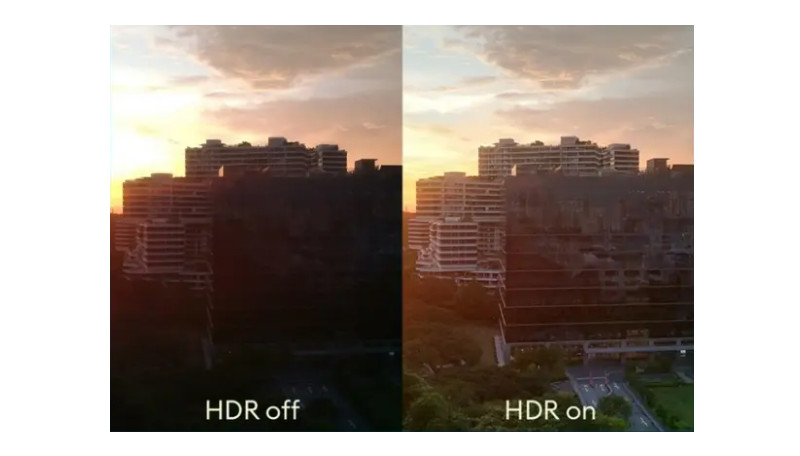 2. Use Resolution Changer Apps
In case you are into a resolution changer program, you can take Photo Resizer - Resize & Crop into consideration. This program facilitates 2048 X 2048, which is right-fit if you only work with pictures lower than the said resolution. Assuming you want to learn how to change the resolution of an image in mobile using this tool, follow the simple guide below.
Step 1. Go to the Play Store on your handheld device and search for Photo Resizer - Resize & Crop. Then, install it on your Android phone.
Step 2. Launch the mobile app and tap the Select photo option from the home screen. Afterward, it will bring you to your phone gallery, where you can select the photo you wish to change the resolution of.
Step 3. Following that, you will see a list of fixed image sizes on the next screen. Tap on your desired size on the list or tap Custom size to resize and change the resolution as per your needs.
Step 4. Once you resize your photo, the edited picture will automatically be saved in your phone gallery. From here, you can preview the new picture.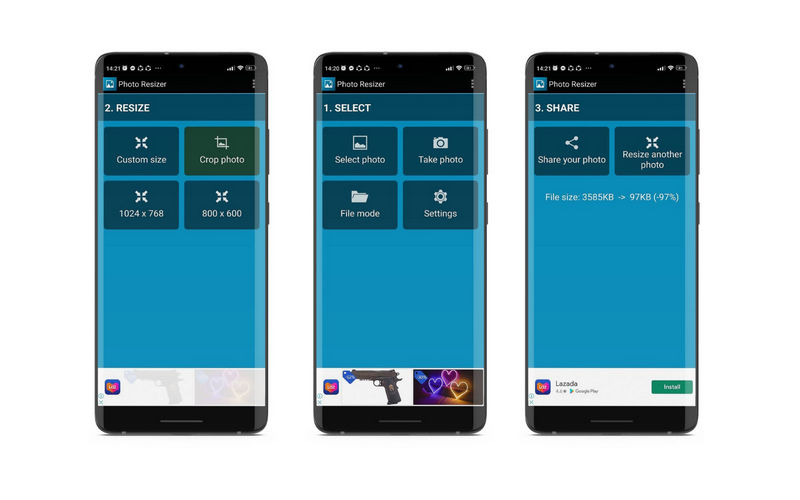 Part 3. FAQs About Increasing Android Photo Resolution
Can I repair blurry photos on my iPhone?
Yes. There are numerous utilities you can use to fix blurry photos. On the other hand, the iPhone comes with a native app to help you with this problem. Open the Photos app and go to Edit. From here, you will see the Definition feature. Swipe the indicated to change the definition and hit Done if satisfied with the results.
How to use Photoshop to reduce the pixelation on pictures?
Photoshop offers many methods for reducing the pixelation of your pictures. Just pick the method that is convenient for you. You can employ blur and sharpen filters, increase the resolution, or create a soft layer over a pixelated image.
What are the tips for improving the quality of a photo?
If you wish to improve the quality of your photo on Android, you can try reducing the amount of ISO. Also, you can max the shutter speed, use a tripod for a stable and still camera, or reduce shaking. Getting the proper settings for white balance could also help check the focus before shooting photos.
Conclusion
If you wish to restore old photos or get a high-resolution for your Android photos, you must learn how to change the resolution of a picture on Android. There are various methods to increase or lower the resolution. On the other hand, try each program and pick the most convenient and suitable method.