4 Great Ways to Restore Old Vintage Photos: Step-by-Step Process
A person's memory or an event can be beautifully preserved and kept alive through photography. It brings to mind a wonderful experience in the past at some point. Because of this, some people have it framed and hung on the wall, while others have it placed in an album. However, over time, these images will become less clear. There is still a chance to achieve our good fortune because of the available modern tools. Learn how these image enhancers do the old photo restoration.

Part 1. Can I Restore the Quality of Old Photos
Most people have given up hope that they can restore their vintage images. Especially if they do not have the financial resources to hire a digital photo restoration specialist. They knew that this was the only method to bring back the original quality of their older photographs. Fortunately, numerous image enhancers are being developed and distributed across the internet. It is unnecessary to have your old photographs repaired by a digital photo specialist to show them the love and respect they deserve.
You only need a few simple programs for photo editing to be able to improve, retouch, and colorize your images. The result will be of high quality.
Part 2. How to Restore and Enhance old Photos
1. Vidmore Free Image Upscaler Online
The best way to restore and create a good image for your image is through Vidmore Free Image Upscaler Online. This internet program offers a free service without paying anything. Aside from that, you can also access it on both Mac and Windows search engines. Even if your image is very vintage, nothing to worry about. It will help you enhance it and restore its original quality.
Vidmore Free Image Upscaler Online is powered by artificial intelligence, making it easier and with excellent output. Unlike other image enhancers that demand much navigation before you can restore the quality of an image, this internet-based program is elementary and straightforward to use. All you must complete is add your image to the program's interface, and everything will be settled then. And lastly, you can also choose the type of magnification you want for your photograph.
Step 1: First thing to do is go to the main page of Vidmore Free Image Upscaler Online. Click the Upload Photo. After that, get the old image you want to restore.

Step 2: Once the AI has processed the image, it will show you the before and after image to see the improvement. If you are not pleased with the scale, choose from the list of Magnification above.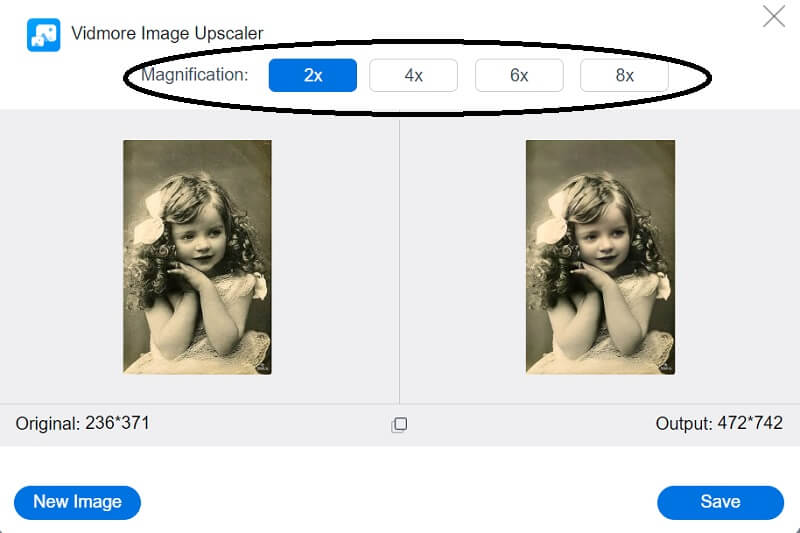 Step 3: After choosing your desired Magnification, tap the Save button that you will see below the image.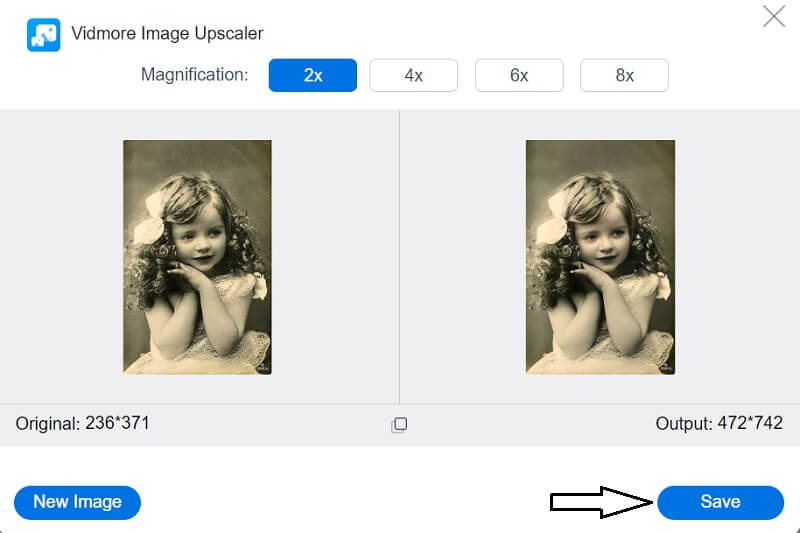 2. LunaPic
One of the most well-known online image editors, LunaPic, is compatible with all browsers and can be used without cost. Even though the editor lacks many advanced features, it can still fulfill all of the fundamental requirements necessary to restore old photographs online. LunaPic can be downloaded for free means that you won't have to shell out any money to fix your damaged photographs. Examine the process you will use to restore your image using this tool.
Step 1: To begin, you need to go to LunaPic's main website and click the Choose File button. It will open a new window in your browser where you can select your photo to load into the LunaPic editor after the window has finished opening.
Step 2: After that, select the Adjust tab, then locate the Photo Restore option by scrolling to the bottom of the page.
Step 3: In the final step, navigate to the File section of the app and select Save Image from the lineup.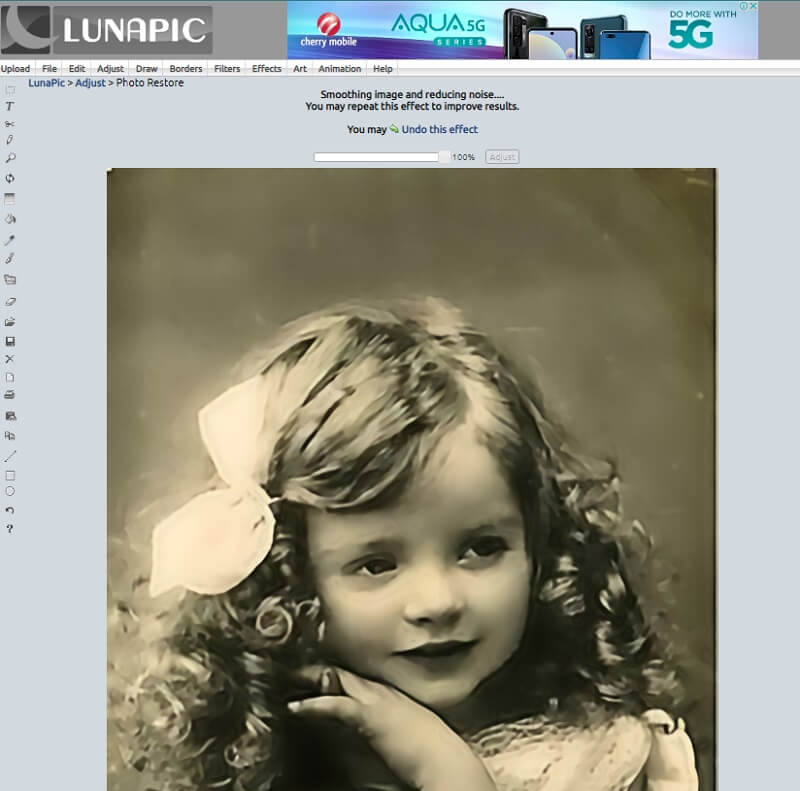 3. HotPot
You can also utilize the machine learning technology contained within the HotPot to restore your image. The online tool is supported with AI-integrated capabilities that can automatically identify spots on your image and heal them seamlessly. You may access the features here. There are no choices for customization, and the application will automatically execute the restoration of images is the only disadvantage that it has. Although it will save you time, there is a possibility that it will not produce the desired outcomes.
Following the instructions below will allow you to use the HotPot function to perform free online picture restoration on older photos.
Step 1: Navigate to the official HotPot website, select the AI photo restoration option from the drop-down menu, and click the Upload button. It will allow you to browse your device for photos and import them into the HotPot utility.
Step 2: After the photo has been uploaded to HotPot, you will be able to view it and decide whether or not you wish to remove the scratches. After that, you have to click the Restore button and wait for the artificial intelligence program to find any flaws in the picture you uploaded.
Step 3: HotPot will let you know once the restoration process is over after it has finished. You can obtain a preview of the image by clicking the Enlarge Image button or saving it to your device by clicking the Download button.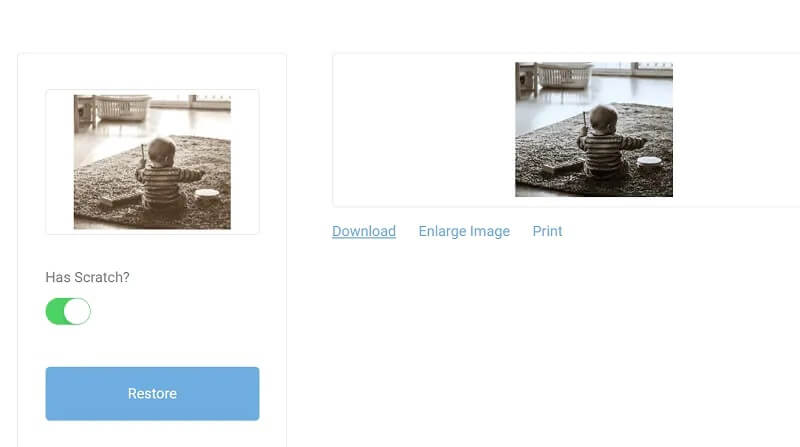 4. PixCut
When it comes to restoring older pictures, you can also rely on the support of Wondershare PixCut. The application is most helpful in improving the overall quality of an image. However, it also has a feature to eliminate spots from the image. The only requirement is to upload your picture, fix any imperfections you find, and save it to your computer. The following is an example of how PixCut, which is offered for free and provides satisfaction and good functioning to repair old pictures online.
Step 1: Once you have found your way to the PixCut website, you will have to click the icon labeled Upload Image to upload the image that you wish to modify.
Step 2: When this process is finished, it will display both the original image and the enhanced version.
Step 3: You are free to go to the subsequent stage, which requires selecting the button labeled Download without the Watermark. On the other side, you will need a more significant credit amount than what you presently have to install this without a noticeable watermark.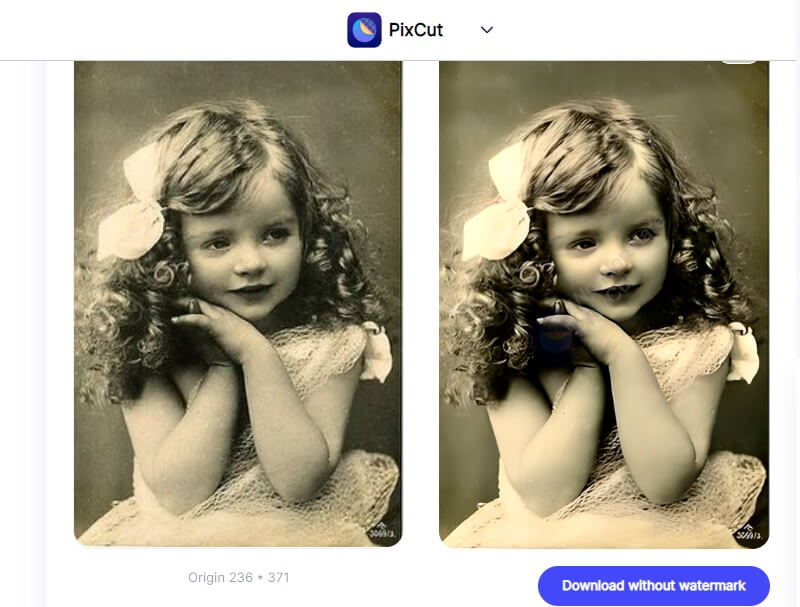 Part 3. FAQs About Restoring Old Vintage Photos
How much does old photo restoration cost?
The typical cost of a repair is $250, but the maximum cost of a comprehensive restoration may be as high as $500. Due to the involvement of multiple specialists in the process, high-end photo restoration is not an inexpensive alternative.
Why are vintage photographs so yellow?
The sun's rays can cause photographs and other works of art to fade over time and become discolored. However, another reason is that the printing, framing, and storage materials all include acid. The good news is that you will be able to get rid of the yellow hue present in your picture if you use a photo enhancer.
How long does photo restoration take?
From the time the estimate is accepted to the time the repaired photo is delivered, the entire photo restoration procedure typically takes 15-20 business days. It may take a few days if you're ordering prints. To avoid waiting any longer, you can use various tools for vintage photo restoration if you don't want to wait any longer.
Conclusions
As you can see, it is not hard at all to learn how to restore old vintage photos online. By using any one of the four readily available programs. In addition, the instructions for using each instrument are available online. You are welcome to experiment with some of the tools right away, given that they are provided at no cost to you.