How to Upscale Image to 4K Without Losing the Quality
Upscaling an image has become more straightforward because of the apps and technologies developed by the digital industry. Due to the low quality of the photograph, you won't have to keep retaking the same pictures repeatedly. There are various approaches to improving your pictures and getting their resolution high. Check out these 4K image upscalers written about in this piece if you are seeking a way to upscale the quality of your images.

Part 1. Can You Upscale an Image to 4K
When people want to resize an image, their primary objective is to reduce its size somehow. However, when they wish to resize an image to make it bigger, that is a different matter entirely. There will almost always be a more significant issue when an image is scaled up. In most cases, the results are a hazy appearance. There is a straightforward justification for each of these regulations. The image editing program will remove part of the image's pixels to get the desired result of making the image smaller.
However, to make an image more significant, it is necessary to add information to areas where there were none previously. Fortunately, this is not a hopeless cause, and some applications can magnify photographs without degrading their quality. These applications rely heavily on the assistance of artificial intelligence.
Part 2. How Can You Upscale an Image to 4K
To help you upscale an image, here are some tools you can use.
1. Vidmore Free Image Upscaler Online
Vidmore Free Image Upscaler Online is the most reliable tool for upscaling images to 4K. It is a simple image enhancer that you may find online. And it's accessible from both Mac and Windows devices. Even though it is a web application, it functions perfectly.
Users will find that Vidmore Free Image Upscaler Online helps them complete their work quickly. And all of this is possible thanks to the assistance of artificial intelligence. Because after your picture has been imported into the interface, it will immediately begin to enhance it. Aside from that, the Vidmore Free Image Upscaler Online will let you select the image you want without lowering its quality in the process. This tool is also available at no cost! As a result, you are free to increase the resolution of your photographs to any extent you like.
Last but not least, this picture enhancer is compatible with a variety of image formats, which expands the program's application scope.
Step 1: Enter Vidmore Free Image Upscaler Online in the search bar of your preferred web browser. When you arrive, look for the icon labeled Upload Photo. Navigate to the folder containing the image you wish to add and press it.

Step 2: Artificial intelligence then processes the image. You will be able to match the image as it appeared before processing with the outcome. You need only adjust the Magnification until you reach the required zoom level.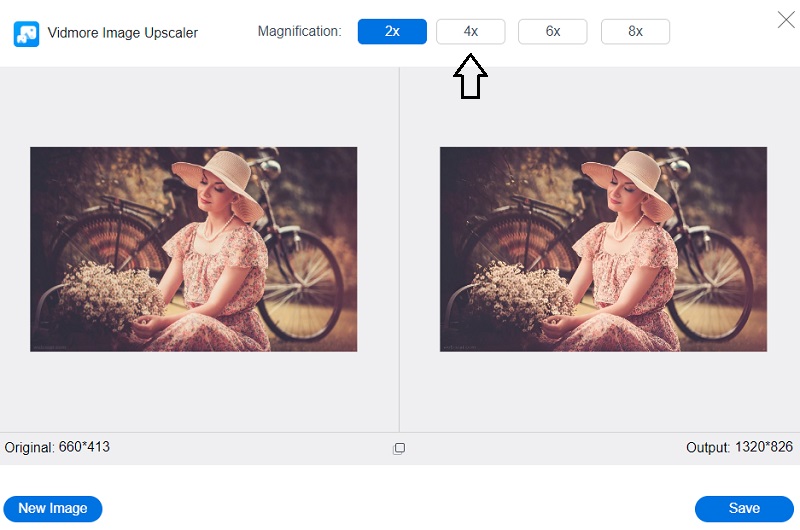 Step 3: You shouldn't hit the Save button until you've confirmed that both the result and the increased version of your photo are to your liking.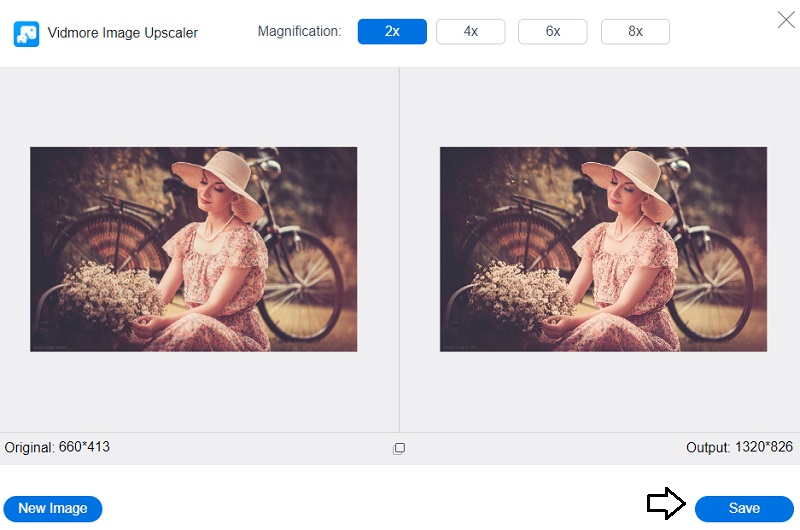 2. Photoshop
Photoshop is the most widely patronized program for enlarging images without degrading overall quality. If you are a graphic designer or alter photographs frequently, spending the money on the software will be money well spent even though it is not inexpensive. Suppose you are unsure how to expand a photo without degrading its quality. In that case, the Preserve Details tool included in the software is an excellent choice.
Whether you are working with a low-resolution photograph to begin with, or just neglected to save a picture in a high-quality format, this can be of assistance.
Step 1: Launch the Image you wish to enlarge so you may work on it. Check to see that the feature is turned on. Select Technology Previews after navigating to the Preferences menu.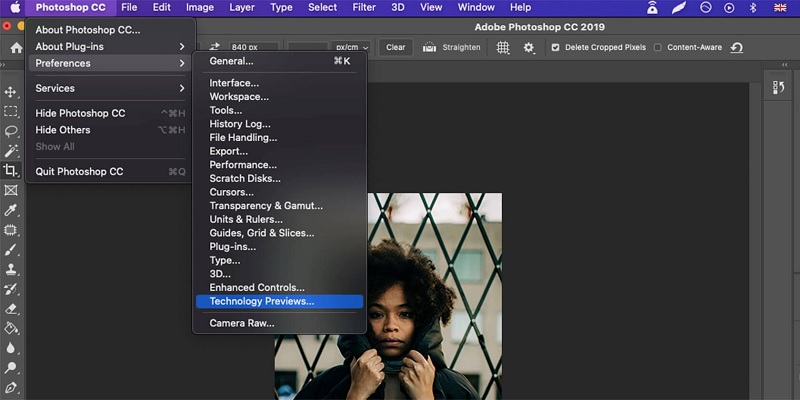 Step 2: Check that the option to allow Preserve Details 2.0 upscale is selected, then press the OK button. The next step is to scroll back to your image and, from there, select the image. Once there, check for the option labeled Image Size.
Step 3: Make the necessary adjustments to the image's proportions using the pop-up window, but hold off on clicking OK for the time being. And finally, next to Resample, replace the word Automatic with Preserve Details 2.0 in the drop-down menu.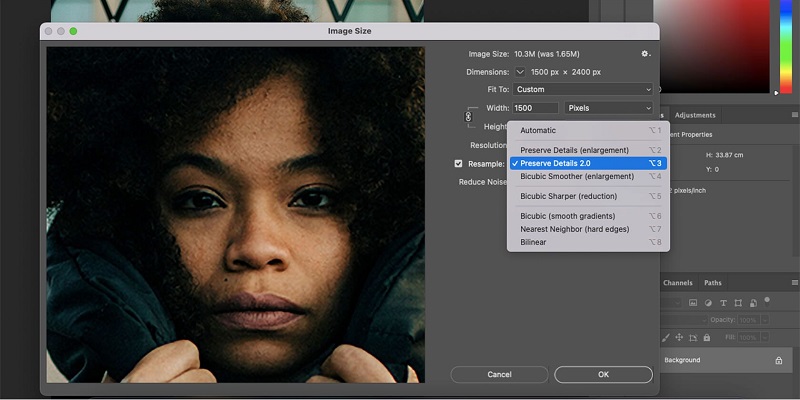 3. GIMP
You can use the GIMP as straightforward painting software, a photo editing program of expert grade, an internet batch processing system, an image renderer for mass production, and an image format adapter. The GIMP is capable of being expanded and extended. It is intended to be enhanced through plug-ins and extensions, which you can use to perform virtually any task. In addition, if you seek an image enhancer that is not Photoshop, there are other options. The steps that are listed below can serve as a guide for you.
Step 1: Launch the program and then open the small image. Navigate to the Images tab and look for the Scale Image.
Step 2: After that, enter the dimensions that you prefer.
Step 3: Next to Interpolation, select No Halo, and click Scale to complete the process.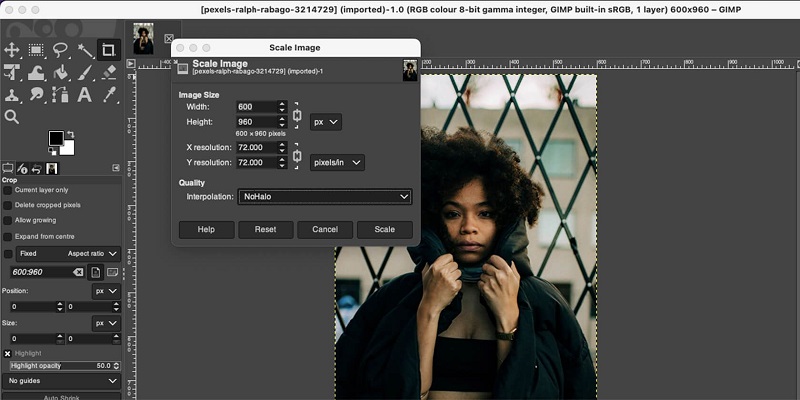 4. BeFunky
BeFunky is a piece of software hosted online and can be used without cost. It indicates that you can use it on any computer without installing anything on that computer to do so. Despite this, it offers a wide range of editing capabilities in addition to the image scaling function. Because of this, it is equally valuable as the others. The user interface is intuitive, and there is also the possibility to process photographs in batches. You will be able to save a significant amount of time by using this to resize numerous photographs simultaneously.
You'll need to pay for an upgrade from the free plan to use the AI Image Enhancer, even though it's relatively calm in its own right. Here's how to make your photographs look more professional using BeFunky.
Step 1: Drop the image you want to enhance onto the online upscaler.
Step 2: From the left menu, select the button labeled Resize.
Step 3: After that, scale the image up by either altering its pixel count or increasing the proportion of its original size. The last step is to make the changes take effect by clicking the Apply button.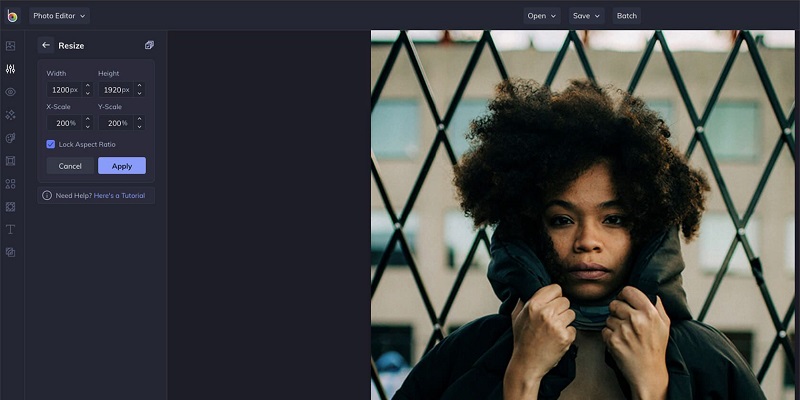 5. UpscalePics
The purpose of the program UpscalePics, which its name suggests it will do, is to increase the size of an image. Its primary purpose is to magnify images without degrading their overall quality. It is not a software for editing that also has this option; instead, it is software that is solely designed for resizing images. In addition, the user interface for this platform is web-based, which means that all you have to do to use it is upload a picture and press a few buttons before you're finished. Sadly, there is a cost associated with using this tool.
Step 1: You can upload pictures from your desktop to the site using the dragging and dropping method.
Step 2: After that, you will be given the option to enter precise pixel dimensions or boost the resolution to a value of up to 8K.
Step 3: Select the type of file where you will save your photograph. Please be patient, as your photograph will take some time to be saved in the folder.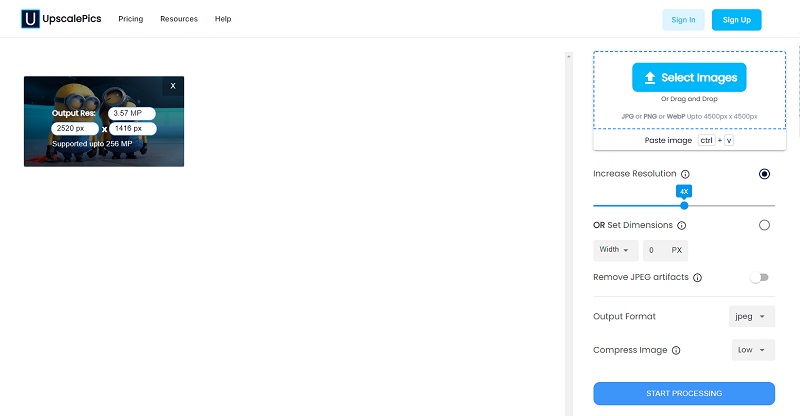 Part 3. FAQs About Upscaling an Image to 4K
What does it mean for an image to be upscaled?
Proportionally resizing a digital image is referred to as scaling. The term 'upscaling' refers to magnifying and improving the quality of an image so that it appears more significant and more impressive. You can transform a photo with a low resolution into one with a high resolution or even a super-resolution through image upscaling.
What are some ways that I can increase the picture's resolution?
Utilizing a specialized piece of software that can raise the total number of pixels in an image without compromising its quality is the most efficient method for improving an image's resolution. Other methods include: These programs are sometimes known as image enhancers or photo upscalers.
Is a resolution of 4K the highest currently available?
At this point, 4K has surpassed both HD and full HD to be the most popular choice for TV resolution across all of the leading brands of televisions. However, the maximum possible resolution.
Conclusions
Upscaling an image to 4K resolution is a simple process in today's world. You won't have to be concerned about the compromised quality of your image because the list mentioned above of image upscalers is at your disposal. You have to select the option that will most assist you.