How to Decrease Image Quality Effortlessly (Top Picks 2023)
Images have been part of our daily lives, from capturing unforgettable events to beautiful places. Meanwhile, images come in different file sizes. For this reason, they take too much memory on devices resulting in the slow performance of a device. As we know, good storage management means better device performance. The good news is that there is no need to delete your precious photos.
You can reduce the size of your photo by lowering the image quality. Doing so can significantly decrease the disk space consumed, allowing your device to run better. That said, we outlined the best low-quality image maker tools to help you manage your device's disk space without deleting your photos. Let us break down the list below.

Part 1. How to Lower Image Quality Using the Best Image Quality Reducer
On top of our list is Free Image Compressor Online. It is a web-based program that compresses photos, supporting any image format quickly and easily. That is possible because the program is infused with Artificial Intelligence technology. In fact, it supports JPEG, JPG, PNG, GIF, and many more. Besides, it compresses and shrinks the image's file size while maintaining the original quality.
Aside from that, it can reduce the file size of a photo by up to 80%, which is a significant reduction in the media size. You will surely be able to free up more disk space on your desktop or mobile device. Furthermore, its batch processing feature enables you to simultaneously process multiple photos of different image formats. On the other hand, here is how to lower the quality of an image using this program.
Step 1. To begin with, launch your favorite browser and type the tool link on the address bar. After that, you should get to the main page of the program.
Step 2. Click the Plus sign button from the main page and add the photo you wish to constrict. Alternatively, you may drag the photo directly to the program.

Step 3. Once you successfully upload the photo, the program will automatically compress the photo. It should show the original and new file size of the picture. Finally, click the Download All button to get and download the compressed photos.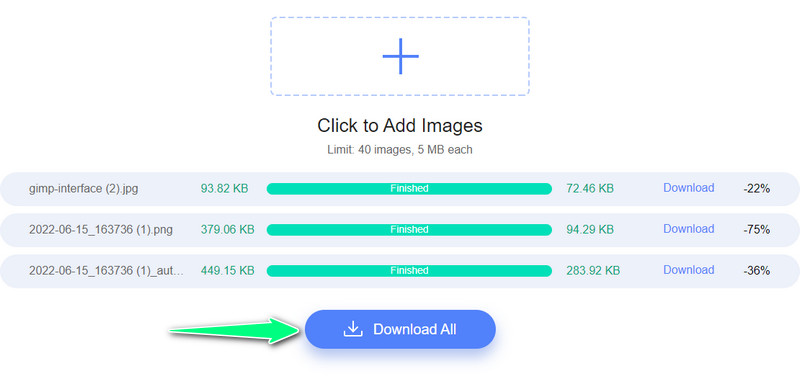 Part 2. Another Four Ways to Make an Image Lower Quality
Perhaps you are looking for more solutions to help reduce or shrink a photo's file size. Without further discussion, check out these remarkable tools.
1. ILoveIMG
ILoveIMG is a browser-based tool to reduce the file size of your photo to free up space on your mobile device or computer. Like the first solution, it facilitates batch compression to process numerous pictures simultaneously, saving time and effort. In comparison, similar programs allow for uploading photos from a local drive. This program allows you to upload image files from Dropbox and Google Drive. On top of that, it has a clean user interface. That means an easy and fast file size reduction process. Follow the instructions outlined beneath to learn how to make an image lower quality.
Step 1. Visit the program's website using any browser on your computer.
Step 2. Next, hit the Select images button and upload the photo(s) you wish to shrink.
Step 3. Once done, click the Compress IMAGES button at the bottom right corner of the interface. Then, download the shrunk photos.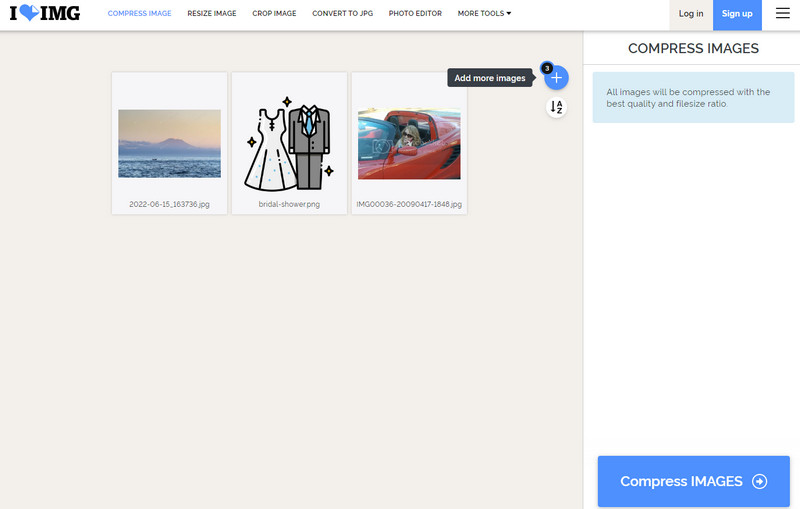 2. JPEG-OPTIMIZER
You can also use JPEG-OPTIMIZER to reduce image size without losing quality. What makes the utility different from other programs is that it enables users to customize the compression rate from 0 to 99 and provide a new size for the photo by changing the width in pixels. See the simplified guidelines below if you wish to learn how to make a low image quality.
Step 1. First off, get to the tool's official site and click the Choose File button to upload your desired photos.
Step 2. This time, checkmarks on the Compress Image and Resize Photo checkbox.
Step 3. After that, key in your desired compression rate and the new photo width in pixels.
Step 4. Finally, press the Optimize Photo button to shrink the file size of the uploaded picture.

3. PNGOUTWin
You probably do not have access to the internet all the time. But there is nothing to worry about because you can use PNGOUTWin to compress image files offline. This program has a user-friendly interface that allows you to easily shrink photos. Find out how to make an image smaller without losing quality by following the tutorial below.
Step 1. Acquire the program from its official webpage and launch it on your computer.
Step 2. Now, click File and select New File Conversion. Next, add the photo you wish to compress.
Step 3. The photo will automatically be compressed with the tool.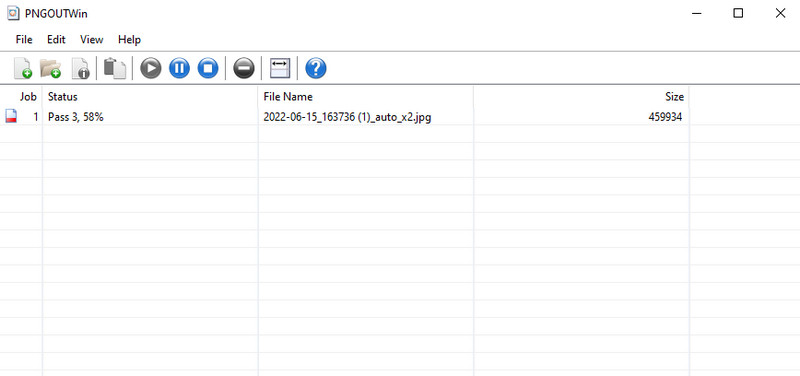 4. JPEG Compressor
An alternative offline program to decrease image quality is JPEG Compressor. It is a desktop program that compresses photos in an instant. Likewise, it enables you to specify and size according to your needs. Learn how to lower the quality of an image by reading the step-by-step process below.
Step 1. Download and install the software. Then, run the JPEG Compressor app on your computer.
Step 2. Add the photo you wish to compress, and the tool will automatically shrink the photo's file size with a preview.
Step 3. Finally, save the edited photo on your device.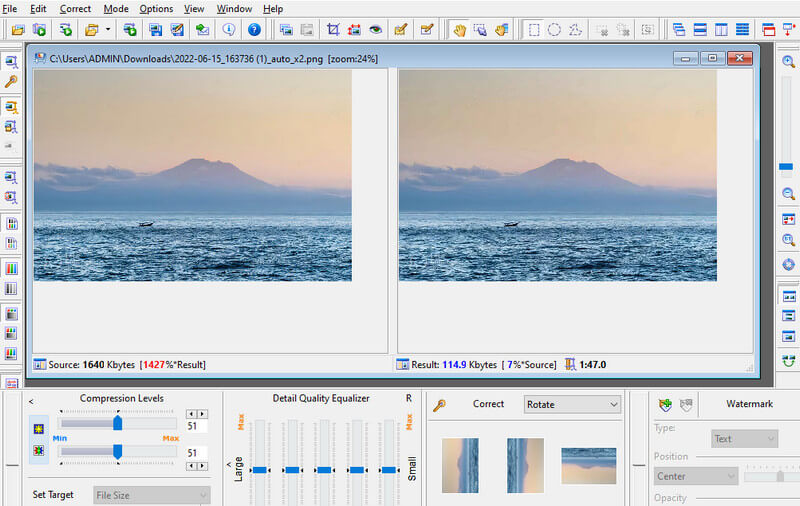 Part 3. FAQs About Lowering Image Quality
Can I reduce the JPG file size to 100 KB?
Yes. That is possible, especially when the photo has a file size under 1MB. Alternatively, you can use a compressor that allows you to set the compression level to get your desired file size.
Does compression decrease the photo's quality?
Yes. Compression does decrease the quality of a photo. But, you can use the Free Image Compressor Online to shrink the file size of a photo without losing the quality. Remember that compressing the photo using a very low compression level will significantly reduce the photo's quality.
Does resizing increase the picture's quality?
Yes. Most photo enlarging apps should help increase the photo quality rather than doing the other way around.
Conclusion
Those are the image quality reducers that can give you an excellent experience in compressing photos. Using these tools, you can now free up disk space on your device, making it run smoothly and perform better. It is good to know many tools as you can test and try which tool works for you best.