Guide to Convert Images to High-Resolution for Free with Photoshop
You have finally picked the right photo for your presentation or for posting online. However, your target picture is in low resolution. Meaning the photo does not have good quality. A common rule is that the photo for posting online or presentation must have high quality. That is why many people invest in an excellent camera to capture great-quality photos.
But we will not instruct you to buy a high-end camera. Instead, we will give you workable means to help you convert low-resolution images to high-resolution online for free and using an advanced program. On that note, here are handy tools that will assist you. Read on to learn more.

Part 1. Can You Upscale Low-Resolution Image
Nobody likes a low-resolution image. Now, is it possible to get rid of that pixelated photo? The answer is yes. Making the image smaller does not take too much toll on the photo's resolution. Yet, when making an image bigger, that is where the problem lies. The resolution is reduced, making the photo look pixelated and blurry.
Meanwhile, there are times when the photo is naturally blurry. This case usually occurs when you have a problem capturing photos that turn out a little pixelated. It is not a losing battle because you can convert low-resolution images to high-resolution free online and using a dedicated photo editing tool. Check them out below.
Part 2. How to Convert Low-Resolution Image to High Resolution for Free
Allow Vidmore Free Image Upscaler Online to handle your blurry and pixelated photos. With it, it is possible to enlarge photos without losing quality. The program lets you zoom in and resize photos at 2X, 4X, 6X, and 8X. You may try each magnification level to find the most suitable setting for your needs. Furthermore, various types of images can be processed using this program. You can use it for pixelated anime pictures, cartoons, and wallpaper while preserving the quality.
What makes the tool captivating is you can have a preview of the photo before downloading it. Not to mention, it comes with an inbuilt magnifier that lets you view the details of the upscaled photo if the quality was enhanced. The program's interface is easy-to-operate, and you can complete your task in no time. That said, follow the steps below to learn how to use this free online high-resolution image converter.
Step 1. Access the tool
Before anything else, visit the program's website by typing its link on your browser's address bar. Then, you should enter the main interface of the tool.
Step 2. Import a photo to upscale
From the main page, hit the Upload Image button, and your folder will appear. After that, browse through your files and double-click on your desired photo. You can choose any photo, including JPG, JPEG, or BMP.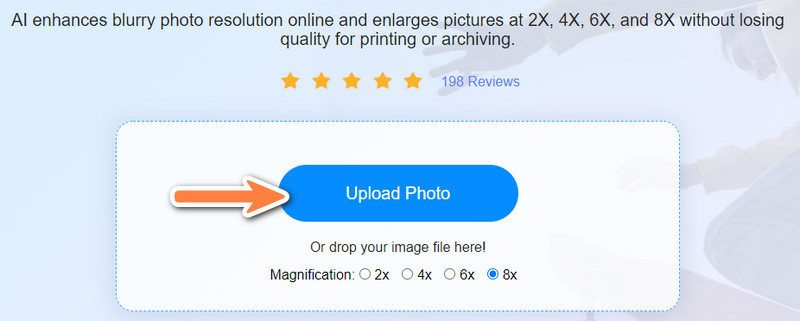 Step 3. Convert the image to high-resolution for free online
Choose an upscale factor from 2X, 4X, 6X, or 8X. Upon choosing the upscale factor, the tool will automatically increase the photo resolution to higher. You may also hover your cursor over the picture to see the changes.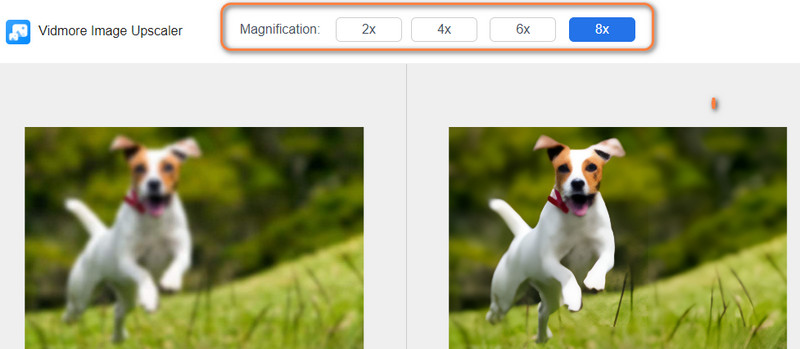 Step 4. Download the upscaled photo
If you are already pleased with the outcome of your photo, save it on your computer. You can do this by clicking the Save button at the bottom right corner of the upscale window. Then, the upscaled photo will be saved automatically on your download folder. Now, you can share it on your social media accounts without hesitation.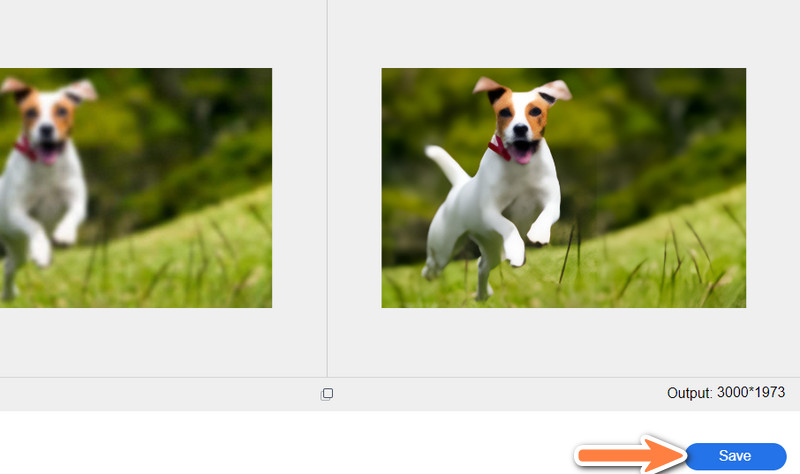 Part 3. How to Convert Low-Resolution Image to High Resolution in Photoshop
Unlike the previous option, Photoshop is a desktop tool that works offline. You do not have to connect your computer to the internet to edit a photo or convert images to high-resolution. However, you need to meet the program's minimum requirements for it to run smoothly. That means you need enough space on your hard disk.
Nonetheless, it has various editing tools, allowing you to resize photos without compromising the quality. The best part is that it comes with a preserve details feature, which could help you enlarge photos delivering great results. With its authoritative features, you can do more than just resizing photos. Yet, it is worth noting that it will cost you a pretty penny. After all, it is worth investing in if you are going to use it regularly. Here are the steps on how to convert low-resolution images to high resolution in Photoshop.
Step 1. Get the program installed on your macOS or Windows PC. Right after, install and launch it on your computer.
Step 2. Add an image file to the app, and the photo will be added to the editing panel. After that, enable the Preserve Details feature.
Step 3. To enable this feature, navigate to Edit > Preference > Technology Previews. Make sure that the Enable Preserve Details 2.0 Upscale is enabled. If not, put a checkmark on the checkbox and hit OK to confirm.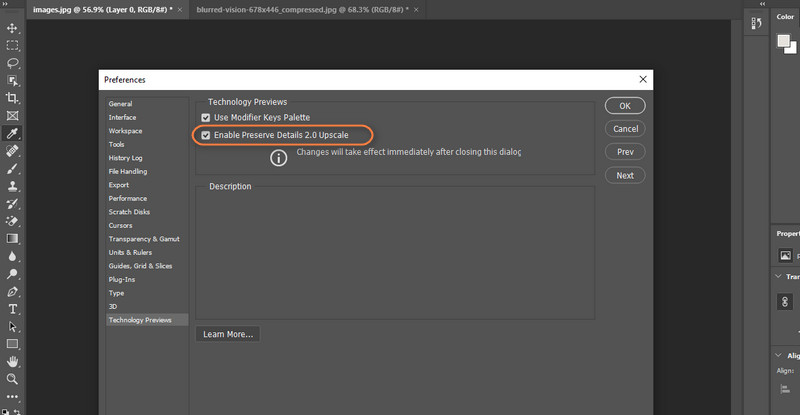 Step 4. Now, resize your photo by going to the Image menu. Next, select Image Size and change the dimension according to your needs.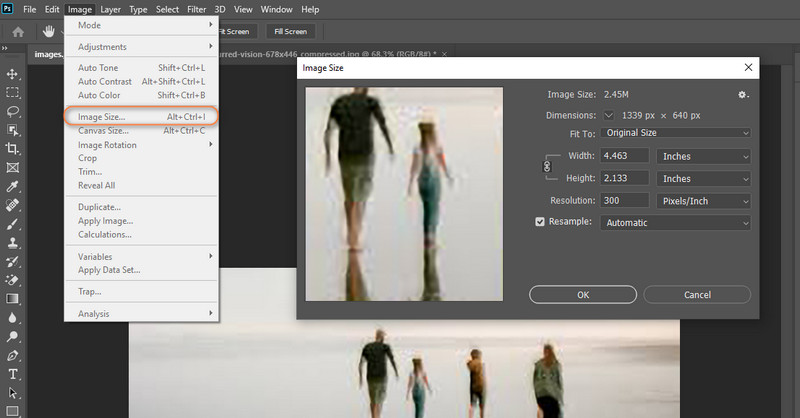 Step 5. This time, open the Resample drop-down and pick the Preserve Details 2.0 from the selection. You can reduce or increase the noise using the slide provided. Finally, press OK to confirm the operation. That is how to convert low-resolution images to high-resolution images in this tool.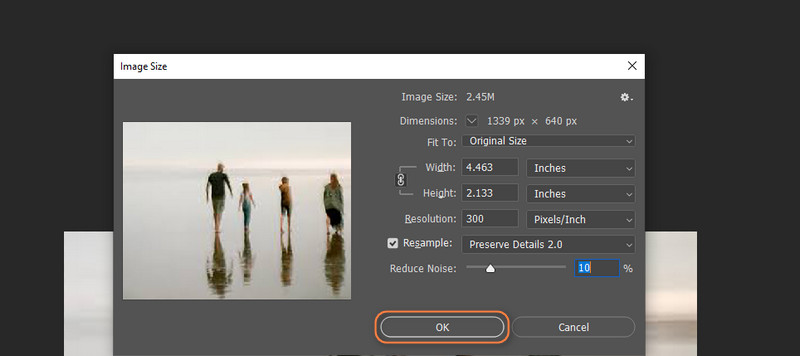 Part 4. FAQs About Upscaling Low-Resolution Image
Can I repair pixelated photos?
It is possible. However, it takes skills and a good app to help fix pixelated videos. In this case, you can use Photoshop or Vidmore Free Image Upscaler Online to fix blurry and pixelated photos for your convenience.
Is it possible to fix blurry photos on mobile?
Yes. There are tools that can help you get this job done. That includes Pixlr, Vidmore Free Image Upscaler Online, or Photoshop. Just search and try them to find the right tool for you.
How do I know the size, format, and resolution of a photo?
Usually, you can look up the details of the photo, like the format, size, resolution, etc., using a photo app on your device.
Conclusions
The above tutorial demonstrates the free online convert low-resolution to high-resolution process. Also, a Photoshop tutorial is provided as another option for increasing the resolution of your photo. Therefore, increase the resolution of your photo using these programs and share it online with confidence.