7 Top Solutions on How to Make a Picture HD- Desktop & Mobile
There are just some inevitable occurrences that cause pictures we capture to be blurry. It could be due to problems with auto-focus, subject movement, poor lens quality, camera shake, etc. Even professional photographers experienced these problems and ended up with their blur photos. In other words, you cannot solely rely on devices all the time.
Of course, you cannot just let it be considering the efforts and time you invested to capture that special moment of yours. It makes someone furious in most cases. But, do not lose hope. You can salvage those blurry photos of yours using reliable solutions to make better quality photos. That said, let us break down the list of top solutions on how to make a photo HD.

Part 1. How to Make a Photo HD on Windows and Mac
These desktop programs are for you if you are accustomed to working on a desktop or just want to edit photos in a large working space. Learn more about these tools by reading below.
1. Vidmore Free Image Upscaler Online
With Vidmore Free Image Upscaler Online, you will not worry about grainy or pixelated photos. It delivers spectacular results because it is applied with AI Super Resolution technology. Whatever the orientation of your photo, portrait, or landscape, the tool will help you improve its quality quickly and easily.
Besides this, it has a user-friendly interface, allowing every user to navigate the program in no time without any problem. Moreover, it ensures you will get an HD photo quality by providing upscale factors, including 2x, 4X, 6X, and 8X. On the other hand, here is how to make an image HD using this program.
Step 1. Go to the program's official website by typing its link on your browser's address bar. After that, you will enter its homepage. Hit the Upload Photo button and import the image you wish to edit.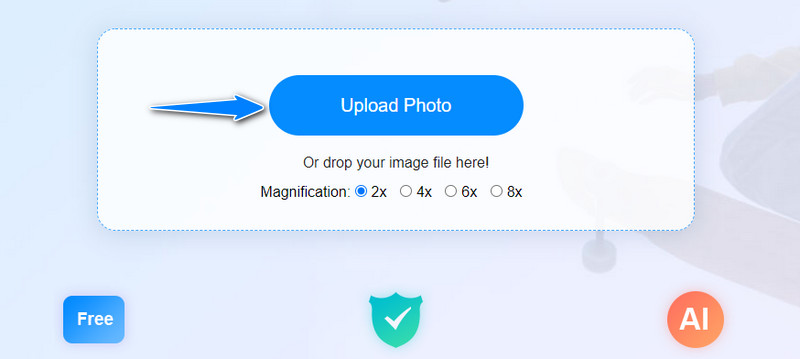 Step 2. This time, your uploaded photo will be automatically upscaled to 2X upscale factor, and you will already see its improvement from the original photo. Hover over the image to see details. Select an upscale factor according to your requirements to further enhance the photo.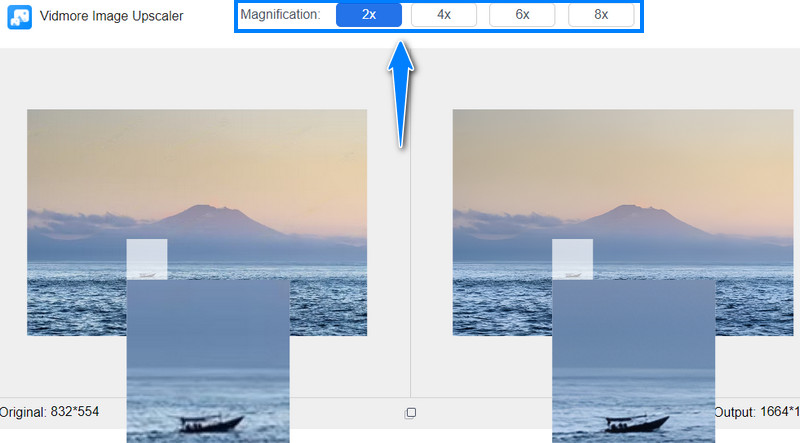 Step 3. Once you are delighted with the results of your photo, click the Save button, and it will be saved to your Download folder. If you wish to make Photo HD once more, simply hit the New Image button and process it using the tool.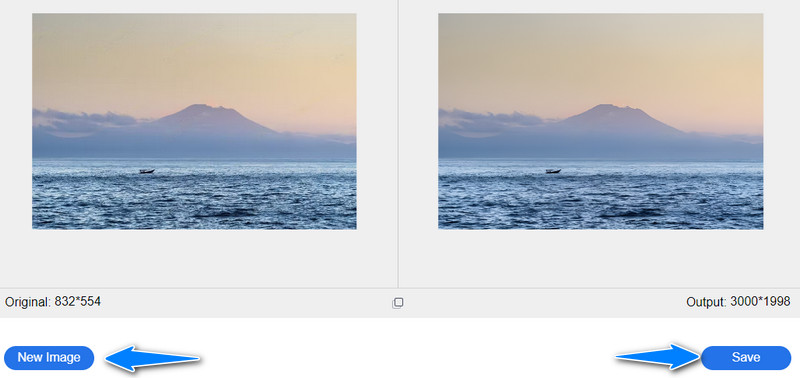 2. Fotor
If you are looking for another tool that allows you to enhance photos with less human intervention, look no further than Fotor. The same goes when applying filters and effects. All of them can be applied with just a click away. More importantly, it has full HDR support for high-quality and dramatic photos. Find out how to make a photo become HD by following the steps below.
Step 1. Launch your favorite browser and access the program's main page.
Step 2. Next, upload the photo you wish to edit and expand the Basic Adjust option on the left sidebar.
Step 3. Select Sharpness and adjust the slider to sharpen your blurry image.
Step 4. When the result is satisfying, save and download the photo to your desired file format.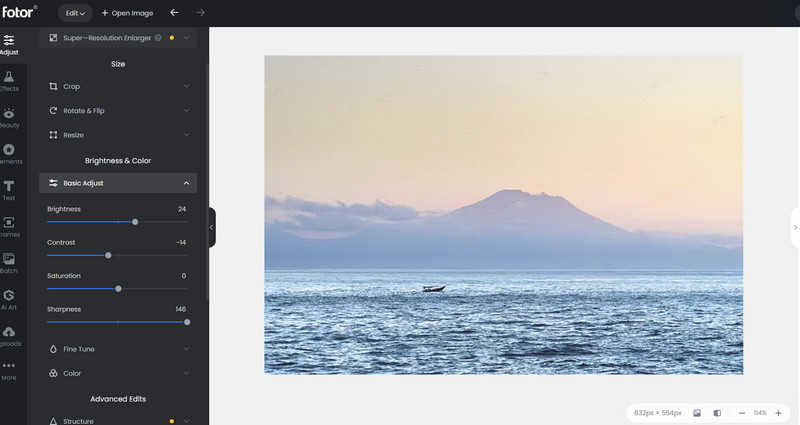 3. Let's Enhance
Let's Enhance could also help users increase the resolution of your images, making them HD. Like the first solution, it upscales photos with an AI technology that is responsible for an instant HD of a photo without losing its quality. This program allows you to enlarge photos up to 16X on the web. Moreover, you can also adjust the brightness, exposure, color, and more. See the steps below to learn how to make a photo look more HD using Let's Enhance.
Step 1. Get to the program using any browser on your computer. Then, upload a photo by dragging the photo directly to the upload area of the program.
Step 2. Upon adding a photo, you will be presented with options for the operation. You can set the upscale type size and enable other settings. After that, click Start processing.
Step 3. After that, click on the resulting file, which will automatically download.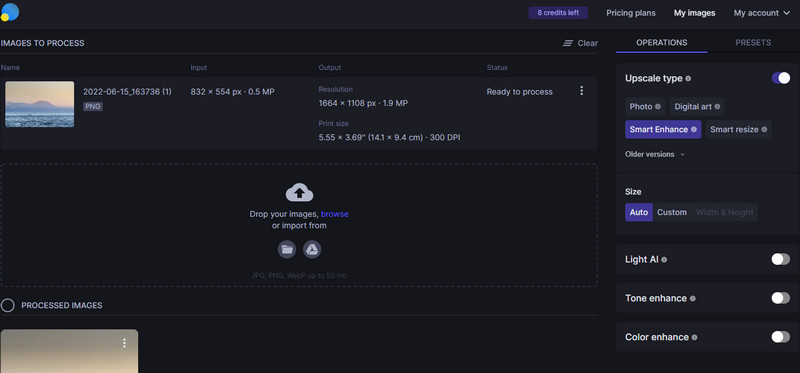 4. Picsart
Picsart offers a Details option that will help you get clear and sharp photos making the photo look HD. Aside from that, you can tweak settings, including the light, colors, and HSL. Besides this, it comes with stylish effects. If you wish to know how to make a photo HD in Picsart, refer to the procedure below.
Step 1. Visit the official site of the program. Select New Project and select a canvas size.
Step 2. Now, go to the Upload section on the left side menu bar and click Upload to add a photo.
Step 3. After that, go to Adjust and access the Details option. Next, use the slider to adjust the clarity.
Step 4. Finally, hit Export to save and download the output.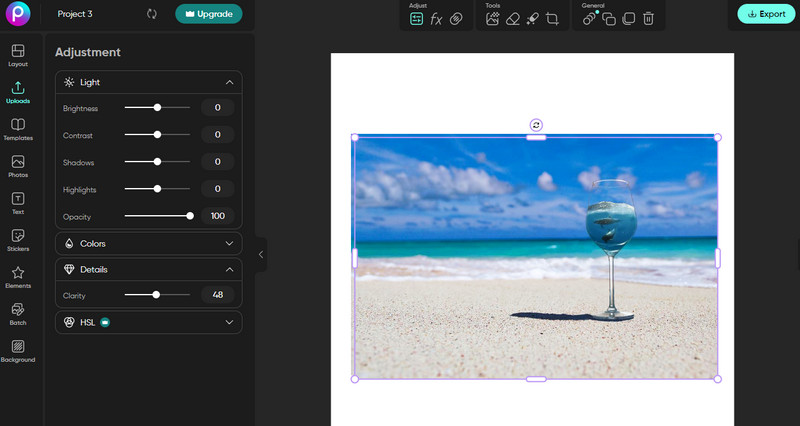 5. GIMP
GIMP has similar tools and features to Photoshop. It can replace this advanced program but like a free version. Besides offering a wide variety of editing tools, it is a cross-platform program. This means you can use it on Windows, Mac, and Linux. On top of that, it is open-source, allowing you to use the tool however you want. Use this picture HD enhancement by following the instructions beneath.
Step 1. Download and install the GIMP on your device. Launch it afterward.
Step 2. Import a photo and access the Blur/Sharpen option in the Toolbox.
Step 3. Next, select Sharpen by ticking its radio button to enter the sharpen mode.
Step 4. Finally, save the changes by going to File. Hit Save As and select a file location.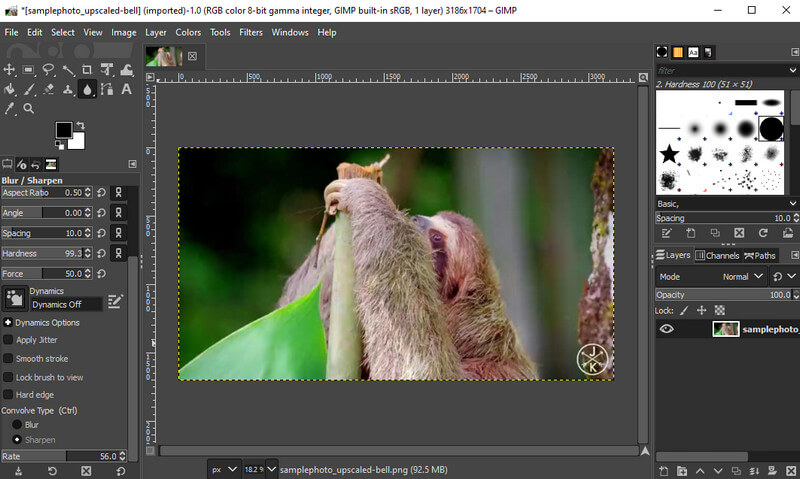 Part 2. How to Make a Photo HD on Mobile Devices
1. Snapseed
Similar to Picsart. Snapseed offers a Details option that will help you make photo HD. With it, your blurred photo will surely be improved. You will also be able to access crop, brush, rotate, and tune image tools. If you wish to learn how to make a photo HD on Android, Snapseed is an excellent choice.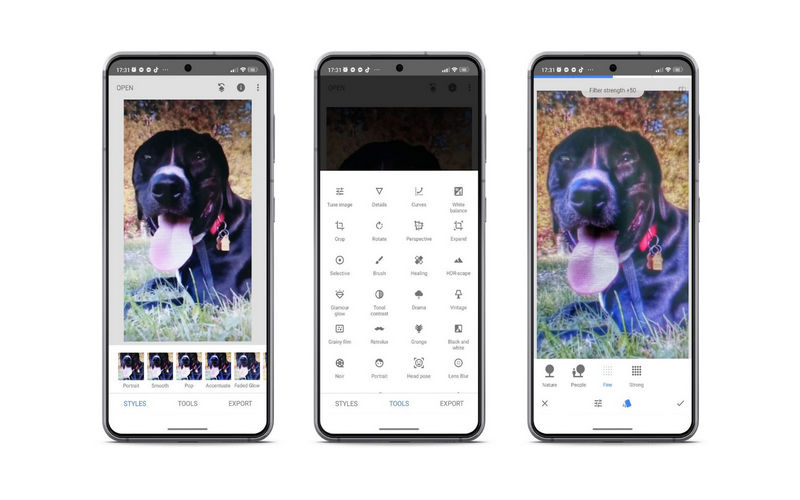 2. Remini
With the help of Fotogenic, you can improve the quality of your blurred photo with its easy-to-use editing tools. This program is available on both Android and iOS. The tool is excellent because it is also infused with Artificial Intelligence to help restore damaged photos and convert them to clear HD.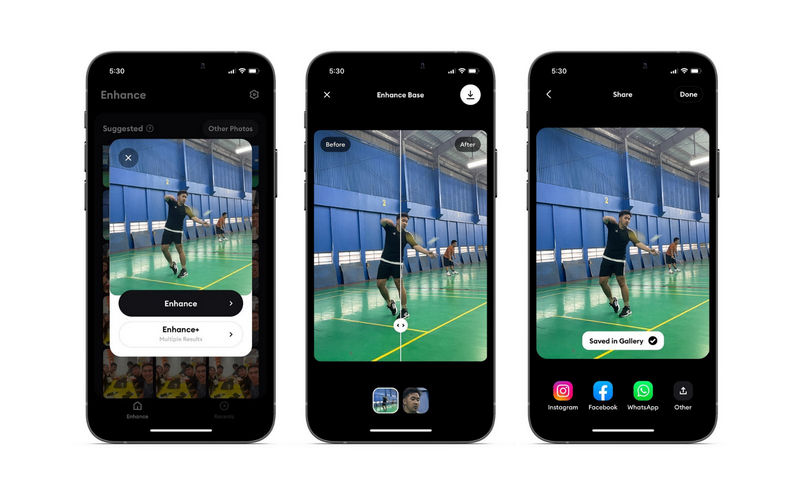 Part 3. Tips for Making High-Res Photos
If you have problems taking clear pictures, you can check out tips for making high-resolution photos.
◆ Save and download your photos as a PNG. As we know, PNG compresses a photo, yet, it does not discard any information.
◆ Apply some sharpening to the photo most often to improve the photo's clarity.
◆ Set the photo's DPI to 300. It will make the photo clear and sharp.
◆ Get the right size and shape of photos for printing, web, online sharing, etc.
Part 4. FAQs About Making Photos HD
Is it possible to increase the resolution of a photo?
Yes. You can take the intuitive way, which offers AI technology, or get advanced tools like Photoshop or GIMP.
Can I increase the resolution of JPEG?
Yes. Whatever image format you want to enlarge is possible when using the right tool. For this, you may try the discussed tools above.
Are online photo editors safe?
Yes. Nothing to worry about, provided they do not ask for your details.
Conclusion
That makes up the list of tools you can use to make photo HD. Upon trying the online tools, some leave a watermark. Vidmore Image Upscaler Online lets you improve the quality without adding a watermark on the output. Still, it is best to try each program to see which one works for you best.