6 Picture Resolution Enhancer: Most Comprehensive Review
You can find free photo resolution enhancers across the internet. People can complete their work more efficiently and effectively now that they have access to these tools. And they are highly regarded for their capacity to correct color flaws and imperfections and remove distracting elements from backgrounds. You can instantly transform a tedious and uninteresting photograph into one that is creative and exciting.
This review post will assist you in locating a dependable picture resolution enhancer available on a variety of websites. You may locate them online. Therefore, be ready to apply the most outstanding picture resolution enhancer program available to make your photographs seem quick. Let's get acquainted!

Part 1. Top 6 Image Resolution Enhancers
Here is a review of the most promising picture resolution enhancer you can use to modify your images.
1. Vidmore Free Image Upscaler Online
Vidmore Free Online Image Upscaler is the first image enhancer you can find on the internet and is considered to have the most significant potential. This online utility is accessible from Windows and Mac operating systems computers. The fact that it has such an amiable design contributes to the ease with which people may explore the site. Additionally, artificial intelligence is used to power this picture resolution enhancer. And as a consequence, the image's resolution is improved as a result of this.
With the help of the features of Vidmore Free Image Upscaler Online, you will enhance your image easily! You have the ability to improve your picture following the magnification section when you use the Vidmore Free Image Upscaler Online tool. Lastly, it is compatible with a variety of picture formats.

Pros of Vidmore Free Image Upscaler Online:
It is straightforward to use.
The maximum magnification that you can achieve is 8x.
It does not in any way lower the quality.
It doesn't have a file size restriction.
Cons of Vidmore Free Image Upscaler Online:
It does not include any additional editing tools.
2. PixCut
PixCut is a well-known online photo editor that provides users with various editing choices, templates, and tools to improve the appearance of their photographs. It does this by providing the user with sophisticated tools. In addition, it is equipped with a function that may construct a picture following the appropriate dimensions for its particular kind. The only thing you require is to upload your photo, make any necessary adjustments, and then save it to your computer.
However, the picture file size cannot be increased beyond a certain point with this image resolution enhancer because of its restrictions.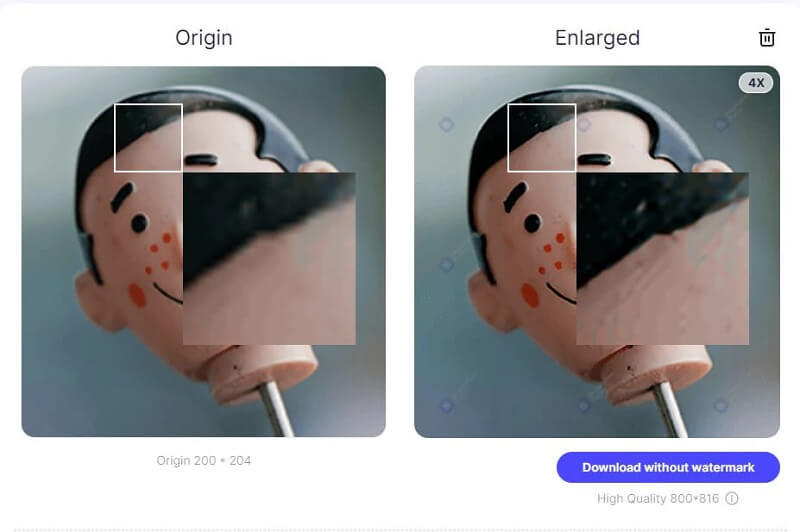 Pros of PixCut:
Its interface is straightforward, making it easy for everyone to use.
It gives you the ability to add a backdrop.
It operates on mobile devices.
Cons of PixCut:
The free version of the service has functionality but fewer features.
There is a watermark on it.
3. Fotor
Fotor is an online picture resolution enhancer that is free to use and may help you improve the quality of your photographs. You may crop a photo by precisely positioning the subject centered in the frame and changing the ratios to correct any incorrect angles. This tool's popularity may be attributed to the particular enhancer function. Which is the ability to instantly adjust your image's brightness, saturation, and light levels with only one click. It is not necessary to use many characteristics to generate a result. The HDR effect is all that is necessary to enhance the colors in your photograph in a professional manner.
This online image enhancer also includes various additional altering tools, so many people are interested.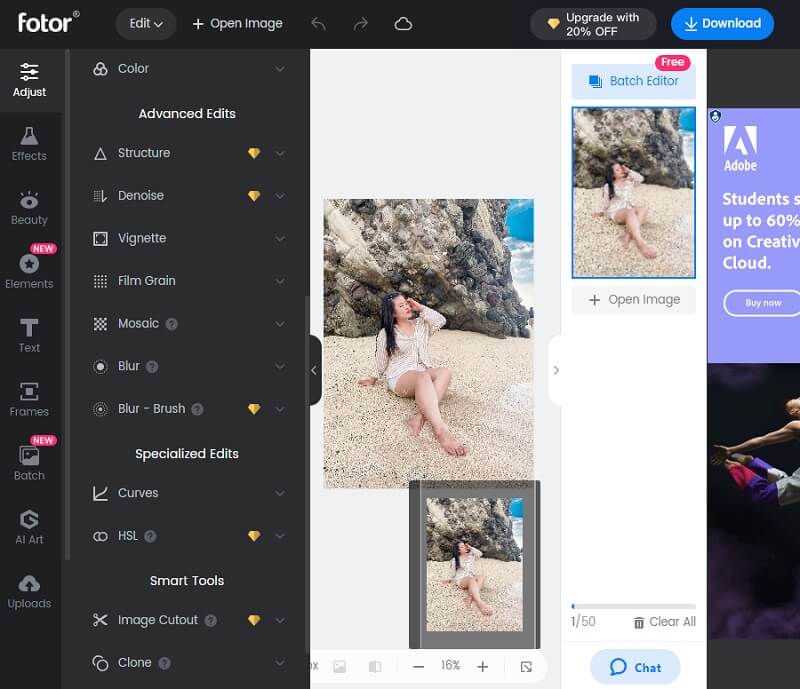 Pros of Fotor:
It is an excellent substitute for Adobe Photoshop.
It is made up of several filters and effects.
The adjusting area has a lot of different options, and the curves tool is doing quite well.
Cons of Fotor:
It might be challenging to find your way through the editing panels.
4. BeFunky
BeFunky shines out as a powerful online platform for image editing that enables amateur and professional photographers to enhance the appearance of their photographs swiftly. You may adjust the exposure brightness of your photograph by manually managing the lighting of your picture. It will allow you to pay attention to the finer points of your subject matter. You also can use the picture enhancer, which is a function that may automatically remedy any problems present in your photographs.
By using this function, you will be able to save time while simultaneously enhancing the picture with only the touch of a button.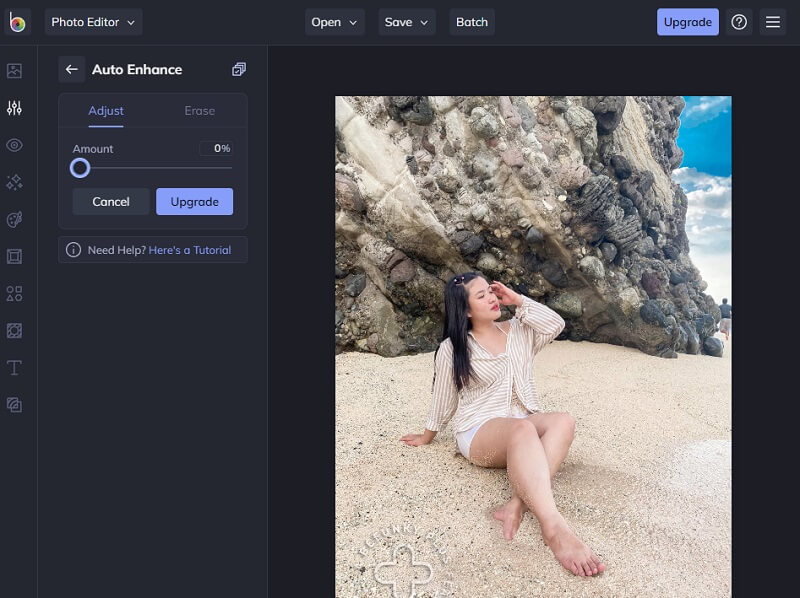 Pros of BeFunky:
It offers a relatively simple user interface that supports the drag-and-drop functionality of other applications.
You can upload several pictures at the same time.
You can download pictures directly from the stream.
Cons of BeFunky:
It has a significant number of commercials.
There are a lot of paid features to choose from.
5. Snapseed
Snapseed is like having Photoshop in the palm of your hand. It performs an excellent job at altering photos on mobile devices. Additionally, Snapseed is equipped with various tools, such as filters, layouts, backdrops, and plenty more. In addition to that, it is a competent photo editor suitable for iOS and Android devices. You may conduct a wide range of technical modifications on your smartphone for free and without the addition of watermarks if you use this program to edit pictures. Additionally, using its particular function can improve some aspects of the picture while simultaneously reducing time spent editing and modifying the whole image.
This program also enables you to save your usual and favorite picture effects to instantly apply them to any new images you take in the future.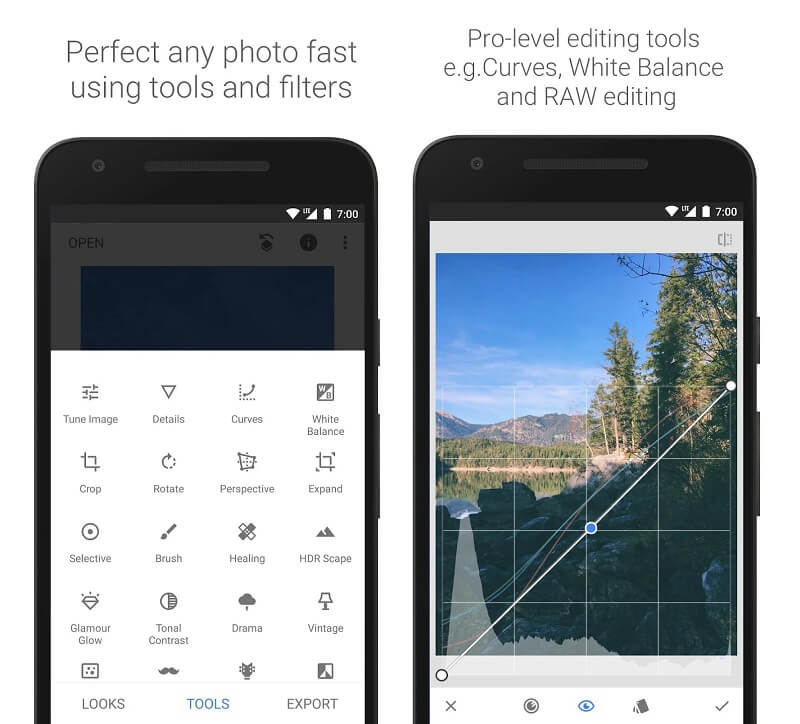 Pros of Snapseed:
The usage of the program is not charged for. It is a beautiful alternative for those who do not have much money to spend on video editing software or for those who want to test out the program before committing to purchasing it.
It has several presets and editing tools that are suitable for professionals.
It will be much more straightforward for you to comprehend how things work. Whether you are just beginning your trip into picture editing or have never used any photo editing software before.
Cons of Snapseed:
Because the available solutions are not very user-friendly, you must be extremely careful about preserving your work.
6. Adobe Lightroom
Adobe Lightroom is a competent picture editor program with a high degree of compatibility with iOS and Android devices. This free picture enhancer can offer acceptable and relevant filters with the assistance of artificial intelligence, preventing you from spending time unnecessarily. It comes with more than a hundred various effects and filters that may improve the picture resolution you're working with.
The last feature of this software is its camera, which gives users the ability to regulate lighting levels, HDR appearance, presets, and timing settings. Consequently, this tool will help you improve both your shooting and editing abilities.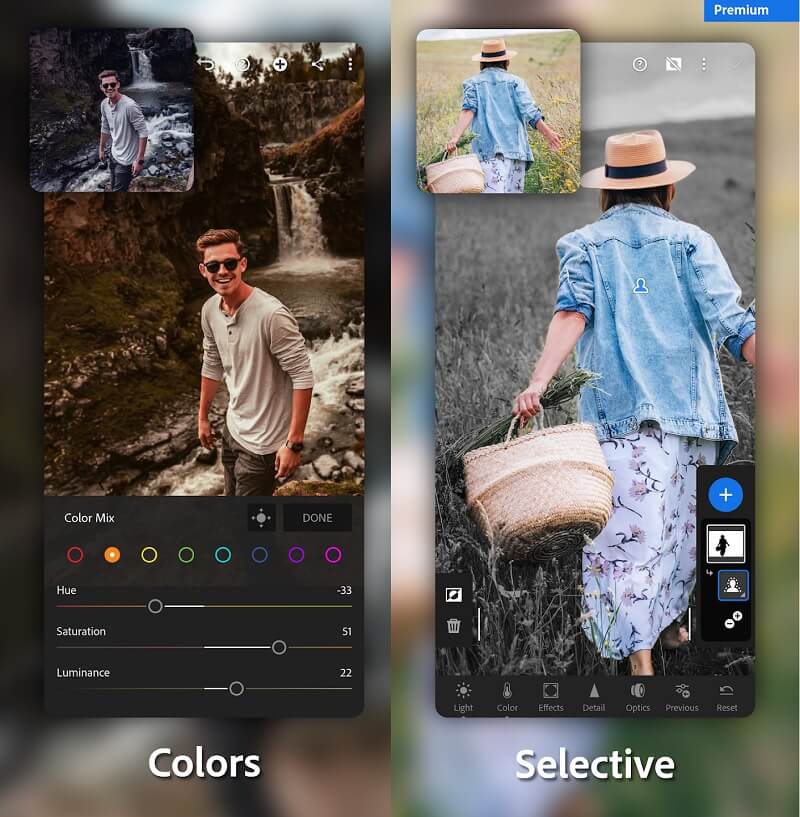 Pros of Adobe Lightroom:
It is easy to experiment with different editing choices using backups and virtual copies.
Adjustments such as the modification brush, gradient adjustments, and radial adjustments allow you to modify many effects on a single mask.
Cons of Adobe Lightroom:
It does not provide a wide variety of editing choices.
Part 2. Tips on How to Enhance the Image Resolution
Suppose you want to improve the resolution of your photograph. In that case, you may perform it by following these easy methods, which you can find below.
Step 1: Open the browser on your device running Windows or macOS. Then, search the internet for a program named Vidmore Free Image Upscaler. Click the Upload Photo button to upload pictures to your account. After that, you will need to acquire the previous image that you want to restore to complete the process.

Step 2: When the artificial intelligence has completed sorting the image, it will show you both the original and the improved version to evaluate side by side. Suppose you are not satisfied with the scale. In that case, you can select a variety of Magnification from the list situated above the scale.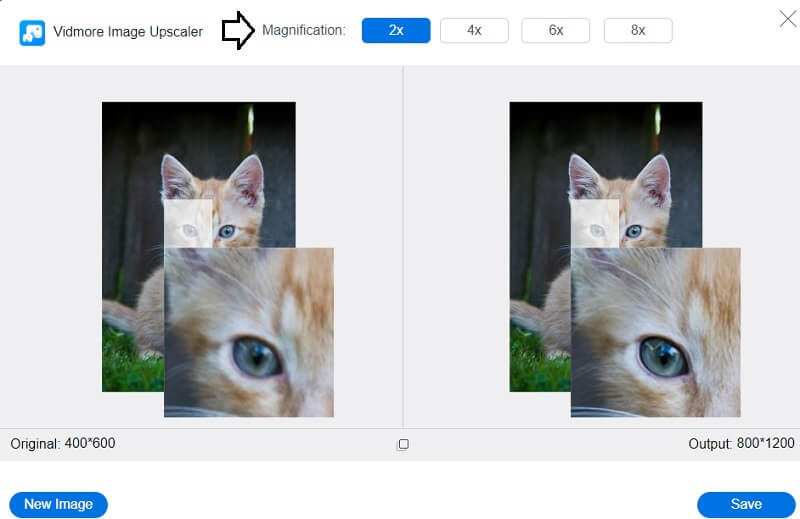 Step 3: After deciding on the desired level of magnification, you can then save the image by clicking the Save button situated directly below the image.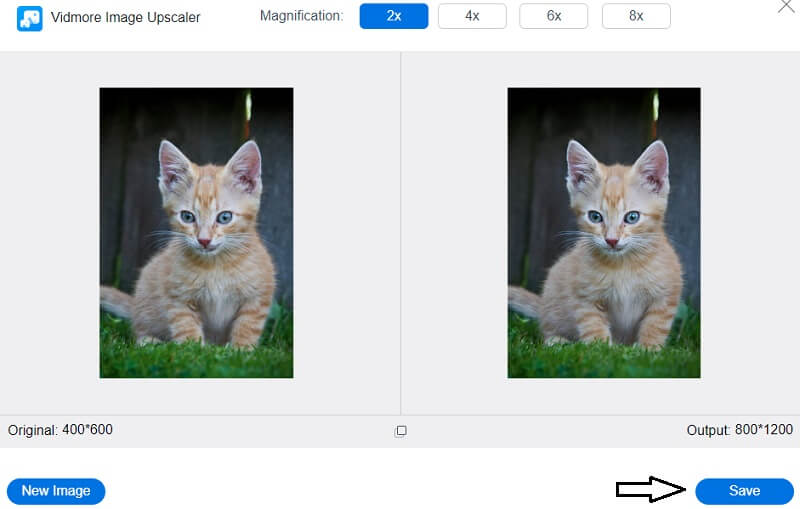 Part 3. FAQs About Image Resolution Enhancer
Is 1440p superior to 1080p?
When comparing 1440p to 1080p, we can conclude that 1440p is superior to 1080p because it offers a bigger screen size, more sharpness accuracy in picture definition, and more screen surface workspace.
Can the human eye detect 4K?
The human eye can distinguish between a screen with a resolution of 1080p and one with a resolution of 4K, even though you may hear tales to the contrary. The most important way to keep in mind is the quality of your vision. And also the size of the screen you are using. Finally, the proximity you sit to the screen while viewing anything on it.
Does increasing picture resolution result in larger file size?
You will alter both the image file and quality due to this change. It increases the resolution, resulting in a picture of higher quality. A more excellent resolution also necessitates an increase in storage capacity.
Conclusions
Image resolution enhancers will most certainly assist in contributing to the addition of values to an image. Even on the tiniest screens, your picture will be easier to see because of this feature. You now have various tools to prevent the photographs you take from being distorted from reading this article. Using an online tool makes it much simpler to work with any picture, which is crucial.
And the most excellent option is Vidmore Free Image Upscaler Online. This program has an upper edge over other ways because it is entirely free to use for fundamental functions and will handle standard image formats. In a similar vein, the processing speed is rapid enough that all that is required of you is to input a picture. The tool will do an automated enlargement to produce an image with a high-resolution finish.