How to Remove PicsArt Watermark in 3 Different Ways
PicsArt is one of the most potent image editors ever produced. It can do many jobs, making it popular among professional editors. Additionally, it has a comprehensive collection of tools and capabilities, including artificial intelligence, texts, overlays, etc. Unfortunately, several of its effects and filters overlay photographs with watermarks, which detracts from the overall aesthetic appeal of the image.
In this post, we'll show you how to remove the PicsArt filter watermark using the most effective ways available today.

Part 1. Easiest Way to Remove Picsart Filter Watermark
1. Free Watermark Remover Online
The quickest and most basic method of removing the PicsArt watermark from your picture is to use Free Watermark Remover Online provided by Vidmore Video Converter. You may access this software via a web browser on your computer, and it is compatible with both Mac and Windows operating systems. Using this tool, you may quickly and completely erase trademarks, logos, and other material from your images without leaving any trace.
It will remove the watermark in a couple of seconds with the assistance of artificial intelligence. To remove a watermark, all that is necessary for identifying the watermark to be removed. Vidmore Free Watermark Remover can work with a wide range of file formats. BMP, TIFF, JPG, and PNG are a few image formats available. There is nothing to panic about since the image will be preserved as if nothing had occurred regarding picture quality. Although it seems to be an essential watermark remover, many have confirmed and tested it to be effective in removing watermarks.
Here's how to get rid of the PicsArt watermark with the Free Watermark Remover Online service.
Step 1: Open your search tool and visit Vidmore Free Watermark Remover. You may upload the image containing the unwanted mark by ticking the Upload Image button in the page's center.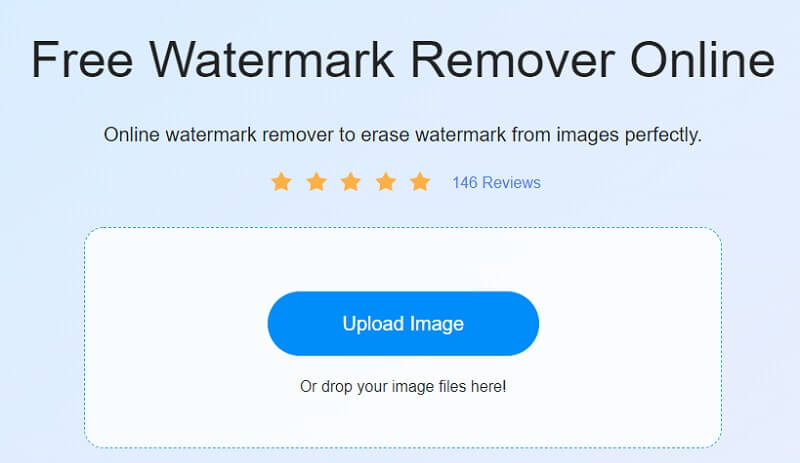 Step 2: To use the Lasso tool, click the Lasso button to the right of the picture once it is reflected on the screen. After that, begin your search for the watermark if there is one. Once the watermark has become red, please pick it up by tapping on the Remove button in the upper right corner of the image in question.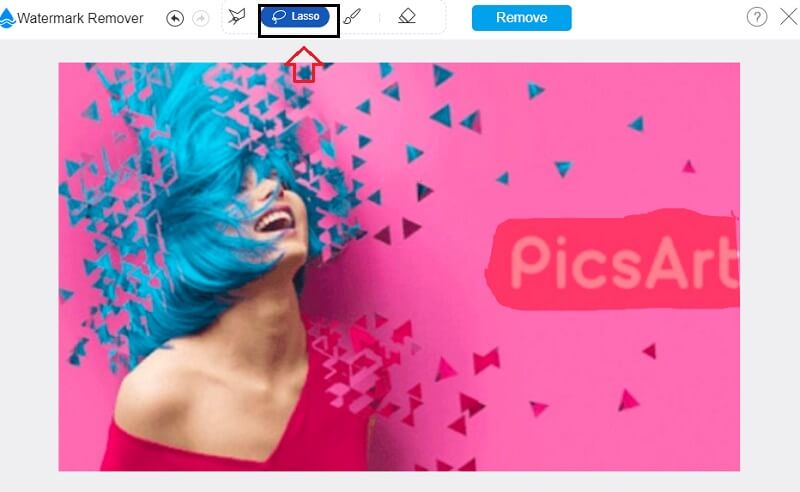 Step 3: Once you remove the watermark, you will be able to adjust the size of the image to fit your demands and requirements. Select Crop and Save from the drop-down box above, then change the size of the picture by dragging the slider bar to the right.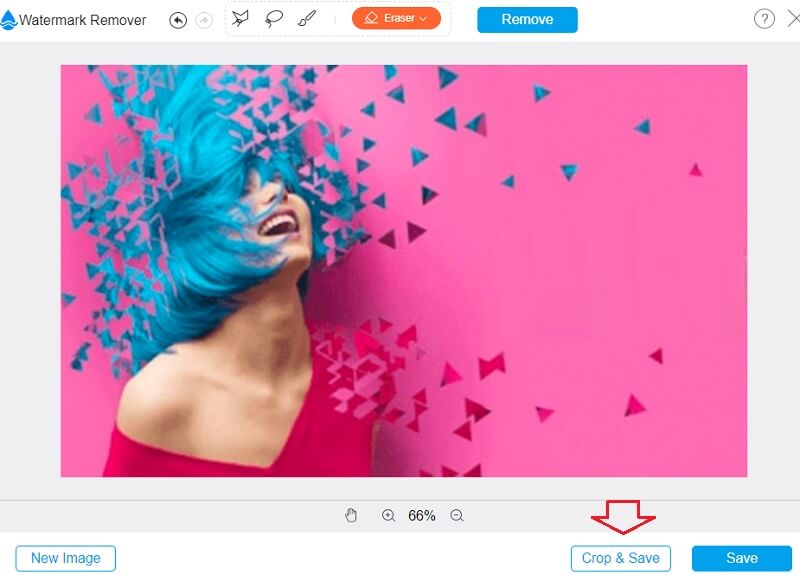 Step 4: Finally, after you have finished cropping your image, click the Save button to the right of the screen to enable your picture to be stored in your folder.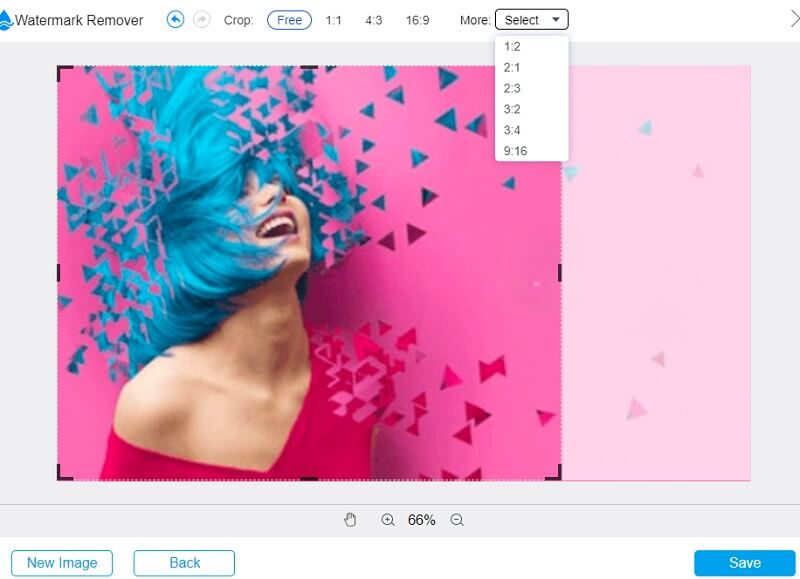 Part 2. How to Delete Picsart Filter Watermark in Picsart
2. Delete Picsart Filter Watermark in Picsart (Hack)
This hack does not involve technical knowledge. This hack is straightforward to comprehend. It relates to screenshotting the golden filter in PicsArt without paying. Now let's begin the procedure.
Step 1: Tap the picture after selecting it. Your picture will be opened using Picsart's editing tools. At the bottom, there are several choices. Tap Effects and select any one of them.
Step 2: Take a screenshot of the PicsArt golden effect with a watermark after picking an effect with a watermark. Subsequently, upload the same clear picture to Picsart and add the same filter. Hold and slide the image slightly upwards this time. Also, capture a screenshot of this Picsart picture. Extract outside Picsart the portion of this picture where Picsart placed its watermark on the initial image.
Step 3: Open the initial picture in PicsArt and choose the Add Photo option. Add the extracted portion of the second picture to the watermark. Now, touch the checkbox and save the picture to your smartphone.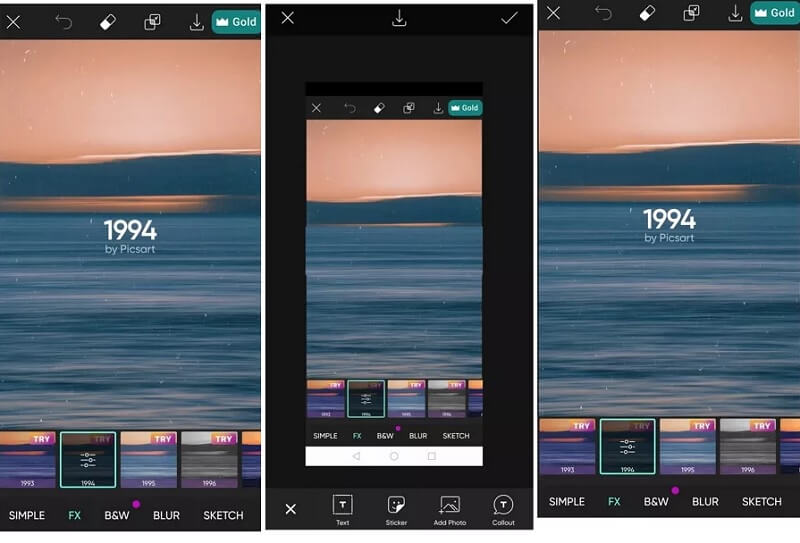 3. Delete Picsart Filter Watermark in Picsart (Premium)
The third way is the paid method. You can pay to subscribe or activate the premium version of Picsart. The premium version is very beneficial and easy to activate.
Step 1: Launch Picsart and upload a picture to this application. Select a premium effect by selecting Effects. Use any premium enhancement that retains its watermark at this time. After applying a premium effect, a new choice will appear in the upper-right corner of the display. It will be a green-colored Gold. If you choose this, you will be redirected to a new page.
Step 2: Here, you can see the pricing for the premium bundle. Picsart provides a 12-month membership option. Tap the Continue button if you want to buy the item.
Step 3: Picsart will prompt you to choose your payment methods, such as Debit or Credit Card. Select an option and submit all required information to finish the billing procedure. After the procedure has been done, you may use all effects and filters without a watermark.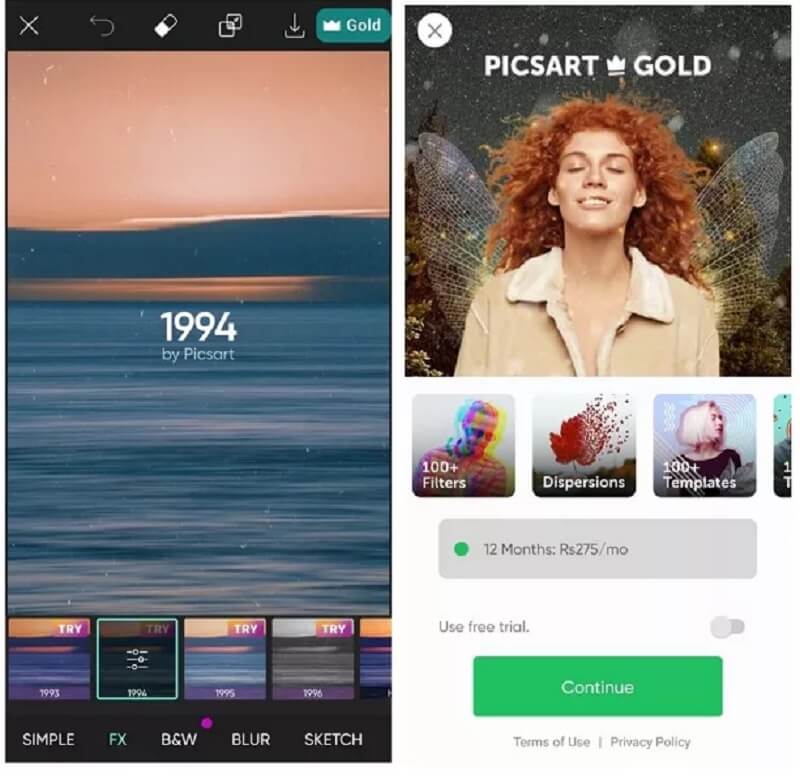 Part 3. Comparison Chart About PicsArt Watermark Removers
Price

Navigation

Availability
| | | |
| --- | --- | --- |
| PicsArt (Hack) | PicsArt (Premium) | Free Watermark Remover Online |
| You can use it for free. | You need to pay before you can enjoy the full version. | You can use it for free without asking you to pay. |
| It is a bit complicated. | It is a bit complicated. | It is very easy to use. |
| For all devices. | For all devices. | For Windows and Mac. |
Part 4. FAQs About PicsArt Watermark Removers
What is the main advantage of PicsArt?
Picsart's primary benefit is that it can be installed on Windows-based desktop computers, laptops, tablets, and mobile phones, making it available from various platforms.
How long is an app's free trial period?
Typically, there is a seven-day complimentary trial period. However, it sometimes provides unique specials with a 14-day free trial period. That is more than enough to check out all the app's features and determine whether it works for you. However, to join up for a free trial, you must provide your credit card details.
What is the drawback of PicsArt?
This program is incredibly huge and requires a lot of storage space on mobile devices. For picture editing, an internet connection is necessary. After connecting to the internet, certain editing functions function correctly. When this application is opened on an Android device, the device's speed is slowed.
Conclusions
Without a doubt, PicsArt is an excellent image editor. Unfortunately, it puts a watermark on the picture, causing viewers to be distracted. We have compiled a list of the most efficient ways to apply premium filters to photographs without watermarks. Utilize any of the ways and appreciate photographs of excellent quality. Suppose you are looking for the most straightforward approach to how to remove the PicsArt gold watermark, use Free Watermark Remover Online. It is the most delicate PicsArt watermark remover, which allows you to remove all types of watermarks with a single click.