Picture in Picture Video Editing Apps for Mac/Windows
Do you want to enter the world of the content creator and live streamer? Well there are lots of opportunities that are waiting for you. Actually, you can come out with different contents such as cooking, make-up vlogger or you can make a reaction video about the latest issue these days. Have you ever crossed your mind what is the video editing app that every gamers and vloggers are using when they are making a live stream or a reaction video?
Well we have the same thoughts that is why in this post, we will tackle how to create picture in picture video with the help of this free PIP video editor. Start making your social media contents as we give you a simple guide on how to do this picture in picture video editing.

Part 1. What is a Picture in Picture Video?
For the past decades, we cannot deny the fact that there are numerous technical advances being made today. And we cannot deny the fact that We're not satisfied unless we have another alternative nearby, allowing us to divide our energies without necessarily dividing our time, despite living in a world where countless entertainment options are already at our hands. Back then when we didn't have any access to multiple screens, it's hard to enjoy our favorite shows at the same time. And there the Picture in Picture enters.
When two videos are shared on the same screen display, it's called a picture in picture or a video overlay. It's as if one of the videos is smaller or shorter than the other. When making a reaction video or a live stream, it's commonly done by content makers or gamers. People will be able to see the game or video that the vloggers are watching in this manner.
Picture in picture video is one of the most popular content being used in social media contents. They are using this as a technique to gain more viewers and followers. No wonder many are using a PIP video editor.
Part 2. How to Create a Picture in Picture Video on Windows/Mac
If you want to be a content creator who's starting to make a vlog, it is given that you don't have professional editing skills yet, that is why you will be needing a user-friendly tool to edit your videos. The good news is, you can lean on Vidmore Video Converter. It is the professional software yet you don't have to be an elite editor before you can navigate the tool because this software offers a beginner friendly interface. No wonder some aspiring vloggers are doing their vlog through the help of this software.
When it comes to compatibility, worry no more as it can be downloaded on both Mac and Windows devices. Through its rich templates and effects, you can add life to your plain vlogs.You can also rotate, trim and cut your videos according to your desire if ever it is not in the right orientation. In addition to that, you can also boost or lower the volume of your video. It is the perfect picture to picture video editing tool because you can adjust your video's quality by adjusting the frame rate and resolution. Amazing right? To finally guide you how this picture in picture video editing app works, feel free to follow this guide below.
Step 1: Download the PIP Video Editing App
Go to Vidmore Video Editor's official page and select one of the Download links. After that, install and run the software on your device.
Step 2: Upload Your Videos
Open Vidmore Video Converter and navigate to the Collage tab in the upper left corner. After that, choose the Template you want to use on your picture in picture video after you have been directed to the Collage area. Then, in the center of each layout, click the Plus icon to select your films.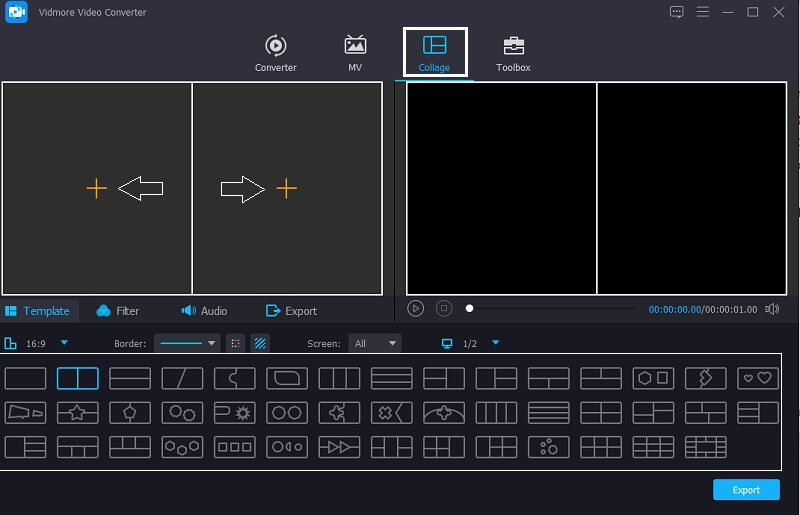 Step 3: Edit the Templates
After inserting your videos into the layouts that you have chosen, move the Mouse on the Template and move the cursor to the left or right whether you want to make your video bigger or smaller.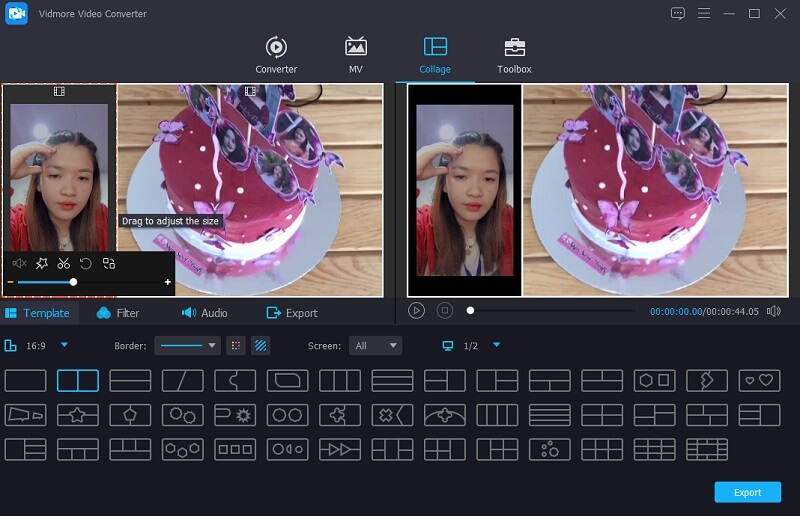 Step 4: Edit the Videos
Once you are one modifying the size of your videos through the Templates you have chosen, you can also add some effects to your videos, just click the Filters tab along the Templates area and choose the filter that you think will enhance your videos. Then if you want to emphasize the volume of one of the clips, click the clip that you want to boost or lower the sound then hit the Audio tab near the Filter area, then navigate the audio.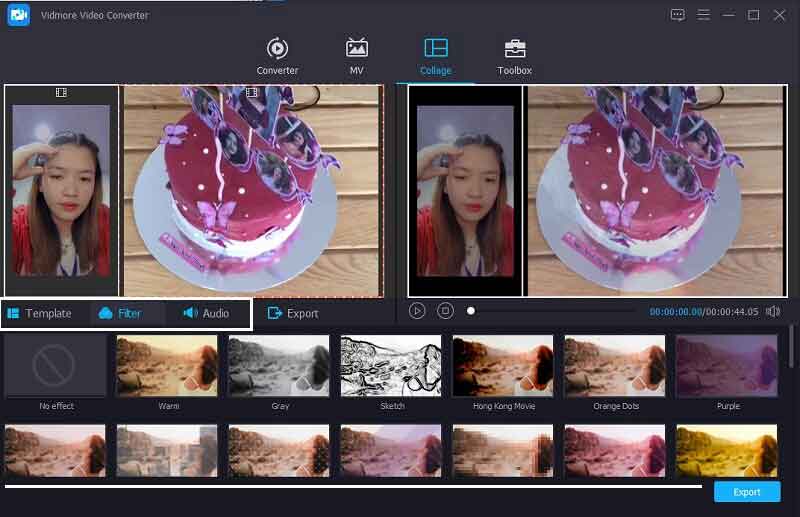 Step 5: Save the Picture in Picture Video
Finally, if you are already satisfied with the changes that you have made and you successfully made your picture in picture video, you can now save it by clicking the Export tab and it will direct you to another page, simply click the Start Export and choose the Frame Rate, Resolution, Format and the Quality by selecting the options being provided. Then, click the Start Export to save your file in your Library.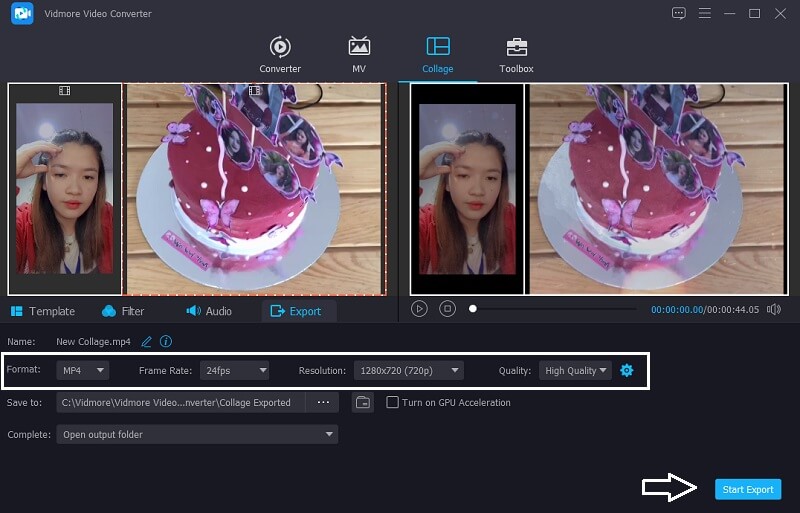 Part 3. FAQs about Picture in Picture Video
1. When should you use a picture in a picture video?
Picture-in-picture (PiP) allows you to watch videos while using another app, and it's available on more devices than you may think. On any platform, from smartphones to PCs, you may view one app while loading another.
2. Is making a picture in picture video supported by Android or iPhone devices?
Picture-in-picture is supported by Android, iOS, and iPadOS, however not all apps do. You must be using a video app with built-in PiP capabilities in order for the feature to work. Disney Plus, Netflix, Amazon Prime Video, and Apple TV are just a few of the video apps that do.
3. Does Vidmore Video Converter still allow you to convert a Picture in Picture video even if it has a large file size?
Absolutely yes! Vidmore Video Converter supports a Picture in Picture video to be converted even if it contains a large file size. Actually, it offers 50x faster speed conversion on both audio and video.
Conclusion
In conclusion, we really can't deny that there are lots of social media content being created today. And one of these is making a Picture to Picture video. And if you are one of those people who are desiring to be a content creator or live streamer, this post is for you. With the help of these free PIP video editors, you can easily adapt to the trend that is arousing today.