How to Remove a Watermark with GIMP in Just 3 Steps
GIMP is a fair and open image editor that works on several operating systems, including GNU/Linux, macOS, Windows, and others. Everyone may use this free piece of software, whether you are a trained professional or just an amateur interested in creating photos. You can get the work done effectively with the help of GIMP's powerful features. You may use this program to erase the watermark from any photograph, yet another incredible feature it offers. Therefore, if you want to use this program, you learn to remove the watermark in GIMP.

Part 1. How to Remove Watermark in GIMP
Using the Clone tool in GIMP, we will walk you through removing watermarks from your images in this part. To modify the image, you can use the clone tool. It is one of the powerful techniques you can use to improve a picture.
Step 1: The first job you must complete is to choose Open from the File menu or press the Control key with the letter O on your keyboard. It will bring up a conversation window. Press the Open button once you have chosen the picture from the file system you wish to open. It will launch GIMP and display the picture there. We also have the option to drag the picture directly from the file system.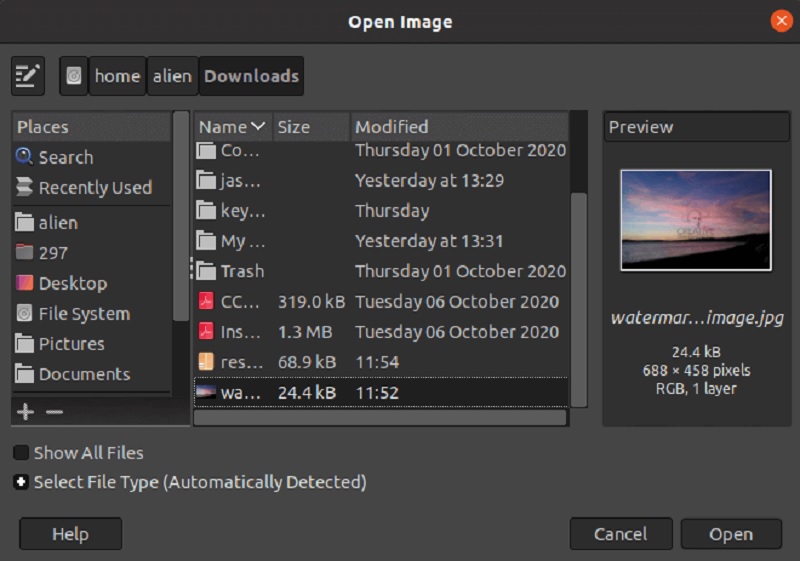 Step 2: Navigate to the Tools menu and pick the clone tool. After that, go to the Paint Tools menu. After that, choose Clone from the menu or press the C key. Then, choose a portion of the picture or image that is not cloudy and corresponds to the area of the image that is watermarked. Hold down the CTRL key to choose a region and click on the area you want to pick. It will replicate that specific location so that you may paint it.
Step 3: The watermark image has been painted over. Leave the CTRL key pressed and swipe the cursor over the area you want to paint. Then it would do it.
Part 2. Best Alternative to Remove the Watermark from Image
1. Vidmore
Some GIMP users are having trouble removing the watermarks placed on their photographs since the editing options in GIMP are pretty complicated and challenging to understand. To our good fortune, there are a variety of different solutions that may assist in the process of removing watermarks from images. The simplest method is to use Vidmore Free Watermark Remover Online.
This tool has an advantage in that it can erase the image section containing a mark without leaving any trace of the watermark behind. Or any other indication that it does exist. The results it generates when removing a watermark from an image are better than those produced by any other watermark remover, even though you may use this online. You may try using this as an alternative to buying an expensive watermark remover and going through the different procedures of downloading the photographs.
Step 1: Go to the Vidmore Free Watermark Remover Online search page to start the online program. When you click on it, you will be sent directly to the official website of the watermark remover. Next, choose the option named Upload Image. Locate the file on your computer to submit a picture with a watermark and click the Open button.

Step 2: After completing the upload, choose the watermark removal technique you want to use. There are many free and multi-platform options available. Draw emphasis to the watermark using the tool you've chosen. Once you've highlighted the watermark on the image, you can use the Remove button to remove the watermark and see how efficient the tool is at doing so.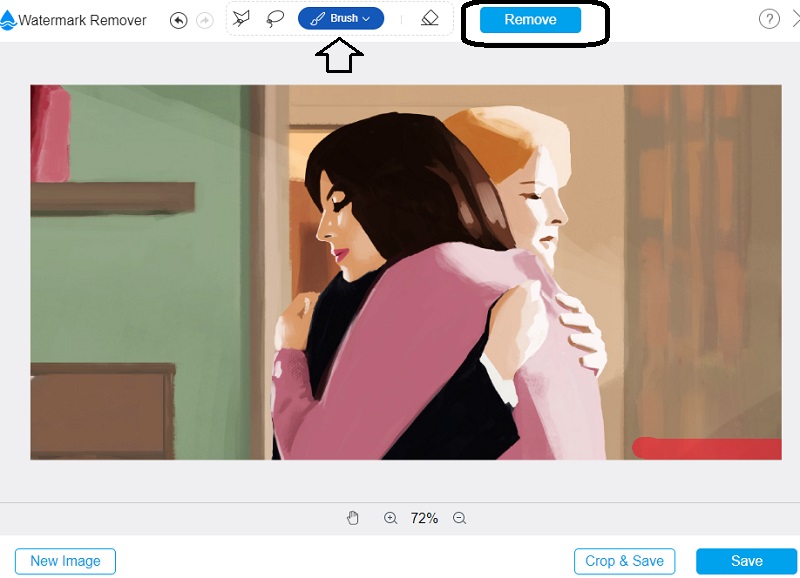 Step 3: If you want to save the result on your computer, choose Save from the File menu. When you make this selection, it will save the file in the default place on your hard drive.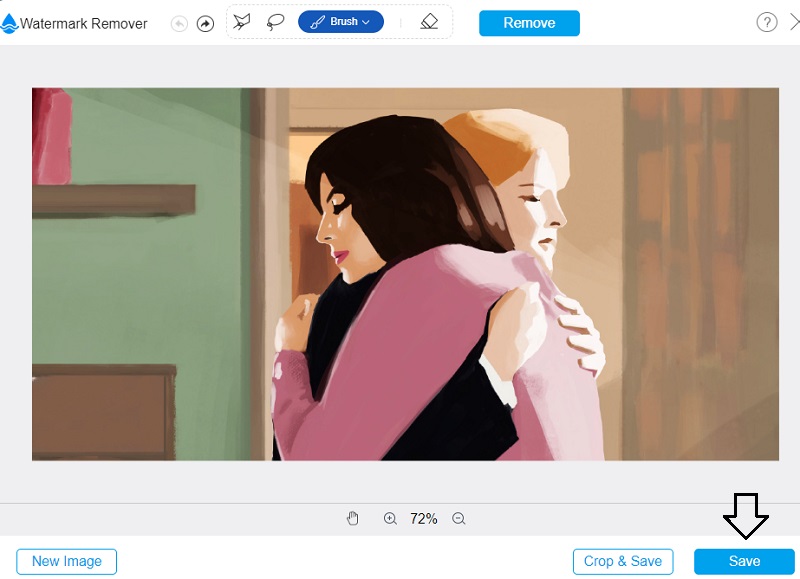 2. Apowersoft Online Watermark Remover
The Apowersoft Online Watermark Remover is another watermark remover you can rely on if you want to edit still images and moving pictures. This web app's user interface was designed with careful consideration, which is one of the critical factors that help make the software simple to use. It is interoperable with most picture file types often used, which is why it is such a vital tool. Another reason for its value is that it can import and export RAW files.
You no longer have to worry about the security of your data. This tool will remove any watermarks that the user may have placed on their recorded videos. It's possible that exporting and downloading files may take a long time if your net connection is slow.
Step 1: Make sure you can access Apowersoft Online Watermark Remover from your browser. After that, you'll need to check out their website and get a feel for how things work there. Remove the watermark by clicking on the item in the menu that permits you to do so.
Step 2: Once you go to the next step, you will be allowed to delete the watermark on the picture.
Step 3: By picking the logo currently shown on your images, you will be able to delete it. Once this has been accomplished, use the drop-down menu to pick the Erase option.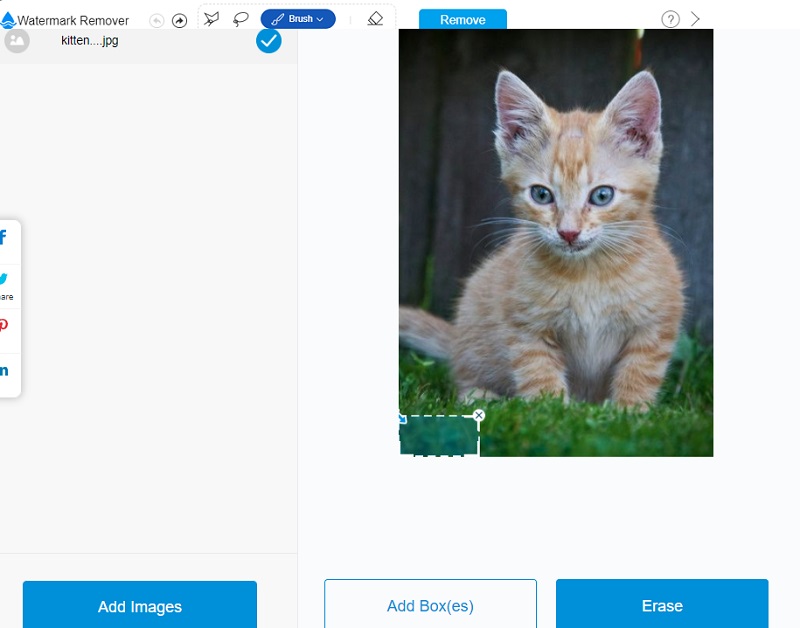 Part 3. FAQs About Removing Watermark in GIMP
Is GIMP similar to Photoshop in terms of functionality?
GIMP is a free piece of software for editing images. At the same time, Photoshop is a paid piece of software for editing images. Both GIMP and Photoshop have a variety of add-ons known as plugins; however, the plugins for Photoshop are developed by industry leaders in photography. In comparison to Photoshop, GIMP has a far more limited selection of editing tools at its disposal.
What are some of GIMP's drawbacks?
If you need to edit large photos with many layers, GIMP's performance will not meet your expectations. Another thing to keep is that it only has a few plugins developed by third parties.
Why should newbies use GIMP?
You can navigate the GIMP for basic graphic requirements without having to master more complex ways of image editing. Therefore yes, you can use it.
Conclusions
This post gives detailed steps on how to remove a watermark using GIMP. The information that has been presented here will unquestionably be of assistance in removing all watermarks from your photographs. Now, suppose you genuinely cannot follow the tutorial on removing watermarks in GIMP. In that case, you may depend on the alternatives, such as Vidmore Free Watermark Remover Online and Apowersoft Online Watermark Remover. Both of these tools are available online.